Based on today's ISM Manufacturing report, manufacturing activity for the month of January jumped to its highest level in over two years. While economists were expecting the headline reading in the ISM Manufacturing report to come in at a level of 55.0, the actual reading rose to 56.0. That's not only the highest monthly print since November 2014, but it also marks the fifth straight month that the index has shown a m/m increase. The last time we saw that much consistency in growth was in early 2012, when the ISM increased for six straight months. Going all the way back to 1948, the longest consecutive streak of monthly increases was from mid-1993 to mid-1994 when the headline ISM Manufacturing index increased for 12 straight months.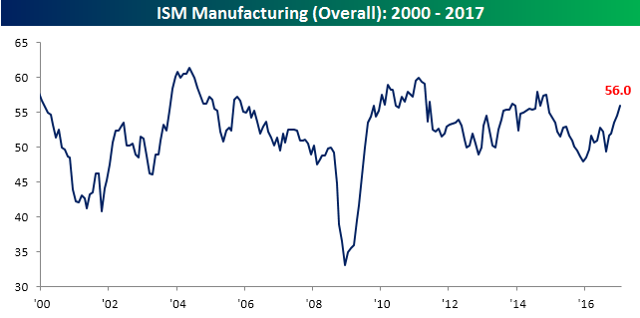 Not only was the headline index in this month's report strong, but the internals also showed solid growth. As shown in the table below, of the index's ten subcomponents, seven saw m/m increases, while eight out of ten are up y/y. The biggest increases this month were in Prices Paid (+3.5), Employment (+3.3), and Production (+2.0). The increase in Prices Paid is especially notable as that index is now at its highest level since May 2011, and over the last year, it has increased by 35.5 points (chart below)! Strong growth with rising prices? Not necessarily the news you want to see on an FOMC day.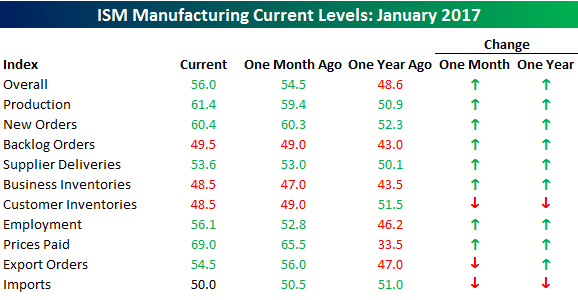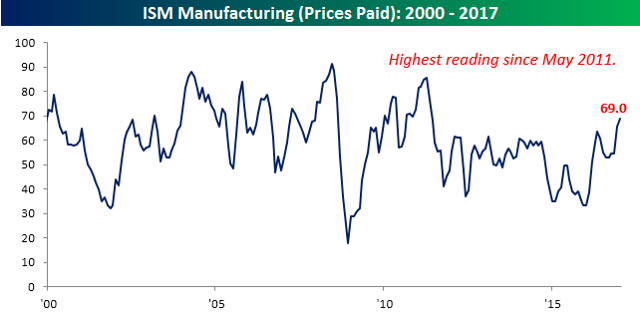 Thanks for reading the article. Follow our account to get our articles as soon as they're posted to Seeking Alpha. To get our full newsletter, sign up for Bespoke Newsletter PRO. Subscribers to that service get access to Bespoke's model stock portfolios, actionable data-driven insights, and in-depth analysis of everything that drives the markets, among other things.