Even without this news, I liked the Suncor (NYSE:SU) story. I started building a position in it back in the summer of 2015, half a year before the price of oil bottomed, together with Shell (NYSE:RDS.A) and Chevron (NYSE:CVX). As the stock choices suggest, I did not go for the high-risk, high-reward strategy. I went for a safer strategy option, better suited to what I do believe is a period of volatile and unpredictable oil price. Of the three options I picked, Suncor is the only company which presents us with a real growth story.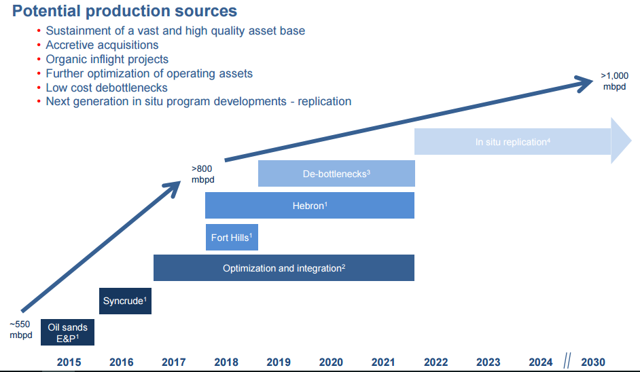 (Source: Suncor)
As I pointed out in a previous article, this is not only a growth story, but unlike much of the shale patch, it is a profitable growth story, as results from the third quarter have proven. This came despite the fact that WCS sells at a significant discount compared with WTI. A significant reason for the discount has to do with the quality of the benchmark crude sold, but there is also the transport issue, which now looks to be headed for a positive resolution to a large degree, given that the XL pipeline project seems to be back on the table.
The pipeline project was rejected by President Obama in 2015, after a long period of uncertainty. President Trump, on the other hand, invited TransCanada (NYSE:TRP) to re-apply for the project, which now seems to have US political backing. There are still some hurdles which need to be addressed, including native rights issues as well as valid environmental concerns, but it now seems the pipeline is very likely to get approved and built.
Effect on Suncor's bottom line
In the third quarter of 2016, Suncor managed to record operating earnings of 346 million Canadian dollars, on revenue of over 2 billion dollars. That the company managed to achieve this even as WTI was priced at an average of about $45/barrel for the quarter is quite impressive, in my view. It is also impressive given that it managed to increase production compared with the same quarter of 2015 by almost 30%. The increase was achieved in large part due to an increased stake in Syncrude, but it is not exclusively due to this factor. There was also a production increase in Suncor's pre-existing assets. I think it is important to take production trends into consideration when looking at profitability. Most shale companies have been excused from being expected to produce profits in the past years, in large part based on the assumption that production ramp-up costs are hindering the possibility of doing so. Suncor has shown that it does not need such excuses to be made on its behalf.
Aside from the fact that the company is already proving to be profitable within the context of the current oil price environment, we now have the prospect of oil sands pipeline capacity expansion potentially helping to shrink the price difference between WCS and WTI, which will greatly benefit Suncor's profitability profile. Just to put it into perspective, if the new pipeline shrinks the gap by only one dollar per barrel, it means an extra $730,000 per day in revenue for Suncor, based on current production.
Another way to look at it, is in terms of how Q3 results would have looked different if the company would have received just one extra dollar for each barrel. It would have meant an extra $63 million in revenue, which would have translated at least in an extra $10-15 million in operating earnings, on top of the 346 million Canadian dollars.
Aside from the obvious increase in revenues and profitability, there is also the issue of reserve evaluation in terms of size and value. An increase in the prevailing price of oil should increase both the size of the resource base deemed as reserves as well as the value of those reserves. This will mean an increase in the company's value by billions of dollars, once the pipeline is in place. The pipeline will also make plans for higher rates of production possible, which might drive Suncor as well as other oil sands producers to alter their plans and produce at higher rates.
It remains to be seen if the pipeline will be built in the end. Right now it is looking positive, but one may never know for sure with these things. It also remains to be seen how much of an impact the pipeline will have on the oil sands industry in terms of WCS price compared with WTI, as well as opportunities it will present for producers to perhaps increase production. But as things stand now, the invitation for TransCanada to re-apply needs to be seen as positive news for Suncor.
Disclosure: I am/we are long SU, CVX, RDS.A.
I wrote this article myself, and it expresses my own opinions. I am not receiving compensation for it (other than from Seeking Alpha). I have no business relationship with any company whose stock is mentioned in this article.