After the election of President Trump, Saudi Arabia has warned Donald Trump that the incoming US president will risk the health of his country's economy if he acts on his election promises to block oil imports. Saudi Energy Minister Kalid Al-Fahil said, "At his heart President-elect Trump will see the benefits and I think the oil industry will also be advising him accordingly that blocking trade in any product is not healthy."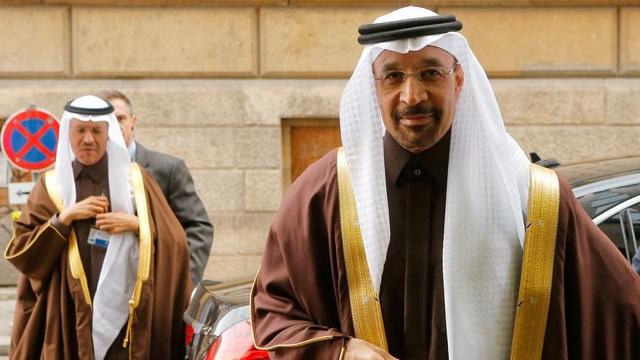 At the end of November, Saudi Arabia entered into the OPEC agreement to do just that, to restrain production to block trade with the stated goal of reducing global oil inventories. And within a couple more weeks, he sat with the Russian energy minister discussing how OPEC had achieved an agreement with some non-OPEC producers to limit their production, effectively blocking trade.
Also in December, the OPEC Secretary General suggested that the United States join with OPEC and non-OPEC countries in future agreements to limit production, calling any agreement that did not include the U.S. "incomplete."
Nonetheless, the Saudi oil minister had nothing but praise for President Trump and two of his cabinet selections, Rex Tillerson, confirmed now to be the Secretary of State, and Governor Perry, Trump's nominee for Energy Secretary. He said, "President Trump has policies which are good for the oil industry, and I think we have to acknowledge it." He also indicated that Saudi Arabia may want to increase its energy investments in the U.S.
Mr. Al-Falih was asked whether he is concerned Mr. Trump had repeated that he wanted to block all imports from Saudi Arabia. He responded, "You are overexaggerating a concern that in my opinion will prove to be nonexistent."
The BBC interviewer referred to the statement on the White House website that President Trump is committed to achieving energy independence from the OPEC cartel. The Saudi minister replied, "I think people are recognizing that OPEC is a force for good."
He did not reconcile why the White House would have published a statement less than two weeks ago that "President Trump is committed to achieving energy independence from the OPEC cartel and any nations hostile to our interests," if Mr. Trump sees OPEC as a force for good. But the Saudi minister stated that "we will make sure there is a better understanding of what we in Saudi Arabia stand for."
Conclusions
The Saudi energy minister is clearly trying to avoid messages that President Trump has sent as a candidate and now as president, and wants to engage with his Administration. Given that posture, I wonder how likely it is that KSA will reduce crude oil exports to the U.S.
Saudi crude imports led the rise in OPEC imports for the month, contributing to a massive inventory gain. It would seem awkward for Saudi Arabia to target export cuts to the U.S. while trying to work together.
President Trump has identified negotiating fair trade deals as a top priority. Perhaps U.S.-Saudi trade negotiations will effectively kill the OPEC deal.
Disclosure: I/we have no positions in any stocks mentioned, and no plans to initiate any positions within the next 72 hours.
I wrote this article myself, and it expresses my own opinions. I am not receiving compensation for it (other than from Seeking Alpha). I have no business relationship with any company whose stock is mentioned in this article.