With a market cap of approximately £2.3 billion, William Hill (OTCPK:WIMHY) is one of the most recognized brands in UK gambling, commanding the number two share of both the domestic retail and online betting market. Broadly speaking, the company can be broken down into its four divisions - Retail, Online, William Hill Australia, and William Hill USA.
The Retail division represents William Hill's approximately 2,370 betting shops across the United Kingdom, and includes traditional over-the-counter betting as well as fixed-odds betting terminals placed within shops (FOBTs). As of the first half of FY 2016, Retail accounted for 57% of total group revenue and just over 70% of total group operating profit.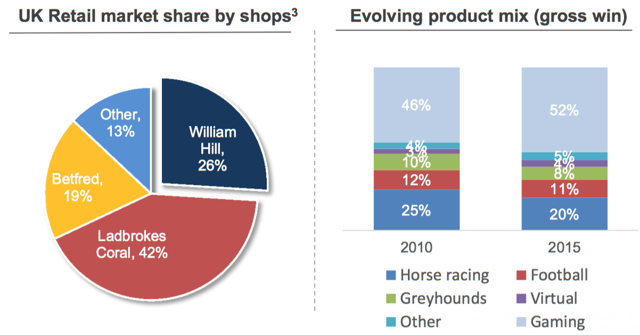 (Source: William Hill Investor Presentation)
Online accounts for the company's Internet betting operations and includes both domestic and international customers. During the first half of FY 2016, UK-based wagers accounted for nearly 80% of Online net revenue, with the division as a whole amounting to 34% of group net revenue and 33% of total group operating profit.
On a geographic basis, the UK market accounts for the vast majority of Hill's business, representing around 84% of the top line. Internationally, the company also claims the number 2 and 3 positions in the online sportsbook market in Italy and Spain, respectively, as well as relatively minor operations in Australia and the United States.
Profitability Hit By Regulatory Headwinds
As you'd expect, given the nature of Hill's business, the major risk that investors face comes from regulation. Specifically, in the case of the UK bookies, this has most recently been demonstrated by the previous government's point of consumption tax (POCT). Introduced at the end of 2014, the new law was designed to replace the previous "point of supply" regime; a system which heavily favored companies targeting British customers whilst operating from tax-friendlier shores. To that end, the government introduced a 15% tax on gross profits generated from the UK-based wagers, resulting in a hit of around £65m to William Hill's group operating profits. In addition, profitability at the retail arm of the company was hit by a five-point increase in the duty applied to gross profits from FOBTs.
With operating costs largely unable to respond given the need to maintain/increase marketing spending, this has resulted in the significant contraction of profit margins over the past few years.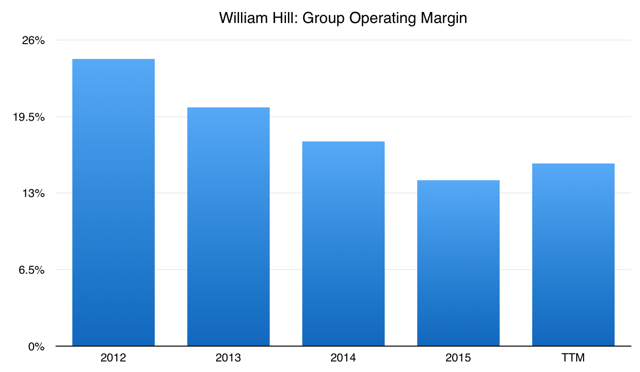 Aside from the obvious impact on profitability, the tougher regulatory environment has led to a flurry of M&A activity across the industry. Ultimately this has resulted in the firm losing the top spot in the domestic retail market to Ladbrokes Coral (OTCPK:LDCOY). In addition, the company has suffered numerous issues that have all added to the other aspect of the stock's poor performance: a contracting value multiple.
First off were the two failed bids - one as a target of three way tie-up between 888 (OTCPK:EIHDF) and Rank Group (OTCPK:RANKF), and one as an acquirer of PokerStars operator Amaya (AYA). Secondly, a vacant CEO position for the past seven months has hindered it from developing its core business (particularly the Online division). Finally, recent customer-friendly sports results that have led to a soft trading statement.
Pre-POCT, the shares reached as high as £4.65 in 2013 on normalized earnings per share of 27 pence, equivalent to a P/E ratio of 17.22. As it stands, the shares are currently trading at 11x the company's 2015 earnings.
Current Valuation & FOBT Regulatory Outlook
Despite appearing to be a significant value play at first glance, investors should note that ultimately the short-, medium- and long-term outlook is heavily tied to the regulatory environment.
The immediate outlook for William Hill and other retail-focused bookmakers will center on the government's upcoming Triennial Review which will determine gaming machine stakes and prizes; an issue that has garnered significant attention in UK media given the controversies surrounding FOBTs. The current limit on FOBTs is set at £100 per turn with a 20-second gap in between, however, this is coming under significant scrutiny by lawmakers given the obvious effects that high stake/high speed automated gaming can have with respect to problem gambling. Activists, and indeed several cross-party MPs, have called for that limit to be slashed to as little as £2 along with a lengthening of the betting time in order to protect customers.
A decade ago, gross profit per machine per week was around £500. As it stood at the end of H1 2016, Hill's machines make an average of just under £1,000 per week each in gross profit. In total, gaming machine net revenue contributed £242m of the group's total net revenue of £814m, or just under 30% of the total top line.
According to a recent analyst report by UBS (NYSE:UBS) a "worst case scenario" move to slash stake limits to £10 per turn would hit Retail operating profits by over 70% (or 50% of total group operating profit). That figure shouldn't necessarily be taken at face value as it involves a couple of sweeping assumptions. For example, it ignores gamers who would simply respond to lower stake limits by playing for longer, which seems a pretty likely response. However, it goes without saying that any outcome leading to a significant lowering of stake limits would have a material effect on the company's profitability given how important FOBTs are to group finances.
In addition, there is also a chance, albeit much less likely, that the new chancellor, Phillip Hammond, will raise the duty on machine profits in his March budget from the current rate of 25%. The last rate increase in 2015 resulted in an additional £19m hit to operating profit, or around 10% in total. Another 5% rise this year would have a similar effect.
To what extent are these potential headwinds baked into the price? Well, as it stands, estimated 2016 earnings per share of 21.6 pence would put the stock at 12.3x annual earnings at the current share price of £2.65. By way of comparison, the average P/E multiple over the past decade is around 14x earnings. Mitigating that is a current year dividend slated to come in at 12.4 pence per share - equivalent to a 4.7% yield at the current share price - which is covered 2x by annual free cash flow. The balance sheet is in solid health, with net debt currently standing at around 2x annual free cash flow. With the current price probably factoring in the most likely scenario - i.e. a degree of regulatory tightening without a full worst-case scenario - investors might still want to remain cautious here; at least until the immediate regulatory environment becomes a bit clearer.
Disclosure: I/we have no positions in any stocks mentioned, and no plans to initiate any positions within the next 72 hours.
I wrote this article myself, and it expresses my own opinions. I am not receiving compensation for it (other than from Seeking Alpha). I have no business relationship with any company whose stock is mentioned in this article.
Editor's Note: This article discusses one or more securities that do not trade on a major U.S. exchange. Please be aware of the risks associated with these stocks.