(Wednesday, post-Fed decision) No surprises here. In a unanimous vote, the Federal Reserve held interest rates steady today, noting that the economy continues to be on the mend, though still at a moderate pace.
The Central Bank kept the Federal funds rates to a range of 0.50-0.75%, where it stood in December when it was bumped up 25 basis points. And while some changes were made in its statement, the Fed offered no hint of when another hike might be in the works.
It noted, however, that inflation will rise to 2%, taking out the "expected" wording and eliminating declines in energy prices and pricing in non-energy imports as part of the cause. The Fed has long targeted a 2% rate of inflation.
Today's nonevent was largely expected. Though Fed members have noted in recent speeches that more rate hikes were on the horizon, market watchers said there was no reason to believe it would happen this soon after December's raise.
The Chicago Mercantile Exchange's FedWatch tool, considered a barometer of the market's read on the likelihood of a rate hike, doesn't shift above the 50% probability mark until June, when it calls for a 69.8% chance of a hike. But the May meeting might be a contender too, with chances at 38.8%
And ahead of the decision, some analysts were predicting there could be another rate hike as soon as March, when a press conference is scheduled, though the futures peg only a 17.7% prospect. That, of course, could change in coming days as investors and analysts play the Fedspeak decoding game when they try to decipher what the written statement might have meant but didn't mention. At this point, it appears the markets are only expecting two rate advances this year rather than the possible three the Fed mentioned in December.
In its statement, the Fed made no mention of what it intends to do about rates this year. That's contrary to its December statement that noted it may raise short-term rates by another 0.75 percentage points, likely to come in three quarter-point steps.
On the trading front, shares of many regional banks moved to the upside ahead of the Fed decision. While all banks are likely to benefit from the extra income they might generate with higher interest rates, some analysts have noted that regional banks, which serve a big chunk of consumer lending, may be among the biggest benefactors.
In the hour ahead of the announcement, the Dow Jones Industrial Average (DJIA) had lost much of its earlier gains, though it remained in positive territory and stayed there after the announcement. Ditto on movement for the S&P 500 (SPX), which was off slightly all day and edged above the flat line 20 minutes later.
The yield on the benchmark 10-year Treasury note was up moderately ahead of the statement at 2.50% and didn't budge much afterward either.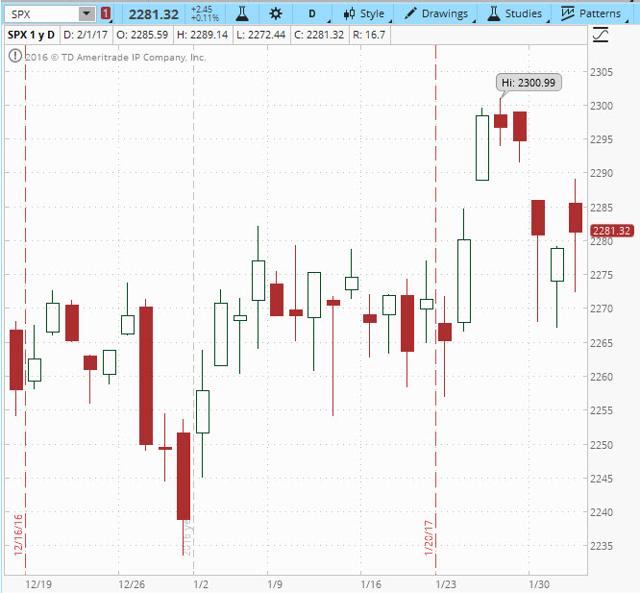 Figure 1: HOLDING STEADY. The S&P 500, plotted here Wednesday on the TD Ameritrade thinkorswim® platform, hugged the flat line in early trading ahead of the Fed announcement and edged slightly into positive territory 20 minutes later. Data source: Standard & Poor's. For illustrative purposes only. Past performance does not guarantee future results.
Phew! We're Not The Story Anymore. Obviously, today is the exception because there was a Fed announcement, muted as it was, on interest rates. But Fed Chair Janet Yellen appears to be breathing a sigh of relief that the top headlines are no longer focused on fighting financial crises and the looming question of whether the Fed will hike rates. You might remember, that appeared to be a common occurrence in the months - yes, months - leading up to December's rise in rates.
At what was billed as a town hall meeting with educators last month, she joked about her efforts to return Fed stories to the back of the book, according to the New York Times. "If the Fed does its job successfully, she said, then 'instead of being on Page 1, we can be back on Page 19 in the newspapers.'" Check the papers next week.
About that Balance Sheet. Remember Quantitative Easing? Well, three rounds of those hefty purchases of long-term bonds and other assets aimed at stimulating the economy and keeping longer-term rates down has left the Fed with a $4.45 trillion - yes, with a "t" - portfolio that some members are now thinking it's time to unload.
Don't get too worried just yet. Remember that the Fed is not in the business of jolting the markets, so any unloading is likely to come in the form of shrinking the holdings slowly. Yellen noted at the December press conference that the Fed "has not made any precise decisions" about when that might begin to happen. In a January speech, she referred to a "passive removal of monetary policy accommodation." Today, the statement noted that the reinvestment policy would continue "until normalization of the level of the federal funds rate is well under way."
Who's on First? Fed watchers probably noticed that the voting lineup has changed as part of the traditional rotation of Fed bank presidents. What might be interesting about this year's team is that the usually hawkish members, Kansas City Fed president Esther George, Cleveland's Loretta Mester and Boston's Eric Rosengren, are off the roster.
Taking their places are Philadelphia's Patrick Harker, Dallas's Robert Kaplan, Minneapolis's Neel Kashkari and Chicago's Charles Evans. Harker, Kaplan and Kashkari are also casting their first FOMC votes. When all was said and done, however, the vote was unanimous - as widely expected. Stay tuned.
Commentary provided by TD Ameritrade® for educational purposes only. TD Ameritrade, Inc., member FINRA/SIPC. Past performance is no guarantee of future results or investment success.
Disclosure: I/we have no positions in any stocks mentioned, and no plans to initiate any positions within the next 72 hours.
I wrote this article myself, and it expresses my own opinions. I am not receiving compensation for it. I have no business relationship with any company whose stock is mentioned in this article.