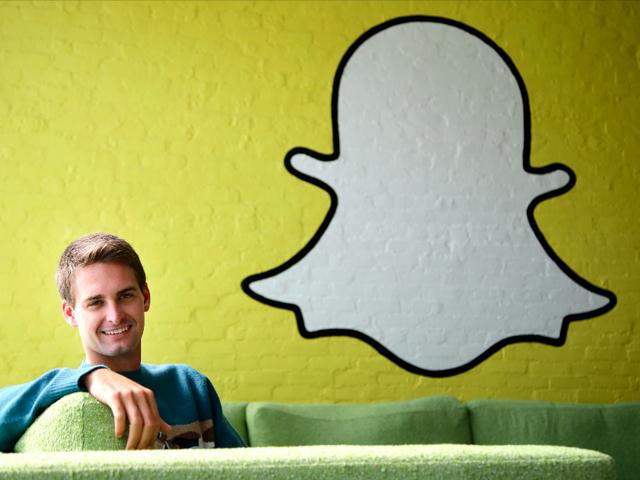 Snapchat's parent company, Snap Inc (PRIVATE: CHAT) is expected to go public as early as March in a transaction being led by Morgan Stanley (NYSE: MS) and Goldman Sachs (NYSE: GS). The company, which is popular with millennials will be valued at more than $20 billion. This will be one of the biggest tech IPOs in the recent past. In a recent interview with CNBC, Trip Chowdhry, the managing partner at Global Equities Research called Snap junk not worth more than $500 million. He said this about the company: "We are at the tail end of the social media boom. Novelty is giving way to fatigue." To a large extent, I agree with him. In this article, I will highlight the reasons why short 'investors' will be rewarded than the longs.
Target Market
Two of the best companies to compare with Snapchat are Twitter (NASDAQ: TWTR) and Facebook (NASDAQ: FB). While FB has become a success for its investors, Twitter has struggled with user growth and monetization. Part of the reason is that FB is a mass product focusing on family and friends, Twitter is a niche product with an emphasis on news. As a result, though more than 1.4 billion Twitter accounts have been created, only a small percentage of the account owners use the platform on a daily basis. For Snapchat, the target market is the millennials. In fact, on a daily basis, the company reaches 41% of people aged between 18 and 34.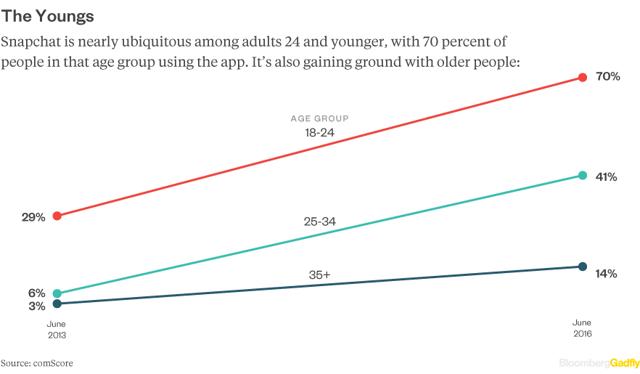 Source. Bloomberg
This presents the biggest challenge to CHAT. In the filing, the company is touting the user engagement or the time spent its users spend on the platform. A report by Fitzegerald noted that Snapchat's users spend about 10 minutes per day in the platform. How does the company assure its investors that the engagement will remain high? Also, how will the company distinguish itself from its closest peers? Instagram has already updated its application to provide the same product as what Snapchat provides. Further, Instagram is a much larger 'company' than CHAT with 500 million monthly active users (MAU) and 300 million daily active users (DAU). In addition, Techcrunch reported that Instagram's stories feature had gained more than 150 million DAU. As of June, CHAT had about 150 million daily DAU as shown below with 235 million people using it monthly.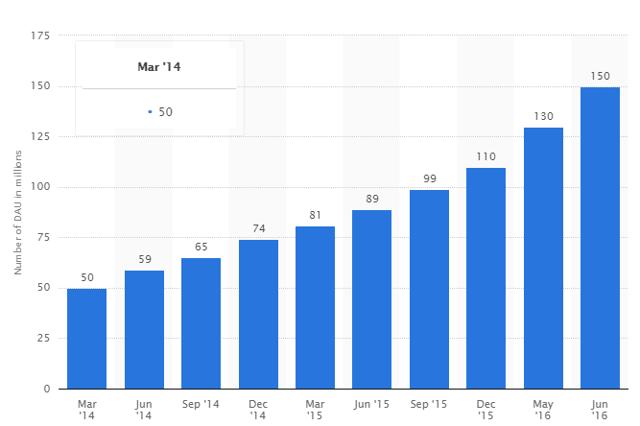 Source. Statista
In short, going forward, CHAT will have a challenge in terms of user growth especially when the current users age. As a way of addressing this issue, CHAT will list as a camera company to differentiate itself from the apparent competitors. Its mission statement now is:
We believe that reinventing the camera represents our greatest opportunity to improve the way people live and communicate. Our products empower people to express themselves, live in the moment, learn about the world, and have fun together. Snap Inc
This reminds me of a popular saying, "If it looks like a duck, swims like a duck, and quacks like a duck, then it probably is a duck."
Valuation
As a private company, Snap's financials are not known. However, in a report by Recode, Snap told investors that it would generate between $300 and $350 million in revenues in 2016. eMarketer on the other hand projected that Snap would generate almost a billion dollars in 2017. The ad revenues would grow to $1.7 billion in 2018 as shown below.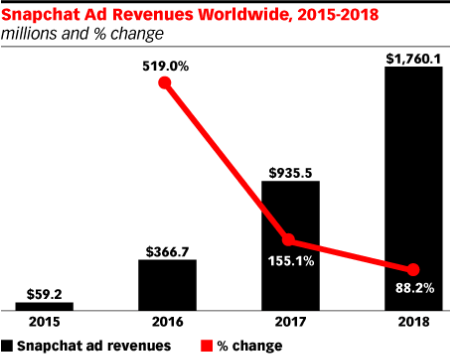 Source. eMarketer
If the figures are true, at the IPO, Snapchat will be trading at 25x its projected revenues. This will be higher than its would-be peers multiple as shown below.

Source. Bloomberg
Final Words
Snapchat is without a doubt a great company especially with the millennial demography it targets. The only problem with it is the valuation. The $25 billion price places the company at half the size of Instagram which analysts have valued at $50 billion. Investors who will buy the company at the IPO will be making a grave mistake.
Before going long the company, consider the following statement by Trip Chowdhry
"All the junk IPOs I mentioned had their uniqueness too. Remember Groupon - group buying; Zynga - social gaming; GoPro - action photography and a media company and drone company. These are all instruments of blowing hot air into a company before a collapse,"
Disclosure: I/we have no positions in any stocks mentioned, and no plans to initiate any positions within the next 72 hours.
I wrote this article myself, and it expresses my own opinions. I am not receiving compensation for it (other than from Seeking Alpha). I have no business relationship with any company whose stock is mentioned in this article.