Like most energy companies, Exxon Mobil (NYSE:XOM) will soon hold its 2017 analyst day, in which the company will lay out its priorities and expectations for the coming year. I would sum up Exxon's previous year by saying that it cut capital spending on expendable projects, while continuing ahead with essential projects that had already been started. Last year we saw a nominal dividend increase and the company's outflow of money was several billion dollars greater than what it took in. Even still, with the balance sheet and credit rating that Exxon has, the company doesn't have to be as insistent on working exactly within cash flow.
This article takes a look at Exxon's fourth-quarter performance, but more importantly, looks at what I believe investors can expect from Analyst Day and the company's priorities for the rest of the year.
Priorities for 2016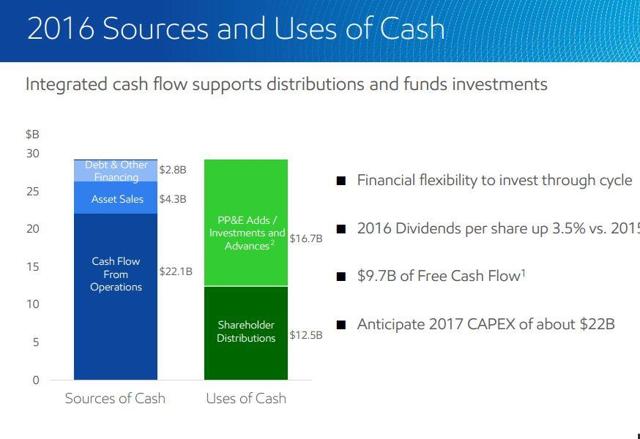 Courtesy of Exxon Investor Relations.
Here we can see what Exxon did with its money coming in and going out over the whole of last year. Exxon took in $22 billion. The company paid out $12.5 billion in distributions and made $16.7 billion on capital investments and acquisitions. When we factor in asset sales, Exxon's cash flow gap was under $3 billion.
I would have preferred for Exxon to have at least broken even, but considering the company's AA+ credit rating (the second highest for a corporation) and $5 billion in cash on hand, this is not such a big deal.
Exxon has been busy in 2016. It started production from five major projects totaling 250,000 boe per day in working-interest capacity. This includes the massive Kashagan project in Kazakhstan, as well as Gorgon LNG train 2. In addition to this, Exxon announced two major acquisitions: InterOil Corporation, an oil company focusing on offshore Papua New Guinea for $2.5 billion, and also 250,000 additional net acres in the Delaware Basin. Exxon seems to believe that now is a good time to acquire and I couldn't agree more.
2017 priorities
From what it looks like, Exxon has a lot to work on in 2017. Therefore, I do not expect a major drop off in capital expenditure with Exxon, such as what we are seeing with other major energy companies which are struggling to break even at today's prices.
Exxon's philosophy is primarily to go ahead with big, long-term projects that operate for decades. Because Exxon has a pristine balance sheet, the company is indeed able to do these projects with a very long-term view in mind, with the expectations that realized oil prices will improve when the weaker hands exit the picture. Building these mega projects, and continuing to add supply despite low prices, incidentally, helps to move the weaker hands out.
I expect more of this in 2017. Over the next two years, Exxon will be finishing up five major projects: Hebron, Sakhalin-1, Upper Zakum 750, Kaombo Split Hub and Barzan.
In downstream and chemical, Exxon expects to start up the Baytown and Mont Belvieu chemical expansions. Management commissioned a state-of-the-art aviation lubricant facility in Louisiana, and will also make a final investment decision on expanding its Beaumont polyethylene plant.
In exploration, Exxon has made discoveries in Nigeria deep water, a discovery adjacent to its Hides field, and also one off the coast of Guyana, where the company is also planning to develop the Liza field. There is also new exploration work to do after successful bids in offshore Papua New Guinea, Cyprus and Mexico.
And don't forget, acquisitions are likely to continue so long as crude prices remain quite low. I expect Exxon to continue looking for Permian Basin acreage for horizontal drilling. With all this in mind, I do not expect Exxon to seriously reduce its capex this year. In 2016, capex was about $19 billion, which was a 38% reduction from 2015. I do not expect to see a similar reduction this year. Instead, I believe that capex in 2017 will be similar to that in 2016.
What about dividends and buybacks? Well, management says it isn't currently interested in buybacks, and considering how tight the pocket book is, I don't really expect significant net buybacks in 2017, but that depends on where share prices go. Last year Exxon increased its dividend by 3.5%, from 73 cents to 75 cents. I believe Exxon will want to continue that streak of dividend increases, but that increase will once again be nominal: I expect a 1 cent or 2 cent dividend increase this year. We are definitely not at the point where dividends can accelerate.
It's hard to determine whether Exxon will be able to balance its cash flow this year. That will ultimately depend upon crude oil prices. If prices in 2017 remain similar to those of 2016, then I suspect that Exxon's spending will outstrip cash flow by at least a couple billion because of some of the major projects that will come online within the next two years. Exxon needs to keep spending to make progress in these big projects. I think that the cash flow situation will be close, but if Exxon has to choose between balancing cash flow and going up couple billion to do its major projects, then management will likely choose the latter.
Is Exxon a buy?
I continue to recommend Exxon Mobil as a buy. Shares yield a solid 3.6% and that dividend is quite secure. There will be accelerated dividend growth at some point, but I believe that time is too far off. This is a good name for a recovery and is one of the lowest-risk ways to be in an upstream oil company.
History says that the time to buy energy companies is when earnings are low. Earnings per share in 2016 haven't been so low since the early 2000s. I believe that now is a fine time to hop into Exxon. There might not be the huge upside there is in some of the mid-sized energy companies, but this is a much lower-risk play on upstream energy, plus it comes with a solid dividend.
If you're interested in Exxon Mobil, feel free to follow me here on Seeking Alpha. I am personally long this stock and will continue to provide updates when doing so is both material and relevant.
Disclosure: I am/we are long XOM.
I wrote this article myself, and it expresses my own opinions. I am not receiving compensation for it (other than from Seeking Alpha). I have no business relationship with any company whose stock is mentioned in this article.