The Indian stock market (NASDAQ: INDY) jumped 1.81 percent Wednesday after the Union Budget announcement. Benchmark Nifty 50 closed above 8700, following no tinkering with the long-term capital gains tax. This was a relief rally and should be treated as such.
Investors earlier fretted about a possible imposition of a long-term capital gains (LTCG) tax after the Indian Prime Minister Narendra Modi said that people making profits from the markets must contribute to nation-building through taxes. While the Indian Finance Minister Arun Jaitley clarified that there was no such measure being considered, rumors started spreading that the long-term horizon could be extended to 3 years. In India, there is 0 percent capital gains tax on long-term (greater than one year) holdings in the stock market.
Since the Finance Minister did not touch either of the subjects in the presentation, the stock market rejoiced with a powerful relief rally.
In my earlier article titled The Indian Stock Market Rally Is About To Be Seriously Tested, I had detailed the importance of 8550 as the crucial level for Nifty 50. Nifty breached this level decisively last week and retested it Tuesday (see the daily price chart below). Wednesday, it has confirmed it as a near-term support.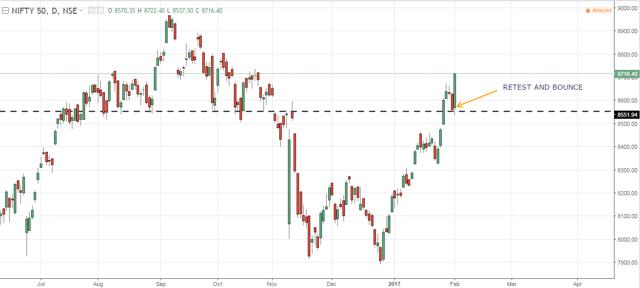 Source: TradingView
The rally in Indian equities is also being helped by an appreciating Indian Rupee (NYSEARCA: INR) against the U.S. dollar. A weaker dollar makes it cheaper for foreign institutional investors to purchase Indian equities.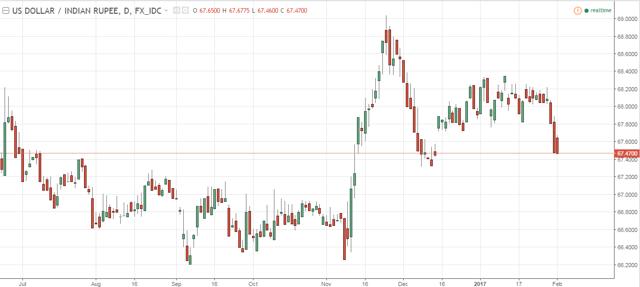 Source: TradingView
Fortunately for them, the U.S. dollar (NYSEARCA: UUP) has been declining for the last four weeks. On the verge of breaking a crucial support this week, a weaker dollar may strengthen the bullishness in the market.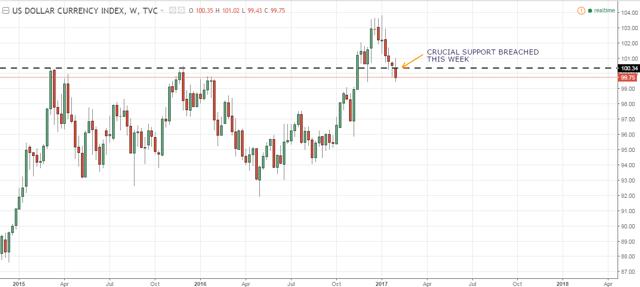 Source: TradingView
But, the important question to ask now is: Can the market take out the all-time high of 9119.20 now?
As readers can see from the weekly Nifty 50 price chart below, the index has formed a wide narrowing range, a breakout from which is inevitable. While a stronger INR may push the market to the higher end of this range which is currently close to 8920-8950, it may not be enough to take the market higher.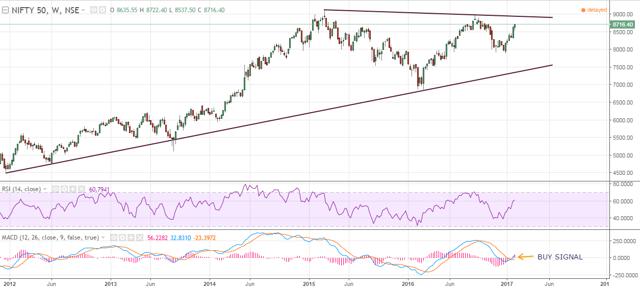 Source: TradingView
Any upmove beyond this range has to be supported by a stronger earnings growth, since the current market valuations are rich. As per the latest National Stock Exchange data, Nifty 50's current P/E is 23.27.
From the multi-year data presented below, it is evident that Nifty is once again nearing stratospheric valuations which have often brought painful losses for the investors. So, if an investor is willing to buy Indian equities now, he must do so with light positions. Now is actually the time to start booking profits in the long positions.

Source: Historic-pe-ratio.weebly.com
The median PE of the Indian stock market is 18.92 and 2 standard deviations from the median is a P/E of 25.73. Since 1999, the Indian stock market has tested the second standard deviation P/E only thrice, and it has always resulted in harrowing losses.
Investor Takeaway
The important conclusion to draw from this article is that the Indian stock market is richly valued and has to be supported by strong earnings growth quickly in order to sustain the lofty valuations. If the market goes higher, investors should consider booking profits in their long positions. Those who are looking to make fresh investments must do so with light positions now since the earnings pickup looks highly unlikely in the near term following the demonetization of Rs. 500 and Rs. 1000 notes.
Note: I cover several stocks in different sectors as well as S&P 500, crude oil, gold and silver, U.S. dollar, etc. So, if you liked this update, and would like to read more of such informative articles, please consider hitting the "Follow" button above. Thank you for reading!
Disclosure: I/we have no positions in any stocks mentioned, and no plans to initiate any positions within the next 72 hours.
I wrote this article myself, and it expresses my own opinions. I am not receiving compensation for it (other than from Seeking Alpha). I have no business relationship with any company whose stock is mentioned in this article.