2016 was a year to forget for pharmaceutical stocks, as the majority of them significantly underperformed the S&P 500 (NYSEARCA:SPY). The most obvious underperformer was Valeant (NYSE:VRX), but Allergan (NYSE:AGN) was not unscathed earlier. The stock was down 45% from its 52-week highs as of early December, a move that erased roughly $55 billion of its market cap. The stock has recovered a little since, and is now 25% off its 52-week lows. I have been stalking the company for months now for an entry, but have been patiently waiting for a buy signal to be generated. As of today's close, the stock is above its 200-day moving average, and set for a weekly close above its 40-week moving average. Typically, this means that the stock's worst days are behind it, and I've gone long as of this afternoon at $226.20 per share.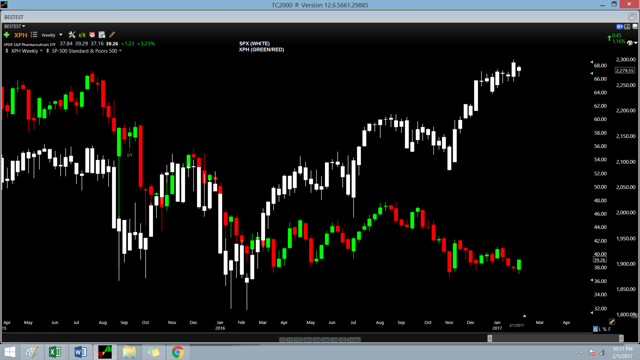 (Source: TC2000.com)
As we can see from the below image of Allergan, the stock is nowhere near as fundamentally strong as its competitors. This can likely be attributed to its underperformance, as many of the other pharma companies have much better yields which paid investors to wait. Having said that, I am not buying Allergan based on the fundamentals. While the 1.3% yield at current levels doesn't hurt, it's not the reason I went long today.

(Source: SimplyWall.St)
My trading systems are very simple, and they place very little emphasis on the fundamentals of a stock. My first strategy buys breakouts in long-term uptrends, and the second system is a bottom-fishing strategy that goes long when I believe the trend has flipped to bullish. Rather than trying to guess when a stock is ready to begin a new bull market, I let a simple trend indicator tell me. This is a reactive form of trend following, and not predictive in any way. The goal of this is to avoid any biases, and allow the market to tell me what to do. There are many traders that use technical analysis, but have an innate bias on a stock and only see the patterns that they want to. This is not their fault as it's very difficult for us to see something that our brain does not want to see. I believe this is a pitfall of predictive technical analysis, and this is why I prefer to avoid it at all costs.
So how does my bottom-fishing strategy work?
I developed the bottom-fishing system after watching Larry Tentarelli trade, and the system is very similar to his. The system goes long on a close above the 40-week moving average, if a stock has been below its 40-week moving average for at least 3 months. The system is wrong more often than it is right, but the winners tend to be significantly larger than the losers. This means that one can still be profitable even with a win/loss ratio of less than 35%. This is due to the typical winning trade being 3 times the size of the average losing trade. The below charts better display how this strategy remains profitable despite being wrong more often than it's right: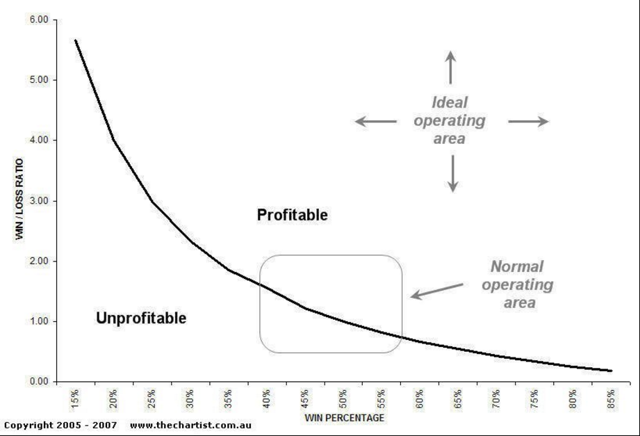 (Source: Van Tharp's R-Multiple Distribution, TheChartist.com.au)
This system is one of the most successful trading systems in the world, and people have made themselves billionaires from this strategy. The below chart is of Bill Dunn's performance from 1970-2016, a period in which he turned each $1,000.00 into $1.05 million. This is a significant outperformance compared to the S&P 500, which returned $118,000 over the same period for each $1,000.00 invested.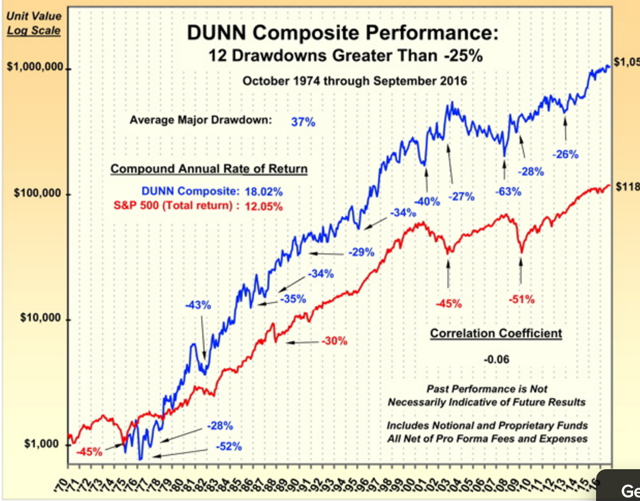 (Source: TrendFollowing.com)
If this strategy is so impressive, then why is everyone not using it? The answer is very simple. Most people would rather be right than make money, even if they are unable to admit it. Egos have killed many a traders, and one has to look no further than Bill Ackman and Valeant (VRX) for an example of this. Valeant was a stock that should have been avoided since $200 when it entered a downtrend, but Ackman was determined to be right on the stock. The stock ended up costing him a good chunk of his assets under management, and he is a billionaire hedge fund manager. If a billionaire hedge fund manager is not willing to adhere to this system, then you can imagine it's very difficult for the average person to do the same.
The methodology of this strategy is known as trend following, and the goal is to ride your winners as long as they are going up, and cut your losers as soon as the trade thesis is invalidated. Below are a couple of examples of trades based on this system: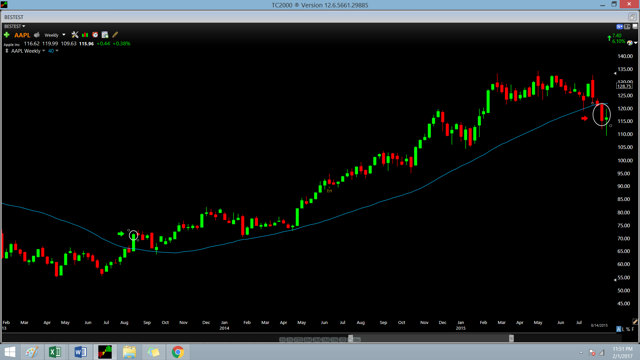 (Source: TC2000.com)
Above Chart: Apple (NASDAQ:AAPL) - August 2013 to August 2015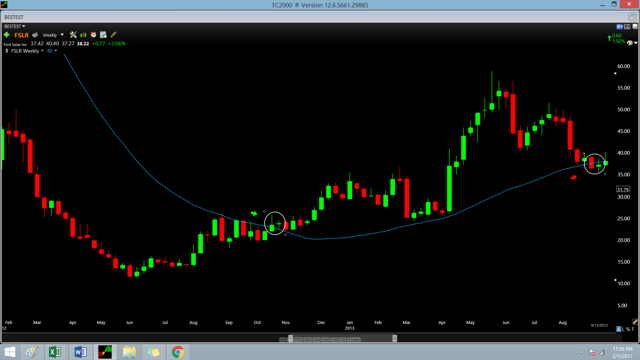 (Source: TC2000.com)
Above Chart: First Solar (NASDAQ:FSLR) - October 2012 to August 2013
So how does this all relate to Allergan?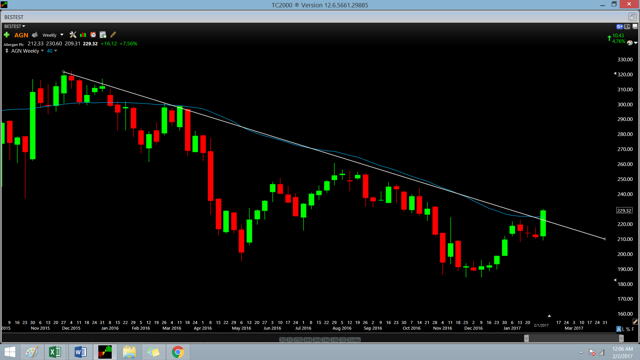 Allergan has been stuck beneath its 40-week moving average for more than a year now, but is now above it for the first time in 56 weeks. In addition to this, the stock has broken out of a weekly downtrend that has been in place since December of 2015. A close above $225.40 would confirm this signal, and would give it the first momentum buy signal since March of 2012.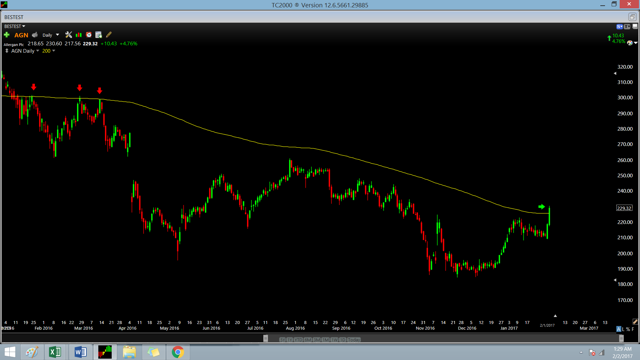 (Source: TC2000.com)
I have taken a long position today as the stock has closed cleanly above its 200-day moving average. This is slightly 'front-running' my 40-week moving average strategy, but adhering to a close above the 200-day moving average. As we can see, the 200-day moving average (yellow line) has been resistance for more than 9 months, and the stock was rejected at this level 3 times in 2016. The fact that the stock made a clean breakout above this level today tells us that the stock is changing its character. All previous tests of this level led to the rally dissipating, and this time the stock ran through it like it wasn't even there. The longer Allergan remains above the 200-day moving average, the more confidence I have in the trend flipping to bullish.
So what if I am wrong on Allergan?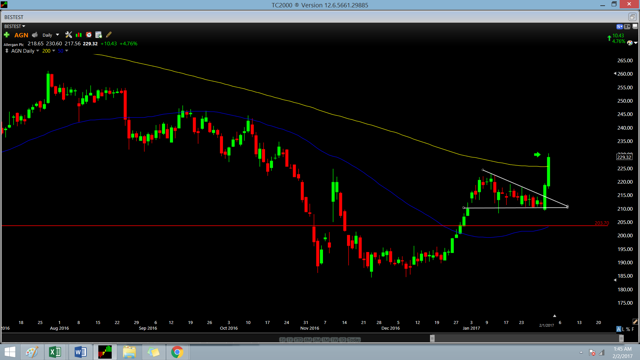 (Source: TC2000.com)
If I am wrong on Allergan entering a new bull market, I want to cut this loss as quickly as possible. My stop on this trade is below $203.70 on a closing basis. In my opinion, a close below $203.70 would invalidate this trade thesis, and put the bull case in serious jeopardy. There are two reasons for this:
1. A close below the $203.70 level would represent a close below the recent swing lows for the stock at $210.00. This would show a lack of commitment to the rally of the lows, and would give me much less confidence in this breakout. If this breakout is for real, I would not expect it to give up this much ground this early into the move.
2. A close below the $203.70 level would also coincide with a close below the 50-day moving average (blue line). The 50-day moving average has recently assumed a positive sloping and I would expect the stock to find support at this level. Typically, a rising 50-day moving average is where buyers come in to support a stock, and Allergan should be no different. I expect the 50-day moving average to be at $203.75 by tomorrow's close.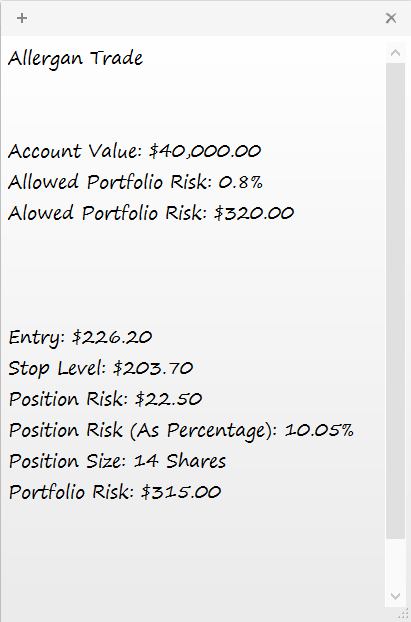 Before entering any position, I decide where my stop is so I can size my trade properly. My allowed risk on any one trade using this system is 0.8% of my total portfolio. This means that based on my $40,000 account for this system, I am allowed a position size no greater than 14 shares. To show how I calculated this, I have provided the above sticky note for position sizing. I have a total position risk of $22.50 from my entry to my stop, which coincides with a position risk percentage of 10.05%. This means that the maximum amount of my account I'm able to use for this trade is 8% (0.08 portfolio size x 0.1 position risk = 0.8% total portfolio risk). From there, I must find out how many shares I can buy using 0.08% of my portfolio. 0.08% of a $40,000 portfolio means I am allowed to use $3,200 maximum for my trade, which in turn gives me a maximum trade size of 14 shares ($3,200/$226.20).
This risk management tool is designed so that a bad distribution of losers does not wipe me out. As stated earlier in the article, this system is not known for being right, but it is very good at making money despite this. The only way to destroy this edge is by sizing positions too big, and not allowing the edge to be exploited. This means that if I risked 10% of my portfolio per trade, I have the potential for a bad streak of 10 losers in a row to wipe me out. While this is very unlikely, anything is possible. Any of us who have gone to the casino have likely seen red come up in roulette 8-10 times in a row, and while it is a rare occurrence, I'm not taking that chance.
Allergan looks like it wants to begin a new bull market, and the stock is certainly acting constructive after leaving its December base. I do not know whether this trade will be a winner, and frankly I don't care. The goal is to put myself in trades that give me a good risk to reward and hope for the best. If the trade does not work, so be it, I will happily move on to the next one. For this reason, I have gone long Allergan at $226.20, and intend to stay long unless the stock closes beneath my stop at $203.70.
Disclosure: I am/we are long AGN, SPY.
I wrote this article myself, and it expresses my own opinions. I am not receiving compensation for it (other than from Seeking Alpha). I have no business relationship with any company whose stock is mentioned in this article.
Additional disclosure: If you liked this article and found it useful, please feel free to follow me by clicking on my name next to my avatar at the top of this article. I also invite you to follow me at www.twitter.com/TaylorDart01 where I routinely share my entries, exits, and stops on new positions, as well as updating followers on sentiment data on markets I am following.