PIMCO cuts distributions. What does it mean?
"This month, PHK's monthly distribution was reduced by $0.022761 per share; RCS's monthly distribution was reduced by $0.008000 per share; PMF's monthly distribution was reduced by $0.021580 per share; PNI's monthly distribution was reduced by $0.015560 per share; PMX's monthly distribution was reduced by $0.006550 per share; and PYN's monthly distribution was reduced by $0.010250 per share." (Marketwired - Feb 1, 2017)
Setting aside the cuts in the four tax-free, municipal-bond funds (PNI, PMX and PYN) for now, let's look at PIMCO's taxable funds:
PIMCO Dynamic Credit and Mortgage Income Fund (NYSE:PCI)
PCM Fund, Inc. (NYSE:PCM)
PIMCO Corporate & Income Strategy Fund (NYSE:PCN)
PIMCO Dynamic Income Fund (NYSE:PDI)
PIMCO Income Strategy Fund (NYSE:PFL)
PIMCO Income Strategy Fund II (NYSE:PFN)
PIMCO Global StocksPLUS & Income Fund (NYSE:PGP)
PIMCO High Income Fund (NYSE:PHK)
PIMCO Income Opportunity Fund (NYSE:PKO)
PIMCO Corporae and Income Opportunity Fund (NYSE:PTY)
PIMCO Corporate & Income Opportunity Fund (NYSE:RCS)
Two of these (PHK and RCS) suffered distribution cuts: PHK at -28% and RCS at -11%. Both have been struggling to cover their distributions and both have been carrying substantial premiums. PHK has been yielding 12.50% and RCS has been yielding 10.15%. With the cuts yields would fall to 9.0% for both of them if nothing else were to change. Prices are sure to come down however so yields will probably be quite different by the end of the week.
Here is an overview of all the PIMCO taxable funds showing coverage ratios for the past three months and each fund's fiscal year (which varies among the funds).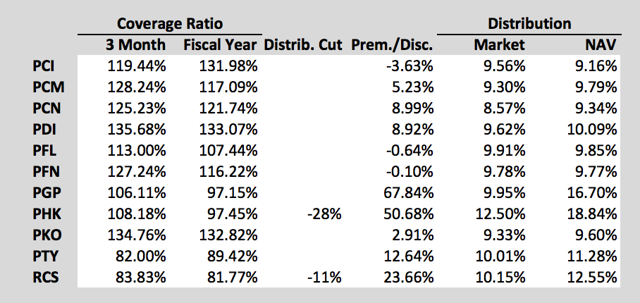 (Note: Table has been corrected from previous version, which had PCI's NAV and market distributions reversed.)
It's interesting that the coverage ratios for PHK and PGP are not very different, indeed PHK has been doing slightly better on coverage than PGP, but PGP's distribution hasn't been cut. A similar situation exists for RCS and PTY from these data, but in December PTY paid a year-end special distribution of $0.17 on top of its $0.13 normal distribution, so it may not be in as bad a shape as the table indicates. RCS did not pay a special distribution in 2016.
PHK last cut its distribution in September 2015 by 15%. In the aftermath of that cut, PHK's price dropped 10.4% the next day and 15.6% by three days post-cut. NAV stayed completely stable. The fund's premium dropped from 32.9% to 12.1% with the net result being that distribution yield at market price remained stable at 15.5% (Distribution Cuts: Threats And Opportunities For Income CEF Investors). If you saw this as a buying opportunity at the time, you would have done well. A year later PHK's premium was back up to 50%. Yet again, we see how hard is is to underestimate CEF investors.
As I write this, PHK is down 13.3% in after-hours trading on substantial volume (181,729 shares), which is unusually high for a CEF. Even if it falls no more than that, it will still be yielding 11.2%. It's early, of course, but this is precisely the pattern that unfolded in 2015.
This chart from cefconnect shows the price and NAV for the past three years.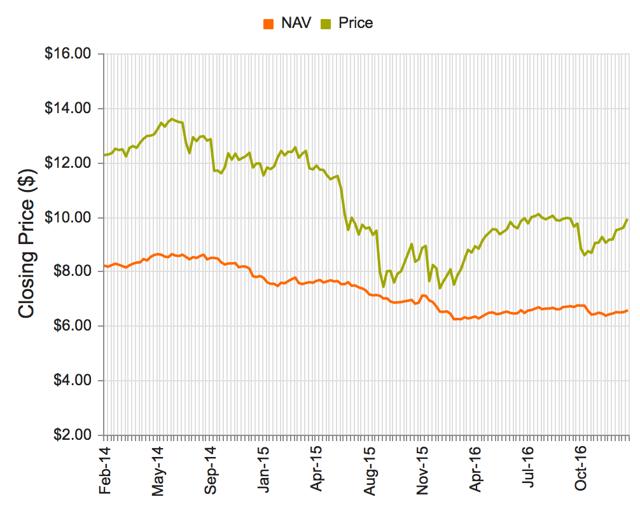 One interesting contrast between the 2015 cut and today's is that the market seemed to anticipate a problem with the fund in 2015 as there had been a steady loss of premium over the preceding months.
RCS did not cut its distributions in 2015, in fact it has not cut its distribution since 2006. But it too fell precipitously in mid-2015; its double-digit premium fell to a small discount. A buyer at that time would have watched the fund climb back to a premium in the mid-30% range within a year (Retirement Income: It's Time To Sell This PIMCO CEF). I fully expect RCS to show substantial price declines in response to the distribution cuts. Its after-hours response is much less vigorous than PHK's; it is down 2.22% on a volume of 5553 shares. Although that too is a lot of after hours volume for a CEF, it pales in comparison to PHK's.
Looking Ahead
So, what does this mean? First, it illustrates the folly of investors bidding funds into ridiculous premium valuations, especially in the face of marginal (at best) distribution coverage. It's hard to look at the table above and not anticipate trouble ahead for PIMCO's other two large premium funds, PGP and PTY. If I held either of those funds, I would surely be considering an exit before they are forced to cut distributions as well, particularly as one can come very close to their distributions with other, clearly safer, PIMCO funds. Of course, if enough investors took what seems to be a reasonable path, the funds' prices and premiums would fall, distributions would rise, and the good people who only look at distribution yield would reopen the cycle by bidding them back up. Again, I've learned that it's difficult to underestimate the folly of CEF investors.
PIMCO is nearly unique among CEF sponsor in publishing an up to date statement on dividend coverage for each of their funds on a monthly basis. Any PIMCO fund holder should be checking the website at the beginning of the month on a regular basis and take its message to heart. PIMCO provides an exceptional tool; it only makes sense to use it.
On the basis of the current numbers, I continue to strongly favor PCI above all the others for a current buy. For one thing it's the only fund in the line-up with a meaningful discount. Its distribution coverage is excellent and clearly supportive of a continued payout at least at current levels. And let's not forget that PCI adds a year-end special distribution that belies its appearance as the lowest yielding PIMCO fund. Some might prefer to see a higher monthly distribution, but I appreciate the approach of returning the excess at the end of the year. For one thing, it maintains that appearance of a more modest (if 9.2% can be considered modest) yield which keeps the folks who only look at that column from driving the fund into silly premiums.
But PCI isn't alone in having a sustainable distribution. PCM, PCN, PDI, PFL and PFN are all earning more than they are paying out. My own inclination is to stay away from PCN, PDI and PCM at least until those premiums come down, but PFL and PFN are both paying close to 10% and are both slightly discounted. Either is worth careful consideration.
The next few days will let us know how PHK and RCP will shake out post-cut. If either falls to a price that returns its yield to the pre-cut numbers, such as PHK did after its last, lesser cut, I plan to be looking at them closely as possible buys. These are, after all good funds. If they are not obligated to overpay their earnings, they could be attractive holdings. As well, history tends to predict that if they do fall to yield levels in the low double-digits, the cycle may well pick up again opening an opportunity for capital gains.
Finally, I haven't considered those four muni-bond funds, but all the same logic applies. There are other PIMCO muni-bond funds that are not earning their vig - essentially all of them. They could be next.
Disclosure: I am/we are long PCI PDI.
I wrote this article myself, and it expresses my own opinions. I am not receiving compensation for it (other than from Seeking Alpha). I have no business relationship with any company whose stock is mentioned in this article.