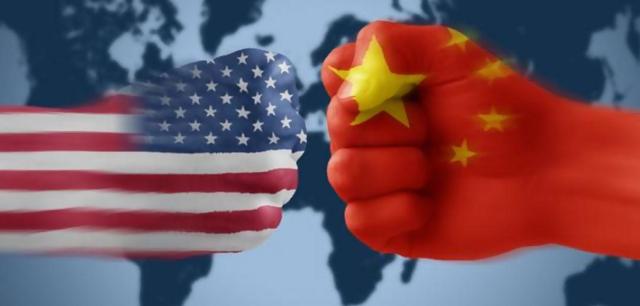 You lift a rock only to drop it on your own foot.

-- Chinese proverb
A Potential Body Blow
As ascendant as the stock of NVIDIA Corp. (NASDAQ:NVDA) has been, the ramifications of a semiconductor trade war with China will potentially deal it a body blow. Ominously, a trade war is indicated as ever more likely by the radical, polarizing approach President Trump has adopted to the issue of U.S. - China trade, threatening the world's second largest economy, and the largest goods trading partner of the U.S., with a 45% duty on Chinese imports.
Emerging early as his presidential style, Trump has projected a similar confrontational approach on China's access to the South China Sea islands, trade with Mexico, Germany and Japan, and immigration.
With NVIDIA still close to its December, 2016 highs, the implications of Trump's China trade policy and other policies he is fronting have not yet been priced into the stock. It is therefore anticipated that share price will return to and rise above December highs before falling off into a deep pullback as trade conflict escalates, unless in an increasingly volatile situation a trade war accelerates onset of the downturn.
Opportunity For Profitable Short
Other derivative and ancillary factors flow from a trade war. Neither a trade conflict nor the aspects discussed below are yet priced into NVIDIA, providing an opportunity for a very profitable short when entry is timed correctly as trade conflict worsens.
A critical part of national economies because of their revenue, jobs and implications for national security, semiconductors will lie at the heart of any trade war with China. The company's vulnerability is clear.
NVIDIA derived 19% of its revenue from China in 2014, and 16% in 2015, according to SEC filings. China is also the world's largest market for graphics cards, a key business for NVIDIA. Disruptions through either a retaliatory import embargo or high import levies imposed by the Chinese government would consequently strike at the heart of the NVIDIA's revenue, and hence hit share price.
Huge Potential Chinese Banking Crisis
It is important also to consider the Chinese economic context into which Trump is inserting the prospect of a trade war when he brandishes his threatened 45% import levy. His outmoded claims that China is still a currency manipulator are not borne out by the facts. In recent years China has used a lot of its currency reserves to support the value of the yuan.
It has been held that a credit crisis in China could hit Chinese banks with losses of $2,600 billion, four times the size of equity losses suffered by U.S. banks as a result of the subprime meltdown. This stems from China's debt having inflated to approximately 250% of GDP as a result of the long term use of cheap credit to foster economic growth.
The combined elements of a prospective trade war and a looming banking crisis have implications for the entirety of Chinese economic structure, with many banks having direct ties to the government. This potentially renders the situation highly volatile, multiplying the damaging affects of a trade embargo, restrictions and import levies.
Very Unstable Macroeconomic World
Add in also that China is the largest foreign holder of U.S. debt, with over $1.24 trillion of notes, bonds, and bills, and consider the precedent set by Saudi Arabia in threatening to sell hundreds of billions of dollars in U.S. debt if Congress passed a statute allowing suits against that country for any role they had in 9/11, and you have a potentially very unstable macroeconomic world.
If China, once engaged in a trade war, were to implement that retaliatory strategy of selling large amounts of U.S. debt, the dollar would be greatly weakened, with severe collateral implications both for America and for countries wedded to the dollar standard.
The combined effect of a semiconductor trade war, the consequent disrupted interconnectivity of world trade, and a weakened dollar would cause the stock market to plummet, dealing damage disproportionately to NVIDIA as a semiconductor company with vital direct trade with China.
Trade Policies Will Produce Recession
Lest anyone think this scenario is overblown, reflect upon the statement by Jim Rogers, former partner of George Soros and co-founder of the Quantum Fund, in referring to Donald Trump:
He very much wants a trade war. And if that happens, sell everything.
Moody's modelled Trump's trade policies and found they would produce a recession in the U.S., with approximately 4 million jobs lost and a further 3 million not created. This model assumes trade retaliation by both China and Mexico. Trump has recently also accused Germany and Japan of unfair trade practices.
Price rises as a result of levies on goods imported from those countries, with lower discretionary income available as a result, would slash demand for all products, including those of NVIDIA. More broadly, in a highly interconnected world, a contingent reduction in U.S economic growth would affect the economies, and consequently the demand levels, of trading partners like the European Union.
Sphere Of Influence China Exerts
For NVIDIA, with the advent of a trade war, a critical question would be the extent of the sphere of influence China exercises in Asia. As Taiwan-based Taiwan Semiconductor Manufacturing Co. Ltd. (NYSE:TSM) manufactures all of fabless NVIDIA's GPUs, in the event that Taiwan follows China's lead in sanctioning trade with the U.S., NVIDIA's production would be halted, slamming share price.
Trade controls imposed by the U.S. on China would undoubtedly hurt Taiwan greatly. Approximately 35% of China's 2015 exports were processing trade, with South Korea, Japan, and Taiwan the main counterparties. Consideration of economic harm will in the event be weighed against the more independent stance of Taiwan's president, Tsai Ing-Wen. The position Taiwan would take on trade conflict between the U.S. and China is uncertain, and represents a huge potential downside for NVIDIA.
Damage to NVIDIA's international competitiveness will also be done by Trump's stated intention to reduce the cap for H-1B visas, presently at 85,000. These visas permit highly skilled guest workers to take temporary employment in the U.S. when there are insufficient highly skilled U.S. workers to meet employers' needs. The most notable highly skilled U.S. deficiency is in the STEM fields, from which NVIDIA seeks to recruit most of its hires. The H-1B visa cap is already frequently exhausted within just five days of the opening of the twelve month application period. Reduction of that cap will further disadvantage American companies in global markets.
Conclusions
The economies of both the U.S. and China are presently fragile, and entering into a trade war would likely tip both countries into recession. With higher prices due to import levies, demand would be slashed as growth slows and disposable income falls.
NVIDIA exhibits particular vulnerability because of the extent of its revenue drawn from China, and because its entire manufacturing facility is located in Taiwan, which may fall within the ambit of a retaliatory policy dictated by China.
The culmination of these factors would see NVIDIA's revenue and share price falling markedly, presenting a medium term opportunity for a highly profitable short.
Depending upon the time scale on which trade conflict plays out, and as trade related considerations are not yet priced into NVIDIA, share price may rise to December, 2016 levels or beyond before falling precipitously as a trade war bites.
Elsewhere on Seeking Alpha:
Follow this author and receive immediate alerts upon publication of future articles by this author, please click on the "Follow" button at the top of this page next to the author's name and icon, and then select "Real Time Alerts".
Disclosure: I/we have no positions in any stocks mentioned, and no plans to initiate any positions within the next 72 hours.
I wrote this article myself, and it expresses my own opinions. I am not receiving compensation for it (other than from Seeking Alpha). I have no business relationship with any company whose stock is mentioned in this article.