My Ian's Million Fund ("IMF") is a quasi-index fund where I have two main goals. One, beat the S&P 500 over time with my own diversified basket of stocks, while avoiding any ongoing management fees. Two, build a model that my non-investment professional friends can copy. If I didn't have other investments and had $1,000/month to invest, what retirement portfolio would I build to ensure I ended up with a strong, solid nest egg? The "IMF" answers that question.
December ended 2016 with a bang. My fund rallied 3.4% on the month, solidly outpacing the S&P 500 (NYSEARCA:SPY) at 2% and the Vanguard Total World Stock ETF (NYSEARCA:VT) at 1.8%.
However, this month flipped last month on its head. The IMF showed a loss of 0.3% for January, compared with a gain of 1.8% for SPY and 3% for the total world fund. What went wrong for my fund in January, and will February fare better? Let's dive in.
The easy explanation would be to assume that my sizable Mexican positions dragged down the portfolio for the month. They certainly experienced a great deal of volatility following the Trump inauguration. However, while Mexico's plunge received plenty of coverage two weeks ago, the media, as it often does, ignored the bounce. Mexican shares (NYSEARCA:EWW) actually posted a gain on the month: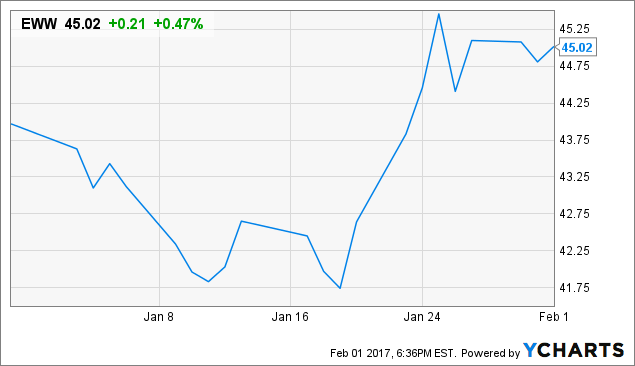 The IMF's #2 largest holding and my Top Pick for 2017, Grupo Aeroportuario del Pacifico (NYSE:PAC), followed the trend, careening to 52-week lows as Trump hysteria peaked, but rallying 10% back up in the following week: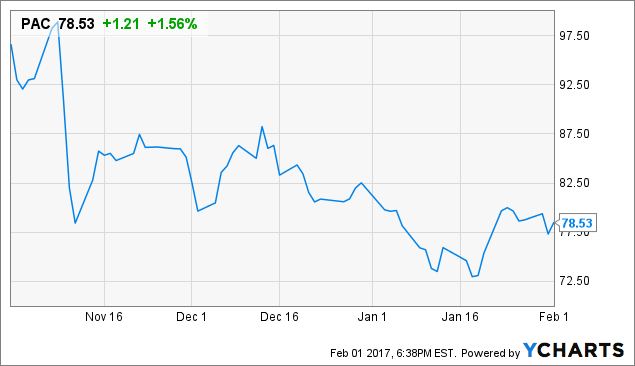 So no, the IMF's weakness this month wasn't due to Mexico particularly. There were other foreign markets that performed better than Mexico this month - world markets beat the US by a solid margin on the month - but the real problem was elsewhere.
Big Single-Stock Sell-Offs
With the IMF holding close to 80 positions, and no position accounting for more than 5.5% of the portfolio, it's easy to say: Ian, you'll just get index fund results. But January proved this theory wrong - individual stocks still make plenty of difference to returns.
In January, we had three stocks show large losses, dragging down the rest of the portfolio with them.
BT Group (NYSE:BT) was the most damaging. The stock had previously been as large as the 10th biggest holding in the IMF. Thus, its sudden 20% decline in January resulted in a big hit on the portfolio's returns for the month: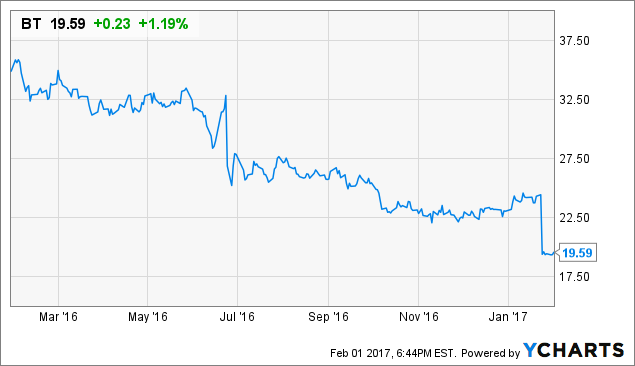 I've been buying frequently since Brexit, and have established what seemed like a reasonable cost basis around 23.50 on a decent-sized position. January's guidance cut and revelation of much-larger-than-expected accounting troubles in Italy sent the stock sharply lower.
BT, as a leading British telecom company, pays a sizeable dividend and is generally viewed as a stable defensive name. Which makes the drop from $35 last year to $19 and change now all the more surprising. Even after the decline, it weighs in with a near $40 billion market cap - the company has good assets, and presumably will get its act together at some point. Still, with falling knives such as this one, you never know if you'll catch the bottom or have to endure some bleeding before it turns.
The other two big losers for the month came off some of the portfolio's biggest winners. Peru's Graña y Montero (NYSE:GRAM-OLD) nearly quadrupled for me in 2016. My cost basis is under $2.50, and the stock shot up to $9 later in the year. Thus, the recent 50% decline following a contract cancellation is painful, but the stock still shows a 96% gain on my cost basis: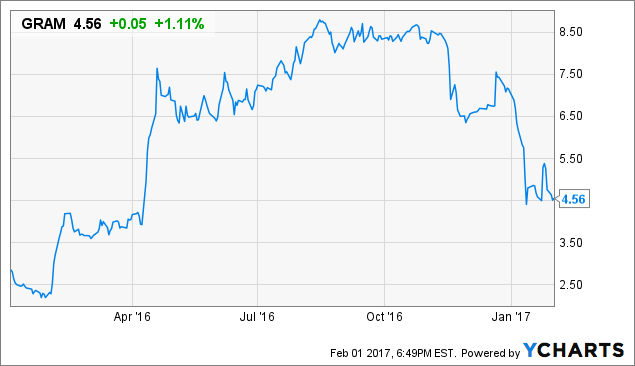 Similarly, I have a sub-$10 cost basis on Birner Dental Management Services (NASDAQ:BDMS). The stock rallied to $18 last year, but got crushed for a 30% decline this month. I'm still well in the money, but a lot of the paper gains have disappeared.
This brings up one of the management choices I've made with the IMF. I voluntarily elected to keep turnover very low, opting not to dump stocks simply because they've doubled or triple or seem expensive on valuation.
It's tempting to ring the register after a huge win - and obviously, it'd feel nicer to have sold GRAM, for example, at $8.50 rather than watch it tumble back to $4.50. However, investors often hurt themselves in the long run trying to trade too frequently. The tax consequences are brutal, and the more you trade, the more choices you have to make. Every trade is an opportunity to make some sort of mistake or emotionally-driven miscue.
A buy & hold portfolio of quality companies purchased at opportune prices is likely to generate good returns on both an absolute basis and in comparison with investors who trade much more frequently.
It's easy to pick out examples, such as those two above, where I would have benefited from cashing out after the stocks doubled or tripled. However, I'd sell plenty of winners that keep going up too. You'll never get a 10- or 20-bagger if you always sell at the first sign of trouble.
Take Caterpillar (NYSE:CAT), for example. My cost basis is at $60.63. If I held that in a normal trading account, I'd have probably dumped it at $75 last year after watching earnings continue to disappoint. I'd certainly have sold it as it reached the $80s while the global macro picture continued to look hazy at best.
Caterpillar is now, shockingly, up to $95/share, despite more weak earnings and worse-than-expected 2017 guidance. It's a classic Trump-rally sort of stock, up on hype and hope - with little to no basis for that enthusiasm, in fact. It's a screaming sell on fundamentals.
However, in saying that, I must admit I've felt that way for quite a while, and the stock continues to rally. My thesis for buying the company was that it has an impeccable brand, reasonably strong capital allocation and management, and was nearing a cyclical bottom. I figured that by the time the cycle topped again, given its past earnings track record, the stock would be worth $110-120 and I'd be earning a nice dividend - particularly based on my $60 entry point.
Truthfully, has anything changed with that? The answer is, no, not really. Caterpillar's competitive position continues to be strong, as long as you ignore temporary strong dollar headwinds. Supposedly, earnings will turn around in 2018. The company's balance sheet is still acceptable.
While the stock seems dreadfully overvalued based on the current business outlook, is there anything that compels me to sell? No. I'd just be selling on valuation, forking over a significant portion of my gains to the taxman, and will have to find a much better bargain to replace it in my portfolio. Given that most industrials have run-up in parallel, I'd struggle to replace CAT's role in my portfolio without losing diversification.
One Sell
That's not to say I'll never sell stocks in the IMF, though. In fact, I sold one stock in January - the first sale in the portfolio's history. I dumped my position in Navios Maritime Midstream (NYSE:NAP) in the mid-$11s, registering a gain (counting dividends) of around 50%.
I sold not because of the gain, but rather because my thesis had gone wrong. At the time I'd purchased NAP, it appeared to be a bargain stock the market had unfairly punished. That may have been true at the time. But perhaps the market wasn't quite as silly as it seemed then.
In the subsequent year that passed, the management of the parent company at the head of Navios' complicated structure, Navios Maritime Holdings (NYSE:NM), faced full-on implosion. As NM struggled, management started engaging in questionable double-dealing with its affiliated firms. As a NAP stockholder, it became very concerning to think management may raid my holding to shore up its failing central company.
On top of that, the growth platform that was supposed to lead to a rising dividend disappeared. Now the company's dividend appears to be in danger, and NAP is issuing new equity out into the market via an ATM offering. Dividends propped up by new share issuance are rarely reliable.
While the company may have been too low in quality to justify me purchasing the stock in the first place, it's undoubtedly there now. In December, I reviewed selling it, but decided to hold since I wanted to cash in one or two more dividends off it first. I realized that was foolish thinking - just trying to get one more bite off a rotten piece of fruit - and realized I should sell.
NAP's 13.9% yield will certainly be missed. Despite holding a small position, it accounted for more than 5% of IMF's total dividends in 2016. However, it was quickly turning from a high yield into a sucker yield. Better to move on rather than letting it turn into a big loser, as I did with another high yield name last year. The proceeds from NAP were reinvested across the basket of January purchases.
Community Banks Struggle
As I noted last month, British stocks and consumer staples were a drag on the portfolio in 2016. Consumer staples showed some life in January, but British stocks remained an anchor on the portfolio. Thanks, BT!
And community banks, my big winner in 2016, turned to the red this month. Banks had been soaring from November on with expectations that interest rates would keep surging, boosting the financial industry's profit margins.
However, the rally in interest rates took a breather in January, and the overbought banking sector sold off. Even the strongest names struggled. Take Washington Trust (NASDAQ:WASH), one of my top picks for 2016, and the IMF's biggest winner on a dollar basis since inception.
In January, the stock sold off sharply to start the month, soared on a huge earnings beat, but then gave back the gains as general banking apathy kicked back in: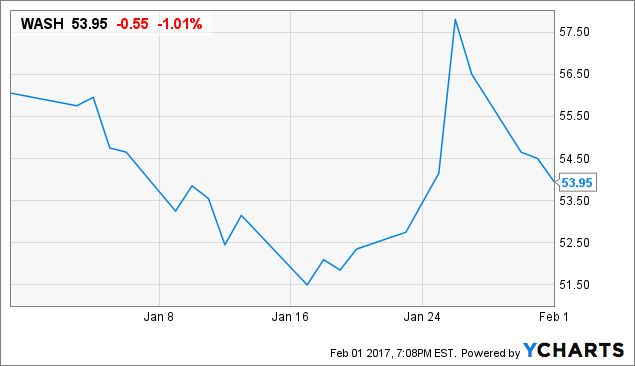 Indeed, it was that sort of month for regional banks. Beat on earnings and get a more than 10% stock price pop - yet still close the month red. In any case, this effect, multiplied across the many regional banks in my portfolio, was a significant drag on the IMF for the month. I don't worry about it, though - when you take a big position in a sector, you'll get swings as rotations occur. No need to fret over a month's performance.
I should also note the month's big winner. I've been pounding the table on Diageo (NYSE:DEO) for many months now, and it is starting to pay off. Diageo, the IMF's top holding, surged in January, offering a bit of respite from an otherwise forgettable month: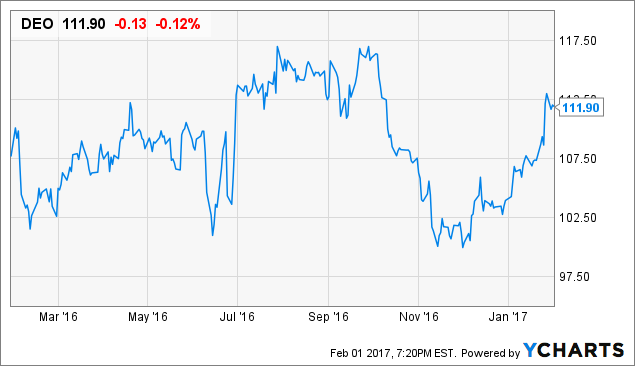 Heading into 2017, I went with the contrarian trade saying to fade financials and go overweight consumer staples. I expect that pairing to continue to work nicely, as it started to in January.
Dividends
The IMF set a new monthly peak for dividends in January. It came as a bit of a surprise to me - my calendar didn't show it being a particularly promising month. However, Grupo Financiero Santander (NYSE:BSMX) - which is Santander bank's Mexican subsidiary - decided to pay out a massive near 7% yield this year in one lump sum. This resulted in the IMF receiving more than $13 at once - its largest dividend receipt to date - and pushing January to new heights: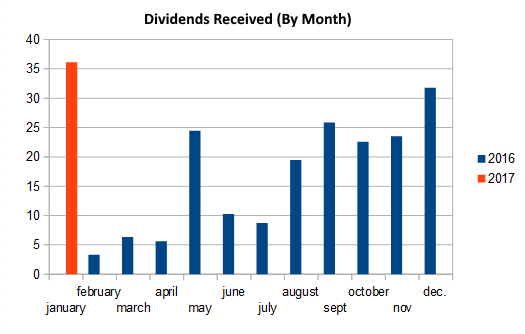 The IMF was established in January of last year. Thus, in a year, it has gone from nothing to producing more than $30/month in dividends - all off $1,000/month contributions in a not exceptionally high yielding set of stocks. Invest regularly with even modest sums of money, and it will build into something meaningful faster than you might expect.
Whenever accumulated dividends top $100, I reinvest them during the following month. I crossed the threshold with January's dividends, so I will reinvest the accumulated cash as part of February's IMF buys.
Disclosure: I am/we are long ALL STOCKS MENTIONED (EXCEPT NM, NAP).
I wrote this article myself, and it expresses my own opinions. I am not receiving compensation for it (other than from Seeking Alpha). I have no business relationship with any company whose stock is mentioned in this article.
Additional disclosure: No position in any of the mentioned ETFs.
Editor's Note: This article covers one or more stocks trading at less than $1 per share and/or with less than a $100 million market cap. Please be aware of the risks associated with these stocks.