Investment Thesis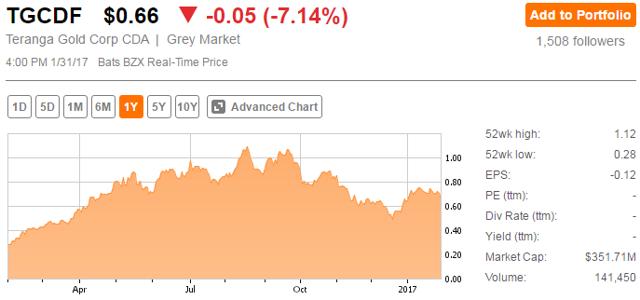 Source: Seeking Alpha
Teranga Gold Corp. (OTC:TGCDF) is a West Africa-focused mid-tier gold producer with high AISC. The company can really shine in a gold bull market due to its high leverage to gold prices and its Banfora project is scheduled to significantly boost production in 2019. I think what makes Teranga a compelling investment opportunity even in a low price gold market is the high LOM of its flagship project (13 years) and large cash balance (USD 95.2m at the end of 2016, almost no debt).
Several contributors on SA have covered Teranga over the past months such as Adem Tumerkan (here and here), Taylor Dart (here) and Gold Mining Bull (here and here). I really enjoyed reading these analyses, but I think that they don't take into account some concerns of investors - such as the high development cost of the Banfora project. I also think there are several potential catalysts for Teranga that have been overlooked and should be covered - nearby projects, possible partnerships, mine plan profile, major shareholder activity as well as the 2017 exploration program.
Business
Teranga operates the Sabodala gold mine in Senegal, right on the border with Mali. The company also has a significant development stage project in Burkina Faso named Banfora as well as several other exploration stage projects across Burkina Faso and Ivory Coast.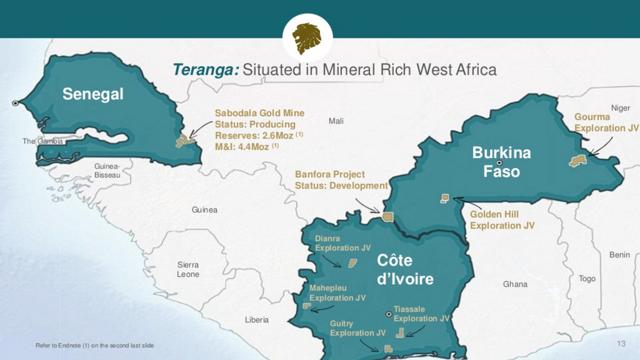 Source: Teranga corporate presentation, November 2016
Its 90%-owned Sabodala mine produced 216,735 ounces of gold in 2016, up by 19% y/y and at AISC in the middle of its USD 900 to USD 975 per oz guidance range.
Banfora is scheduled to pour its first gold in 2019 and is currently expected to boost Teranga's annual gold production to 275,000 to 325,000 ounces by mid-2019.
Sabodala's neighbors
Teranga owns the only commercial gold mill in the Senegalese part of the Birimian Gold Belt and there are several significant projects nearby: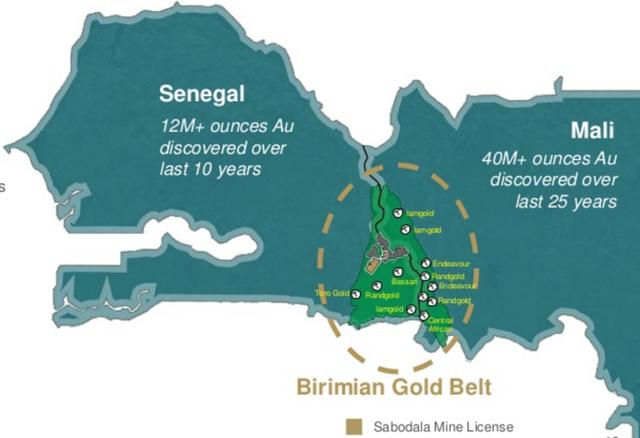 Source: Teranga corporate presentation, November 2016
There are obviously opportunities for strategic combinations as well as the possibility for the mill to process regional discoveries. I think that the most significant project near the Sabodala mill is RandGold's (NASDAQ:GOLD) massive Massawa and Sofia project - located at just 30 km: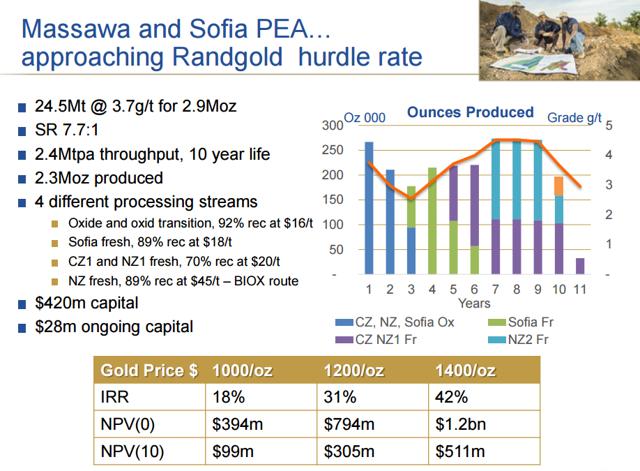 Source: RandGold presentation at London Investor Day, November 2016
The project still does not meet RandGold's requirement for a potential reserve of 3 Moz at USD 1,000 per oz with an IRR of 20%, but it's certainly very close. It forms part of the company's 10-year plan and could go into production around 2020: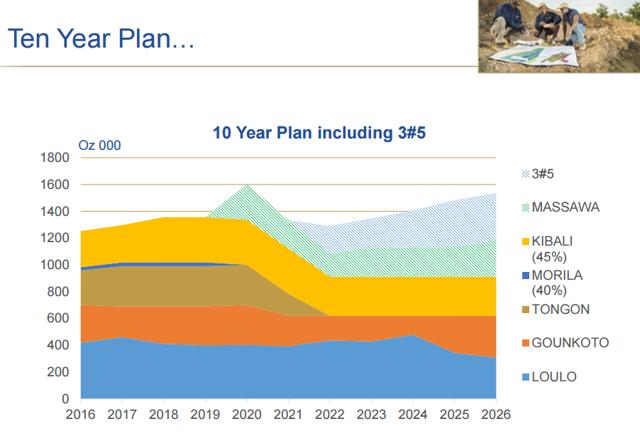 Source: RandGold presentation at London Investor Day, November 2016
Back in July 2016, RandGold CEO Mark Bristow said that the company planned to invest USD 70m for feasibility studies and drilling at Massawa.
The updated feasibility studies are expected soon and I think that some kind of strategic alliance for the Massawa/Sofia and Sabodala projects is a possibility. It seems to make sense since RandGold's deposit is so close to Teranga's mill (no need to build a brand new mill) and RandGold certainly has the funds to make it happen. Is it economically feasible? Well, Teranga already consolidated its land position in the area in 2013 - the company then bought Oromin Explorations.
However, there are no signs that RandGold is interested. The company didn't take the opportunity to buy Teranga shares during the latter's equity offering in November 2016. Also, despite the proximity of the two projects, I haven't seen representatives of either company talk about cooperation possibilities.
Banfora capital costs
Some Teranga investors are concerned that Banfora's capital costs are high for a company of this caliber - meaning that Teranga's USD 95.2m cash balance could be insufficient and that a new share issue is inevitable: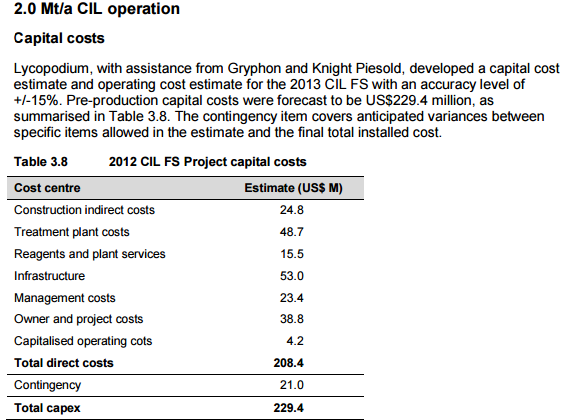 Source: Gryphon Minerals Scheme Booklet lodged with ASIC, August 2016
Teranga has said that it prefers to develop the project using a traditional carbon-in-leach flowsheet and an updated feasibility study is set to be completed by the end of the second quarter of 2017.
Even if we take the USD 208.4m capex from the 2013 study, I think that Teranga can fund the project without diluting shareholders. The company can cover almost a half of the costs with its current cash balance and the remainder could be sourced through loans or a streaming agreement. If the price of gold remains low, then I think that Teranga can potentially opt for a heap leach operation which is much cheaper.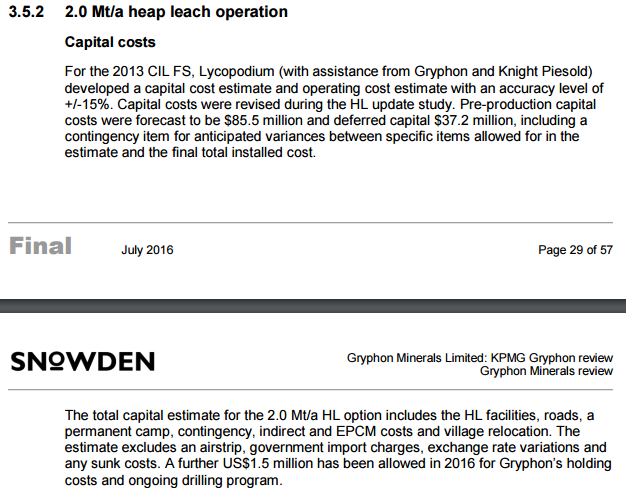 Source: Gryphon Minerals Scheme Booklet lodged with ASIC, August 2016
Which can make this: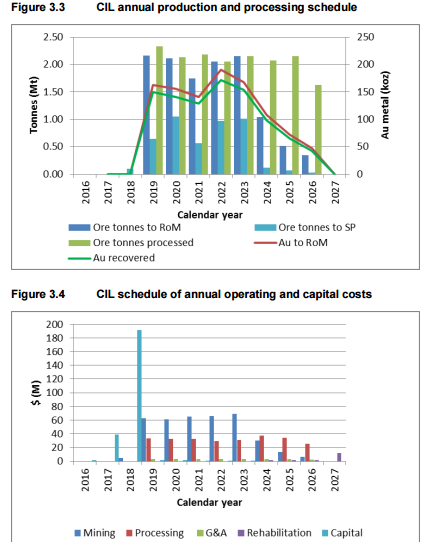 Source: Gryphon Minerals Scheme Booklet lodged with ASIC, August 2016
Look like this: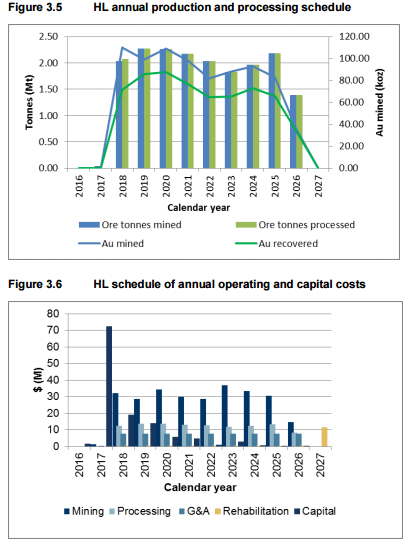 Source: Gryphon Minerals Scheme Booklet lodged with ASIC, August 2016
Still, the updated feasibility study is focused on a carbon-in-leach flowsheet, and I think that a reversion to a heap leach scenario would only be considered in the event of a very sharp gold price drop. If gold prices remain at USD 1,200 per oz, I think that Teranga can fund the project without a stock dilution.
Sabodala mine plan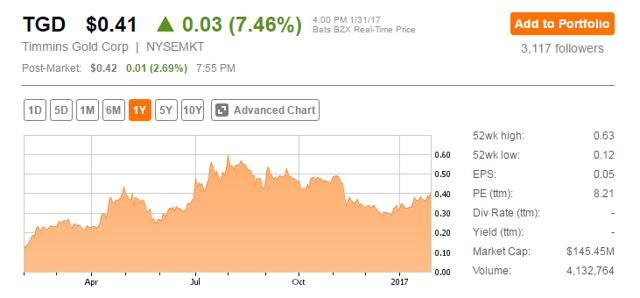 Source: Seeking Alpha
What would you say about a USD 150m gold producer with a 2016 output of 100 koz at cash costs of USD 750-USD 800 per oz? Looks attractive, right? Not so much if you look at the mine plan for its only producing project: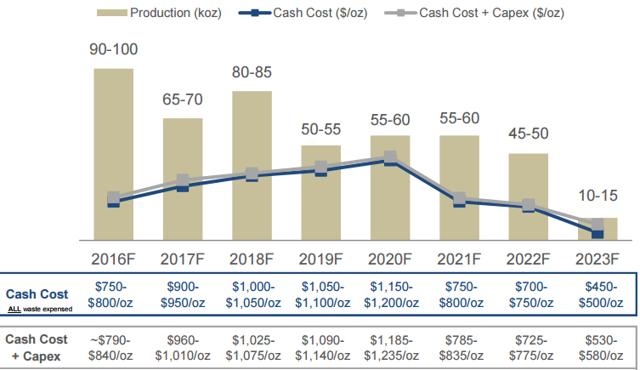 Source: Timmins Gold corporate presentation, December 2016
Now let's take a look at the mine plan for Sabodala: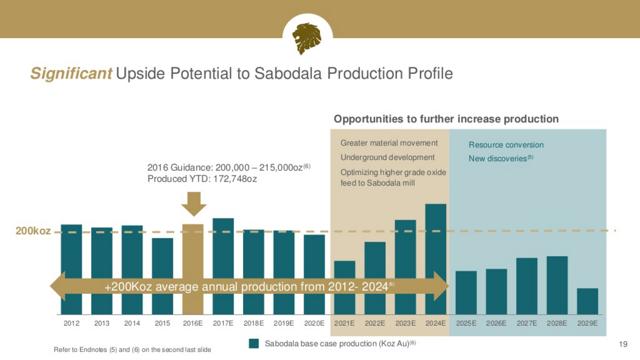 Source: Teranga corporate presentation, November 2016
That's close to 200 koz of gold for every year through 2020. My point is that you can't just look at the past year for a gold miner, you also have to take into account the future production. Granted, Teranga and Timmins (TGD) both have other significant projects and it's hard to directly compare the two. However, I think that Sabodala has a magnificent mine plan - production and cash flows for the next few years are high at gold prices of USD 1,200 per oz, which should really help fund Banfora.
Major shareholder
Back in October 2015, Teranga announced a new cornerstone investor to support its growth strategy. Under the deal, David Mimran and his Tablo Corp. got a 9.9% stake in the company and later he formed a joint venture with Teranga regarding certain projects in Ivory Coast.
In October 2016, when Teranga acquired Gryphon Minerals through a cash and stock scheme of arrangement, Mimran already had over 13% of Teranga and exercised a pre-emptive participation right during the capital increase.
In November 2016, Mimran subscribed for a large part of Teranga's CAD 67.4m (USD 50m) equity offering, thus boosting his stake in the company to 18.26%.
But he didn't stop there - since November 28, 2016, David has acquired over 3.5 million Teranga shares on the open market: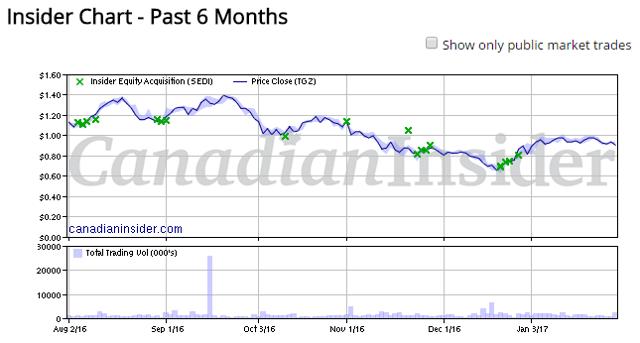 Source: Canadian Insider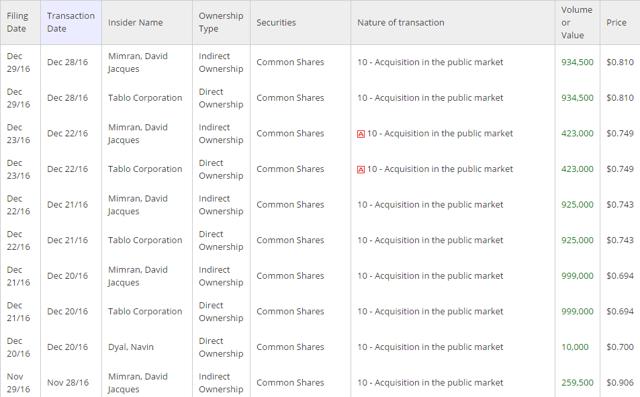 Source: Canadian Insider
Why is David Mimran buying Teranga shares so aggressively? Is a takeover bid in the works? I think that it's hard to tell but a lot of people on Teranga's bullboard at Stockhouse have recently said that they would accept a tender offer at CAD 1.40 (USD 1.07) per share, which is the 52-week high at the TSX.
So who is David Mimran?
His family runs West Africa-focused conglomerate Mimran Group. The latter's businesses range from agri-industry to banking, shipping and real estate.
David is currently CEO of Grands Moulins d'Abidjan and Grands Moulins de Dakar, which are among the largest producers of flour and agri-food products in West Africa. He also leads Mimran Group's natural resource subsidiaries Miminvest SA and Mimran Natural Resources. David also acts as special advisor to the government of Ivory Coast and has led negotiations with the IMF, the World Bank, the EU and the government of France. Speaking of acting, David Mimran is also a Hollywood producer. I actually really enjoyed watching Warrior back in the day.
But back to Teranga. I don't know why David Mimran is gobbling up shares nor do I know whether he plans to launch a takeover bid soon. But I think that his presence on Teranga's board and his status as the major shareholder are definitely a plus for investors - he has vast knowledge and connections across West Africa and can help the company expand in Ivory Coast.
2017 Exploration Program
Teranga plans to invest significant resources in exploration during 2017 and while USD 3-4m are planned for Banfora and another USD 3-4m for Sabodala, there are also big plans for some other projects. In Burkina Faso, Teranga has set aside USD 3m for the Golden Hill project and another USD 0.5m for the Gourma prospect. In Senegal, the company plans to spend USD 2m in regional exploration. In Ivory Coast, Teranga will invest around USD 0.5m in exploration.
Combined, that's an exploration budget of between USD 12m-USD 14m for 2017, not bad for a company with a market cap of just over USD 350m. This should add some reserves and resources and help transform resources into reserves at Banfora.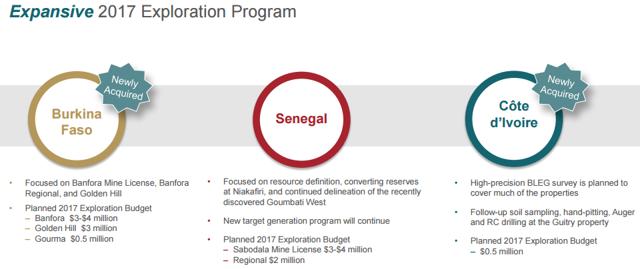 Source: Teranga Q4 and Year End 2016 Operating Results presentation
Conclusion
I think that Teranga Gold is cheap at these prices. While there are definitely risks such as high AISC and uncertainty regarding the funding for Banfora, there are many more sides of the business that offer upsides - high cash balance; low debt; proximity of Sabodala's mill to large projects; high LOM, good mine plan at Sabodala over the next several years; large 2017 exploration budget: and an experienced and well-connected major shareholder with an appetite for Teranga shares.
I share Gold Mining Bull's view that Teranga could become a takeover target in 2017 and I think that the most interested party should be RandGold. However, this is purely my personal opinion and there are no signs that the latter has such intentions.
Disclosure: I am/we are long TGCDF.
I wrote this article myself, and it expresses my own opinions. I am not receiving compensation for it (other than from Seeking Alpha). I have no business relationship with any company whose stock is mentioned in this article.
Editor's Note: This article covers one or more stocks trading at less than $1 per share and/or with less than a $100 million market cap. Please be aware of the risks associated with these stocks.