On January 31st, the management team at United States Steel Corp. (NYSE:X) released financials for the fourth quarter of the business's 2016 fiscal year and gave investors some idea of what 2017 is shaping up to look like. After reviewing the company's data, I must say that I am impressed with where management believes the year can take them if matters don't deteriorate but can management actually deliver (and what does it mean if they can) or is there no real basis for their claims to come to fruition?
A look at 2016 as a whole and what management expects
In some ways, 2016 was pretty reasonable for US Steel and in others it was bad. Let's begin with the bad news. According to management, sales at the firm were anything but great. During 2016, total revenue for the business came in at $10.26 billion. Though this is a nice chunk of money on a nominal basis, it represents a year-over-year decline of 11.3% compared to the $11.57 billion the company reported in 2015. What's more is the fact that this follows a long-term trend as US Steel fights to reinvent itself and as it contends with a tough, competitive market. All you need to see to believe this is the company's sales over the past few years, as shown in the table below.

*Created by Author
The problem here was not one thing but a couple. If you look at the image below, for instance, you can see that US Steel had to deal with a decrease in shipments last year, with total volume falling 3.6% year-over-year from 15,545 thousand tons to 14,990 thousand tons. However, that wasn't the only issue during the year as, if you revisit the image, you can see that average prices across all three of its product categories, Flat-Rolled, US Steel Europe, and Tubular, fell meaningfully compared to 2015. Taken together, this means that even though prices were lower in 2016 compared to 2015, the market's hunger for US Steel's goods was lower than when prices were higher (though capacity utilization changes appear to have been a limiter in output so that should be taken into consideration).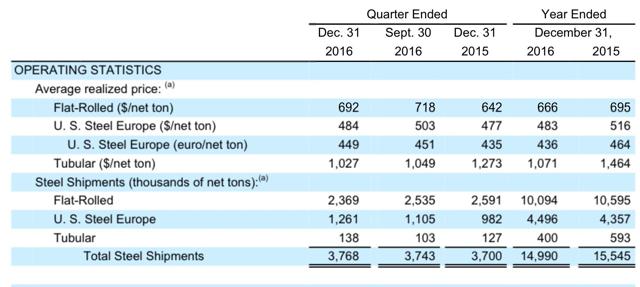 *Taken from US Steel
So far, there's not much that's good to look at. You have a company whose sales are falling and there doesn't appear to be much, if anything, that management can do about it. However, as the business has continued to focus on cost-cutting initiatives and as other factors came into play during the year, the firm did successfully see its profitability (as defined by Adjusted EBITDA, operating cash flow and free cash flow) improve. To see this, please look at the table below. In 2016, Adjusted EBITDA came in at $510 million, a more than doubling compared to the $202 million seen a year earlier. In all honestly, I take anything related to EBITDA with a grain of salt but operating cash flow and free cash flow (I trust these metrics far more) also showed strong performance year-over-year so that bolsters the argument in favor of US Steel.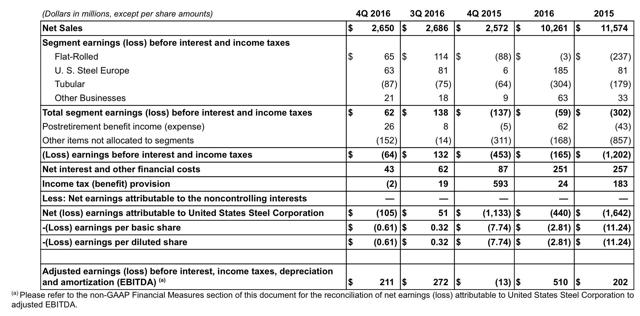 *Taken from US Steel

*Taken from US Steel
On top of this nice bottom-line performance, management said that they anticipate a good 2017 if current conditions remain unchanged. If they are accurate in their assumptions then US Steel should see net earnings this year of around $535 million, which boils down to $3.08 per share. On the EBITDA front, we are looking at a potential benefit of $1.30 billion, which is almost three times 2016's numbers.
All of this sounds hard to believe considering that US Steel is a low-margin business fighting to stay relevant in a very competitive industry. That said, if the fourth quarter of 2016 is any indicator of the future then it's certainly possible that this year could be better than last year. If you could look back at the image showing shipment and pricing data for a second, you'll see that pricing has improved in two out of three product categories compared to the same quarter of 2015 (the one exception being Tubular, which is very much depressed), while volume shipments rose in two categories and ticked up very modestly in aggregate.
But can this trend hold?
One bad thing about the energy space is that it's incredibly volatile due not only to competition but also thanks to changes in the economy over time. Fortunately, however, this works both ways and even modest improvements in demand for steel can have a material impact. This is exactly what appears to be happening right now, as can be seen in the image below.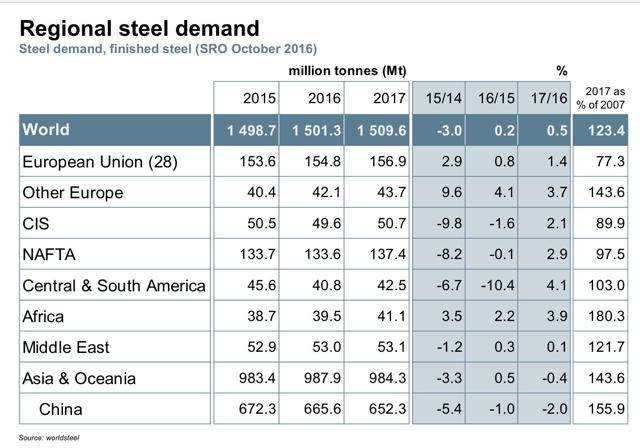 *Taken from the World Steel Association
Based on the data provided, courtesy of the World Steel Association, the global demand for steel as a whole should rise by 0.5% in 2017 compared to 2016. This is far from stellar growth but, compared to the 0.2% increase seen in 2016 compared to 2015, the change warrants attention. It should also be mentioned here that this growth will come despite the fact that China, which accounted for 44.3% of global steel demand last year, will see consumption fall by 2% year-over-year.
A positive piece of data for US Steel's investors is that the company is focused not on China or any surrounding neighbors. Instead, the company is very US-centric (which might make it an interesting Trump play given his push to have pipelines made here at home). If the World Steel Association is correct, the NAFTA nations should see demand increase by 2.9% this year (compared to a 0.1% drop in 2016). Considering that 79.9% of the company's sales were generated in North America last year, this could be a boon for business. However, in Europe, where US Steel generates the rest of its sales, the trend is similar. In the EU nations, demand growth should be about 1.4% (vs. 0.8% in 2016) and in European nations not included in the EU, growth should come out to 3.7% (vs. 4.2% in 2016).
My own personal guess (management hasn't provided a lot of 2017 guidance), is that a sizable chunk of the increase in North America in terms of profitability will be in the firm's Tubular product lines. This part of the company produces and sells, "seamless and electric resistance welded (NASDAQ:ERW) steel casing and tubing (commonly known as oil country tubular goods or OCTG), standard and line pipe and mechanical tubing and primarily serve customers in the oil, gas and petrochemical markets." As you can see in the image below, US Steel's Tubular operations took a major hit in terms of margin as a result of the energy price downturn but as the number of drilling rigs come back online and as business in the oil patch in general picks up due to growing demand, we are seeing signs of life in this space.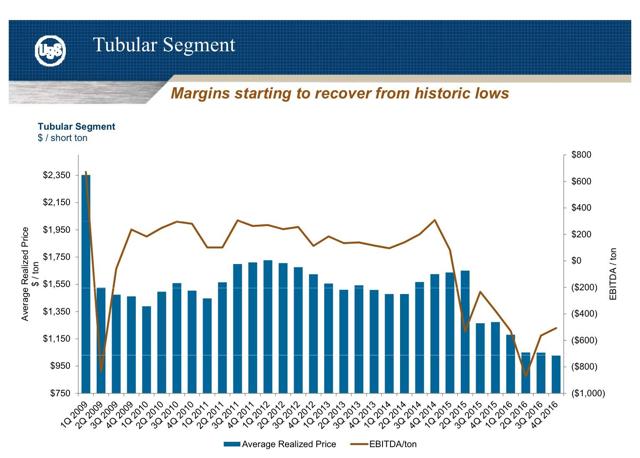 *Taken from US Steel
Should management's expectations of a revival (even if only partial) in Tubular come to fruition, the upside for the company as a whole could be large. If you look at the image below, you can see that this segment is quite exposed to the spot market, with 60% of total production priced at the spot price for steel as opposed to being under contract. This compares to 36% of US Steel Europe and is much, much higher than the 22% seen in the Flat-Rolled business. What all of this means is that, in the event that energy prices tank, Tubular will get hit harder, keeping all else the same, than the other segments due just to the fact that less of its production in under contract, but this also means that as energy prices rise, US Steel's Tubular segment should benefit considerably since it will capture increased margins on the way up.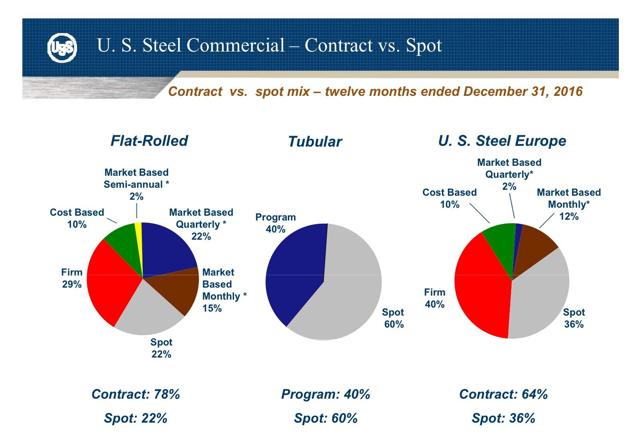 *Taken from US Steel
Takeaway
At this moment, the picture facing US Steel is quite interesting if you ask me. Despite the fact that the firm is operating in one of the toughest industries in the world, the evidence seen so far suggests that investors may be setting themselves up for a strong 2017. Of course, if something big happens, like a major economic contraction, it wouldn't be unreasonable for US Steel to get hammered again but if both management and the World Steel Association are right, then this could be the start of a resurgence for the company moving forward.
Disclosure: I/we have no positions in any stocks mentioned, and no plans to initiate any positions within the next 72 hours.
I wrote this article myself, and it expresses my own opinions. I am not receiving compensation for it (other than from Seeking Alpha). I have no business relationship with any company whose stock is mentioned in this article.