ExxonMobil (NYSE: XOM) along with the world's other oil majors has seen its fair share of struggles over the past several years. As ExxonMobil recently wrapped up its fiscal 2016, there are indicators that better days are ahead. Exxon has survived the worst of the oil crisis, and its emphasis on the dividend and positive cash flow prospects make it a dividend champion that investors should be taking a very hard look at given its current share price.

Positive signs hidden behind a quarter with an ugly headline
ExxonMobil reported Q4/full year earnings just before the morning bell on January 31st. At first glance, the quarter was hideous. Earnings per share were reported at $0.41 per share due to a $2B impairment charge, with revenue missing estimates by $1.26B. However, by looking closer there are positive signs.
Excluding the impairment charge related to dry gas operations, earnings were actually about $0.90 per share compared to analyst estimates of $0.70. This is in large part due to the rebound in commodity prices over the past several months. Oil has settled between $50-$55 per barrel, and natural gas is hovering around $3.15 per mmBtu. This environment has been far more profitable than the brutal conditions of early 2016 when oil was trading in the high $30s, and gas was in the mid $2s. These commodity prices led to a 33% earnings boost in Q4 2016 compared to Q4 last year. The market widely expects that prices will at least stabilize in this range for the immediate future.
Perhaps the real "tell" that Exxon is back on the rise, is the stabilization of the balance sheet. Even with commodity prices rising only in the past quarter, Exxon has virtually stopped the bleeding of its balance sheet. For fiscal year 2016, Exxon only required $2.8B in new debt.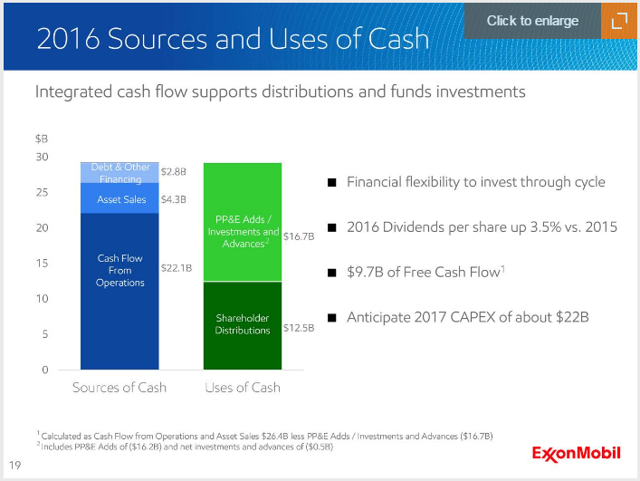 This was achieved through prudent fiscal moves by management including a modest dividend increase of only 3.5%, and a 40% cut in CAPEX from 2015. This conservative nature of Exxon management has truly minimized the "hole" dug during the commodity downturn. This will enable Exxon to aggressively "right itself" as cash flows continue to surge with commodity prices rising over the next few years. Compare this to rival Chevron (NYSE: CVX), which is still taking on debt with $7.5B in new debt in 2016 while spending almost as much as Exxon on CAPEX - while producing almost $10B less in cash from operations. Exxon is simply a wonderfully tight run ship, which will put them on the fast track to boosting share holder returns sooner than many of its rivals.
Future projects look primed to boost production
Exxon also provided updates on various projects that remain ongoing, or planned. It recently announced a massive expansion of acreage in the Permian Basin that will potentially double output to 350K barrels per day, which would represent as much as 20-25% of Exxon's crude production at that point.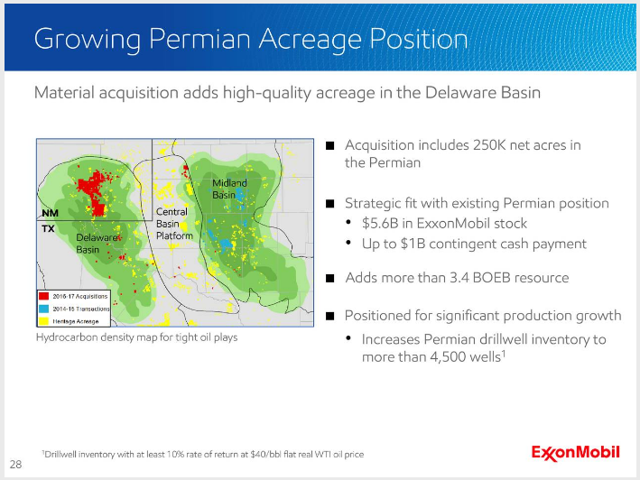 This highlights an overall strong profile of US based resources that has grown production in the portfolio at an 11% CAGR since 2010.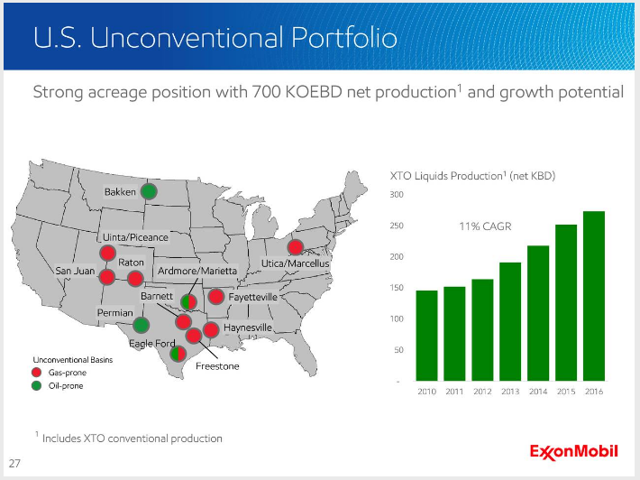 This profile is positioned to benefit from a new presidential administration already proving friendly to the industry with an executive order to push forward construction of controversial pipelines, and the recent confirmation of former Exxon CEO Rex Tillerson as Secretary of State. Exxon is also bringing five other major projects online by 2018 in Hebron, Sakhalin-1 Odoptu Stage 2, Upper Zakum 750, Kaombo Split Hub, and Barzan. These projects will combine to bring another 350K barrels of daily production. As commodity prices rebound bringing cash flows higher, Exxon is easing up its CAPEX with a 14% CAPEX increase planned for 2017.
Successful projects, and rising commodity prices will drive a culture of rewarding the shareholder
The combination of increased commodity prices, and fruitful projects coming online will result in a huge boost to cash flows. This will not only enable Exxon to pay off debt, but to resume its proven history of rewarding investors. Exxon's aggressive cash disbursements to shareholders is two fold through its dividend, and share buy backs.
Up until the beginning of 2016, Exxon had spent more than $200B over the previous ten years aggressively buying back shares to help boost earnings.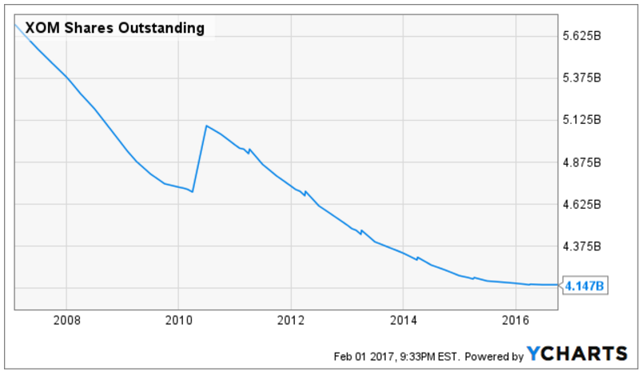 That tradition stopped last year, when management suspended buybacks in order to help deal with the sharp drop in profits due to low commodity prices. As prices recover, Exxon's history shows that buybacks will be back on the table as soon as the balance sheet is back in high standing.
Exxon's other driver of shareholder value is its prestigious dividend history. Having raised its dividend for 34 consecutive years, ExxonMobil is a "dividend champion". Due to the cyclical nature of the oil industry, Exxon has maintained its dividend streak by throttling down the dividend growth rate when prices/earnings are low (3.5% increase this year), and opened up the growth rate when earnings are higher during the "up" end of the cycle (five year growth rate of 10%). Whether the cycle is "up" or "down", it is almost as certain as clockwork that the dividend will increase in some fashion, and long term investors benefit the most by riding the cycle.
Over time, Exxon just delivers results. In 2007, each share of ExxonMobil stock rewarded investors with a check for $1.37. Just a decade later, that has more than doubled to $3 per share. This is why it pays to grab a block of shares, and DRIP over 20-30 years. Consider a $10K investment made 20 years ago. That investment would have bought you 406 shares of XOM stock. Today, those 406 shares would have turned into 663 shares, each paying out an increasingly higher dividend and each being worth substantially more (capital gains) than 20 years ago. Your investment would have compounded at a rate of 9% over those 20 years to be worth more than $55,000 today.
Shares are attractively priced at the moment
Despite all of this good news, shares are trading just under $83 per share. This is the lowest share price in about 5 months. Ignore the P/E ratio you see on your broker's stock summary page - this figure is misleading because cyclical stocks appear expensive when they are struggling, when that is actually the best time to buy. An alternative view at Exxon's valuation could be found by looking at its dividend yield. Exxon's current dividend yield of around 3.6% is well above its 10 year median of 2.41%. This indicates that the share price is abnormally low in relation to the amount that the annual dividend of each share pays out. Although the true bottom happened in 2015 when shares dropped to the low $70s, shares have touched the low $90s recently. The current price of $83 still represents a nice value to long term investors, and a nice correction from recent highs.
Wrap up
ExxonMobil's 2016 conclusion shows that the energy giant is stabilizing fiscally. Its projects pipeline provides optimism, which will combine with rising commodity prices over the next few years to provide a steadily rising stream of cash flows. The story of ExxonMobil should continue to remain increasingly bullish from here on out over the next few years. With shares at their low point in almost half of a year. The window to jump onboard before shares settle in the $90+ range may be closing.
If you liked this article, please find my profile icon at the top of this page, and hit the "Follow" button. I enjoy engaging with those who comment, and am always looking for feedback that allows me to improve on the content I provide. As always, thanks for reading.
Disclosure: I am/we are long XOM.
I wrote this article myself, and it expresses my own opinions. I am not receiving compensation for it (other than from Seeking Alpha). I have no business relationship with any company whose stock is mentioned in this article.