Despite short interest increasing to 30%, the bears were wrong on Facebook, (NASDAQ: FB) and will begin to pay for their mistake post Q4 earnings. As the stock bounced around throughout December, the short interest faded briefly. The stock broke out above $120 in January, and the shorts came back. I expect to see a drop off again after the most recent report.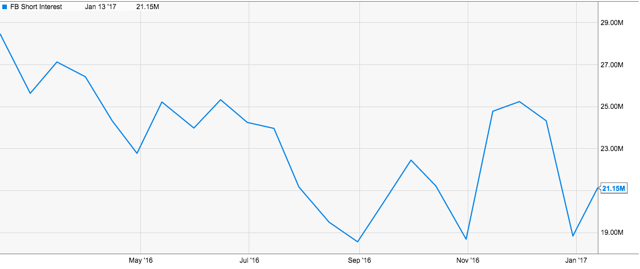 (Source: ycharts.com)
Some of the highlights of Q4 were:
Adjusted EPS $1.41 vs. $1.31 expected, revenue hit $8.81 billion vs. $8.51 expected
User growth continues to ramp up, especially internationally. Facebook added 72 million new users. 70 million of which came outside the U.S or Canada. As the internet becomes more readily available across the world, this is a trend I see continuing.
Facebook warned shareholders that revenue growth will come down considerably in 2017. It will be more of an investment year. Similar to what we saw in 2015. This is not bearish. For those who can recall, 2016 was a pretty good year for the company. I expect 2018 to take a similar path as the investments begin to grow.
Despite having to deal with all of the "fake news", Facebook was able to put that aside. They are dedicated to working closely with the news industry to create stronger ties to aid this issue.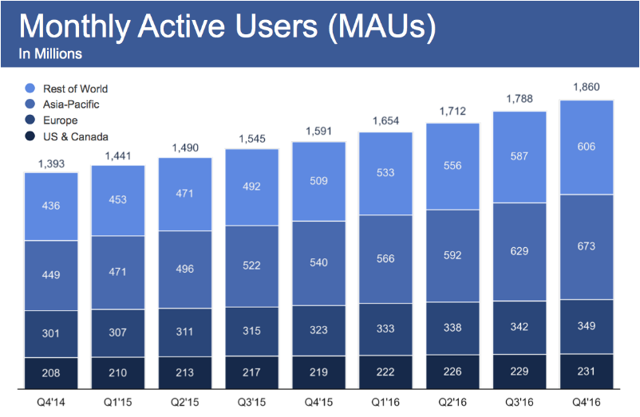 (Source: bussinessinsider.com)
Even with the slower growth that we have been warned about, there is still optimism that Facebook will be able to grow revenue, cash flow and profit by at least another 50% over the next two years. The market appears to be concerned with the high-spending expected in 2017 as the phenomenal Q4 results, did not translate to the stock price. I think the market is underestimating what will come in 2018 following the investments made. Video and Virtual Reality are huge focuses of said investment. It is very clear to see the growing trend in both.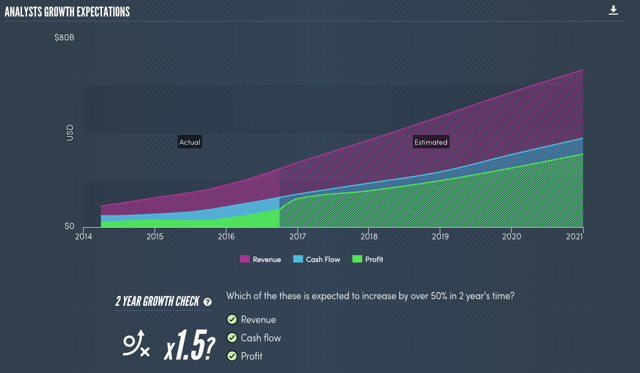 (Source: Simplywall.st)
Technical Outlook
When looking for long prospects, I look for four things on a chart:
A new 55 day high (close)
Trading above the 200 day moving average (dma)
A bullish cross on the MACD
A breakthrough of the upper Bollinger Band
When looking at Facebook, we have 3/4 of the criteria being met. The only one that isn't currently satisfied is the MACD. However, it is still bullish, just not a fresh cross. That being said, the first two bullets are the most important to me.

(Source: tc2000.com)
Not only did we see a new 55 day high, but an all time high! Breaking through the previous high (which was accomplished after hours), is a very bullish signal. The only downside being, now it becomes hard to predict where the next resistance will be, but this is a good problem to have.
We can see from November - early January, Facebook struggled to stay above the 200 dma. This is important because some of the weaker hands would have sold off as it crossed. If you have followed me before, you will know I usually use the 200 dma to help set my stops. But I typically try to find the next support below the 200 dma for this reason. Anyone who sold around $115 is kicking themselves right now as we surge above $130.

(Source: tc2000.com)
I never want to risk more than 1% of my portfolio in any given position. Ideally allowing for 10-15% downside potential in each position. I am long FB from $131.43. My stop is currently set at $114.96. As you can see, that stop is set right at the bottom of the recent dip below the 200 dma. Important to note that is not a hard stop. It will move up as the price rises to ensure I am managing risk appropriately.

(Source: tc2000.com)
Wrap-up
To be clear, I do not buy purely on technicals nor fundamentals. I am a big believer that both used in harmony create the ideal system in which an investor can work within. As long as both are heavily supported, I have no problem buying a stock.
Ycharts gives Facebook a 9/10 fundamental score. The only flaw being the dividend. Other than that, the fundamental history of the company is hard to find flaws in. As mentioned earlier, revenue, cash flow, and profit are expected to increase 50% again over the next two years. The fundamental strength of the company will not change.
(Source: ycharts.com)
As Facebook looks to invest in projects throughout 2017, I see considerable upside in 2017, and even greater in 2018 as we see the rewards of the ground work laid over the next year. I fully expect $150 to be taken out over the next year. My current price target is set at $160 as FB strives to hit 2 billion users.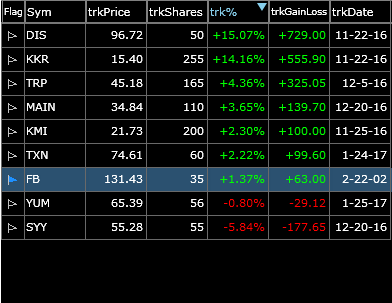 (Source: tc2000.com)
For full transparency, I have shown the stocks I own and have written articles about since late November of 2016. Shooting for 100% accuracy typically leads to 67% working out. The winners would outweigh the losers in the long run due to proper portfolio management and risk management. You do not have to be right 100% of the time to be profitable.
Thank you for taking time to read. If you received any value out of this article, please follow me for further updates. I look forward to your feedback! Also check me out on tipranks.com (Graham Grieder) for updates on my positions and to track my recommendations.
Disclosure: I am/we are long FB.
I wrote this article myself, and it expresses my own opinions. I am not receiving compensation for it (other than from Seeking Alpha). I have no business relationship with any company whose stock is mentioned in this article.