Subscribers had early access to an extended version of this article.
AGNC Investment Corporation (NASDAQ:AGNC) posted core EPS of $0.64 for the fourth quarter (beating estimates of $.59). To be more specific, the company is reporting: "normalized net interest spread plus drop income per share". The metric is similar to core earnings per share. The biggest difference is that AGNC normalizes the value, a strategy which most mortgage REITs are not yet using, and that it is using a name that more explicitly identifies what it is calculating. The other mortgage REIT that normalizes its quarterly figures is Annaly Capital Management (NYSE:NLY). In both cases, the mREITs are normalizing to adjust for "catch up" amortization charges. The result is numbers that will be significantly more consistent from quarter to quarter. This should become the industry standard over the next couple of years.
Book Value Per Share
The bigger story for investors is the change in book value per share. Some headlines will suggest that AGNC Investment Corp. took a substantial beating on the quarter. While the company did lose a significant amount of book value, the performance was in line with expectations. If it did not match the consensus estimates (which are never stated), it still came in within five cents of my estimates.
My estimates for book value per share called for $21.12 per share. Using that as our starting point, AGNC was higher by $0.05 than I expected. You can see my estimates below. They were published on January 4th, along with estimates for several other mortgage REITs. (subscription required)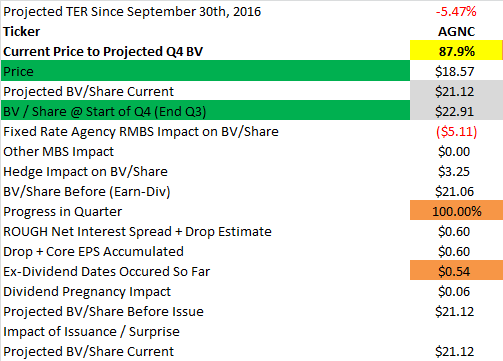 Note that the figures above pertain to my estimates from January 3, 2016, for the companies closing book value per share. I compile these estimates on most weekends, so the values are already a bit out of date. I believe AGNC's book value today, February 1, 2017, is lower than it was on December 31, 2016.
Monthly Dividend
The monthly dividend is $0.18 per share. That comes out to $0.54 per quarter. This is the second quarter in which AGNC reported normalized net interest spread plus drop income at $0.64. That is a very positive sign for the dividend. When AGNC cut the dividend, it had no way of predicting how much interest rates would increase or how much the yield curve would steepen.
I've been able to see several of the dividend cuts coming over the last 18 months or so. There are a few key signs investors can look out for. Some of the most obvious signs include weak levels of core earnings per share. However, there are also several techniques a mortgage REIT can use to enhance the reported core EPS. Most of those strategies are designed to hedge through book value without allowing the economic cost of the hedging to run through the core EPS figures.
What Would Wreck AGNC?
If interest rates continued to increase significantly through 2017, that would be a nasty blow. If they stall out around where they are, or dip slightly, that would be ideal.
Conservative - As Far As Agency Fixed-Rate RMBS mREITs Can Be
The most surprising dividend cut of 2016 came from AGNC when it cut its dividend from $0.20 per month to $0.18 per month. Even at $0.20 per month, AGNC was paying one of the more conservative dividends in the sector. That doesn't mean that the dividend is without risk. There is substantial risk to investing in mortgage REITs. There is always risk of the dividend being cut, or as investors are witnessing this quarter that the book value could decrease significantly. Then, there is the substantial price risk that comes from mortgage REITs moving to trade at larger or smaller discounts (or premiums) to book value.
Conclusion
AGNC ramped up duration but landed very near my estimates of book value. Since their net duration exposure was materially higher than it was at the end of Q3, they are probably losing a little more book value so far in Q1 2017 than I was forecasting. Perhaps an extra $.15 or so on top of the values I was forecasting. Overall, this quarter should be seen for what it is: A nice little beat on analyst expectations.
My current rating is a hold, though I have established price targets (discount to book value targets) for where I would upgrade the shares.
Want to go dramatically deeper on AGNC Investment Corporation? My subscribers already have a much longer version of this report that covers the change in hedges, hedge composition, implications of the change, spreads leading into 2017, AGNC's plan to issue new shares, price targets, current BV estimates, and the preferred shares. If you're ready to take the plunge with a free trial, proceed straight to the Mortgage REIT Forum. The Mortgage REIT Forum averages three articles per week. One provides updated book value estimates for several mortgage REITs and includes my ratings (adjusted each week). The second article rates the different preferred shares and shows investors which ones are offering the best bargains. The third is used to highlight individual mortgage REITs and market failures or to provide a sneak preview on the articles I'm planning to publish over the next couple weeks. If you're still hesitating, how about reading the reviews from my subscribers?
Disclosure: I am/we are long NLY-C, NLY-D.
I wrote this article myself, and it expresses my own opinions. I am not receiving compensation for it (other than from Seeking Alpha). I have no business relationship with any company whose stock is mentioned in this article.
Additional disclosure: Information in this article represents the opinion of the analyst. All statements are represented as opinions, rather than facts, and should not be construed as advice to buy or sell a security. This article is prepared solely for publication on Seeking Alpha and any reproduction of it on other sites is unauthorized. Ratings of "outperform" and "underperform" reflect the analyst's estimation of a divergence between the market value for a security and the price that would be appropriate given the potential for risks and returns relative to other securities. The analyst does not know your particular objectives for returns or constraints upon investing. All investors are encouraged to do their own research before making any investment decision. Information is regularly obtained from Yahoo Finance, Google Finance, and SEC Database. If Yahoo, Google, or the SEC database contained faulty or old information it could be incorporated into my analysis. Tipranks: AGNC Rating = Neutral / Hold