This morning, AstraZeneca (NYSE:AZN) reported in-line Q4/2016 results but a highly disappointing guidance for 2017.
The stock is down 1% in Europe, as a result of the lower quality of the earnings reported this quarter, which were helped substantially by positive one-offs.
The question now is whether the reporting season has provided any encouraging improvements related to the key issues I pointed in my preview of AstraZeneca's results or if my doubts have been further reinforced.
Q4/2016 results
AstraZeneca reported Q4/2016 sales of $5.6B, in-line with consensus expectation, while Core EPS of $1.21 were 6% higher than consensus, but only thanks to higher than expected positive one-offs (Externalization and other operating income). FY 16 guidance has been achieved, as expected.
2017 Guidance
2017 guidance is highly disappointing, even if headlines seem in line with consensus.
AstraZeneca guided to low- to mid-single Sales decline at constant currency rates, including Externalization Revenue. Taking into account a likely 2.5% forex headwind and assuming 3% sales decline, I estimate sales of about $21.7B in 2017, approximately in line with Bloomberg consensus.
In terms of Core EPS, the company guided to low-mid teens EPS decline at constant currency rates. Taking into account a likely 3% forex headwind and assuming 12% EPS decline, I estimate Core EPS of about $3.66 in 2017, approximately in line with Bloomberg consensus.
What's wrong about the 2017 guidance?
Thus, it's clear that 2017 will be a "year of earnings decline" for AstraZeneca, with further investments behind the pipeline, especially in oncology and immunotherapy.
But why I think AstraZeneca's 2017 guidance is disappointing, despite being in line with consensus expectations?
As I said in my previous article, AstraZeneca has relied heavily on positive one-offs in 2015 and 2016 to present a Core EPS of at least $4, with Externalization revenue and other operating income which increased to more than $3B in 2016.
There are two key elements which explain why I think market will be disappointed by this guidance:
1. In their Q4/2016 Results press release, the company said:
"The sum of Externalization Revenue and Other Operating Income in FY 2017 is anticipated to be ahead of that in FY 2016 "
That's a key negative point for the story because it implies that it's true that 2017 consensus Core EPS expectations has been met, but only thanks to a greater contribution from divestment income, which should be at least $3.5/4B to compensate the deterioration of sales trend.
This is a tangible sign that we will have a further deterioration of the quality of AZN's earnings in 2017.
2. As I said in my previous article:
"A key risk for the stock is that it's unreasonable to believe that a similar benefit could be expected in perpetuity. While Externalization revenue can be sustainable, because they are driven by recurring milestones on assets distributed in partnership, the Other Operating Income line comes from positive one - off related to asset disposal and I believe it's not a strategy that AstraZeneca could pursue forever."
In the Q4/2016 press release, AstraZeneca provided an analysis of how much of Externalization revenue generated in 2016 could be seen as sustainable income vs. one-offs.
The results showed are highly disappointing: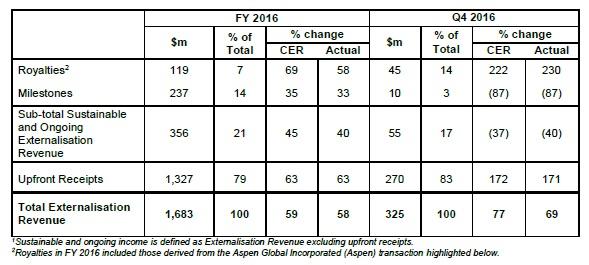 Source: AstraZeneca's FY 2016 Results Press release
In other words, 80% of Externalization Revenues (EXT) are upfront receipts (one-offs) while only 20% come from recurring milestones and royalties. If we consider also the $1.6B of Other Operating Income (one -offs), we could say that almost 90% of EXT/OOI incomes are one-offs and I believe they should not be considered in the Core EPS definition.
AZN has also announced at Q4/2016 Results that:
"Sustainable and ongoing income is expected to increase further as a proportion of Externalization Revenue in FY 2017".
Thus, looking to 2017 EPS, if we assume that 50% of Externalization Revenue will be generated by recurring milestones and royalties and that only 25% of OOI could be considered sustainable, we could say that AstraZeneca will benefit in 2017 of at least $2B of one-offs (vs. $3.5B of EXT/OOI), or about 35% of their estimated Core EBIT of $6B.
If we adjust AZN's Core EPS for these non-recurring incomes, we should subtract around $1.3 from Core EPS. Thus, on my adjusted 2017 Core EPS of $2.3, AZN is trading at more than 23x P/E 2017, which isn't an attractive valuation.
Conclusion
The key investor takeaway is that the 2017 will be again a year of massive EPS decline for AstraZeneca, in addition to a further deterioration of the earnings quality. The stock is trading at premium to 5 years average historical P/E and vs. peers and it would be much more expensive on my adjusted numbers, which reflect a more realistic measure of AZN's earnings. Thus, despite interesting pipeline optionality, I would not chase the company in 2017.
AstraZeneca's Current vs. 5 years average P/E (relative analysis vs. peers). Source: Bloomberg.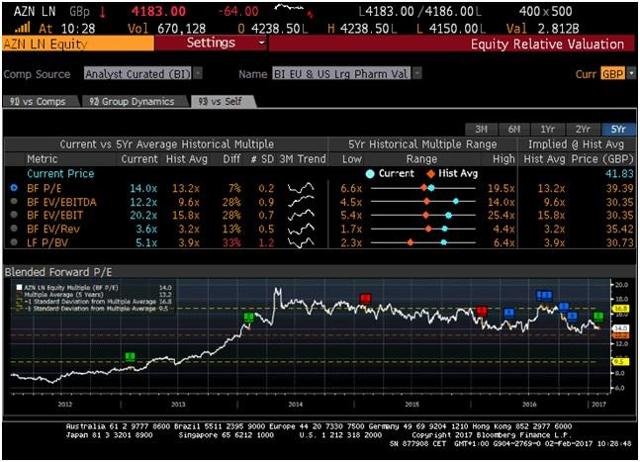 AstraZeneca's Current vs. 5 years average P/E (absolute analysis). Source: Bloomberg.
Disclosure: I/we have no positions in any stocks mentioned, and no plans to initiate any positions within the next 72 hours.
I wrote this article myself, and it expresses my own opinions. I am not receiving compensation for it (other than from Seeking Alpha). I have no business relationship with any company whose stock is mentioned in this article.
Additional disclosure: Not investment advice. I am not an investment adviser.