This morning, Novo Nordisk (NYSE:NVO) reported Q4/2016 results that were slightly below consensus and a highly disappointing guidance for 2017.
The stock is down 6% in Europe, because market wasn't prepared for a bad surprise on 2017 given Novo had already given a preliminary guidance at 3Q'16 results.
The question now is whether the reporting season has provided any encouraging improvements related to the few key issues I pointed in my original investment thesis about Novo Nordisk or if my doubts have been further reinforced.
Q4/2016 results
Novo Nordisk reported Q4/2016 sales of DKK 29.5B, in-line with consensus expectation, while EPS of DKK 3.46 were 2% lower than consensus. FY 16 guidance has been achieved, as expected.
2017 Guidance
2017 guidance is disappointing, compared to the preliminary message that they provided last quarter.
NVO guided for revenue growth of -1% to 4% at constant currency rates. Taking into account a likely 2% forex tailwind and the mid-point of the range for the sales growth, I estimate sales of about DKK 116B in 2017, 1% below Bloomberg consensus.
In terms of Core Operating Profit, NVO guided for EBIT growth of -2% to 3% at constant currency rate. Accounting for at least a 2% forex tailwind and 0.5% EBIT growth, I estimate Operating Profit of about DKK49.8B in 2017, 2% below Bloomberg consensus.
Lastly, in terms of EPS, it's worth noting that Novo Nordisk announced a higher tax rate (21-23%) and net financial loss (DKK 2.4B) for 2017 compared to consensus expectations. Thus, I estimate a 2017 EPS of DKK 14.95, 5% below Bloomberg consensus.
In summary, NVO's 2017 guidance is disappointing because it now suggests a worst case scenario of sales and EBIT declining in 2017, while the message provided by the management last quarter was less pessimistic.
A comment on the key headwinds in 2017 and beyond
Thus, it's clear that 2017 will be a "year of transition" for Novo Nordisk, because they will suffer from heavy pricing erosion in their diabetes business. Unfortunately, the market reaction suggests that investors haven't fully realized the extent of this pressure.
Looking more long term, the biggest issue, preventing me to be more optimistic on the stock, is that there hasn't been any sign of stabilization related to the pressure in the diabetes and hemophilia spaces from Q4/2016 results.
In my previous article on NVO, related to NovoSeven, I said:
"NovoSeven will face competition by ACE910 in 2017, which has recently reported positive headlines from a Phase III trial in Haemophilia A for patients with inhibitors (HAVEN 1)."
Today, Novo Nordisk announced disappointing results for Haemophilia business in 2016, reporting FY 2016 sales of just DKK 10.5B flattish vs. 2016, with a disappointing performance in USA of NovoSeven for the competition of ACE910, which is recruiting patients for participating in its trials.
Thus, despite ACE910 hasn't been approved and launched in USA, NVO has been already suffering in the Hemophilia space and the situation will further deteriorate in 2017 and 2018.
On Diabetes, I said:
"The worst is not behind the diabetes insulin franchise. Despite the market has clearly understood the reasons behind the disappointing downgrade of Novo Nordisk's long term guidance at Q3/2016 results, I think there are few key sources of downside for the insulin market expectations over the period 2018-2020, which the investors have overlooked"
As for Hemophilia, Q4/2016 for Diabetes has been really disappointing. Q4/2016 sales of Levemir were down 17% YoY and 13% below consensus expectations. The roll-out of Tresiba is going well, with DKK 1.5B sales in Q4/2016, but I'm worried that expectations for the legacy diabetes business have still to come down, especially on Levemir, if Sanofi (NYSE:SNY) will compete more aggressively to come back on the payer formularies.
Conclusion
The key investor takeaway is that the corporate signals aren't impressive. Despite the stock is trading at discount to 5 years average historical P/E and vs. peers, I will wait for a better entry point at below DKK 200 and for some tangible signs of stabilization regarding the pricing pressure in the diabetes space, before to reconsider my negative stance on the stock.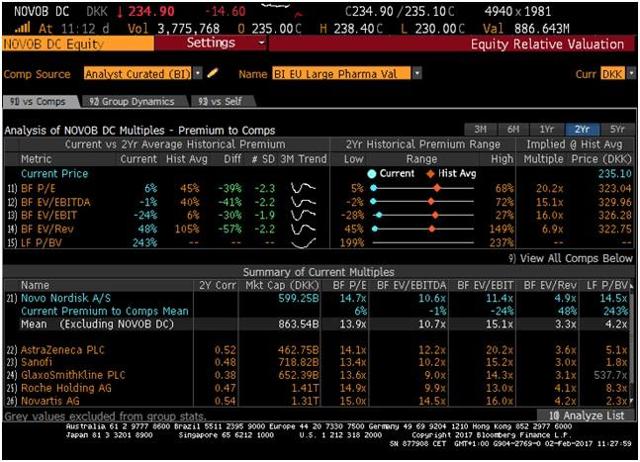 Novo Nordisk's Current vs. 5 years average P/E (relative analysis vs. peers). Source: Bloomberg.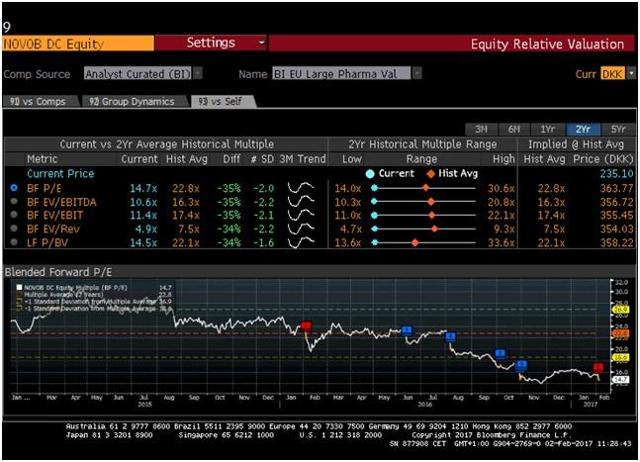 Novo Nordisk's Current vs. 5 years average P/E (absolute analysis). Source: Bloomberg.
Disclosure: I/we have no positions in any stocks mentioned, and no plans to initiate any positions within the next 72 hours.
I wrote this article myself, and it expresses my own opinions. I am not receiving compensation for it (other than from Seeking Alpha). I have no business relationship with any company whose stock is mentioned in this article.
Additional disclosure: Not investment advice. I am not an investment adviser.