The market occasionally gives me a feeling of deja vu. It's no surprise really as there are a finite amount of price moves and many come with similar narratives and sentiment. Take the Gold Miners ETF (NYSEARCA:GDX) as an example: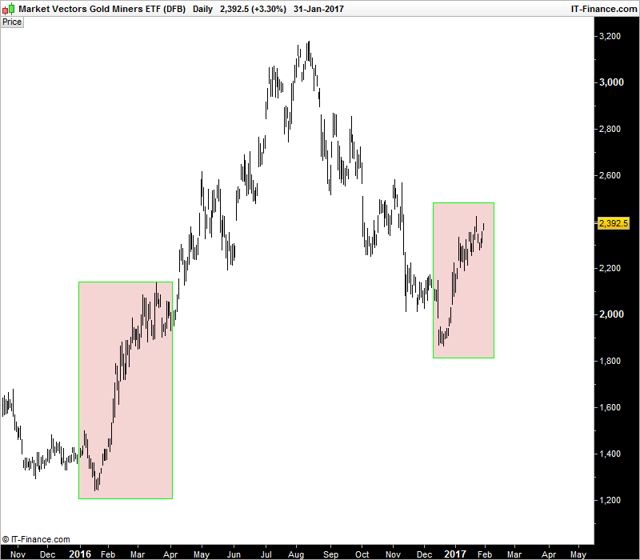 The strong recovery from a downtrend, occurring early in the year just after an interest rate hike is very similar to 2016. The similarities are even more apparent when you look closer at the structure of the rally: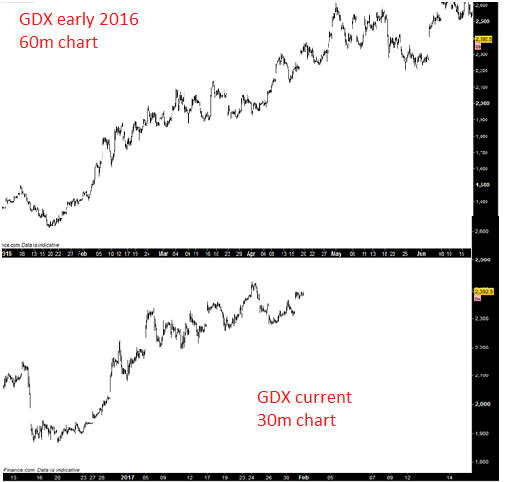 Participants are currently behaving in the same way (without even realizing it), and unless something significant happens to change their behavior, we can expect it to continue.
If GDX continues to track this period the path is up towards $30 again and there could be a substantial rally in the next few sessions. Of course there is no guarantee of this happening, but I think it is a useful guide of what is possible and probable. I wouldn't be short this market!
Gold (NYSEARCA:GLD)
We can apply the same logic to gold. Actually the 2016 comparison is something regular readers will be familiar with. I published this in mid December: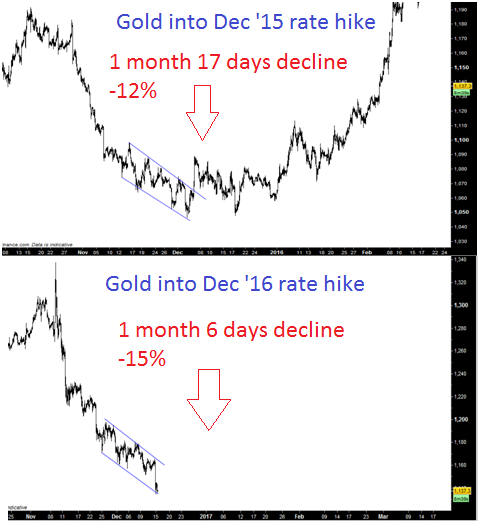 Useful as it was, it now appears that the rally is advancing at a quicker pace and smaller scale than it did in early 2016. This is also the case with the GDX comparisons above, and suggests the price action currently equates to early April 2016 in both markets.
If we superimpose the price action, we get this: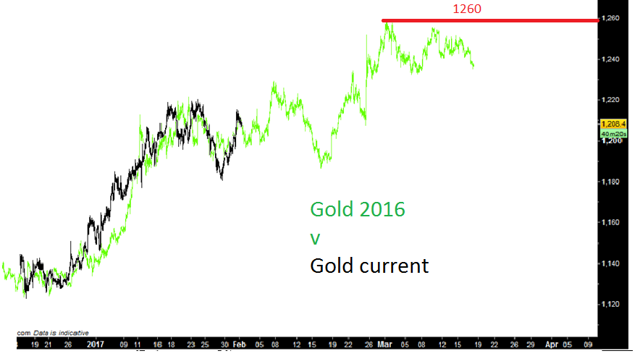 Actually the black 'current' action is a day old and hasn't been updated. Yesterday's mid-week drop below $1200 held just where it should and as I said on Twitter, price could still break $1220.
However, it appears the break of $1220 could be a false start. Gold's initial recovery ended on the 24th January and it looks like we could still be correcting this phase by a series of fake break-outs and break-downs.
The main take-away from the fractal is there is a clear directional bias higher, and a defined target of over $1250 (which is the 50% retrace of the 2016 decline).
At the current price of $1216 its suggests there's around $40 reward for longs and $40 risk. Obviously the lower price gets, the more potential reward there is and less risk for new positions. I am prepared for a new high to around $1230 and another dip to $1180, or even a brief undercut to $1169 (as it did in late May 2016). An undercut of $1180 which quickly recovers would give a superb trade opportunity of $80 reward for around $10 risk.
I still have a core long which I added to yesterday and will add much more if I get the opportunity around $1180 again. My bias is bullish so I keep a long position and add to it when I see good opportunities and scale out when the probabilities shift in the other direction.
This approach isn't perfect; I last scaled out of longs above $1200 as I thought a pullback was approaching. Little did I know the pullback would be so small and I ended up buying in again at the same price where I last closed, albeit with more conviction and a defined target.
This is just my personal approach to trading gold across different time frames when I see an edge. Everyone has their own system and objectives and I'm sure long term holders would rather sit tight.
Conclusions
Once the first phase of the rally ended at $1220, it was hard to tell how deep the retrace would be; it could have realistically gone all the way back to the $1120s before the next rally started.
However, price comparisons with 2016 continue to be helpful. I am now more confident of the near term direction, and a target of $1250-$1260 for gold, and $30 for GDX in the short to medium term.
Disclosure: I am/we are long GLD.
I wrote this article myself, and it expresses my own opinions. I am not receiving compensation for it (other than from Seeking Alpha). I have no business relationship with any company whose stock is mentioned in this article.
Additional disclosure: I trade futures