Top North America Seaport TEU Review
For the year, the top-performing West Coast seaport was Los Angeles. Los Angeles witnessed approximately 8.9 million TEUs moved throughout 2016; roughly, 2.1 million greater than Long Beach, the next highest seaport. Overall, performance for top North America seaports was mixed, but many seaports across all regions benefited from the surge in peak season shipping.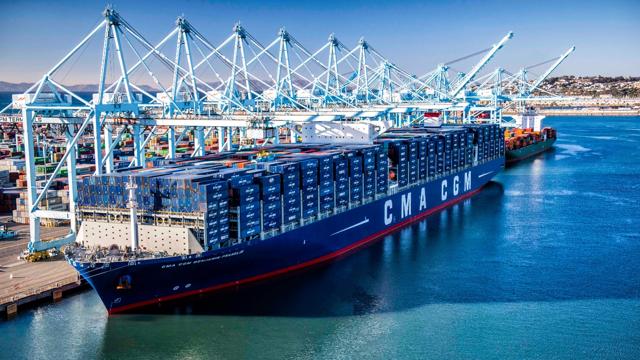 CMA CGM's Benjamin Franklin 18,000 TEU Container Ship, Source: Google Images - Port of Los Angeles
The Northwest Seaport Alliance (NSA), Manzanillo and Oakland all had solid performance in the top ten as well. For West Coast seaports, Long Beach was the odd man out. Some experts attributed the Hanjin Shipping bankruptcy as the culprit. Long Beach had an approximately 13 percent exposure of its TEU traffic through Hanjin's former terminal. However, competitive factors also likely played a role.
During December, TEU traffic surged at Los Angeles, Manzanillo and NSA seaports. Oakland also witnessed strong performance. But seaports including Long Beach and Lazaro Cardenas were negative, while Vancouver and Prince Rupert were only marginally higher.
For the East Coast, the top performer was Halifax up approximately 15 percent. In the top ten, both New York/New Jersey and Savannah were down, while Virginia was up moderately. December was especially strong for East Coast seaports as Baltimore, Boston, Charleston, Savannah and Virginia were all up double digits versus last year. New York/New Jersey and Miami were moderately higher, while Montreal was down significantly.
The Port of Altamira was the strongest-performing Gulf Coast seaport for 2016 at approximately eight percent TEU growth. Houston finished the year quite well up over two percent. Earlier during the year, the seaport was down. Veracruz was also up, while New Orleans was marginally negative. For the month of December, Mexican seaports substantially outperformed their U.S. Gulf Coast peers versus last year.
The list below provides an overview of Top North American seaports. Collectively, these seaports reflected greater than 90 percent of total TEU traffic during 2016.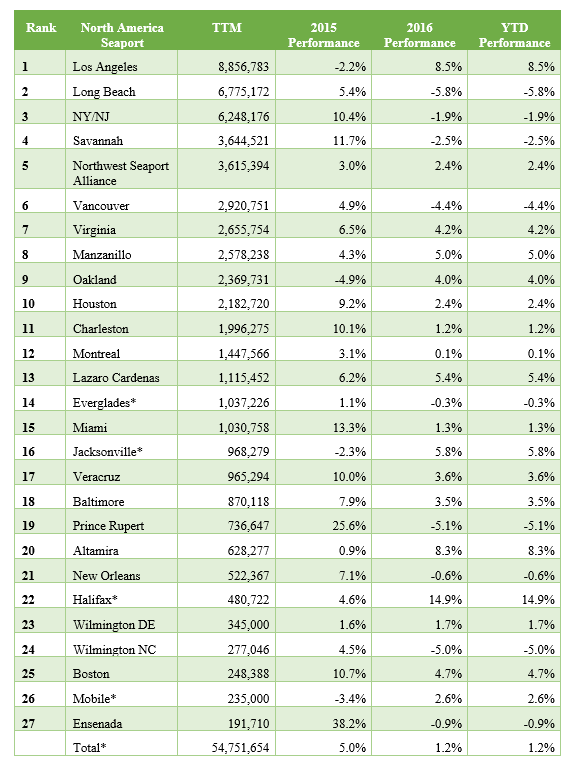 Source: Seaport websites, all numbers are subject to change based on revisions.
*Note: The seaports of Port Everglades, Jacksonville, Wilmington DE and Mobile do not provide monthly TEU data, and all TTM data is based upon the most recent fiscal year. Port Halifax provides quarterly TEU data so all information is as of the most recent quarter.
The Hanjin bankruptcy in September was one of two key catalysts to change the course for North America seaport TEU traffic performance. While this event was no silver bullet for improving the overcapacity issues plaguing the industry, it did provide for temporary tightening and an increase in average spot market container freight rates.
The combined effect of the peaking shipping season for the U.S., followed by Chinese New Year generated enough demand to keep TEU momentum sustained leading to a climax during November and December of 2016.
One interesting factor was that despite a strong U.S. Dollar, U.S. select West Coast seaports continued to lead laden export TEU traffic over the course of the year and especially during the last couple of months. During December, certain East and Gulf coast seaports also witnessed very robust laden exports.
With the West Coast labor union strikes now removed from performance trends, it will be interesting to see how 2017 shapes up. Near-term talks with the International Longshoreman's Association (ILA) for East and Gulf coast seaports are no guarantee as issues revolving around automation continue to garner public interest.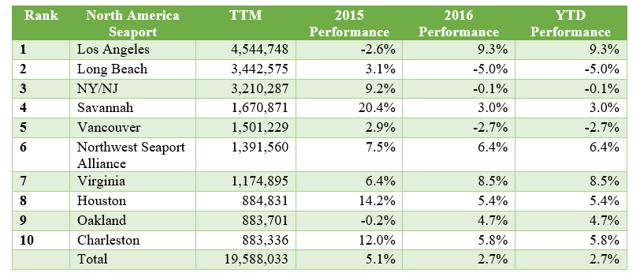 Source: Seaport websites, all numbers are subject to change based on revision.
Top performers for December laden import TEUs for West Coast ports included the Los Angeles, Manzanillo (total imported TEUs), NSA and Ensenada. Results were up 23, 33, 14 and 10 percent respectively versus last year. The Port of Long Beach was the sole seaport with negative laden import performance during December. Lazaro Cardenas (total imported TEUs) and Oakland were up eight and six percent; the Canadian seaports including Vancouver and Prince Rupert were up two and four percent.
Leading East Coast seaports for December laden import TEUs included Baltimore, Savannah and Virginia. Results were up 27, 20 and 18 percent respectively versus last year. Laggards included the seaports of Montreal (total imported TEUs) and Miami, which were down 10 and two percent. Other solid positive performers included New York/New Jersey, Boston and Charleston. Results were up nine, eight and seven percent.
The Port of Houston's laden import TEU traffic was up 17 percent in December versus last year. The Mexican seaports of Veracruz and Altamira (total imported TEUs) witnessed performance of 25 percent; New Orleans total imported TEUs were down 15 percent. Houston has now witnessed double-digit laden import TEU performance for seven consecutive months from 12 to 40 percent.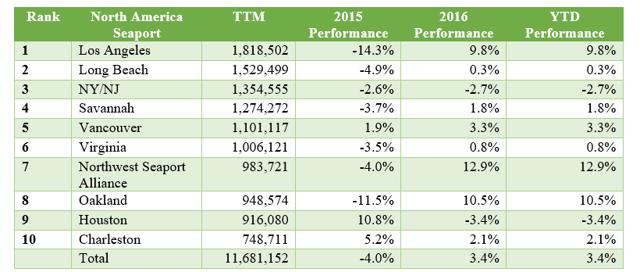 Source: Seaport websites, all numbers are subject to change based on revision.
Laden export TEUs tapered off a bit for West Coast ports. Top performers for the month of December included Ensenada, Manzanillo (total exported TEUs), Los Angeles and Oakland with results of 43, 38, 26 and 14 percent versus last year. Lazaro Cardenas (total exported TEUS), Long Beach and Prince Rupert were down four and three percent a piece. The NSA was up six percent.
For East Coast ports, top performers included Boston, Charleston, Savannah, Miami, and Virginia with performance of 18, 17, 16, 13 and 10 percent versus last year. New York/New Jersey was flat. Baltimore and Montreal (total exported TEUs) were laggards, down 25 and three percent respectively.
For Gulf Coast ports, Veracruz and Altamira (total exported TEUs) were up 38 and 19 percent respectively versus last year. The seaports of Houston and New Orleans were down six and two percent.
North America Class I Rail Container Review
Class I rail operators break down their container performance by international and domestic services. For international containers, traffic moved proportions were as follows; BNSF and Union Pacific near 50 percent, Norfolk Southern near 60 percent and CSX near 40 percent. Most container moves for both Canadian rail operators are international.
In addition to direct haulage of international containers, a substantial number of international containers are transloaded to domestic containers with proximity to seaports, for BNSF, Union Pacific, Norfolk Southern and CSX. From this perspective, a substantial majority of container traffic for Class I rail operators is driven by seaport TEU traffic. For Class I rail operators which have lagged peers, it should be assumed that truck carriers including drayage and medium to long haul drivers are benefiting, especially in today's lower fuel cost environment.
Additional companies directly benefiting from these trends include J.B. Hunt Transport (NASDAQ:JBHT) and Hub Group (NASDAQ:HUBG). Many others in the freight sector also benefit including ocean freight forwarders like Expeditors International (NASDAQ:EXPD), major truck brokers like C.H. Robinson Worldwide (NASDAQ:CHRW), XPO Logistics (NYSEMKT:XPO), among others.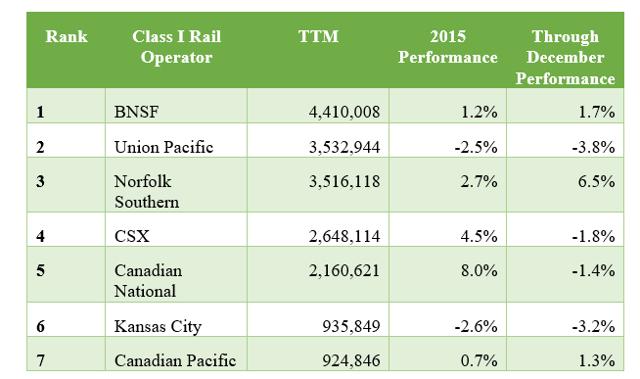 Source: Class I weekly container units carried
Class I rail operator weekly container traffic has been provided above through December 2016 and over the trailing twelve-month, TTM, period. Based on this information, every Class I witnessed significantly improved performance for container units carried in December. Improvement ranged between 50 and 100 basis points (bps) from November.
Overall, Class I rail operators witnessed the most improvement for container traffic during the first two months of 2016, and during the last few months after September. This performance has directly mirrored seaport TEU traffic.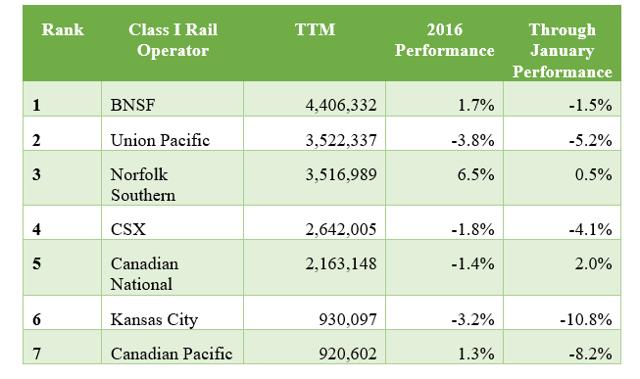 Source: Class I weekly container units carried
Looking to Class I rail traffic for the first month of January 2017 as a leading indicator for seaport TEU traffic, results displayed substantial declines for all but one rail operator, being Canadian National (NYSE:CNI). Despite early negative performance, the past consecutive two weeks have displayed strong improvement. It is too early to tell, but January may end up being weaker for seaports.
Summary
The new vessel sharing alliance that will go into effect this spring will add further competitive pressures to top North America seaports. Newbuild deliveries will continue during 2017 as container shipping lines continue to attempt to drive down costs.
For 2017, it should be a better year to pay closer attention to the impacts from the new locks that were opened at the Panama Canal this past June. If 2016 is any indication, there are no guarantees for larger seaports such as New York/New Jersey, or smaller ones such as Miami, which have added substantial investments to capture new traffic. The southern East Coast seaports continue to be formidable competitors for new traffic.
Early indications are for slower TEU traffic in January. If we hit a lull and spot market container pricing is forced to decline significantly, we could see more bankruptcies and/or consolidation for container shipping lines.
Overall TEU traffic trends for 2016 were buoyed by strong performance during January and February and after September. The inconsistencies with peak shipping seasons and the continued uncertainty surrounding the container shipping industry will make for an eventful 2017.
Disclosure: I am/we are long JBHT, XPO.
I wrote this article myself, and it expresses my own opinions. I am not receiving compensation for it (other than from Seeking Alpha). I have no business relationship with any company whose stock is mentioned in this article.