Closed-end mutual funds have long been known to, on average, trade at a discount to their net value of the assets (NYSE:NAV) in the fund. These discounts have been long studied and debated, but I tend to believe they are mainly driven by:
The inability to redeem shares as with open-ended mutual funds and ETFs,
The domination of many closed-end fund markets by retail investors, who are often sold these funds at later face a one-way market when they sell shares to get their money out
An illiquidity premium from the combination of #1 and #2, and
Accounting for the present value of the relatively high fees and costs of closed-end funds compared with ETFs
I often look to buy closed-end funds at a substantial enough discount to NAV, usually not because I expect such discounts to narrow, but as a way of accessing relatively difficult to access assets (especially illiquid debt) and to earn the interest and dividends on $100 of assets at a cost of only $85 (knowing I often get back only $80-90 when I sell). In lay terms, this can be compared to buying a quality used car from a first owner who paid most of the up-front depreciation (~fund fees) for you. This approach scales well horizontally (across many different funds), but not vertically (as each individual fund is usually too illiquid to absorb large trades).
I also find it worth noting that the YieldShares High Income ETF (NYSEARCA:YYY), probably the most well-known ETF that invests in closed-end funds for these discounts and yields, does not hold any of the country-specific emerging market closed-end funds listed below as of this writing, perhaps because their risk/yield ratio is too high.
Even more importantly though, I find closed-end funds useful as sentiment indicators to see which segments of the market are in relative high and low demand from retail investors. In this article, I am highlighting 8 closed-end funds of emerging market equities that I believe are a worthwhile list to watch in 2017. To qualify for this list:
The closed-end fund must cover a single country, not a region, and
The country must be an emerging market (so the Japan Equity Fund JEQ does not qualify, even at a 14% discount)
There must also be a corresponding single-country ETF for that country (which fortunately all of these countries already have, but I expect closed-end funds to open into frontier markets like Myanmar before ETFs are feasible there)
The lack of single country closed-end funds is the main reason countries like Brazil and the Philippines are not on this list.
Specifically, I am looking at these 10 emerging market countries as components or former / correlated components of the iShares MSCI Emerging Markets Index ETF (NYSEARCA:EEM). While EEM is a very liquid and widely held and traded barometer of global emerging market equities, I personally and professionally prefer to look deeper into individual emerging markets rather than treat them as one blanket category, though an weighted average sentiment indicator of these emerging markets could certainly be used for trading broader ETFs like EEM.
Below is a snapshot from the WSJ as of Feb 1st, 2017, though I also recommend Nuveen's CEF Connect closed-end fund screener as a source of data: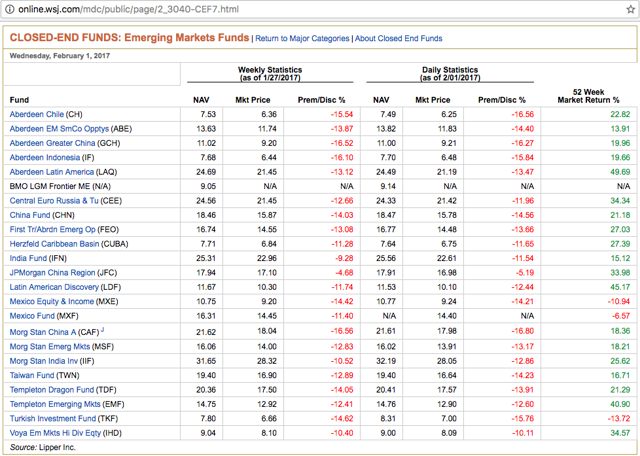 Source: WSJ
The emerging markets to watch in 2017, according to their closed end fund discounts, are:
#1: China
China tops many emerging markets list as by far the world's largest emerging market, and a big question is if, when and how China will surpass the US as the most successful emerging market in history.
China also tops the list of Emerging Markets as being one of the more complex, with Greater China being made up of four passport issuers (the People's Republic or Mainland, Hong Kong, Macau, and Taiwan) and having a substantial presence on at least six stock exchanges (Shanghai, Shenzhen, Hong Kong, Taipei, Singapore and New York). In this article I will discuss only two closed end funds sharing this top spot, representing China A-shares and Greater China respectfully.
First, the China A-share funds: I have outlined a step-by-step history of what the A-share market is, how it differs from B, H and N shares, and how it has been opening up in an earlier article, followed up by an article on the iShares A-share ETF and most recently one on Shenzhen Stock Connect. In the first of these articles, I mentioned the Morgan Stanley China A share fund (NYSE:CAF) as the earliest way non-PRC retail investors could access the China A-share market, before the iShares FTSE/Xinhua China A50 Tracker ETF (02823.HK) and the Deutsche X-trackers Harvest CSI 300 China A-Shares ETF (NYSEARCA:ASHR) were later able to provide scalable access to the China A-share market as the market opened.
I remember CAF trading at a premium before these other ETFs were available, but since the China A-share market crash of the summer of 2015, CAF has had one of the deepest discounts of any emerging market equity ETF: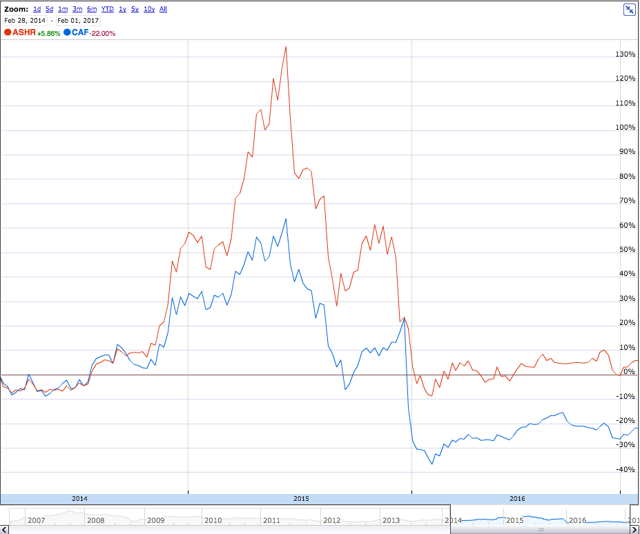 Source: Google Finance
I want to complete the view on Greater China and compliment the A-share market by looking at two other US-listed China closed-end funds: The China Fund (NYSE:CHN) and the Aberdeen Greater China Fund (NYSE:GCH). I contrast these with the ETFs tracking the other parts greater China: the iShares MSCI Hong Kong ETF (NYSEARCA:EWH), the iShares MSCI Taiwan ETF (NYSEARCA:EWT) and the iShares China Large Cap ETF (NYSEARCA:FXI), with the latter being made up of "H-Shares" of mainland Chinese companies listed in Hong Kong.
As can be seen by the chart below, there has been a substantial divergence since the global financial crisis of 2008, with Hong Kong outperforming and GCH underperforming, while Taiwan and China range traded in the middle. CHN slightly outperformed GCH over this period simply because it had a relatively higher weight in Taiwan and a lower weight in China, but still missed out on EWH's dramatic outperformance over this period.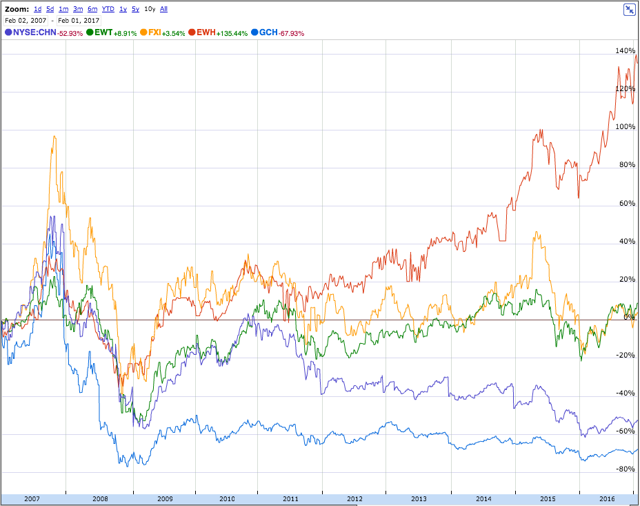 Source: Google Finance
#2: Israel
The second cheapest closed-end fund on our list this quarter is the Aberdeen Israel Fund (NYSEMKT:ISL). Israel was upgraded from an emerging market to a developed market in 2010, but I still consider Israel to be more similar to Singapore, Hong Kong, and Taiwan than to Japan the UK as an economy and investment destination, which of course is arguable.
Israel can also be traded through the iShares MSCI Israel Capped ETF (NYSEARCA:EIS), and also through 92 ADRs and dual-listings in the US. If you look on the NASDAQ list of foreign companies, you will notice that Israel is still the only middle eastern country with companies listed there.
ISL also underperformed EIS since the financial crisis, but has kept a relatively stable discount for the past five years compared with the China funds'.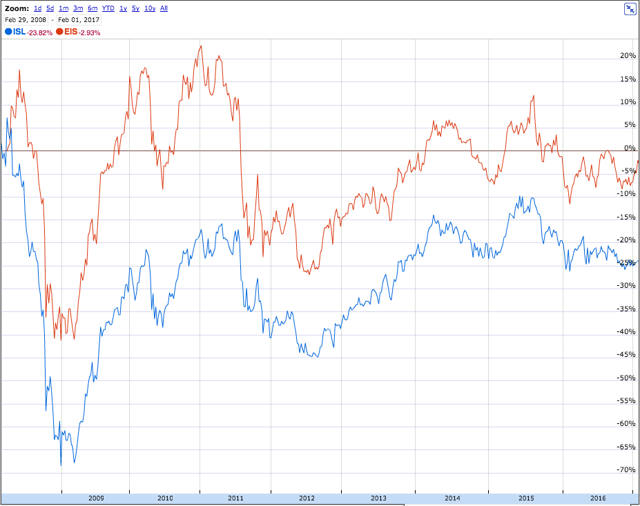 Source: Google Finance
#3: Turkey
Next on our list is Turkey, whose closed end fund is the Turkish Investment Fund (NYSE:TKF) and ETF is the iShares MSCI Turkey ETF (NYSEARCA:TUR). Despite being a relatively well populated and well positioned economy with lots of advantages and advancements, Turkey remains a relatively volatile and high risk-premium emerging market.
For centuries, Turkey's position between Europe and the Middle East has promised the best of both worlds, but lately it has also weighed it down with the political risks of both worlds combined with its domestic uncertainties. In 2017, the Turkey funds are fast approaching their 2008-2009 lows, with the closed-end fund having an even steeper discount relative to the ETF: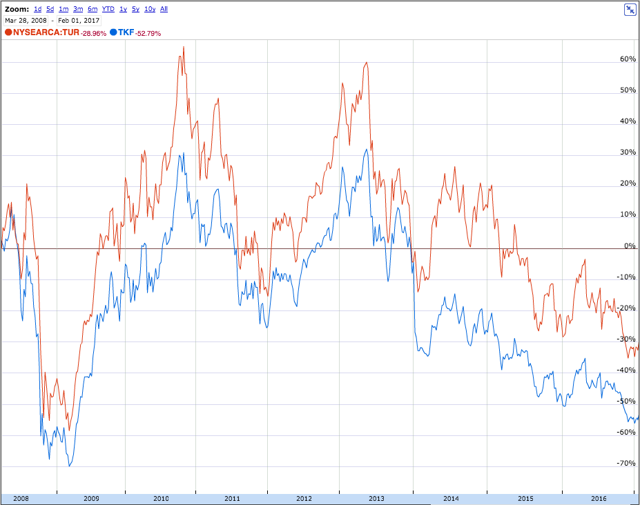 Source: Google Finance
#4: Singapore
As mentioned earlier, Singapore on the ground feels much more like an advanced developed market than an emerging market, but I include it in many emerging market lists as it is the major offshore financial center of nearby emerging markets in ASEAN and Southeast Asia, including Indonesia, Thailand and India later in this list.
Singapore also has the advantage of having a US ETF with over 20 year's listed history: the iShares MSCI Singapore ETF (NYSEARCA:EWS), listed 6 years after the launch of the closed-end Aberdeen Singapore Fund (NYSE:SGF) in 1990. In those 20+ years, we've had more chance to see swings of the closed-end fund outperforming and vice-versa: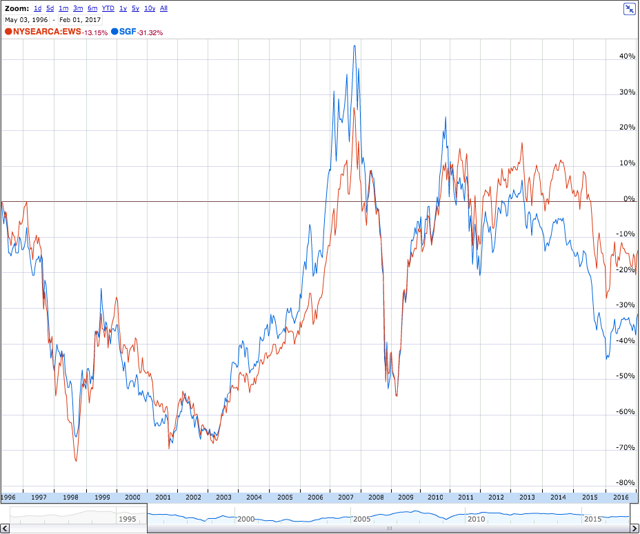 Source: Google Finance
As a market with relatively easy direct access by foreign investors, Singapore is one market where I prefer directly purchasing a portfolio of selected shares rather than just a benchmark ETF.
#5: Indonesia
Less than an hour's ferry ride from Singapore is the next EM to watch on our list: Indonesia. Here, the older closed-end fund is the Aberdeen Indonesia Fund (NYSEMKT:IF) with the 2010-launched ETF being the iShares MSCI Indonesia ETF (NYSEARCA:EIDO).
For the first 2 1/2 years after the launch of EIDO, IF's performance still held up as I remember Indonesia still being considered a "hot" emerging market with a credit upgrade and other tailwinds. Since then, IF has collapsed with falling oil prices and only stabilized around its current discount in the past year: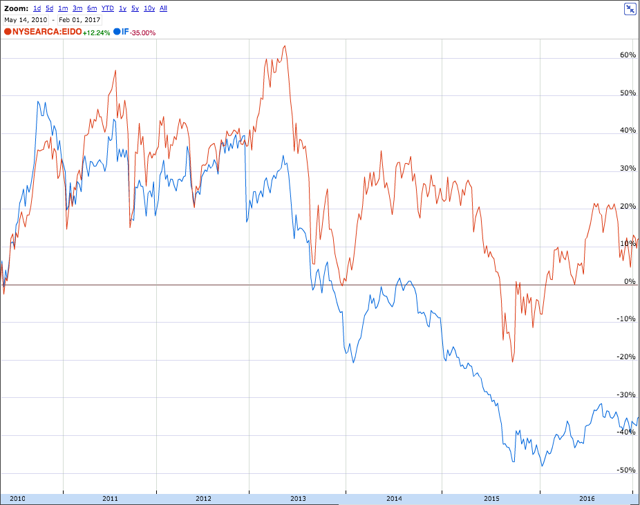 Source: Google Finance
#6 : Thailand
North of Singapore and Malaysia is the Kingdom of Thailand, long considered one of Southeast Asia's more advanced and stable economies. Unlike Indonesia, Thailand has been rated at investment grade BBB for decades, having only been downgraded to a borderline junk rating of Ba1 by Moody's when the Thai Baht collapsed in the 1997 Asian financial crisis, only to upgrade it back to investment grade Baa3 in 2000 and at its current Baa1 rating since 2003.
US investors have accessed Thailand via the Thai Fund (NYSE:TTF) and since 2008 with the iShares MSCI Thailand ETF (NYSEARCA:THD):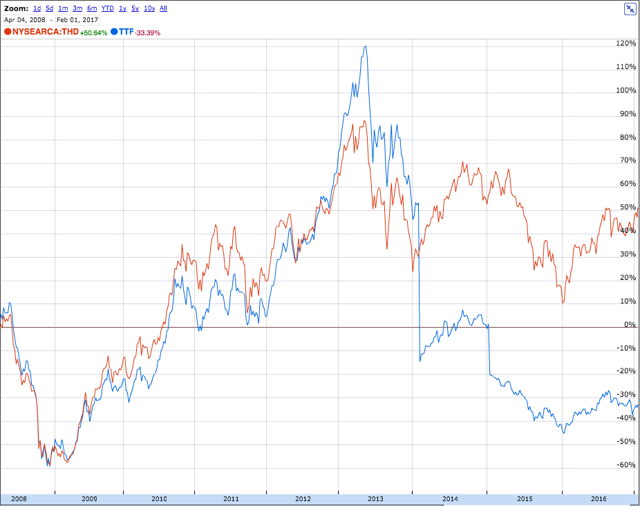 Source: Google Finance
#7: Chile
Across the Pacific, we move to the first of two fellow APEC members of our list in Latin America: Chile. The funds tracking Chile are the Aberdeen Chile Fund (NYSEMKT:CH) and the iShares MSCI Chile Fund (NYSEARCA:ECH).
Chile as an emerging market has long been synonymous with a single commodity: Copper. I find this view to be relatively narrow of one of Latin America's most advanced and dynamic economies, which boasts one of Latin America's few "A" credit ratings and has been attracting overseas entrepreneurs through programs like StartUp Chile. That said, I think it speaks volumes that ECH is so closely tracks the iPath DJ-UBS Copper Total Return Sub-index ETN (NYSEARCA:JJC), an exchange traded note that tracks returns from buying and rolling a long position in copper futures: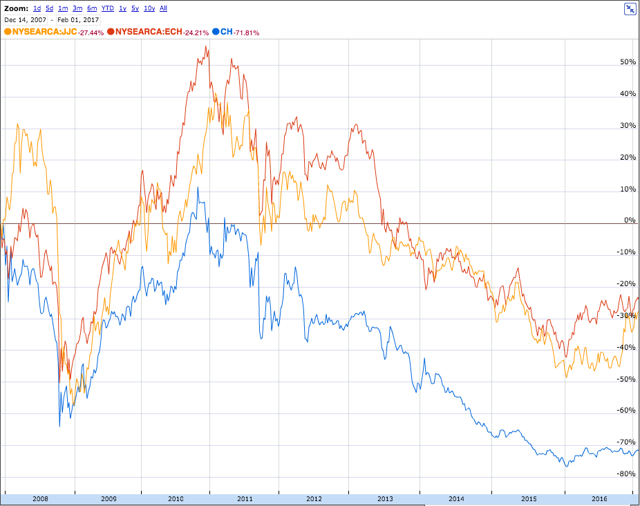 Source: Google Finance
#8: Mexico
Our second APEC member from Latin America on this list is Mexico. At first look, Mexico's index looks more balanced and consumer oriented, being topped with names like America Movil (NYSE:AMX), Coca-cola bottler Fomenta Economico Mexicano (FMX aka Femsa) and retailer Wal-mart de Mexico (OTCPK:WMMVF), but Mexican equities have suffered like those of many other emerging markets since oil prices started falling in 2014.
The closed end funds for Mexico are the Mexico Equity & Income Fund (NYSE:MXE) and the Mexico Fund (NYSE:MXF), with the main ETF being the iShares MSCI Mexico ETF (NYSEARCA:EWW). Fortunately, all have over 20 years' trading history so that we can follow their divergence, especially since 2008-2009: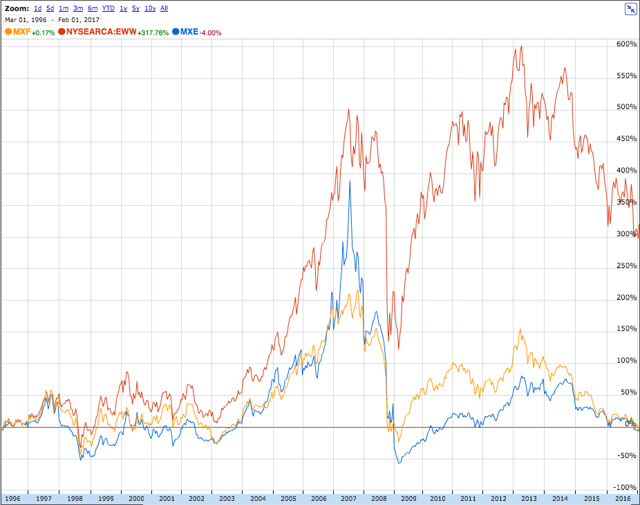 Source: Google Finance
#9: Korea
Korea is another market which can be arguably labeled developed or emerging as of 2017, and this Bloomberg article argued that many Korean equities may have preferred not to be upgraded, preferring instead to be a large emerging market rather than a small developed one. Note that Korea still makes up about 14.6% EEM and the MSCI Emerging Markets Index, down from the 25%+ weighting I remember it having when it dominated EEM in the mid-2000s.
Korea has been tracked by at least two closed end funds: the Korea Fund (NYSE:KF) and the Korea Equity Fund (NYSE:KEF), with the iShares MSCI Korea ETF (NYSEARCA:EWY) having been launched in 2000. The latter two have tracked each other relatively well over the past 15+ years, and it is only the former KF that has really diverged since the 2008-2009 crash, which may explain why KF currently trades at an ~11% discount to NAV vs KEF's ~5%: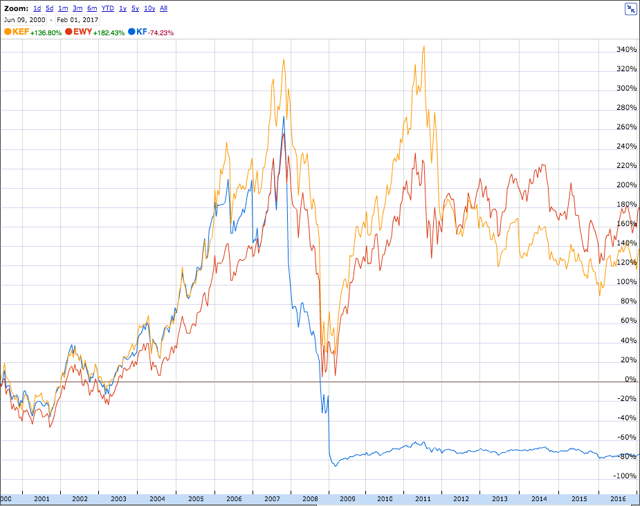 Source: Google Finance
#10: India
Last but certainly not least on the list of this years emerging markets to watch is India, the world's 2nd largest emerging market (3rd according to EEM).
While India does have an iShares MSCI India ETF (BATS:INDA) tracking it, for the below chart I plot the older (and in my opinion, slightly better due to earnings rather than market cap weighting) WisdomTree India Earnings ETF (NYSEARCA:EPI) against the older closed-end Morgan Stanley India Investment Fund (NYSE:IIF):
Source: Google Finance
Summary
One of my main goals in this article was to highlight 10 emerging market countries whose valuation and sentiment can be eye-balled by looking at the closed-end funds that track their markets, their relative discounts to NAV, and their relative performance to their corresponding country ETF.
It also obvious, but perhaps worth summarizing, which names dominate the investment management in these respective spaces:
Aberdeen Asset Management (OTCPK:ABDNF) is the leading name in these closed-end funds, although Morgan Stanley (NYSE:MS) has an important position in India and China
BlackRock's (NYSE:BLK) iShares is the dominant brand in the single country ETF space, and
MSCI Inc (NYSE:MSCI) still dominates in benchmarking single-country equity markets with market cap indices (a practice I critiqued in this article)

As a summary and reference, here is a table here of the 10 emerging market countries and their respective closed-end funds and ETFs:
| | | | |
| --- | --- | --- | --- |
| Country | Closed-end Fund | ETF | Weight in EEM |
| China (A-shares) | CAF | ASHR, CNYA | 0% |
| China (Greater) | GCH, CHN | FXI, EWH, EWT | 38.20% |
| Israel | ISL | EIS | 0% |
| Turkey | TKF | TUR | 1% |
| Singapore | SGF | EWS | 0% |
| Indonesia | IF | EIDO | 2.50% |
| Thailand | TTF | THD | 2% |
| Chile | CH | ECH | 1% |
| Mexico | MXE, MXF | EWW | 3.40% |
| Korea | KEF, KF | EWY | 14.60% |
| India | IIF | INDA, EPI | 8.10% |
Altogether, these 10 countries add up to over 70% of the weighting in EEM / MSCI Emerging Markets Index, with the big 3 missing markets being Brazil, South Africa, and Russia, which combined make up 19% of EEM (half the weight of China) and round out the BRICS. Size is not everything of course, because as I mentioned, tiny Singapore may have no weight in this index, but is one of the markets accessible enough but inefficient enough for stock picking to generate alpha.
Tariq Dennison CFP is a discretionary fund manager at GFM Asset Management in Hong Kong. You can e-mail him at TDennison@gfmgrp.com or reach him via Twitter at @QuantOfAsia
Disclosure: I/we have no positions in any stocks mentioned, and no plans to initiate any positions within the next 72 hours.
I wrote this article myself, and it expresses my own opinions. I am not receiving compensation for it (other than from Seeking Alpha). I have no business relationship with any company whose stock is mentioned in this article.
Additional disclosure: The author, his firm, and his clients hold mostly long positions in US, Hong Kong, and Singapore listed single stocks and ETFs that may be held by or strongly correlated with the ETFs and closed end funds mentioned in this article.