Democrats tried but it looks like Republicans found a way to move President Donald Trump's Treasury Secretary pick Steve Mnuchin forward. While President Trump has been loud in the media about China, he still hasn't officially labeled China a currency manipulator. We think he was waiting for his Treasury Secretary confirmation and an officially scheduled date of April 15th. Markets have time on this one.
Would Treasury Secretary Mnuchin Label China Manipulator?
Steve Mnuchin made the following statement:
"I 100% support the President's view that we need to look at China overall from a trade standpoint, an economic standpoint and a securities standpoint. I will look forward to working with him on that."
Does "100% support" mean branding China a currency manipulator? Mr. Mnuchin skated around directly saying so.
What's probably bothering Mr. Mnuchin is the fact that China has been depleting their foreign currency reserves of late. That is a move to lift the yuan not cause it to drop.
The US administration can blame Chinese citizens for trying to sell yuan, but the government is trying to buy.
Here's the drop in China's foreign currency reserves.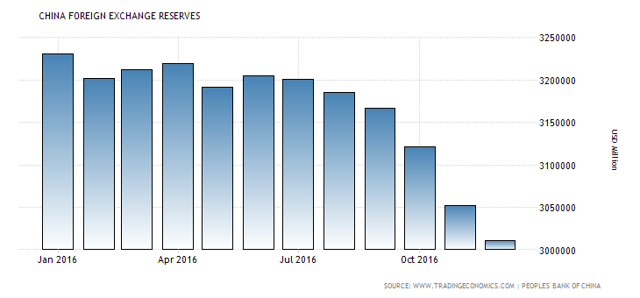 Source: Trading Economics
This chart shows that China is selling foreign currency and buying yuan. It's tough to brand them a manipulator when they are clearly supporting their currency.
That may be why Mr. Mnuchin didn't give a full-throated approval for such a move.
Because of the above chart the previous Treasury Secretary Jack Lew also had difficulty calling China a manipulator.
On April 15, 2014, then Treasury Secretary Jack Lew declared that China was not guilty of currency manipulation, but expressed the concern that the yuan was still undervalued.
Here's the above chart since 2014.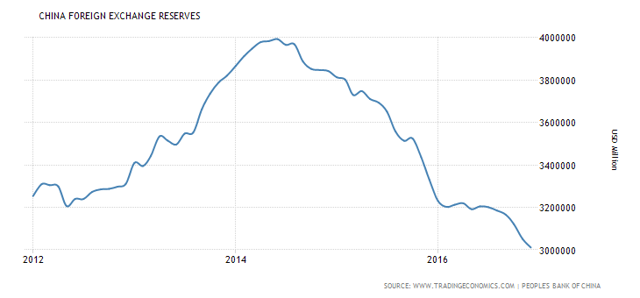 Source: Trading Economics
According to the above chart, China is even less guilty of selling yuan than they were in 2014. They've been selling foreign currency (down in the chart above) and buying yuan.
During Mnuchin's Senate Hearings, according to Reuters, Senator Orrin Hatch asked how he would respond if instructed by President Trump to name China as a currency manipulator.
Mr. Mnuchin responded:
"Currency manipulation is a serious infraction of free trade principles and needs to be effectively addressed. As Treasury Secretary, I will ensure that we defend American jobs by combating currency devaluation utilizing the reporting and monitoring functions of the Treasury and legislative processes established by Congress."
Does this mean he would follow through on branding China a currency manipulator or not? It's not clear. He skated around the question here too.
If the Treasury Department declares that China is guilty of currency manipulation, the President must demand negotiation to resolve the issue, which could lead to tariffs and fines on Chinese goods.
China has warned there would be severe retaliation of such a move.
According to Reuters,
"The Treasury is due to issue its next currency report, which evaluates the foreign exchange practices of major trading partners, on April 15.
We have some time.
Will President Trump Follow Through?
There are some indications that President Trump could always back off on the issue of Chinese currency manipulation. We know he had strong words about China while campaigning.
During a recent interview with the Wall Street Journal, when asked if he would declare China guilty of manipulating currency, he replied,
"I would talk to them first … Certainly they are manipulators, but I'm not into doing that."
Conclusion: Market Reaction
It's not so clear if by April 15th the US will peg China with such a harsh charge. Looking at the recent "Travel Ban" and other executive orders, President Trump is charging ahead on campaign promises.
That said, China is a serious charge which would evoke a serious response from China. China is trying to present their currency as a global reserve currency. Manipulator status would tarnish that objective.
For now, we have a couple of months before this is a front-burner issue for markets (NYSEARCA:SPY).
Premium Service price rises March 1st. Lock in the lower price.
Know likely market moves over the next few days. Enhance trading performance and skills. SPY, Gold, Oil and more.
Click here for a free trial of Elazar's Pro Trader on Seeking Alpha.
If you liked our work scroll to the top and click "Follow."
Disclaimer:
ETFs reported by Elazar Advisors, LLC are guided by our weekly and monthly methodologies. We have a daily overlay which changes more frequently which is reported to our premium members and could differ from the above report. Portions of this article may have been issued in advance to premium members. All investments have many risks and can lose principal in the short and long term. This article is for information purposes only. By reading this you agree, understand and accept that you take upon yourself all responsibility for all of your investment decisions and to do your own work and hold Elazar Advisors, LLC and their related parties harmless. Any trading strategy can lose money and any investor should understand the risks.
Disclosure: I am/we are long S&P 500.
I wrote this article myself, and it expresses my own opinions. I am not receiving compensation for it (other than from Seeking Alpha). I have no business relationship with any company whose stock is mentioned in this article.