Central Argument
I estimate that Copaxone is responsible for about 25% of Teva's (NYSE:TEVA) market capitalization.
Overview
Teva's outlook took a hit earlier this week as a US District Court ruling invalidated four of the company's five patents on its multiple sclerosis drug Copaxone (40mg). Teva's shares have been under pressure for the past year as a consequence of generics competition and deleveraging necessity after its acquisition of Allergan's (NYSE:AGN) generics business, Actavis.
Teva management asserts that Copaxone competition could cut the drug's annual revenue contribution by slightly over $1 billion. Baseline Copaxone 2017 revenue forecasts come to slightly under $4 billion. US revenues are expected to come in around $3.1-$3.2 billion, with non-US revenues at around $0.7-$0.9 billion, for about an 80/20 US/international split. This takes into account no US sales contraction due to competition and no launch of generic Copaxone 40mg alternatives over the remainder of 2017 (Source: 2017 business outlook presentation, 6 January 2017).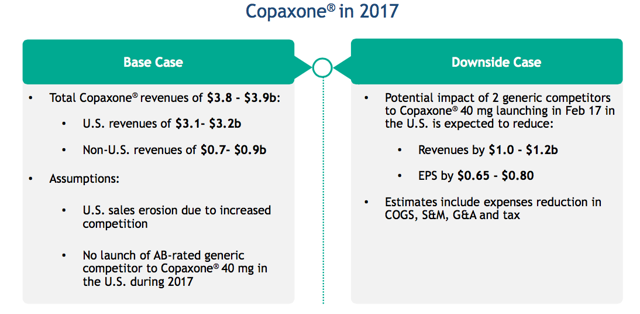 My recent post on Teva included a FY2017 revenue estimate of $24 billion, which I consider fairly conservative. Assumptions also included a revenue run-off of 3% year-over-year over the course of a ten-year projection period (i.e., to revenues of $17.7 billion in FY2027), 20% EBIT margins, no working capital growth, a cost of debt of 4%, and a perpetual growth rate of 1.8% (to mirror the long-term expectations of the economy). At a standard cost of equity of 7.5%, this would get the stock to a median price of $36-$37 per share.
In an absolute worst-case scenario, what if Copaxone revenue hypothetically dried up to zero starting tomorrow and how might that repaint the share price? If we deduct the $3.9 billion, this would put 2017 revenues just above $20 billion. The degree of revenue erosion, however, would be of lesser intensity in future years, as Copaxone is the company's leading "run-off" drug.
As a whole, this worst-case thinking would project to reduce the value of the stock by about 25%, taking shares from the $36-$37 stated above to the $27-$28 mark. Unlevered free cash flow would likely fall under $3 billion (down from a potential $3.5-$3.6 billion) and $5 billion in debt repayment is planned for 2017. The company is already overleveraged relative to its cash flow metrics at a debt/EBITDA ratio of 5.7x. Leveraging down to a more optimal 4.4x (and preferably below 4x) would require at least $8.5 billion in debt pay-down, which is the equivalent of around 9-10 quarters worth of cash flow from operations.
Debtholders would prefer an even more aggressive deleveraging, but the cheapness of debt and the ability to invest the cash at higher returns. At the very least, I do like to see companies leverage down to at least their estimated "optimal point" or else they risk leaving value on the table. Equity issuance is one way to accomplish this, but is generally the more expensive option to simply paying down the debt outright, though tapping the equity markets for capital is likely in the years ahead. I estimate Teva's optimal point at a debt-to-capital ratio of around 40%, down from its current 51%-52%.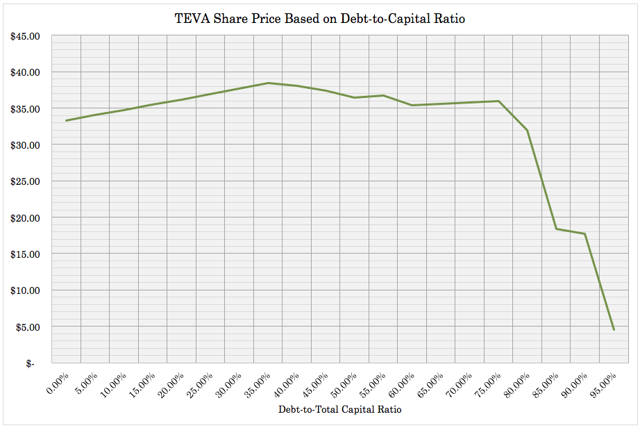 (Source: author)
Teva's optimal point is likely to shift left (i.e., <40%) as its top-line potentially erodes in the years ahead. The good news is that Teva remains a quality cash generator and possesses a business that can be self-sustained without the need for external funding. The bad news is that if the integration of Actavis takes longer than expected or if many synergies are never achieved, the company's cash generation will erode faster than anticipated. In turn, this would lead to a perpetually value-sapping unbalance in its capital structure. Dividend commitments of approximately $1.4 billion per year also consume around 40% of the company's potential unlevered free cash flow and will continually take up a continuously larger portion as earnings contract.
Copaxone already has a high level of competition with respect to its 20mg dosage, but competition among the higher dosage (40mg) variety will remain more challenging for prospective market entrants. Regulatory roadblocks remain; one Teva patent was legally kept in effect and the company is appealing the court's decision with respect to the other four. Dragging it out in court, even if the ruling is unlikely to be altered in any form, would be to Teva's advantage.
Launching 40mg alternatives is in the works among Sanofi (NYSE:SNY), Biogen (NASDAQ:BIIB), and Novartis (NYSE:NVS), and are pending FDA approval with a chance for launch in 2017. Given Copaxone's market leadership over many years, there is still some level of lag that typically succeeds a launch of an alternative product. Inherent frictions generally delay an immediate transition to a new drug, such as physicians' lack of familiarity and consequent implicit "switching costs" involved.
Conclusion
Erosion in Copaxone sales is one of the most prominent headwinds facing the company, in addition to generics competition and Actavis integration risk. It's difficult to find value in the case of a business in run-off mode. Either one has to believe that the market has overreacted to its ongoing/impending or believe that the bleeding will not last long-term.
Someone who is ultra-conservative or highly value-oriented in approach - e.g., requires 10%+ returns, assumes perpetual run-off, discards the idea of synergy achievement from the Actavis acquisition - would probably ignore Teva until it's down into the lower $20's (assuming no additional bad news). Tacking on the hypothetical assumption of zapping Copaxone's revenue contribution down to zero (as explored in the body of this post) would price Teva at about $11-$12 per share.
According to Teva's investor relations, the company assumes 2017 as the its absolute down point, followed by $10+ billion in annual EBITDA by year-end 2018 and continued rising prospects thereafter. If you put all this on a spreadsheet, this would imply 200%-300% upside in the stock price, which I think is promotional and unlikely.
Stalling the US District Court's Copaxone decision can potentially string out the viability of a key source of revenue. The maneuver also discourages market entry before the final ruling. Additional potential near-term (NASDAQ:LONG) catalysts include expedited integration of Actavis and realization of margin expansion, debt pay-down (accretive to the value of the business as a whole), and successfully advancing additional generic compounds/biosimilars through its pipeline.
Disclosure: I/we have no positions in any stocks mentioned, and no plans to initiate any positions within the next 72 hours.
I wrote this article myself, and it expresses my own opinions. I am not receiving compensation for it (other than from Seeking Alpha). I have no business relationship with any company whose stock is mentioned in this article.