Wall Street hates uncertainty, and Wall Street was convinced that Hillary Clinton was going to be the 45th President of the United States. As the results on election night unfolded, Wall Street began to panic over the possibility that Donald Trump, not Hillary Clinton, would be elected president.
As the realization set in that Trump was going to win, Dow Jones futures1 (a proxy of how the Dow Jones Industrial Average2 will trade when the market opens) registered their displeasure by dropping more than 800 points. But after Clinton conceded and President-elect Trump spoke in the wee hours of the morning on November 9, Dow futures began to reverse course. The Dow Jones ended up closing more than 270 points higher at the close of the day. The benefits of the Trump rally have extended from Wall Street to Main Street, illustrated by these numbers:
The Dow Jones ended 2016 with a gain of 16.5%, nearly half of which came after Election Day.3
The interest rate (i.e., yield) on the 10-Year Treasury rose from 2.07% on November 9 to 2.45% on December 31-a stunning increase of 18.4%.3 (The interest rate on the 10-Year Treasury goes up when the economy is expected to strengthen in the near future.)
Small-business optimism (as measured by the National Federation of Independent Business Index) experienced its largest one-month gain since 1980 in December.4
CEO Confidence reached its highest level in six years based on a survey conducted by the Conference Board from mid-November to mid-December.
Consumer confidence-a measure of how optimistic or pessimistic consumers are about the economy-has returned to levels not seen since before the financial crisis. (FIGURE 1)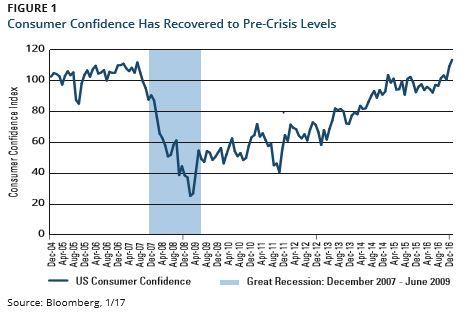 Reasons for the Love Affair
Why has Wall Street been in rally mode following Trump's election? Because the market believes he will pursue pro-growth policies that will be good for business:
Tax Cuts for Corporations and Individuals - The US has the third-highest corporate tax rate in the world at approximately 39% (35% federal tax plus the average state tax rate).5 Trump proposes a 15% rate, while off setting some of the lost revenue by eliminating most business deductions.6 Meanwhile, he proposes to cut taxes for individuals from seven rates (that range from 10% - 39.6%) to just three: 12%, 25%, and 33%.6
Deregulation - Trump backed up his campaign rhetoric by appointing pro-business people to his cabinet. Furthermore, the Republican-controlled Congress has already identified 140 potential regulations for repeal that could potentially benefit the financial, healthcare, and energy sectors.7
Inflation and Wage Growth - Trump has proposed spending up to $1 trillion on infrastructure. With the unemployment rate currently at 4.7% (which the U.S. Federal Reserve considers as full employment), this increased spending could trigger higher wages and, when coupled with tax cuts, higher inflation. FIGURE 2 provides a helpful summary of Trump's views on a number of key policy areas.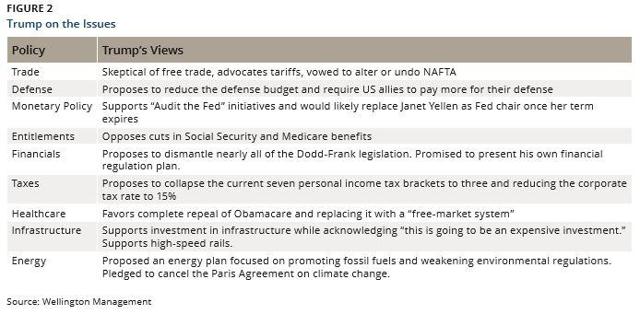 Risks to the Trump Rally
While it's certainly exciting when the market rises, investors should also keep potential risks in mind.
Too Far, Too Fast? - Stock markets can rise quickly on optimism, but they sometimes get ahead of themselves. If corporate earnings accelerate and expected economic growth materializes, then the rally could continue. Conversely, if corporate earnings and/or economic growth are below expectations, then the rally could stall.
Protectionism/Tariffs - If Trump succeeds in placing high tariffs on companies who want to move jobs overseas, it could have negative economic consequences, particularly if the situation escalates into a trade war.
Unpredictability - Wall Street not only hates uncertainty, it also hates unpredictability. Trump is the least predictable president in the modern era-and perhaps in our nation's history. He thrives on using Twitter to court controversy. He's caught a number of large, well-known companies off guard with his public criticism, and nearly all of them experienced quick, sharp sell-offs in the aftermath of his tweets. The real risk, however, would be a comment or tweet that triggers a more broad-based sell-off as a result of its domestic or geopolitical implications.
Investing in the Trump Era
An actively managed strategy can be an excellent choice for investors who are looking to participate in the industries most likely to benefit from a Trump rally or those who want a more cautious, risk-managed approach because they think prices have gone up too quickly. Have an open discussion with your trusted financial professional about your hopes and worries about the stock market. He or she can help you decide how much risk you should be taking to accomplish your financial goals-and help you stay on track over the next four years and beyond.
1 Dow Jones Industrial Average Futures are financial futures which allow an investor to hedge with or speculate on the future value of various components of the Dow Jones Industrial Average market index.
2 Dow Jones Industrial Average is an unmanaged, price-weighted index of 30 of the largest, most widely held stocks traded on the NYSE.
3 Data Source: Morningstar, 1/17
4 Source: Bloomberg, "U.S. Small-Business Optimism Index Surged by Most Since 1980," 1/10/17
5 Source: taxfoundation.org, 1/17
6 Source: Forbes.com, "President Trump: What Does it Mean to Your Tax Bill?," 11/9/16
7 Source: Washington Times, "Republicans Prepare to Repeal Regulations as Obama Racks up Record," 11/21/16
All investments are subject to risk, including the possible loss of principal. Prior to making any investment decisions, an investor should carefully review a product's relevant offering documents.
This information should not be considered investment advice or a recommendation to buy/sell any security. In addition, it does not take into account the specific investment objectives, tax and financial condition of any specific person. This information has been prepared from sources believed reliable but the accuracy and completeness of the information cannot be guaranteed. This material and/or its contents are current at the time of writing and are subject to change due to evolving market or economic conditions without notice. This material may not be copied, photocopied or duplicated in any form or distributed in whole or in part, for any purpose, without the express written consent of Hartford Funds.
Hartford Funds Distributors, LLC.
MF7375_0117 121272
Disclosure: I/we have no positions in any stocks mentioned, and no plans to initiate any positions within the next 72 hours.
I wrote this article myself, and it expresses my own opinions. I am not receiving compensation for it. I have no business relationship with any company whose stock is mentioned in this article.