Amarin (NASDAQ:AMRN) is again in the news, and finally, for good reasons. The Independent Review Board for the Reduce-IT trial recently gave the go-ahead to Vascepa (icosapent ethyl) at the 60% milestone level of the trial (study protocol: first interim analysis after 60% of the target 1,612 aggregate primary CV events occur). This CV outcomes study of Vascepa is verifying whether the drug reduces CV events in patients with elevated TGL (triglyceride) despite being on statin therapy. The primary endpoint of the study is the time to the first occurrence of a composite of major adverse cardiovascular events (MACE) and the difference in MACEs between the Vascepa and placebo groups. The study is being conducted under a Special Protocol Assessment (SPA) agreement with the FDA which effectively means that if the primary endpoint is achieved, the FDA must approve the drug.
Revenue from existing labels of Vascepa were also up 52% YoY, beating street estimates on EPS as well as on revenue. From the press release, both revenue and prescriptions increased strongly:
Revenue growth: Recognized $32.4 million in net product revenue from Vascepa® (icosapent ethyl) sales in Q3 2016 compared to $21.3 million in Q3 2015, an increase of 52%.
Prescription growth: Increased normalized prescriptions, based on data from Symphony Health Solutions and IMS Health, by 54% and 56%, respectively, compared to Q3 2015.
Another major good news is that a number of big name institutions are also taking an interest in Amarin. Both Baker Brothers and Perceptive Advisors increased their stakes, by .59% and .33% respectively, while a number of funds have added to their positions.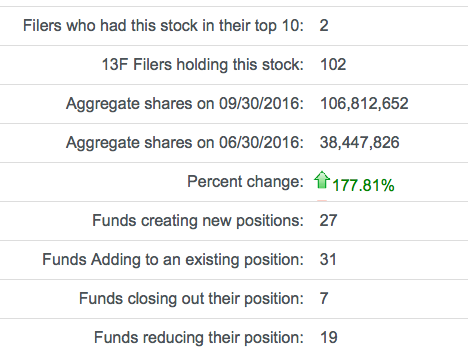 2016 also saw Amarin's expertise in the courtroom. It won two major lawsuits. One was against the USFDA, where the win granted Amarin the first amendment right to promote its drug for off-label use. Amarin may now "engage in truthful and non-misleading speech promoting the off-label use of Vascepa." From an excellent article by fellow contributor ONeil Trader:
The settlement practically expanded the addressable market to include patients with high triglycerides between 200 and 499 mg/dl, although they are not included in the label (but should be if the REDUCE-IT trial succeeds). The basis for the promotion will be the Phase 3 ANCHOR trial that showed Vascepa was successful at lowering triglycerides in the mentioned patient population as well (in addition to patients with triglycerides above 500 mg/dl).
What is happening here is that Amarin, despite not yet completing the Reduce-IT trial, is getting some of the benefits from the possible outcome of that trial through this settlement. I don't have data for the volume of off-label use of Vascepa, but a safe drug with potential benefit in expanded use will not give prescribing physicians any headache in giving them to patients off-label. So this is very good for Amarin.
The other lawsuit was against an ANDA (abbreviated new drug application, used to get approval for generics) filing from Watson Labs, a unit of Allergan (NYSE:AGN). Watson Labs filed an ANDA with the FDA, and Amarin sued Watson Labs for infringement. The U.S. District Court for the District of New Jersey dismissed the ANDA, and Watson Labs appealed that order with the United States Court of Appeals. Now, in this motion, it voluntarily withdrew its appeal after the FDA granted five-year new chemical entity exclusivity for Vascepa. This effectively reduces Vascepa's generic threat, and since the drug is covered by various patents, including the stronger composition of matter patents, till 2030, it has a long and secure runway now. Once the Court of Appeals grants Watson's unopposed motion to dismiss the appeal, there will be no pending patent litigation related to Vascepa. The NCE also potentially extends Vascepa's marketing exclusivity to 2020.
Despite all this, the stock always seems to flounder. This is perhaps one of the most rangebound stocks I have ever seen - since 2014, it has adamantly stuck to a $2-$3.5 range. Only Vascepa's original approval made it spike- at that time it was trading quite high anyway. However, since then, in the last 3 years, it has never broken through $4, straining the collective nerves of thousands of investors. Even now, on its earnings news, the stock went down despite showing stellar earnings. The reason is probably that investors have very high expectations from Vascepa. No other TGL-reducing drug has shown reduction of CV risks; if the Reduce-IT trial succeeds, Amarin will be proving what dozens of scientific papers have claimed over the years, that reducing TGL should reduce CV risks.
The Reduce-IT trial has a chance of being stopped early for good reasons, i.e. when 80% of the CV events have occurred. One would expect this to be somewhere in October 2017. If so, we should be seeing data from the trial right around that time. If the data is positive, AMRN will probably finally see some positive movement and break the $4 barrier. The Japanese ELIS study has shown a 19% to 53% CV risk reduction with Ethyl-EPA. The benefit has been shown in a patient population on statin therapy, with higher benefit on a subpopulation of patients with high TGL and low HDL-C ("good cholesterol"). This is compared to a number of other therapies like ezetimibe, fenofibrate and Niacin which have shown no benefit at all in the broad population.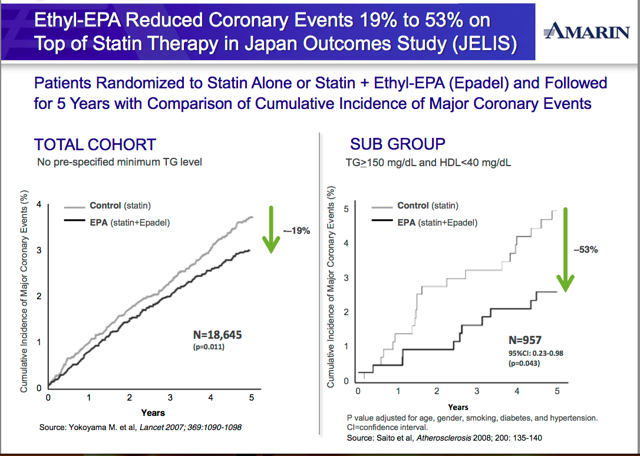 Source - Jeffries Presentation
I think this is a good time to slowly accumulate AMRN at average cost of acquisition anywhere below $3. The institutional holding gives me confidence that there's a lot of upside in the making. I have been following AMRN for many years, and in its entire, long history, the results from the Reduce-IT trial are perhaps its most defining moment.
Disclosure: I/we have no positions in any stocks mentioned, and no plans to initiate any positions within the next 72 hours.
I wrote this article myself, and it expresses my own opinions. I am not receiving compensation for it (other than from Seeking Alpha). I have no business relationship with any company whose stock is mentioned in this article.