Exxon Mobil Corporation (NYSE:XOM), along with other big oil companies like Chevron Corporation (NYSE:CVX), missed earnings estimates when they announced their fourth-quarter results. Many investors, especially dividend investors, have some of their holdings in energy for diversification reasons. I would be recommending that investors lighten up on oil majors at present as I see crude oil prices dropping over the next few months. Although we should get a short-term bounce in energy stocks (NYSEARCA:XLE), sentiment is still pretty elevated in crude oil so I think over the next few months, energy stocks will probably also suffer.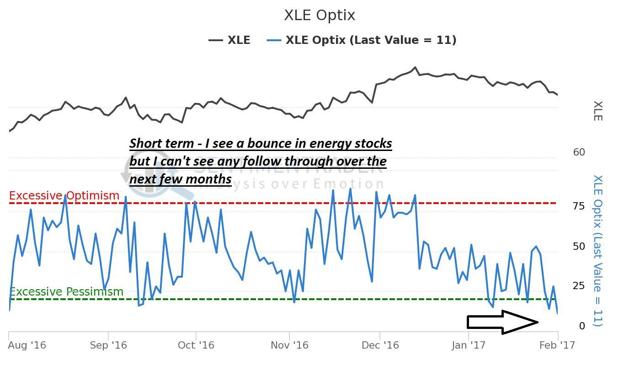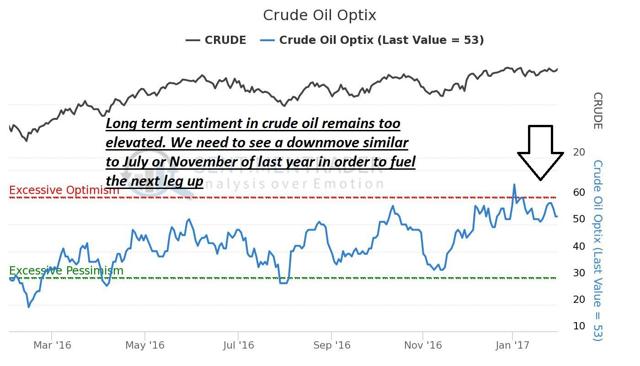 I wrote an article on Chevron lately and discussed the merits of lightening up one's position. Analysts are really overweight on this stock ($128 price target), which is surprising considering the run-up the stock has had recently. In fact, if you look at a weekly chart, we can see that Chevron's present share price is trading well above its 200-week moving average (average historic mean), compared to the energy sector in general. However, XLE and Exxon Mobil look much cheaper to me at this stage, which makes them the preferred choice once that time comes around.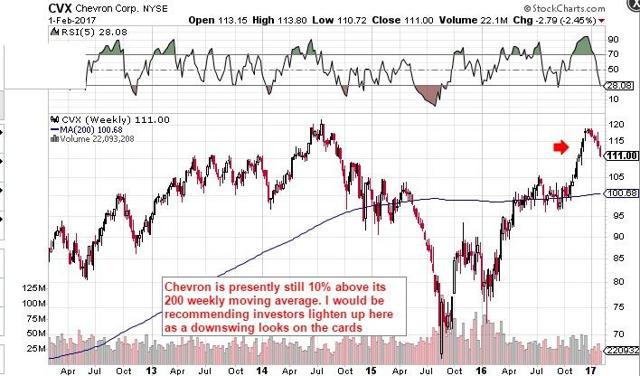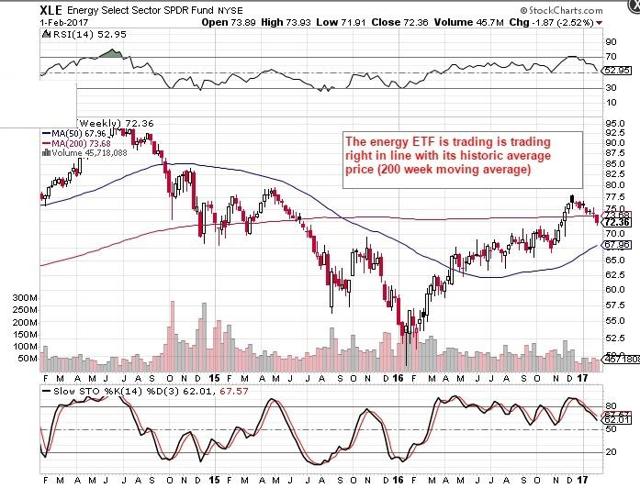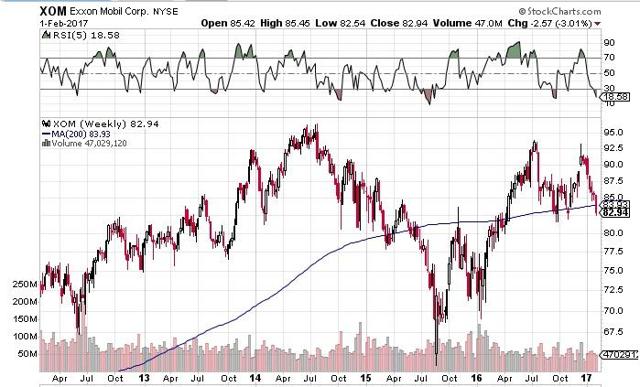 With respect to the crude oil chart below, the arrows illustrate the last 3 intermediate cycle bottoms. Intermediate cycles usually last anything from 16 weeks+ in energy. We currently are on week 11 in this particular cycle. The question will be whether the next low will be a daily cycle low or intermediate low. Sentiment extremes should help.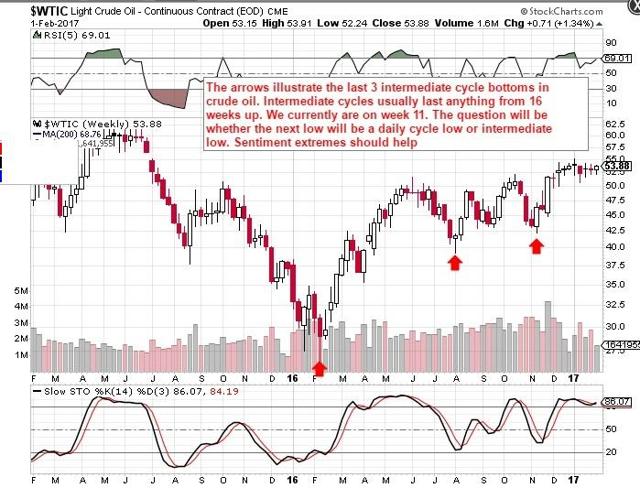 Therefore, I will be watching carefully what transpires to the general index and Exxon over the next few months. Exxon pays a higher dividend and has underperformed the energy complex significantly since crude oil bottomed last year, which is understandable due to its highly integrated model. However, I feel Exxon has lagged too much and sooner rather than later it will close that gap. Most investors who hold Exxon are invested for income and know very well the advantages of picking up this behemoth at a cheaper price. The $2.0 billion impairment put an ugly stance on Q4 earnings, but what is encouraging is its activity in the Permian and that margins should rise going forward. If you take out the impairment charge, Exxon beat estimates by a considerable distance. The dividend looks safe to me considering its cash flow in Q4 was only affected by temporary measures. However, now is not the time to be dripping in here. One will get a better opportunity.
Disclosure: I/we have no positions in any stocks mentioned, and no plans to initiate any positions within the next 72 hours.
I wrote this article myself, and it expresses my own opinions. I am not receiving compensation for it (other than from Seeking Alpha). I have no business relationship with any company whose stock is mentioned in this article.