ING (ING) reported Q4 and 2016 results. The numbers were strong with earnings beating estimates by 10%.
Loan growth remains solid. The company's total credit portfolio was up 5% y/y, well above its guidance of 3-4%. Mortgage loan book grew by 1.3% y/y due to a structural shrinkage in Dutch mortgages. However, modest growth in mortgages was more than offset by other customer lending (+9.6% y/y), primarily driven by Wholesale Banking.

Source: Company data
The company's net interest margin decreased by 3 bps q/q, due to lower FM (Financial Markets) interest income. We believe this could be attributed to ING's fixed income segment as the bank likely sold down part of its bond portfolio. According to the press release, net interest income was flat due to 'stable lending margins but pressure on both savings and current account margins.' We believe lower margins did not come as a surprise and were largely expected, in our view, given that ING has not reduced deposit rates in any of its home markets in Q4. Importantly, the bank announced that the core savings rate in the Netherlands had been reduced by 5 bps in January 2017. This move should support the bank's net interest margin in Q4. In addition, we still see scope to cut deposit rates further in Germany.

Source: Company data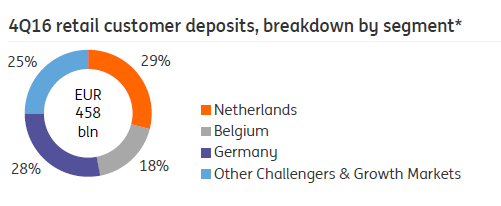 Source: Company data
ING has improved its efficiency metrics, thanks to ongoing cost-cutting initiatives and its leadership positions in digital banking. The bank's FY2016 cost-income ratio came in at 49%.
"In the past year, ING took important steps to start a path of convergence towards one digital banking platform, which will enable us to keep getting better in the face of changing customer behaviour and industry dynamics. I am convinced that the acceleration of our Think Forward strategy will allow us to build on our position of strength for the benefit of our customers."
Asset quality trends remain very benign. It is well worth pointing out that credit quality of the so-called problem loans (Oil & Gas, Metals & Mining, Shipping) has improved. In our view, the recent strength in oil prices should allow ING to write back a proportion of the amounts, which the company has previously set aside to cover losses on those problem Oil & Gas loans.

Source: Company data
The group's CET increased to an impressive 14.2%, well above ING's 2019 SREP requirement of 11.75%. ING proposed to pay a full-year dividend of EUR 0.66 per share, corresponding to a 5% dividend yield, based on current prices.

Source: Company data
One can argue that ING should have paid a special dividend for FY2016, given its payout capacity and impressive capital position. However, ING took a conservative stance and noted regulatory uncertainties around Basel IV standards.
ING is still trading at a discount to the sector's regression line.
European banks: P/B vs RoE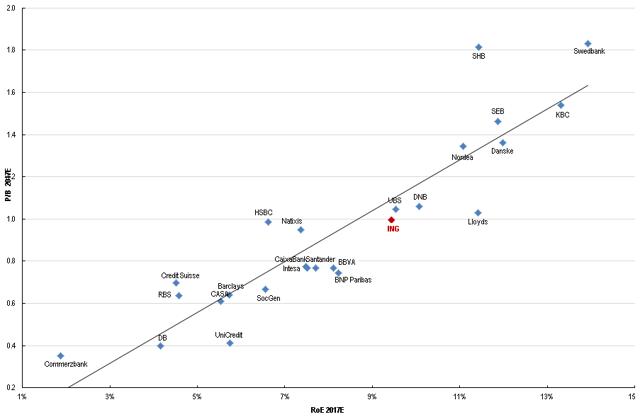 Source: Bloomberg, Renaissance Research
European banks: P/TB vs RoTE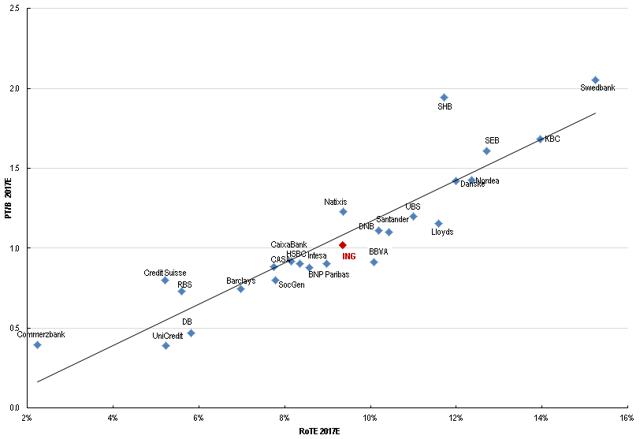 Source: Bloomberg, Renaissance Research
Bottom line
Despite its impressive run, ING is still one of the most attractive banking stories in Europe. The bank stands apart from its European peers due to decent loan growth, robust margins, solid cost-efficiency metrics, impressive capital ratios and a superior dividend yield. Although Dutch elections are certainly a risk factor to keep an eye on, ING remains one of our top-picks in the European banking space.
As a buy-side analyst and a deputy portfolio manager, I oversee a financials-focused fund and will be continuously providing research coverage on developments with ING and other global banks. If you are interested in the topic, consider following us by clicking the "Follow" button beside our name at the top of the page. Thank you for reading.
We also invite readers to check out our recently launched subscription service. Get in-depth fundamental research, stock recommendations, trading ideas, exclusive access to professional databases, sophisticated valuation models and expert commentary on Wall Street recommendation from a hedge-fund analyst with a proven track record. Go here to learn more or to sign up, we look forward to having you on board.
Disclosure: I am/we are long ING.
I wrote this article myself, and it expresses my own opinions. I am not receiving compensation for it (other than from Seeking Alpha). I have no business relationship with any company whose stock is mentioned in this article.