Introduction
On Wednesday, February 1, 2017, Cameco (NYSE:CCJ) announced that TEPCO, the Japanese utility that runs many of the nuclear reactors in Japan did not accept a scheduled delivery this week and terminated their existing contract.
TEPCO cited a "force majeure" clause in the contract. That is a fancy way of saying something out of our control has happened, similar to an act of god clause you might find in insurance contracts.
In this case the "act of god" is Japanese politics and the significant delays in getting most of their reactors back on line. Because of this, TEPCO is now most likely sitting on a gigantic stack of uranium that they cannot use and have to continue to pay for.
One article notes that other Japanese utilities have restarted their reactors.
Whether this holds up in court is anyone's guess but the companies will have some time to negotiate before it gets to that point.
Cameco noted that this contract lasted until 2028 and accounts for $1.3b in revenue. That is ~$118 million in revenue per year.
Impact on Cameco
Cameco had 2.8 billion in revenue in 2015. Per their quarterly releases, a $5 move in uranium adds or decreases $7 million in revenue. This means that uranium has to make a big move to replace this lost revenue.
This is, of course, only part of the story because much of the price Cameco gets is locked in contracts like the one TEPCO is trying to get out of. These can be fixed price or a fixed price and a percentage of spot.
A higher uranium price also improves sentiment and helps improve contract renewal speed as utilities fear the price will keep rising, etc.
So this news certainly is not a benefit for Cameco but it is not catastrophic in a way that means Cameco loses half its revenue or anything like that. Sure, this contract was most likely one of their best at current spot prices but the company has the opportunity to maintain a good relationship with this key customer through fair negotiations.
TEPCO holds interest in one of Cameco's mines and they have been business partners for a long time.
Future for Uranium
After the big Kazakhstan news of a cut in production uranium has jumped from under $19 to around $23. Uranium stocks have rallied as you might expect.
I last wrote about Cameco and my other favorite picks in an article soon after that news broke.
What is still clear to me is that if your thesis for investing or speculating in Cameco is rising uranium prices than that thesis is still very much intact. Buying at the bottom of a commodity market is always tough because the sector and its companies are very weak and bad news abounds. That is what makes contrarian thinking and action so difficult, after all.
Cameco is still levered to the price of uranium and I think it will still have a tight relationship with TEPCO once this dispute is resolved. Cameco remains one of the strongest company's in a depressed and thinned out industry and a great way to play the recovery.
The recovery is still contingent on a few things.
Japan reactor restarts and the politics/regulation involved
China and India reactor starts
Lack of new supply and supply cuts from state producers
A general increase in uranium sentiment and reactor approvals for clean energy purposes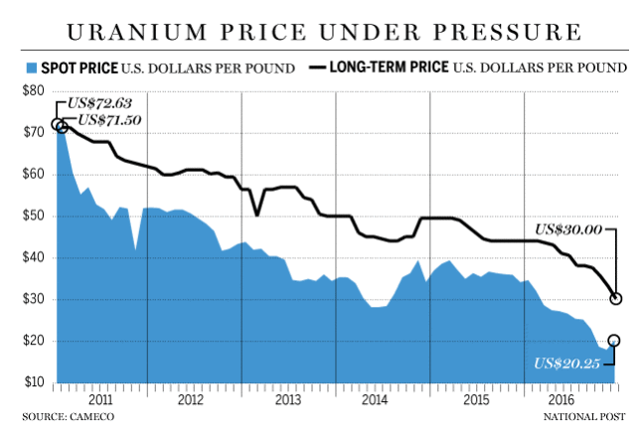 However, as we have now seen, that does not mean there will be bumps along the way.
When Cameco preannounced poor results it dropped 10% and recovered the next day. This announcement cause another 10% drop and I expect the company to bounce back again the next day in some capacity.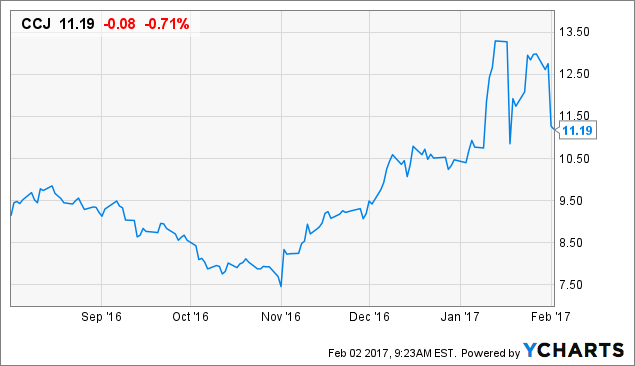 CCJ data by YCharts
If you can handle that kind of volatility then sit tight. If you cannot then the uranium sector is not where you want to be and you should look for an exit point. It is going to be a bumpy ride up spot price mountain, that is for sure.
Disclosure: I am/we are long CCJ.
I wrote this article myself, and it expresses my own opinions. I am not receiving compensation for it (other than from Seeking Alpha). I have no business relationship with any company whose stock is mentioned in this article.