The previous articles of this series (see part 1, part 2, part 3, part 4, and part 5) have mainly focused on Celgene's (NASDAQ:CELG) existing product portfolio. In this article, I will try to analyze one of the most promising late-stage investigational therapies in Celgene's research pipeline, namely Ozanimod.
So Celgene laid its hands on novel immunology and inflammation or I&I therapy, Ozanimod, through acquisition of Receptos. Announced on July 14, 2015, the deal was completed at approximately $7.2 billion.
Ozanimod is a strategic fit for Celgene
Ozanimod is expected to prove effective across multiple I&I diseases, a characteristic that is expected to contribute significantly to Celgene's revenue diversification strategy for years beyond 2019.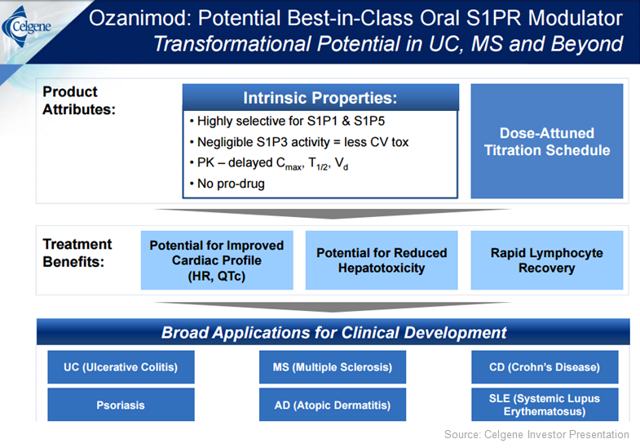 The above diagram shows the intrinsic properties of Ozanimod and its treatment benefits. This drug is considered as best-in-class selective sphingosine 1-phosphate 1 and 5 receptor modulator (or S1P) therapy. The drug also has a strong safety profile in terms of cardiovascular functioning, liver functioning, as well as overall immunity. Due to its high efficacy and safety profile coupled with oral delivery mechanism, Ozanimod is expected to become a preferred regimen in many chronic care markets.
Ozanimod is currently in late-stage of development for relapsing multiple sclerosis or REMS and ulcerative colitis or UC. The drug is also being explored as therapy for other indications in areas such as neuro-inflammation, rheumatology, gastroenterology, and dermatology.
Celgene expects data from Phase 3 trials, SUNBEAM Study and RADIANCE Study, evaluating Ozanimod in REMS in first half of 2017. Celgene anticipates first regulatory approval for Ozanimod in 2018. Ozanimod is expected to reach peak sales in the range of $4.0 billion to $6.0 billion. The patent protection for this drug is projected to extend till year 2030.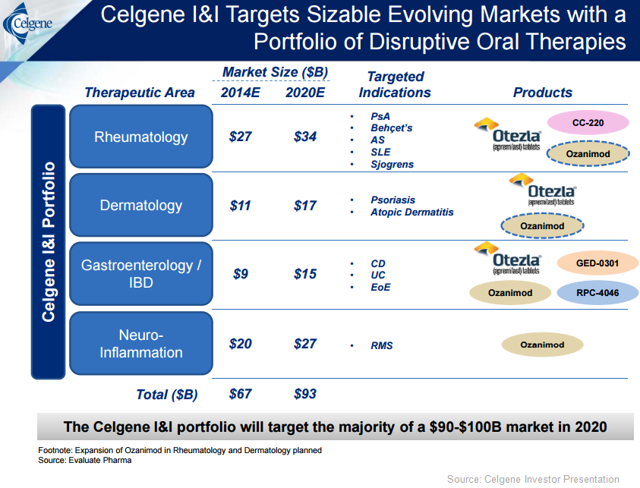 Ozanimod complements Celgene's existing I&I portfolio
Celgene projects the immunology market in the USA to grow rapidly from $67 billion in 2014 to around $93 billion in 2020. Being complementary to other drugs in Celgene's I&I portfolio, such as Otezla, CC-220, and GED-0301, Celgene already has the commercial infrastructure required to successfully launch the drug in the specialty physician-targeted segments in immunology space. Ozanimod thus seems well positioned to effectively capitalize on this growth opportunity.
Celgene expects Receptos deal to be neutral to adjusted earnings per share or EPS in 2018, while EPS accretion will initiate in 2019. Post the deal, the company also raised its 2020 revenue target from $20 billion to $21 billion, while EPS is expected to reach $13.0 from previously projected $12.5.
Ozanimod may become a preferred regimen for REMS
The total size of the global REMS market is expected to reach $27 billion in year 2020. Oral therapies are expected to account for 60% to 70% share of the total multiple sclerosis market in 2020.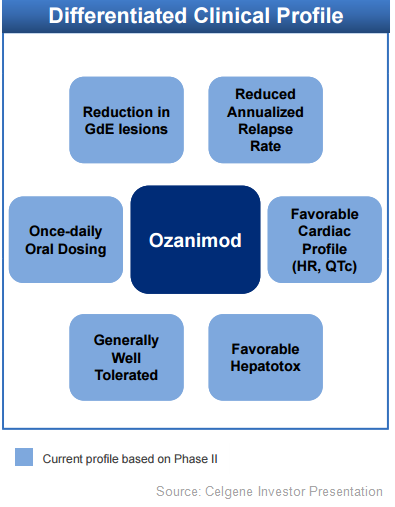 Ozanimod is targeting the unmet demand in multiple sclerosis space as there is constant need for treatment options with high efficacy and improved safety profile. Further, Ozanimod's low toxicity makes it apt for long term use. Ozanimod is also expected to become one of those therapies that can halt or help reverse multiple sclerosis.
Celgene plans to position Ozanimod as first line therapy for multiple sclerosis and compete directly with Biogen's (NASDAQ:BIIB) Tecfidera. With oral multiple sclerosis market expected to grow to around $17.5 billion in year 2020, Ozanimod may prove to be a significant revenue contributor for Celgene.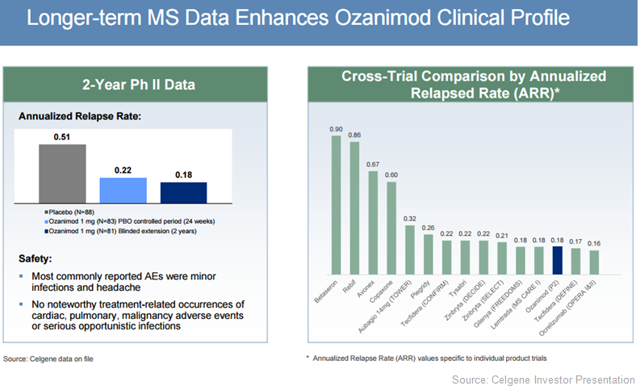 Data from phase 2 trials convey Ozanimod's strong efficacy and robust safety profile. Based on annualized relapse rate of Ozanimod as compared to placebo and other multiple sclerosis therapies, it can be concluded that the drug has one of the best efficacy profiles in the segment. Add to it, enhanced safety of the drug due to high selectivity for S1P1 and S1P5 modulation, Ozanimod definitely displays a significantly strong benefit-risk profile.
Ozanimod is expected to disrupt the existing treatment paradigm in ulcerative colitis
Inflammatory bowel disease or IBD is expected to be a market worth $15 billion in 2020. With minimal therapies currently in the market to treat moderate-to-severe form of IBD, Ozanimod is all set to introduce a radical change in this underserved market.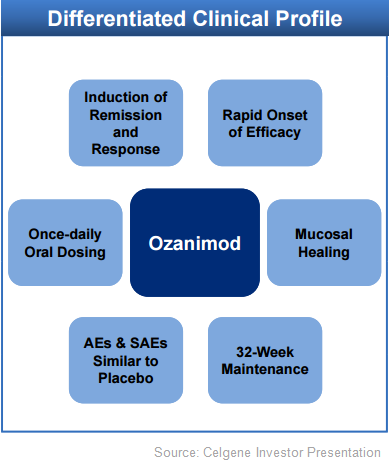 Ozanimod is a novel oral therapy, being explored in phase 3 trial, TOUCHSTONE, for UC. This therapy is expected to result in sustained clinical response in patients. Further, Ozanimod is expected to demonstrate limited adverse effects in patients. Owing to Ozanimod, patients will be able to reduce their corticosteroid use. As Ozanimod is non-immunosuppressive, the patient will not suffer from other opportunistic infections.
There are around 1.3 million patients suffering with UC in the world, of which 55% suffer from moderate-to-severe form of the disease. Ozanimod is expected to be positioned as a second line + therapy for moderate-to-severe UC.
Ozanimod is definitely an investigational asset to watch in Celgene's portfolio. However, there are other interesting investigational molecules in the company's research pipeline. We will cover some of the major ones in the next article of this series.
Disclosure: I/we have no positions in any stocks mentioned, and no plans to initiate any positions within the next 72 hours.
I wrote this article myself, and it expresses my own opinions. I am not receiving compensation for it (other than from Seeking Alpha). I have no business relationship with any company whose stock is mentioned in this article.