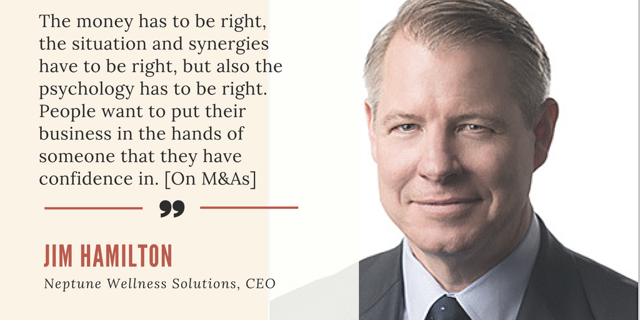 Seeking Alpha Contributor Travis Brown spoke with Neptune Wellness Solutions/Neptune Technologies & Bioressources Inc. (NASDAQ: NEPT) CEO Jim Hamilton in a telephone interview. The following contains a summary of the interview, sound bites via Soundcloud, and an update to the August 2016 buy-side review of the company.
An Interview Can Aid Fundamental Analysis
CEO Jim Hamilton took lead of the company in 2015 and has since steered them towards acquisitions and increased the variety of omega-3 products. Their growth chart is compelling and takes on a good turn-around story. The company recently received a $10m royalty agreement after completing settlements with a top competitor.
Mr. Hamilton's background includes positions at DSM Nutritional Products and the Council for Responsible Nutrition.
This interview comes weeks after a successful interview of Veru Healthcare/The Female Health Company (FHCO) CEO, Dr. Mitchell S. Steiner. To read and listen to that interview click on Veru Healthcare.
The Name Is Neptune, The Business Is Wellness Solutions
The name of the company has gone through transformations. The former name was Neptune Technologies & Bioressources Inc. and remains on the SEC registration. They have since changed their name and branding to Neptune Wellness Solutions or even Neptune for short. Neptune is primarily a Business-to-Business (B2B) of Omega-3 Nutraceuticals. It once focused on a patented krill oil, but has since broadened via acquisitions to include many Omega-3 products.
Their IP portfolio is vast and includes more than 80 worldwide patents. They own approximately 48% of Acasti Pharma Inc. (NASDAQ:ACST), a pharmaceutical subsidiary with primary product CaPre headed towards Phase III testing.
Interview With Jim Hamilton, CEO of Neptune
Travis Brown: Can you share more of your background with DSM Nutritional Products? Do you have any experience with patent disputes or something of similar comparison?
Jim Hamilton, CEO: DSM Nutritional Products is the largest nutritional ingredients company in the world. It's a division of DSM, a broader based company from engineering plastics to pharmaceuticals. Nutritional products is the major part of DSM overall. I think it's over 50% global DSM sales, 12,000 employees, and billions of dollars in sales and in virtually every country of the world. Very successful and wonderful company.
I've been involved in the nutritional products industry from the consumer side of things, to the food side, to the agri-nutrition business, to dietary supplements. All of which are super businesses and growing in a dramatic way globally.
With DSM I've been involved with innovation, to new compounds, to acquisitions, to new product launches. I can't recall having big patent disputes when with DSM. I'm sure there were some. It was never a big part of our agenda. We were more interested in novel new ingredients, growing total markets, acquiring complementary products and businesses.
We worked on a number of acquisitions when I was at DSM. A couple of them were in the Omega-3 space. Martek and Ocean Nutrition being two examples. There was a reason why we were investing in those businesses. We believe fundamentally in the science of Omega-3. The Omega-3 space I like... My experience in those transactions is that the money has got to be right, the situation and synergies have to be right, but also the psychology has to be right. People want to put their business in the hands of someone that they have confidence in.
Travis: Tell us more about your past experience with the Council for Responsible Nutrition (CRN) and how do they interrelate with Neptune these years?
Jim: There are a number of trade associations engaged in the space. Clearly, in my view, they are the leading trade association and if you look at the membership roster you quickly come to that conclusion... There's nobody in the world in my view that compares to the breadth and extent of the work that they do. I've been on the board a number of years. I was chairman for a number of years. Their job in essence is to represent the industry in a cohesive way. Largely to government regulators, mostly in the United States, but their work goes far beyond that. It goes to the science, it goes to communications, it goes to media relations, etc.
From my personal side it has been very rewarding just in terms of the people you get to work with and collaborate with... When you're working shoulder to shoulder with a business partner on common interests outside of your commercial relationship; it's a powerful thing. It helps enable very strong business connections over the long-term.
One example of what CRN has been doing is with the FTC; helping fund an office that basically enables the FTC to do a better job at policing the industry.
Travis: Perhaps one of the elephants in the room: Enzymotec Ltd. (NASDAQ:ENZY). It appears that they are one of the last to pay settlements and royalties in accordance to how courts have ruled. The recent developments with Aker BioMarine making things right with Neptune; is there any hope for something similar with Enzymotec?
Travis: Regarding Acasti and their CaPre. I thought I saw a 2016 announcement that Acasti was now looking at an abbreviated 505(b)(2) pathway for CaPre. They've been at this since 2008, isn't it a bit late [sunk costs in two Phase I and two Phase II studies] and what does this mean?
[End of transcript]
Potential Catalysts
The overall bullish theme for Neptune is how well they have increased the diversity of the Omega-3 nutritional business. They are more than insulated from the regulatory ups and downs for Acasti's CaPre.
I like to sell lots of stuff into lots of markets and I don't like being a single product company... - CEO, Jim Hamilton
A less talked about product is NKA, which is new under Mr. Hamilton's leadership. NKA is a protein from a krill byproduct. It was costing the company to dispose of it. An example of its use is in aquaculture feeds, e.g., salmon, "these proteins from krill excite the fish." Mr. Hamilton further states, "Animal feed is a great industry. Not much marketing required. If you have a good product people buy it all day long."
When considering catalysts, the revenue growth should be one. It's at a pace and depth that could finally awaken larger investors and the market in general.
When you look at this business in the last two years. We've more than doubled almost tripled the sales... We've made a tone of progress. - CEO, Jim Hamilton
The potential catalysts include:
The recovery of royalties from Ezymotec & possible partnership.
The organic growth of Maximil, NKA, and other Omega-3 products now that competitor Aker BioMarine is under a binding agreement.
A new M&A per Jim Hamilton's statements on last earnings call.
Neptune's Valuation
Neptune's revenue growth for the trailing twelve months (TTM) has shown an increase of 21% and a large improvement on EPS mainly due to a settlement payout. The chart below is taken from Neptune's Q3 Report 2016-2017.

The annual P/E (TTM)is now established with positive earnings for the first time since several years past. The P/E ratio is 10.70 compared to an expensive P/E ratio of 75.91 had by competitor Enzymotec Ltd. A comparison chart is shown below.

Of interest is the price to sales metric, which Neptune in its heights of 2012 was valued at 11x sales. Included in the comparison is Veru Healthcare/FHCO who is also working on health related 505(b)(2) NDAs while selling an approved product (the female condom) at the same time. The following a chart derived from Seeking Alpha's site.

Possible Risk Factors
Enzymotec could drag its feet and cause delay in settlement (back royalties) and stall future royalty payments. This would increase legal fees and R&D expenses for defending patents.
There continues to be a risk of the micro-cap being of little interest to large investors. Meanwhile, trade groups are influencing quick swings in the price that fail to march upwards in value.
If Acasti were to fail in its Phase III study, market sentiment could drag Neptune's stock downward. However, this would be a market disconnect in understanding as Neptune has drastically shifted away from them being a necessary income generator.
Conclusion
The company's Q4 will end March 31, 2017 (includes an extra month) and they announced the estimated revenue for the period to be $48m. I anticipate the resolve of legal disputes with Enzymotec to add to tailwinds as Neptune expands partnerships within the space.
My last stock analysis was August 8, 2016: Fiscal Year 2017 Brings New Krill Oil Development. At that point the price-per-book was at 2.04. It currently rests at a more modest 1.74.
If the company can continue to grow its present nutritional products and execute non-organic growth with strategic acquisitions, the growth model should continue to follow +15% Y/Y.
All things considered, I maintain the buy-pick decision issued in August 2016 for this stock.
Click the follow option at the top of the page next to author's name. This feature will alert you to new releases. The author's profile lists past articles.
Disclosure: I am/we are long NEPT, FHCO.
I wrote this article myself, and it expresses my own opinions. I am not receiving compensation for it (other than from Seeking Alpha). I have no business relationship with any company whose stock is mentioned in this article.
Additional disclosure: The article and interview may contain forward-looking statements about the view of the business, Acasti/CaPre, and Enzymotec. Of course, the actual results achieved could differ materially from the projections given, depending on a number of factors such as the timing of new product introductions, the market acceptance of omega-3 products and FDA regulatory actions. Additional information concerning those and other risk factors that could cause actual results to differ materially from those in the forward-looking statements is filed with the Canadian Securities Commission and with the Securities Exchange Commission.
Editor's Note: This article covers one or more stocks trading at less than $1 per share and/or with less than a $100 million market cap. Please be aware of the risks associated with these stocks.