Three, possibly four Eurozone countries will hold national elections this year in which the populist right hopes to score major gains. Outright victory still seems unlikely in any of them, but following Brexit and Donald Trump's victory in the US elections, observers are nervous.
The Netherlands, with elections in March, is the first of the four. France will follow in April, Germany later in the year, and Italy, perhaps, depending on how things play out. Given the timing, a big win for its right wing party, the PVV, led by Geert Wilders, would set an ominous tone.
Fortunately, the Netherlands enters the election cycle in relatively good economic shape. As the following chart shows, it is expected to outperform the Eurozone average this year on each of six key economic indicators. GDP growth topped 2 percent already in 2015 and is expected to stay at 3 percent or better through 2021, while the EZ average is not likely to reach even 2 percent over that period. Unemployment, inflation, current account balance, budget deficit, and government debt also look good in comparison with the rest of the currency area (data and forecasts courtesy of Focus Economics):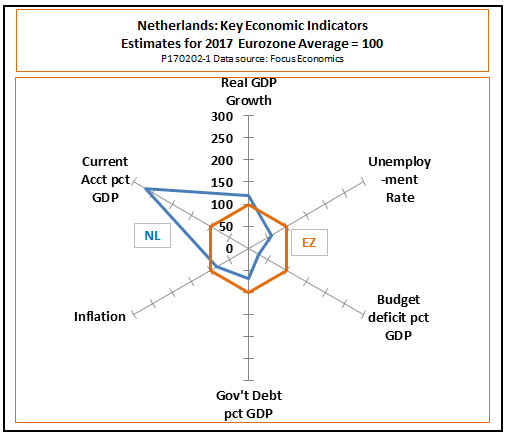 Strong national economic performance is usually a negative factor for the prospects of political outsiders. In the US, where the economy was doing rather well at election time, Trump managed to win only by portraying the situation as worse than it really was. In the EZ, GDP growth is running below the EZ average in France, Germany, and Italy. In 2016, unemployment was still at 10 percent or higher in France and Italy, and is expected to remain higher than the average for its partners in the Euro. Against this background, it looks like a fortunate accident of timing that the Netherlands votes first.
Disclosure: I/we have no positions in any stocks mentioned, and no plans to initiate any positions within the next 72 hours. I wrote this article myself, and it expresses my own opinions. I am not receiving compensation for it (other than from Seeking Alpha). I have no business relationship with any company whose stock is mentioned in this article.