Yesterday, a hedge fund analyst, named Ben W. contacted me to discuss my two recent bullish GNC Holdings Inc. (NYSE:GNC) articles, published exclusively on Seeking Alpha: About That Goldman Sachs Downgrade and $8 Price Target and GNC: I Have Seen This Goldman Sachs Movie Before. For context, Ben works for a $1 billion NYC hedge fund, is roughly my age (36), and has the typical hedge fund education: Ivy League undergraduate, and Ivy league MBA. Besides Ben's impeccable academic background, he had stints at three exclusive private equity firms, and is at a new $1 billion hedge fund now.
As for me, your humble author, I hold an undergraduate degree from the Isenberg School of Management at UMass Amherst and an MBA from Babson College. I spent five years on the buyside as a Senior Investment Associate in Liberty Mutual investment grade fixed income group. Although I worked very hard, expressed lots of passion, interacted well with many of Liberty's Senior Analysts and Portfolio Managers (that I worked directly with), I quit after five years (in April 2011) after determining it wasn't the right cultural fit, despite the fact that it was a pathway to a very lucrative and relatively low stress career. For context, low stress compared to high yield, equities, private equity, investment banking, etc.
So at least on paper, intellectually, academically, and professionally, I am outgunned and out of my depth compared to Ben W. However, little does Ben know, I have the luxury of having been mentored by a former PM who managed $4 billion at Wellington Management and another much closer mentor who currently manages close to $1 billion of equities on the sleepy mutual fund side.
Ben and I spoke yesterday for about twenty five minutes and we got into a highly spirited bull vs. bear debate. This was very civil, yet animated as we both have vastly different convictions about the future trajectory of GNC's business and more importantly stock price.
Please note that on December 12, 2016, Ben published a lengthy bear thesis on SumZero. Honestly, I had never heard of the site, as I don't move in those circles and lack the GMAT scores required for entry. Moreover, like Garth Brooks, I know people in low places, so I wouldn't fit in anyway.
With the important context out of the way, Ben sent me a copy of his report, which I read with much intrigue and I am writing at 4am (NOW), as I have no other time to do so during the day, to share his high level thesis so readers are armed with more information.
Anyone that knows me knows that I strive for high ideals and integrity, so I want the SA audience to be fully aware and informed about the bear case and downside risk. I pride myself on never trying to be overly promotional in my write ups and I almost always eat my own cooking, as we now have a 10% allocation to shares of GNC with a cost basis in the mid $10s. Again, I write on SA to share my ideas and then let the readers decide.
For context, I wrote about shares of Northern Dynasty (NYSEMKT:NAK), exclusively on SA, on October 24, 2016. I was very deliberate not to be overly promotional, but I did recommend it as a long at then $0.74 and shares have recently hit $3.45. Not too shabby for a state school guy.
Ben asked me not to screen shot any of his report as he doesn't want me to cherry pick and take anything out of context. As I am a man of principle and etiquette, so I will briefly summarize his thesis. Again, it can be found at SumZero. I am not even sure how readers can go about obtaining a copy.
Before we dive in, Ben framed his arguments such that he was doing me a favor by reaching out as I will lose all of my money as shares of GNC will (not could) go to zero. As someone who has been trained and mentored by a guy that managed a $4 billion portfolio at Wellington, I had to quietly laugh at Ben's swagger.
The thrust of Ben's thesis is as follows:
1) Amazon (NASDAQ:AMZN) and Bodybuilding.com will crush GNC.
2) He conducted channel checks at 40 of GNC's franchised locations, where he spent a lot of time with the franchisees and learned the unit economics. Per Ben's work (found on page 5), he claims that franchisees only have 2%-3% operating margins. On slide 16, he argues that GNC's franchisees pay a 6% sales royalty as well as 3% for national marketing expenses.
3) He claims that to mask weaker same-store sales, GNC has rapidly expanded Internationally and he cherry picks store closures in Venezuela (28 stores), Brazil (19), and Turkey (88).
4) On slide six and I quote "GNC is following the other retail blow-ups on the road to oblivion." Moreover, he says GNC will experience the same fate as Circuit City, Blockbuster, and Borders. He says these were once sell side darlings and the stocks locked super cheap for years, but were just value traps.
5) Finally, he said he firmly agrees with Goldman Sachs' analyst, Stephen Tanal, who has done extensive channel checks and modeling. He said he has also spoken with Mr. Tanal after he issued his downgrade and $8 price target.
So before I address some of Ben's points, interested buy side or hedge funds could probably easily obtain a copy of Ben's report, as this isn't my report to share. And before I address his points, he asked me if I have ever modeled by ideas. My response was, yes, please see my piece on Cheniere (NYSEMKT:LNG): A Riddle Wrapped In A Mystery Inside An Enigma, published exclusively on SA, where I said to short it in the low $60s. Within my Cheniere piece, I snapshot pieces of my model. And for context, incidentally, Jim Chanos ended up disclosing a short position in Cheniere about a week later and the stocks tanked from the low $60s to the low $20s, but has since rebounded to the high $40s.
Rebuttal
1) Ben nine out of ten analysts covering GNC hates or really hates it (see Bloomberg article). The threat of Amazon and Bodybuilder.com is well-known and well-cited in the popular press and analyst communities.
2) I haven't interviewed enough franchisees to argue this point. I agree that same-store sales for franchisees have been noticeably weaker, for a while, and this is a valid concern. However, didn't GNC just refranchise a block of 84 stores for roughly $300K per store, so perhaps Ben is cherry picking and being hyperbolic.
3) I am currently a credit analyst for an oil company, so I have done extensive work on Citgo as we regularly trade physical refined products with them. Therefore, I have been abreast to the Venezuela depression (since February 2015) and have read the sad stories in the New York Times. Really, Ben, a country on the brink of depression experiencing hyperinflation and that lacks food and safe water. Is this a fair baseline to assess the strength of GNC's international prowess? Turkey is in the cross fire of a civil war in Syria and has instability in its government. Brazil was only 19 stores, and has experienced incredible turmoil, a weak currency and political scandal. Not to mention the impeachment of a President. This seems like very cherry-picked data points and nonsensical arguments.
4) Electronics, books, and movie has been disrupted by innovation and economics of scale. GNC's product are ingested by people and need to be explained in person. Are we really comparing Circuit City to GNC?
5) In piece linked above, I strongly rebut Mr. Tanal's downgrade and its timing.
Here is how we ended the conversation. I made my long bet and you are short at your hedge fund, so your reputation and bonus is on the line. It would hurt us to be wrong as this is a 10% bet, but it ain't the end of the world either. We will be financially fine.
I emphasized my faith in Robert Moran's very articulate Q2 and Q3 2016 conference calls, after his 90-day honest assessment of GNC's business. Mr. Moran was very candid about the issues and mistakes made while management was fat, dumb and happily leveraging its balance sheet to buy back stock. Also, Mr. Moran's bold strategy of lower, simplified prices, better advertising, and being a trusted advisor resonates with me. I have shopped in Big Box retail (Wal-Mart (NYSE:WMT), Target (NYSE:TGT), Costco (NASDAQ:COST), etc.) and grocery stores and you are lucky to find a person to help you find something in the over the counter pharmacy aisle.
There is an even lower probability that in these types of stores where associates are making close to minimum wage (Costco is the exception), you will find someone knowledgeable about supplements or vitamins that you ingest in your body. I have wandered around aimlessly in the grocery and big box ghost lands flailing my arms for help and been ignored and avoided.
Finally, given the buzz surrounding the NFL banning GNC's Super Bowl 51 commercial, as of 4am, in a 36-hour time period, the GNC ad spot had close to 1 million YouTube hits. Not too shabby for a company that doesn't have the massive marketing budget of Anheuser Busch (NYSE:BUD) and that is surely destined for bankruptcy, at least according to Ben W. In the end, the market will decide. Incidentally, I find it ironic that my SA handle is Courage and Conviction and GNC's ad campaign is #Courage to Change. Is this destiny or am I tilting at windmills. You, the SA readers gets to decide.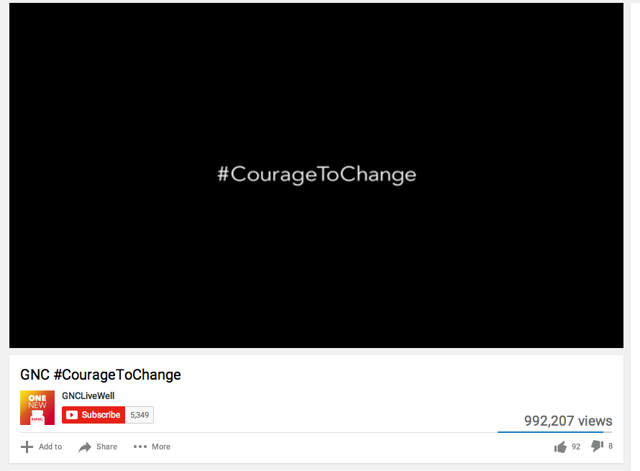 Disclosure: I am/we are long GNC.
I wrote this article myself, and it expresses my own opinions. I am not receiving compensation for it (other than from Seeking Alpha). I have no business relationship with any company whose stock is mentioned in this article.