Following up on last week's Permania: Drilling Activity Update, below is data and analysis related to activity levels in the Permian basin. Drilling activity remained strong this week, with the majority of rigs operating in core counties continuing to operate.
I track the rig count in each of the major basins, with a focus on rig count by Operator (oil and gas company) as well as by Contractor (drilling contractor). Over the past 2 years, I have found it incredibly helpful in analyzing the activity levels of individual operators and contractors as deceleration(s) and/or acceleration(s) in drilling activity at the basin-level have allowed me to anticipate production/revenue changes within individual names. For example, if the total number of rigs operated by a specific operator quickly reaches a target (as announced in earnings announcements) within a quarter, there is potential for quarterly production to outpace market expectations. On the contractor side, if a large number of rigs owned by a specific contractor are activated, it indicates potential for revenue outperformance. In addition to providing short-term signals, the analysis has also allowed me to allocate capital according to operators that have large positions and are drilling to grow production in the most prolific basins/counties.
As discussed last week, my analysis focuses on drilling rigs ("Rigs") drilling horizontal and directional wells in the Permian Basin.
As of January 31, 2017 there were 242 rigs operating in the Permian (versus 249 as of January 24, 2017), with the largest number contracted to Concho Resources (NYSE:CXO), which currently has 19 rigs running in the basin. From a contractor perspective, Helmerich & Payne Inc. (NYSE:HP) continued to dominate the basin with a total of 53 rigs running, representing 22% of the total.
From a sub-market perspective, the share of rigs operating in the Delaware basin, which has seen a flurry of M&A activity over the last year, increased to 54% (vs. 51% during last week ), with the total now at 129 (vs. 128 last week).
In the Delaware basin, major operators include Anadarko (NYSE:APC), EOG Resources (NYSE:EOG), and Concho (NYSE:CXO). Interestingly, a number of smaller operators in the Delaware, including Centennial Development Resources (NASDAQ:CDEV), Energen (NYSE:EGN), Parsley Energy (NYSE:PE) and Jagged Peak Energy (NYSE:JAG) are drilling actively in the southern Delaware, where the high Gas-To-Oil ratio acreage has attracted capital. Additionally, Apache (NYSE:APA) is running 4 rigs in its Alpine High play to the southwest.
Operator Summary
As of January 24, the top 10 operators by rig count are: CXO, Pioneer Natural Resources (NYSE:PXD), Anadarko (NYSE:APC), Apache (NYSE:APA), EOG Resources (NYSE:EOG), Parsley Energy (NYSE:PE), XTO-Exxon (NYSE:XOM), Occidental (NYSE:OXY), Chevron (NYSE:CVX) and Diamondback E&P (NASDAQ:FANG). In total these 10 operators are running ~43% of the total rigs, up from 37% last week. The driver of this move is the fact that last week we saw 5 rigs dropped by smaller independent operators.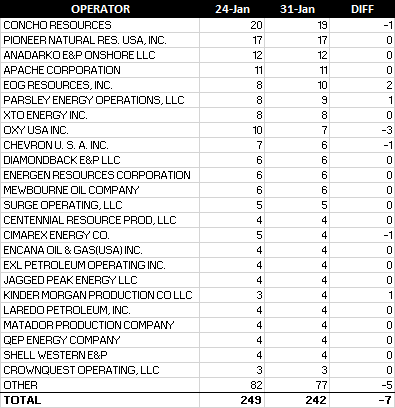 Source: DrillingInfo data, Internal Tracking Model
As the table below shows, Wells Fargo Securities analysts expect a significant increase in D&C spending during 2017, driven by Large Cap, Mid Cap and Small Cap players. Unconventional completions in the Permian are expected to lead (3,495 during 2017E), with the next highest play, the Eagle Ford, expected to see 1,714 during 2017.
Source: Wells Fargo Securities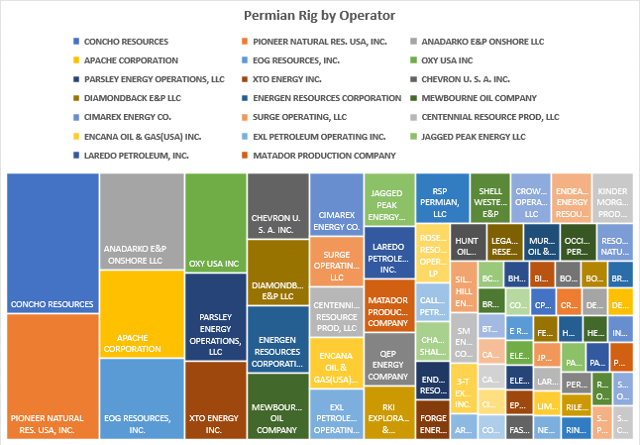 Source: DrillingInfo data, Internal Tracking Model
Drilling Contractors
On the contractor front, HP continues to lead the Permian Basin, with Nabors (NYSE:NBR), Patterson-UTI (NASDAQ:PTEN), Precision Drilling (NYSE:PDS), Trinidad Drilling (OTCPK:TDGCF), Ensign Energy Services (OTCPK:ESVIF), and Pioneer Energy Services (NYSE:PES) representing the other publicly-traded players. During the week, 4 of the 7 rigs dropped during the week were predominantly lower horsepower ("HP") rigs owned by smaller players in the basin.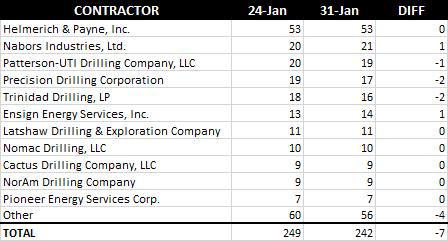 Source: DrillingInfo data, Internal Tracking Model
Given the continued flight to quality in terms of drilling rigs, and the need for high-horsepower (1500+), technologically advanced rigs to drill longer laterals, I put together the table below which shows average HP per rig and total HP deployed in the Permian by contractor. As the table shows, Helmerich and Payne (NYSE:HP) has the most horse power in the basin by far.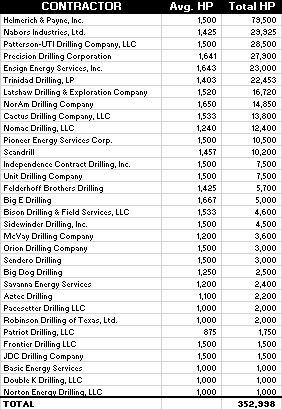 Summary
Over the next few weeks, I expect additional rigs to be added by small and mid-cap players who have done share offerings over the past 6 months to fund 2017 CAPEX as well as larger operators who have newly-acquired acreage.
If anyone would like additional analysis or more specific information follow me and send a direct message.
Disclosure: I/we have no positions in any stocks mentioned, but may initiate a long position in EGN, CDEV, JAG over the next 72 hours.
I wrote this article myself, and it expresses my own opinions. I am not receiving compensation for it (other than from Seeking Alpha). I have no business relationship with any company whose stock is mentioned in this article.
Editor's Note: This article discusses one or more securities that do not trade on a major U.S. exchange. Please be aware of the risks associated with these stocks.