Shares of DryShips Inc. (NASDAQ:DRYS) have captivated the investing world by storm in early November 2016 as it disembarked on an epic short squeeze that was highly lucrative, but for only a few fleeting days. I never touched the shares and only watched as an interested observer of behavior finance. Speculators that rode the early momentum made out nicely, but unfortunately I am sure far too many retail investors got to the party just before Cinderella's clock struck 12 midnight.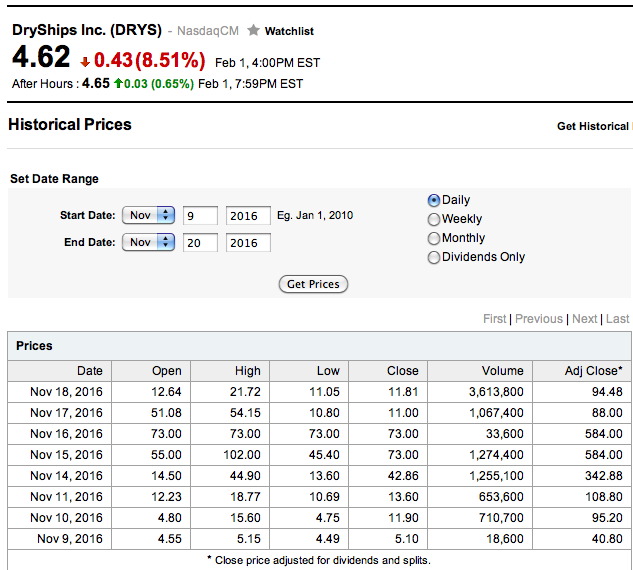 Anyway, like most people I thought that DryShips was finished. However, much to my surprise, and to SA Contributor Henrik Alex's credit, as he very timely (at $3.50 in pre-market) covered this nicely, DryShips made another big run driven by a success $200 million capital raise (after its 1 for 8 reverse split).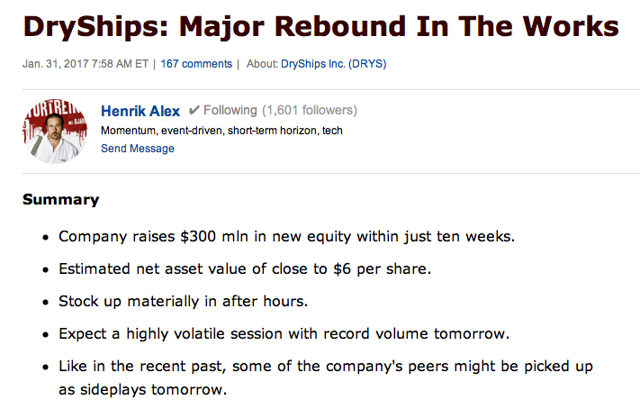 The fact that DryShips successfully raised $200 million at an average price of roughly $6.30 got me thinking. Perhaps, the god awful dry bulk cycle might actually be on the cusp of a turnaround. Within Henrik's article he mentioned the following dry bulk names: Euroseas Ltd. (NASDAQ:ESEA) $19 million mkt. cap and $68 million enterprise value, Seanergy (NASDAQ:SHIP) $40 million mkt. cap and $200 million enterprise value, Sino-Global Shipping America (NASDAQ:SINO) $22 million mkt. cap and $19 million enterprise value, and Navios Maritime Partners (NYSE:NMM) $143 MM mkt cap. and $656 MM enterprise value. I am actually not interested in any other these names, however I am interested and we actually took a modest stake, yesterday in the low $6s, in shares of Eagle Bulk Shipping Inc. (NASDAQ:EGLE).
Eagle Bulk is based in Stamford, Connecticut and specializes Supramax dry bulk vessel with crane equipment on them so they can move the cargo more easily and access smaller ports. On January 23, 2017, Eagle announced they successfully raised $100 million in equity by issuing 22.2 million shares (at $4.50 per share). In early August 2016, after the 1 for 20 reverse split, they successfully raised approximately $86 million at roughly $3 per share.
Given this successful capital raise, I decided to take a much closer look at Eagle Q3 2016 10-Q and investor slide deck. I really liked what I read and am sharing my detailed findings with readers.
With very weak global trade and lot of industry overcapacity during 2015 and especially during Q1 2016, dry bulk TCE rates crashed. The perfect storm was enough to sink most many high leveraged dry bulk name or at least significantly impair their balance sheets.

However, at a steep cost measured in shareholder dilution, Eagle Bulk now sports a very health and transformed balance sheet, after its recent January 2017 $100 million capital raise.
Enclosed below, please see my pro-forma balance for Eagle. Although its second lien debt is very expensive and can't be prepay early, unless 100% of EGLE's first lien debt is retired first, I estimated that EGLE's pro-forma debt is probably about $275 million (as they have to pay down up to $15 million per year in principal on its first lien debt) and they only used $20 million out of $50 million (as of 9/30/2016) on their revolver. Moreover, after deducting the $18.85 million for EGLE's first new ship purchase in six years, and assuming a very conservative Q4 2016 cash burn rate, I think pro-forma cash could be $165 million. And with 59.2 million shares and yesterday's closing price of $6.15, I estimate Eagle has an enterprise value of approximately $475 million. More importantly, for the first time in ages, its debt to equity ratios is healthy and EGLE has ample liquidity to be positioned for a rebound in the dry bulk shipping cycle.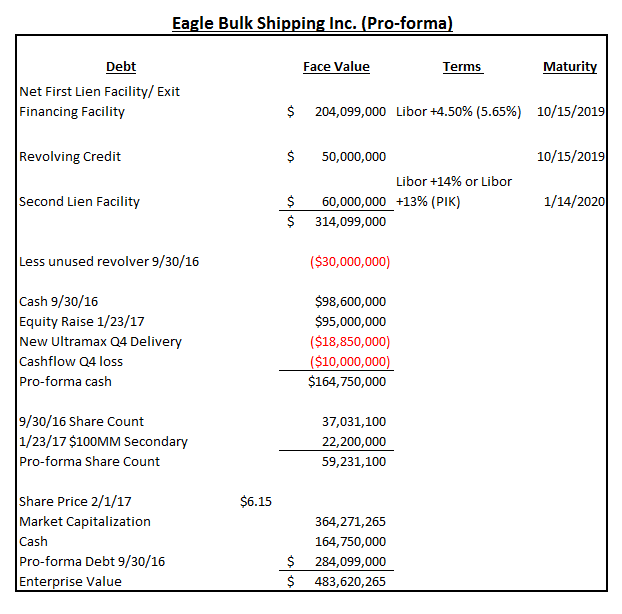 Next, with the beauty of Excel, I look at Eagle's fleet using filters. Eagle owns 41 Supramax vessels and has three on long term time charters (see below), one of which is at very unfavorable day rates of $13,500. The other two are much more manageable at $6,000 day rates.

Enclosed below please see how I sliced and diced Eagle's fleet, as of September 30, 2016. Out of 40 vessels, 10 are on voyage pricing, 2 are drydocked, and 28 have the following daily charter rates. As of the Q3 10-Q, the average daily charter rate (excluding voyage rates and drydocking as I don't have the data) were $6,721 but flexing up to $7,448 during Q4 as four ships were earning Q1 2016 rates of roughly $3,000 per day, which were repriced to roughly $7,000.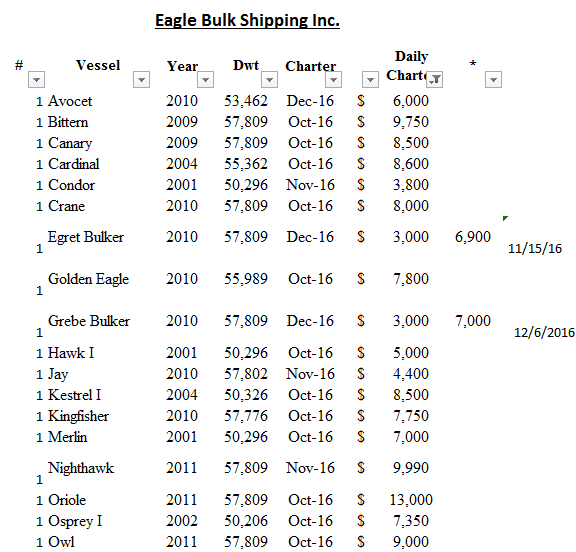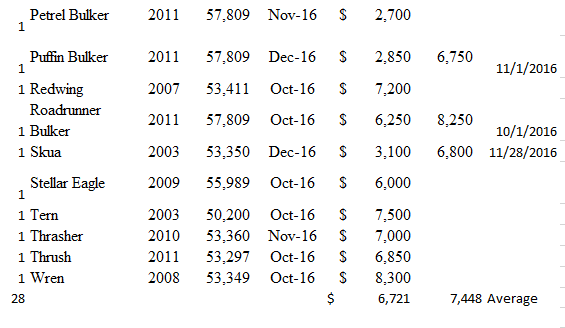 Again, I don't have access to voyage pricing.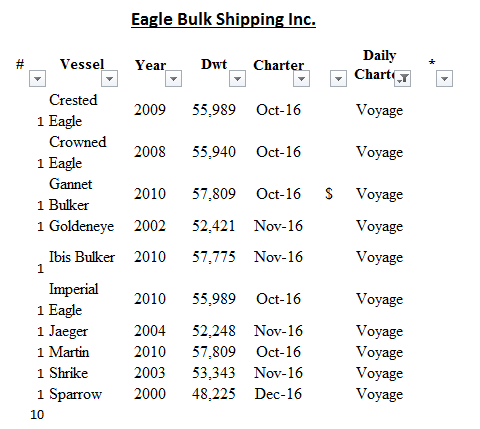 Here are the drydocked ships

Next I segmented Eagle's fleet by age and found they have 28 ships with an average age of ten years or less. Per Eagle's 10-Q, its then average fleet age was 8.6 years.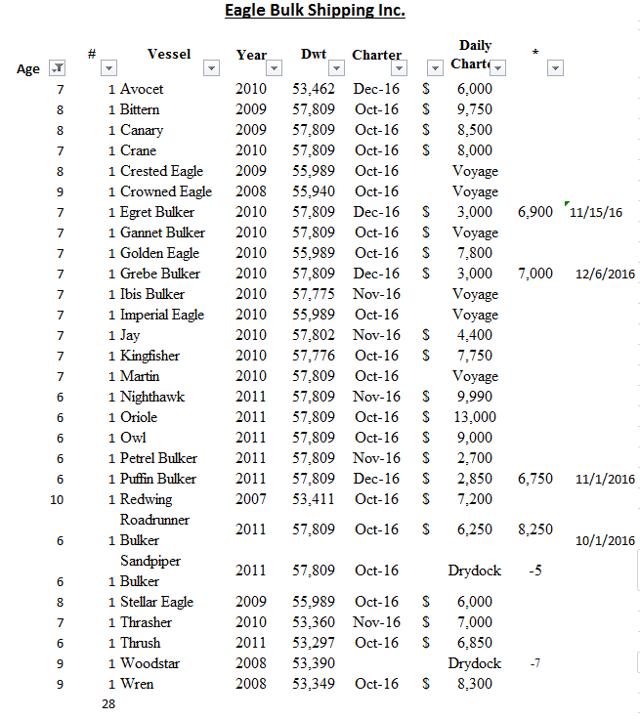 Here are the older ships.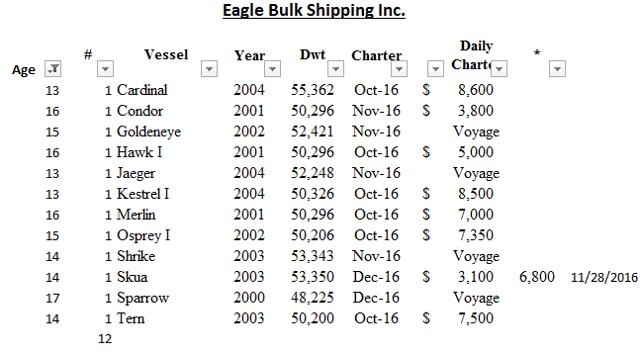 Here are Eagle's utilization rates.

Importantly, Eagle scrapped a few older ships last year to avoid drydocking expenses. So FY17 drydocking expenses will be much less than in the recent past.
Drydocking costs incurred are deferred and amortized to expense on a straight-line basis over the period through the date of the next scheduled drydocking for those vessels. Eight vessels completed drydocking in the nine months ended September 30, 2016, with one vessel still in drydocking as of September 30,2016 and we incurred $3,715,179 in drydocking related costs. Seventeen vessels completed drydocking in the nine months ended September 30, 2015 and we incurred $9,680,582 in drydocking related costs.
Source: EGLE Q3 2016 10-Q
See slide 7 from Eagle's November 2016 investor deck.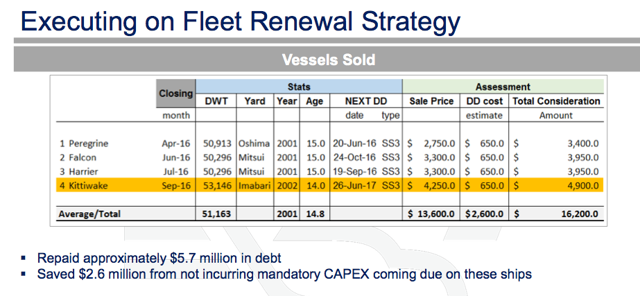 Here are few other important slides that persuaded us to buy a modest long position.
The owned fleet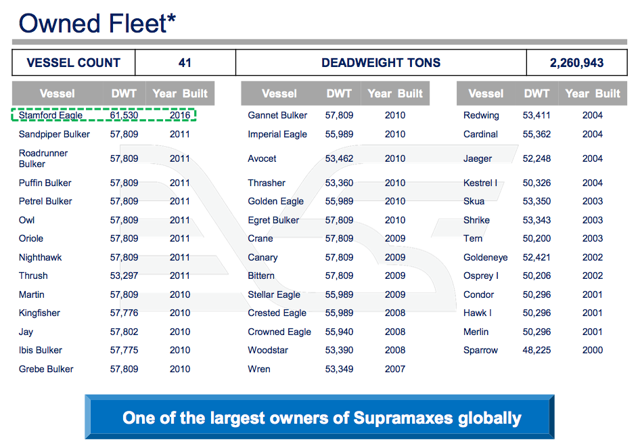 The improving cash breakeven math.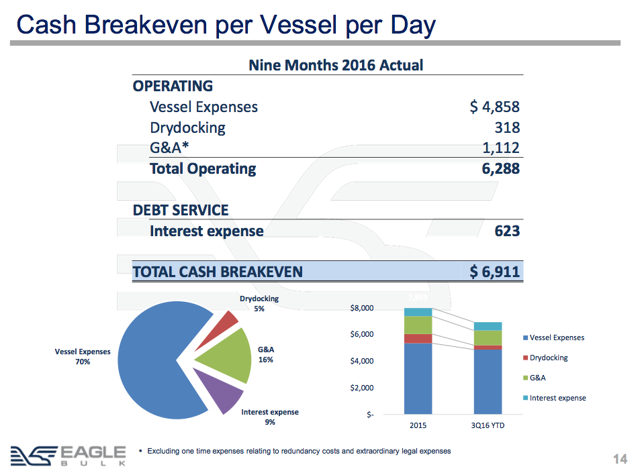 Look at the sharp rebound in TCE off a very low and uneconomic level for nearly every operator.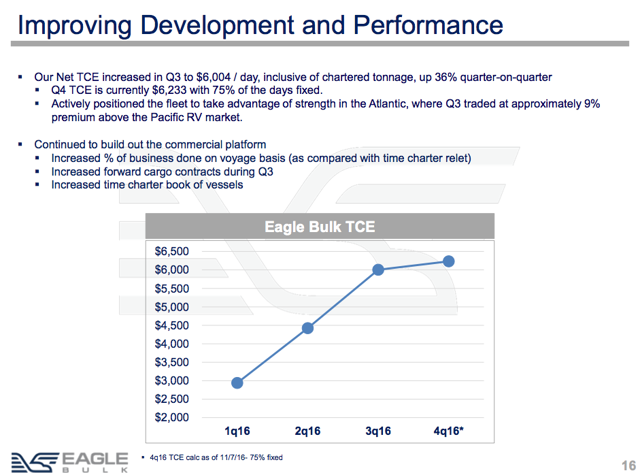 Lastly, the industry order book for new builds has declined significantly, so most of the pain should be behind these companies and supply and demand should start to rebalance, which will improve pricing.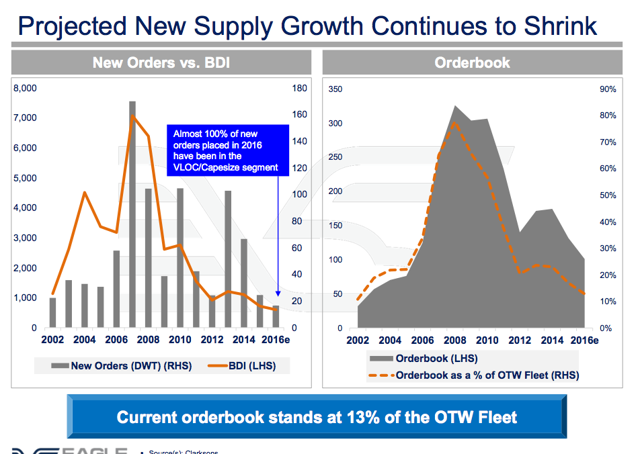 Takeaway
If you want to play a rebound in dry bulk shipping because you sense the cycle is starting to turn and the operating leverage is massive if/when TCE rates reprice higher then Eagle Bulk ship than DryShips. Eagle now has a much improved balance sheet, its ships on are shorter assignments so they can capture a rebound in prices, and they don't have any future order book liabilities, like many of the crude/product tankers names. Again, if you like DryShips, I would argue Eagle Bulk is the better play. And based on its low trading volume, this isn't a name on investors' radar screens.
Disclosure: I am/we are long EGLE.
I wrote this article myself, and it expresses my own opinions. I am not receiving compensation for it (other than from Seeking Alpha). I have no business relationship with any company whose stock is mentioned in this article.
Editor's Note: This article covers one or more stocks trading at less than $1 per share and/or with less than a $100 million market cap. Please be aware of the risks associated with these stocks.