Wal-Mart (NYSE:WMT) is a stock that has fallen out of favor since the latter half of 2016, dropping from a high of $74 to a price of $66.30 at the time of writing: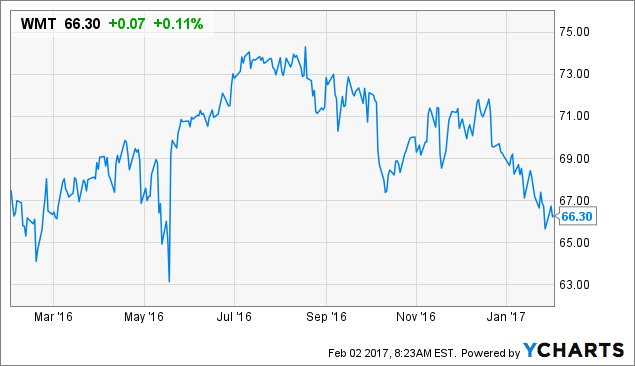 On a longer-term basis, we see that the stock is trading well below the 5-year high of above $87 reached at the beginning of 2015: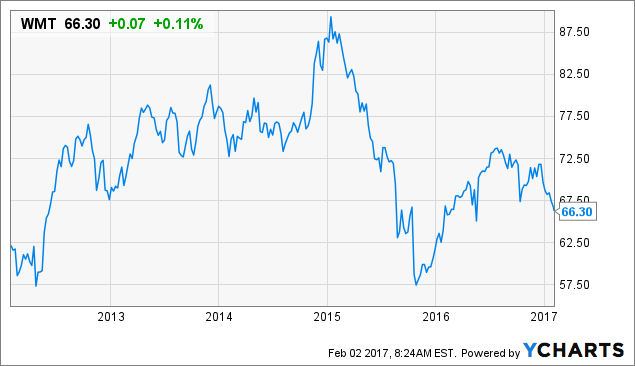 From my perspective, this marks a unique opportunity to buy a very solid company that is a Dividend Aristocrat having grown its dividend consistently every year for the past 42 years, and currently trades at a comparatively high dividend yield of 3.02% at the time of writing (in comparison to the services average yield of 1.97%).
Moreover, Wal-Mart has great potential to serve as a more defensive play in a potential economic downturn. Wal-Mart is renowned as a discount retailer, and as such is likely to continue to thrive in a recessionary environment as consumers continue to shop at Wal-Mart for necessity goods. Interestingly, from the period of October 2007 to March 2009, Wal-Mart actually gained by nearly 6 percent in price, while the S&P 500 concurrently dropped by over 55 percent. In this regard, I see Wal-Mart as a great choice for a defensive stock, along with a very attractive dividend yield at a discounted price.
One of the major concerns surrounding Wal-Mart has been sluggish earnings along with a rise in operating expenses. For instance, we see that over a five-year period, both EPS (Diluted) and Operating Margin have been falling, while Total Operating Expenses have been rising significantly: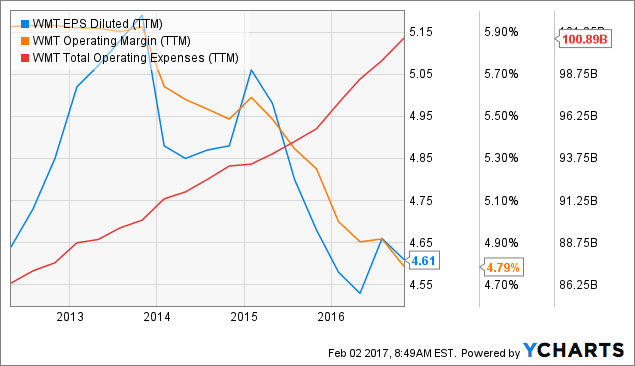 A major reason behind this has stemmed from Wal-Mart's increased levels of investment in online retail and e-commerce platforms. While Wal-Mart is the pre-eminent provider when it comes to brick and mortar sales, the company needs to fortify its strategy when it comes to online sales in order to ward off competition from online rivals such as Amazon (NASDAQ:AMZN), which present a significant threat given the growing dominance of online retail sales.
In spite of uncertainty pertaining to earnings, Wal-Mart has still shown very significant growth in free cash flow over the past five years, with the company trading at a highly cheap multiple on a price to free cash flow basis: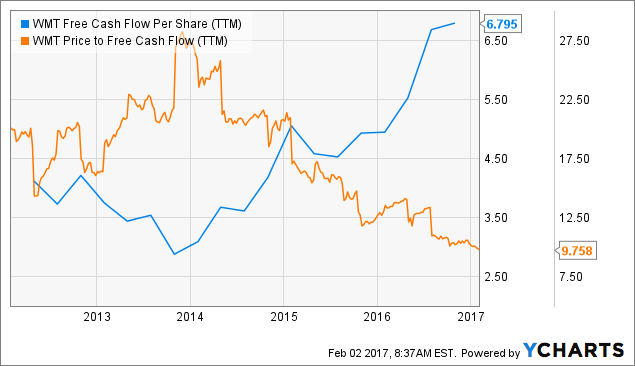 While Wal-Mart has seen challenges in expanding its online footprint, the company has taken the right choice in making increased investment in this area, and its brick-and-mortar presence still remains very solid. Moreover, Wal-Mart.com is currently the third most visited retail website in the United States, and its global e-commerce net sales have risen by 107 percent in the past four years. While the company no doubt has challenges ahead, I still see the company as having the customer base and scale necessary to continue growth in both physical and digital sales going forward.
At its core, Wal-Mart is a value stock at this point in time. Investors have grown somewhat pessimistic on the company at this point, but I see quite a significant opportunity to get in with a significant margin of safety after the stock's fall in price. Moreover, for long-term investors, the majority of returns from a stock like Wal-Mart will come from dividends rather than capital gains, and on this basis I am getting ready to go long the stock.
Disclosure: I/we have no positions in any stocks mentioned, but may initiate a long position in WMT over the next 72 hours.
I wrote this article myself, and it expresses my own opinions. I am not receiving compensation for it (other than from Seeking Alpha). I have no business relationship with any company whose stock is mentioned in this article.