With the U.S. Equities market hovering near an all-time high, controlling risk becomes a paramount concern for investors who wish to preserve capital. While readers are free to use their own list of securities, in this article, I'll focus on the Baker's Dozen portfolio as it is a combination of the "Swensen Six" and most of the "Faber 10." Controlling risk is not synonymous with fleeing the stock market. Here are a few methods for controlling portfolio risk.
This group of thirteen (13) securities invests in the entire U.S. Equities market, Developed International Equities, Emerging Market Equities, U.S. Real Estate, International Real Estate, Commodities, Gold, U.S. and Global Treasuries, U.S. Bonds, and International Bonds. Diversification is the first line of protection when it comes to averting major portfolio losses. However, events such as we experienced in 2008 and early 2009 steamrolled over diversified portfolios. While a broad asset allocation plan reduces risk, more lines of defense are required.
The following screenshot comes directly from a spreadsheet known as the Kipling Tranche Momentum spreadsheet. Two look-back periods are used to rank the 13 ETFs. They are 60 trading days with a 50% weight and 100 trading days with a 30% weight. The remaining 20% weight is applied to a 10-trading day volatility calculation where low volatile securities are highly valued. The performances are ranked and only those securities outperforming the iShares 1-3 Year Treasury Bond ETF (NYSEARCA:SHY) are considered to be part of the portfolio. SHY is the cutoff or circuit breaker ETF. In this example, the majority of the ETFs are rejected as they are under-performing SHY. The second line of defense eliminates underperforming securities.
By removing ETFs that are under-performing SHY, we filter out securities that are at risk of harming the portfolio. Granted, this model will miss ETFs that are about to turn the corner and start their upward move. That is a chance one takes. No one is able to always pick ETFs at the bottom. This model operates with the laws of probability in mind where we seek to identify ETFs that tilt the game in our favor.

Of the three highest-ranking ETFs (Vanguard Total Stock Market ETF (NYSEARCA:VTI), PowerShares QQQ Trust ETF (NASDAQ:QQQ), and PowerShares DB Commodity Index Tracking ETF (NYSEARCA:DBC)), there is considerable overlap among stocks held in VTI and QQQ. Nevertheless, we move on to the third defense mechanism, and it is something called the Point and Figure Relative Strength (PnF RS) graph.
Since VTI is our market benchmark, it makes sense to check out the PnF graph of VTI alone to see if it is showing positive or negative growth. If VTI is negative, it is time to go to cash, Treasuries, or find better performing asset classes. Note the sharp uptick of Xs in the right-hand column of the VTI graph. Convinced that VTI is in a strong position, we are ready to test the last line of defense. We have QQQ and DBC to check out as we want to see if either has a strong relative strength relationship with respect to VTI.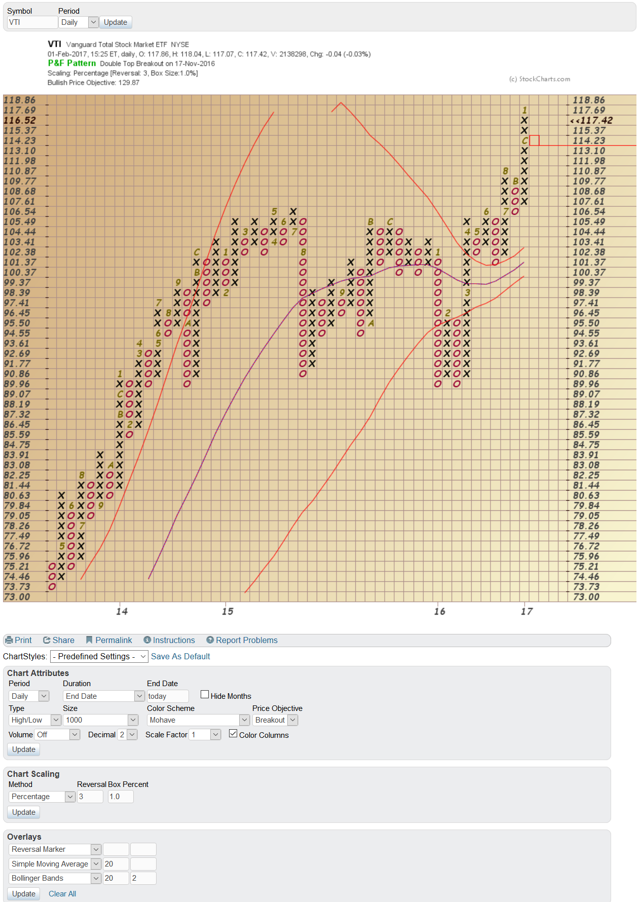 In the following graph, we see QQQ has Xs in the right-hand column when compared to VTI. If one is looking to buy shares for the Baker's Dozen, QQQ is a possibility. If the portfolio does not have cash available, don't sell shares of VTI in order to raise cash. VTI is already performing very well, and these two ETFs hold many of the same stocks.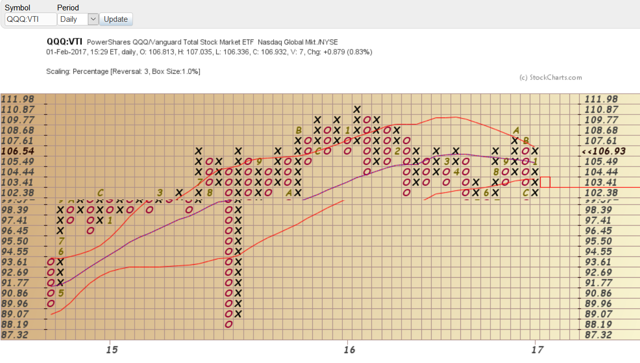 We still have DBC to check out. DBC carries a low correlation with VTI and that makes it appealing as a Baker's Dozen building block. When we run the PnF RS analysis of DBC:VTI, we see DBC is not as strong as VTI as Os are showing up in the right-hand column. For this reason, we will pass on DBC as a possible addition to the Baker's Dozen. DBC is simply too risky based on this analysis. Sit on the sidelines when it comes to DBC.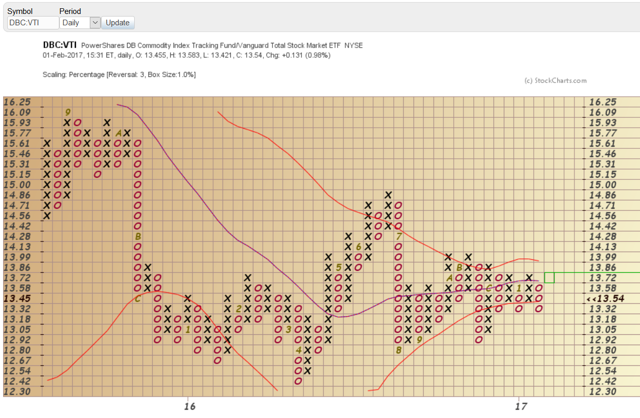 When the risk analysis is complete for this review, wait another 33 days and go through the same process again. Diversification of asset classes, momentum filtering with respect to SHY, and PnF RS analysis using VTI as a benchmark are three lines of defense when it comes to protecting capital.
Disclosure: I am/we are long VTI.
I wrote this article myself, and it expresses my own opinions. I am not receiving compensation for it (other than from Seeking Alpha). I have no business relationship with any company whose stock is mentioned in this article.