Histogenics (NASDAQ:HSGX) has developed regenerative products that are designed to treat musculoskeletal-related issues. Its lead candidate is called "NeoCart" which is a novel way to treat cartilage damage. This company has been heading in the right direction and with the stock now trading below the cash value on the balance sheet, this investment opportunity appears to be too cheap to ignore. Let's take a closer look at this company, NeoCart, and at the very undervalued share price.
The Pipeline:
Histogenics is developing regenerative medicines and products. Its lead product "NeoCart" utilizes many aspects of this company's regenerative platform to repair damaged knee cartilage. NeoCart has achieved success in Phase 1 and 2 studies and it is now proceeding with Phase 3 studies. A NeoCart implant is created by using a patient's cartilage cells which are harvested from the non-weight bearing cartilage of the femur. The patient's cells are then expanded and embedded with collagen and then incubated in Histogenics' proprietary "Tissue Engineering Processor". After that, the NeoCart is shipped to the surgical facility and implanted into the knee using Histogenics' "CT3 Bioadhesive". The photo below shows a finished sample of NeoCart: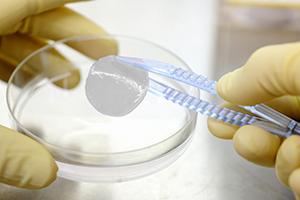 Photo credit: Histogenics company website
On January 11, 2017, Histogenics released positive data that was published in the January 2017 issue of the American Journal of Sports Medicine. In this study, magnetic resonance imaging or "MRI" data was analyzed in a followup for 60 months from the Phase 1 and 2 clinical trials of NeoCart. Safety and efficacy were evaluated and the results from this study indicated significant improvement in the cartilage quality. In addition, MRI analysis demonstrated that NeoCart repair tissue is durable and able to evolve over time. Results from the studies indicate that NeoCart is a safe and effective treatment and it demonstrated statistically significant improvements on all of the pain and functional endpoints in as early as 3 to 6 months. Furthermore, these positive results were sustained through the five-year study. In a recent news article about this positive data, the chief medical officer stated:
"We are very pleased with the results of the clinical trials conducted to date and want to thank our investigators and patients for their participation. We believe this is an area in need of a better alternative for patients who are seeking new options to repair cartilage defects that potentially offer both a more rapid recovery and durable response over time with fewer repeat surgeries," stated Gloria Matthews, Chief Medical Officer of Histogenics."
Below, we can see the surgical steps and manufacturing process for NeoCart: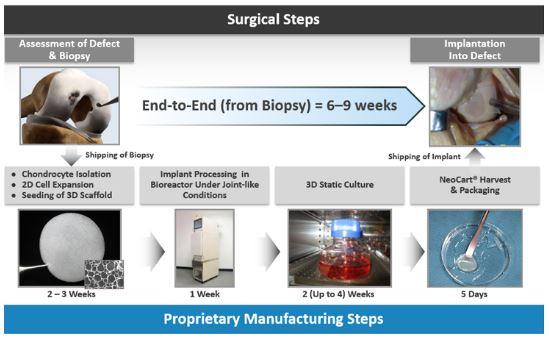 Source: Histogenics website
The company is also planning on the potential for expanded usage of NeoCart in other joints. In addition, Histogenics is working to develop its technology beyond cartilage repair and to address more extensive cartilage issues which are caused by bone loss and arthritis. This could greatly expand the potential for the company, which (according to one analyst) is already estimated to be about $3 billion for knee injuries in the U.S. alone.
Potential Downside Risks Appear Limited Due To A Cash-Rich Balance Sheet And Other Factors:
There are a few significant potential risk factors that I always consider and research when I buy stock in a small company. These include liquidity risks, the balance sheet, and whether the company is losing money. I mostly get concerned about liquidity risks at the end of the year when significant levels of tax-loss selling can overwhelm and bring down a small-cap stock due to a lack of liquidity. Since we are past the tax-loss selling season, I am not concerned about liquidity as it does not appear to be a major risk at this time.
The balance sheet is another major factor to consider, so if the company is losing money and/or if it has a weak balance sheet with lots of debt and little to no cash, I won't even consider buying it. The potential downside risks for Histogenics are significantly reduced thanks to a very strong balance sheet which has about $38 million in cash and just around $907,000 in debt. This cash is equivalent to about $2.39 on a per share basis, which is way more than the current share price of just around $1.65.
Another potential downside risk to consider is the cash burn rate. Once again, the potential risks appear limited because this company has a low cash burn rate. For the third quarter of 2016, the company posted a loss from operations of about $6.6 million and it also said it believes the current cash position is enough to fund operations until mid-2018. This means the cash burn rate is not a potential downside risk that investors need to worry about, especially since the company could be receiving FDA approval and even more milestone payments from partners (or new potential partners in Asia) before mid-2018.
There is another potential risk factor that might be creating what I view as a nonsensical discount in the current share price and that is notice of a potential delisting from the NASDAQ Global Market Exchange. If you don't look deeper into this matter, you might be put off and not buy the stock because you are afraid it could be delisted. However, these fears are not justified for a few reasons. On November 18, 2016, the company received a letter stating that because the market capitalization was below $50 million, it was not meeting continued listing requirements and it would receive another a notice on May 17, 2017 saying that it could face a potential delisting. However, in regards to the May 17, 2017, requirement for the company to achieve a $50 million market cap, the NASDAQ letter also stated: "At that time, the Company would be permitted to appeal the delisting determination to a NASDAQ Hearings Panel or apply to transfer its common stock to The NASDAQ Capital Market."
This means there is no real issue for investors to worry about and those avoiding the stock because of this are missing an opportunity to buy this stock way below the cash value on the balance sheet. A lot can happen between now and May 17, 2017, and the company has more than one option to keep trading on a NASDAQ exchange and with the same stock symbol. For example, the stock price could rise to about $3.15 per share. This would give the company a market cap of $50 million since it has around 15.9 million shares outstanding. The company could also just appeal the delisting notice on May 17, 2017, and suggest that it believes the stock price will rise to $3.15 or higher in the coming months. This stock spiked up to the $4.50 level just about four months ago, so it is not implausible that it could trade at $3.15 by May 17. Also, with about $38 million cash in the bank and a promising product, it seems like a $50 million market cap is not only possible, but well deserved.
Another perfectly good option would be for the company to agree to have its shares traded on the NASDAQ Capital Market instead of the NASDAQ Global Market since the NASDAQ Capital Market Exchange has continued listing requirements which include one option whereby a company only has to have $2.5 million in stockholders' equity. Histogenics easily fulfills this requirement many times over. This, along with the other reasons I gave, is why some investors are mistaken to be put off just because this company is not technically compliant with the NASDAQ Global Market Exchange. It is clear to me that this stock will either rise enough in value to stay listed on the NASDAQ Global Market Exchange it is on now, or it will simply transfer to the other NASDAQ exchange as was suggested by NASDAQ officials in their letter.
One more factor worth noting is that if short sellers saw potential downside or delisting as a real possibility, they would likely be targeting this stock in large numbers. However, according to Shortsqueeze.com, only 15,500 shares of Histogenics are currently being shorted. That is less than one-half of 1% of the float. This is probably the lowest number of shares I have ever seen being shorted for a public company. I see this as yet another indicator that shorts do not see significant potential downside risks or a delisting risk either because if they did, they would certainly be actively involved in large numbers.
Intrexon Partnership:
Intrexon Corp. (NYSE:XON), which is a leader in biologically-based solutions, has a significant investment stake in, and has also signed a collaboration agreement with Histogenics. The agreement gives Histogenics the worldwide and exclusive use of Intrexon's proprietary synthetic biology technology platform for the development and commercialization of genetically modified chondrocyte cell therapeutics for the treatment and repair of damaged cartilage in humans. Intrexon is a very intriguing company that is developing many technologies which could solve chronic problems facing humankind and it has a market cap of about $2.5 billion. The companies are calling the agreement an exclusive channel collaboration or "ECC" and gave details on the nature of the agreement by stating:
"Through the ECC, Histogenics will employ its expertise in novel solutions for musculoskeletal-related conditions, and Intrexon will utilize several of its integrated technologies to develop a universal allogeneic cell treatment for cartilage repair. Leveraging its UltraVector® platform for gene program design plus its proprietary cell substrates and cell engineering technologies, including LEAP® cell processing, AttSite® recombinases and bioactive RNAs, Intrexon's tool-kit is aptly positioned to engineer an off-the-shelf allogeneic chondrocyte cell line with multigenic modulation for immune system compatibility. The target of this ECC is the design and manufacture of next-generation cartilage tissue products that integrate with Histogenics' proprietary cellular scaffold platforms and manufacturing processes similar to those currently deployed in their ongoing NeoCart® Phase 3 trial. We believe this arrangement will enable us to develop potential next-generation cartilage products, increase our future manufacturing capacities and efficiencies, and accelerate our platform technology pipeline initiatives."
More Positive Data, Milestone Payments And Partnerships Could Be 2017 Catalysts:
I see a number of factors that could be catalysts for this stock in 2017. This includes investors who might go bargain hunting in the healthcare sector since stocks in this industry have not taken part at all, or have been laggards in the recent rally. President Trump has recently talked about wanting to speed up FDA approvals and reduce regulations and this could buoy valuations, especially for smaller companies like Histogenics. A number of company-specific factors could also boost this stock and this includes the potential for more positive data, analyst coverage and upgrades, potential milestone payments and the announcement of additional partnerships.
In a recent press release, Histogenics disclosed that it was in discussions with the Japan Pharmaceuticals and Medical Devices Agency regarding the development of NeoCart for the Japanese market. It said that it intended to seek potential partners for this market. In this same press release, the company also said it expected to complete enrollment for Phase 3 trials by the second quarter of 2017, which could be another catalyst for investors. New partnerships and existing partnerships could generate additional investment or milestone payments, and bolster the already cash-rich balance sheet even further. For example, Intrexon initially invested $20 million when Histogenics went public in 2014, and there was also an agreement for up to $34.5 million in success milestone payments.
Perceptive Advisors And Other "Smart Money" Are Invested In Histogenics:
Whenever I see a biotech or health sciences stock that Perceptive Advisors has invested in, I always take notice. That's because this fund has an extraordinary track record when it comes to investing in these sectors. One article states that Perceptive Advisors has generated 42% in annual gains since 1999. That means if you had invested only $10,000 into this fund, it would be worth about $1.3 million in just around 15 years. As the data (provided by Yahoo Finance) below shows, there are some other significant institutional holders as well. Perceptive Advisors is one of the largest, as it owns about 11% of the entire company. Third Security, LLC., owns nearly 17% of the company and FMR, LLC (also known as Fidelity Investments) owns nearly 11% of Histogenics:
Top Institutional Holders
| Holder | Shares | Date Reported | % Out | Value |
| --- | --- | --- | --- | --- |
| Third Security, LLC | 2,690,570 | Sep 29, 2016 | 16.89% | 8,636,729 |
| Perceptive Advisors LLC | 1,777,777 | Sep 29, 2016 | 11.16% | 5,706,664 |
| FMR, LLC | 1,729,620 | Sep 29, 2016 | 10.86% | 5,552,080 |
The Chart: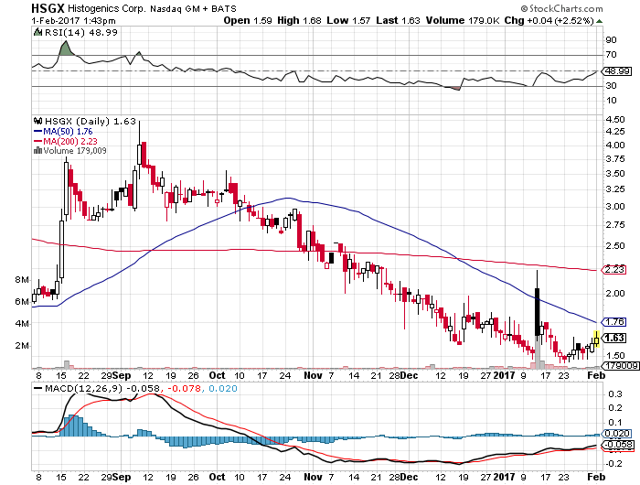 As shown in the chart above, this stock surged to over $4 in September but then drifted much lower by December, which was possibly due in large part to tax-loss selling and the "delisting" letter. In early January, this stock spiked up to about $2.25 per share when the company announced positive data which showed significant improvement in cartilage quality when its NeoCart treatment was implemented. It looks like the stock has bottomed out at around the $1.50 level and that is just one reason why I think this is a very attractive buying opportunity.
The 200-day moving average is $2.24 per share and that should be considered as a level this stock could rebound to in the short term. This especially seems possible as more investors realize this stock is deeply undervalued and also because this company is seeing very positive results for NeoCart and getting closer to the goal line. However, even though $2.24 per share would represent a potential gain of nearly 50% from current levels, the long-term upside is much more significant according to at least three different analysts.
Analyst Price Targets Ranging Between $3.50 And $8 Suggests Very Significant Upside:
While this company appears to be undiscovered by many retail investors, the analyst community seems to have taken a recent interest in this stock, especially as the company makes progress and releases positive data. For example, in August 2016, analysts at BTIG upgraded this stock from neutral to buy and set a $3.50 price target. The analysts at BTIG believe the "goal line is in sight" and an article details the upgrade by stating:
"The analysts see the company's continuing progress on a variety of operational efforts including exploring strategic partnerships in Japan and elsewhere in Asia and the development of a one-step NeoCart through the Intrexon partnership, as favorable steps."
There have been more recent upgrades and even higher price targets suggested by other analysts as well: On September 19, 2017, analysts at Needham reiterated a buy rating and set an $8 price target. In December, 2016, an analyst named Swayampakula Ramakanth at H.C. Wainwright issued a buy rating and set a $3.50 price target. This analyst estimates the market size for NeoCart as being about $3 billion in the U.S. alone and a StreetInsider.com article summarized the analysts bullish outlook stating:
"For decades, the standard of care for knee cartilage restoration has been microfracture surgery, which tends to take very long to heal (up to 2 years or more) and have inconsistent results. NeoCart, on the other hand, could help alleviate pain and restore function in 3-12 months and is manufactured to precise specifications for each patient. The company is currently conducting a registration-directed Phase 3 study evaluating the use of NeoCart versus microfracture as first-line treatment for knee cartilage injury, with top-line results expected in 2018. We believe that NeoCart could become a first-in-class treatment with a $3B dollar market opportunity in the US alone. We expect NeoCart to reach the market in the US in 2019 and achieve risk-adjusted revenues of $144M by 2027."
In Summary:
Histogenics has made significant progress and reported very positive results in both short-term and long-term studies for NeoCart. The company has a low cash burn rate and the equivalent of about $2.40 per share in cash on the balance sheet. With around $38 million in cash, less than $1 million in debt, and a market capitalization of just $25 million, the current share price is ridiculously undervalued because it implies a negative enterprise value to the tune of about $12 million. This means that the current stock price could theoretically allow a buyer to buy the whole company for about $25 million and get the NeoCart platform and other technology for free and also get nearly another $12 million in cash from the balance sheet (and that is after paying off the debt). This bargain valuation is not likely to last for long, especially as the company gets closer to potential FDA approval.
The current valuation could suggest that Histogenics is an attractive takeover target. A company like Stryker Corp. (NYSE:SYK) which makes a number of medical devices including reconstructive knee and hip replacement systems could be a potential suitor for this company. Zimmer Biomet (NYSE:ZBH) which also makes medical devices and reconstructive products might also view Histogenics' NeoCart as an ideal addition to its product line. Intrexon is another potential suitor due to its investment and ongoing partnership with Histogenics.
Another positive factor to consider is that President Trump is planning to appoint a new FDA Commissioner who is expected to overhaul that agency in order to reduce regulations and speed up the approval process for companies like Histogenics. That news just came out recently, and I believe that in the coming weeks, more investors will be looking for investment opportunities in companies that are in Phase 3 studies and could see approvals earlier than expected.
With this stock trading for just around $1.65 and well below cash value of about $2.40, I see a rare bargain buying opportunity to invest in a company that has very positive data and is getting close to the goal line. With nearly $2.40 per share in cash, and a significant amount of technology, patent and partnership value, it is easy to see why the lowest analyst price targets of $3.50 are very reasonable, and the $8 price target is also realistic with FDA approval. For all of these reasons, I view this stock as a strong buy and believe it will rebound to around the $2.25 level in the short term and then head towards the lowest analyst price targets of $3.50 per share, later in 2017.
If you want updates on this stock in the future or other deep value and contrarian investing ideas, please consider following me.
Data is sourced from Yahoo Finance. No guarantees or representations are made. Hawkinvest is not a registered investment advisor and does not provide specific investment advice. The information is for informational purposes only. You should always consult a financial advisor.
Disclosure: I am/we are long HSGX.
I wrote this article myself, and it expresses my own opinions. I am not receiving compensation for it (other than from Seeking Alpha). I have no business relationship with any company whose stock is mentioned in this article.
Editor's Note: This article covers one or more stocks trading at less than $1 per share and/or with less than a $100 million market cap. Please be aware of the risks associated with these stocks.