Introduction
According to data from the National Association of Manufacturers, the average company in the U.S. pays about $20,000 per employee per year to comply with federal regulations. For small-caps, regulations can cost about $30,000 per employee per year.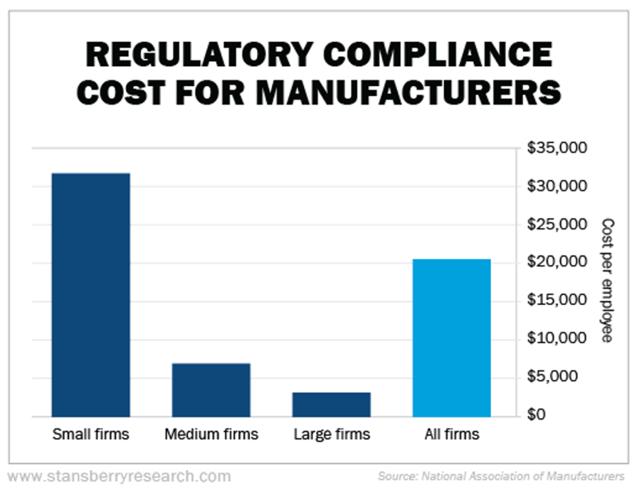 (Source: Stansberry Research)
President Trump recently put a freeze on new regulations and has promised to roll back unnecessary regulations, which will help the small-caps. For every new regulation, President Trump wants two eliminated. Based on his track record thus far, I believe small-caps may deliver great performance in 2017.
Stock Screen
Based on the thesis that small-caps will prosper in 2017, I created a stock screen with strong fundamentals to help find some companies for consideration.
I found Westlake Chemical Partners LP (NYSE:WLKP) by using the following screen:

(Source: Authors Work, Results: E*Trade)

(Source: E*Trade)
Company Business
Westlake Chemical Partners LP is a limited partnership formed by Westlake Chemical Corporation (NYSE:WLK) (Westlake). The Company operates, acquires and develops ethylene production facilities and other assets. The Company's business and operations are conducted through Westlake Chemical OpCo LP (OTCQX:OPCO). OpCo sells ethylene to Westlake and others, as well as sells co-products of ethylene production, including propylene, crude butadiene, pyrolysis gasoline and hydrogen. OpCo's assets include approximately three ethylene production facilities, which primarily convert ethane into ethylene. OpCo owns approximately two natural gas liquids processing facilities at Westlake's Lake Charles, Louisiana site (Petro 1 and Petro 2, collectively Lake Charles Olefins). OpCo owns over one natural gas liquids processing facility at Westlake's Calvert City, Kentucky site (Calvert City Olefins). OpCo also owns approximately 200-mile 10-inch diameter ethylene pipeline system.
Westlake Chemical Corporation owns 52.2% of the limited partner units and all of the incentive distribution rights (IDRs) of WLKP
Product Line: Ethylene

(Source: Company Website)
Proposed IRS Regulations
On May 5, 2015, the Internal Revenue Service and the U.S. Department of Treasury proposed new regulations which define qualifying income from the processing, refining and transportation of minerals or natural resources for purposes of being treated as a "publicly traded partnership" for U.S. federal tax purposes. This change reverses a prior private letter ruling (PLR) that concluded the Partnership's activities generate "qualifying income" within the meaning of the Code. Notwithstanding the ten-year transition period, we believe this reversal is unfair to both WLKP investors who purchased units in reliance, in part, on the favorable PLR, as well as shareholders of Westlake Chemical Corp. who have also seen the value of their investment adversely impacted as a result of the publication of the Proposed Regulations.
(Source: Company Website)
Basically, the IRS reversed an opinion that entities that process ethylene (a limited natural resource) does not qualify as an MLP for U.S. federal tax purposes.
The author feels that the IRS opinion reversal does not have any merit whatsoever and will not be supported under the Trump Administration.
Valuation Heat Map Tool
I developed a 3 color (Red, Yellow, & Green) Valuation Heat Map Tool based on certain fundamental valuation criteria. The Heat Map uses a total of 18 indicators as shown in the table below.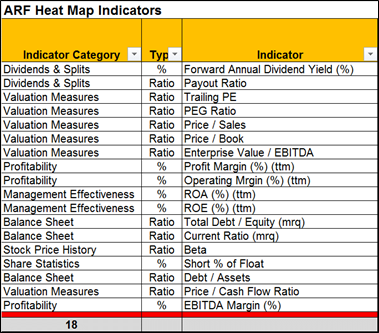 (Source: Authors Work)
There two types of criteria: Ratios and Percentages. Each criteria is assigned a number (1, 3, or 5) based on the value of the criteria.
For example, the PE Ratio is assigned a rank as follows:
1 if PE > 25
3 if PE is between 10 & 25
5 if PE is < 10
After a Rank is assigned to each criteria, I sum them and apply a linear regression so that the lowest Rank equals 1 and the highest Rank equals 99.
Valuation Heat Map Results
Ratios

Percentages

Normal Rank Legend


WLKP has a Normal Rank of 85 out of 99. The only negative that I can see from the Balance Sheet is a high Debt/Equity Ratio of 5.93. In my ranking system, I assign a value of 1 if the ratio is greater than 5.
Based on this data, my opinion is that WLKP is a BUY.
The chart below is a yearly chart with weekly Candlesticks, 50 day moving average, and 100 day moving average. The chart includes Volume, Slow Stochastics (14, 3) and Money Flow Index (14) indicators.
Yearly Stock Chart With Weekly Candlesticks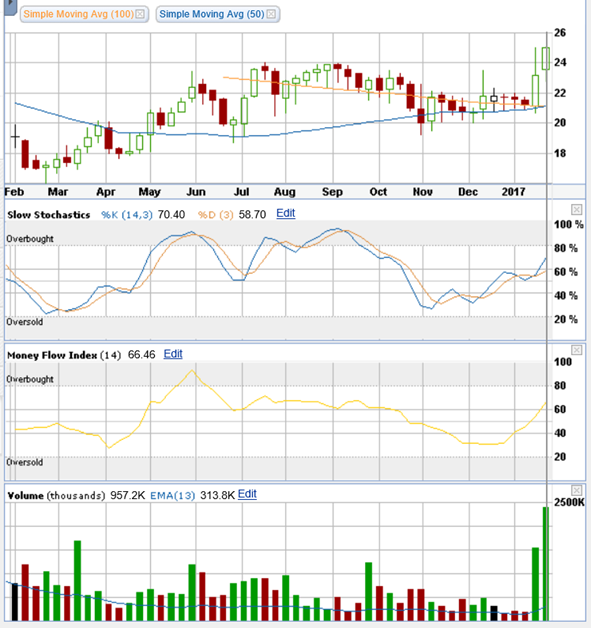 (Source: E*Trade)
The yearly chart shows a "Cup With Handle" pattern with a pivot point of $24.07 (closing price on 05Sep2016 = $23.97 + 0.10). The stock price is 3.86% above the pivot point [(25 - 24.07)/24.07]. I consider a stock a buy when the price is within 5-10% of a pivot point. That said, the stock price is very close to being overbought as shown by the Slow Stochastics value (80%). The Money Flow indicator shows a value of about 60, which is also approaching an overbought condition.
The stock price is currently in line with the mean estimates. If the stock drops to the low estimate, there is a 12% downside risk. Conversely, if the stock rises to the high estimate, there is a potential gain of 12%. For value investors, this could be considered a safe bet with 12% downside risk. I always use a 7-10% trailing stop loss in case the trade goes in the wrong direction.

(**) % Difference = Difference / Current Price
Analysts Buy / Sell / Hold
Zacks rating = Hold
Value = A
Growth = D
Momentum = C
VGM = B
Thompson Reuters rating = Strong Buy
E*Trade Smart Consensus Peer Rating Detail
Peer Analysis
The table below compares WLKP with its peers. The only other peer with a strong buy rating in the table below is UFP Technologies, Inc (NASDAQ:UFPT), which will not be discussed in this article.

Annual Earnings Per Share
WLKP is scheduled to report its annual 2016 earnings on 21Feb2017. Thus far for 2016, WLKP has reported $1.11 in earnings and Q4 is estimated at $0.42 per share.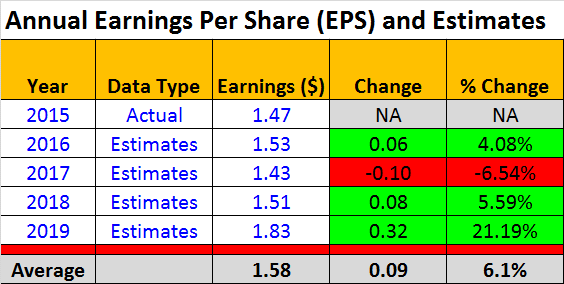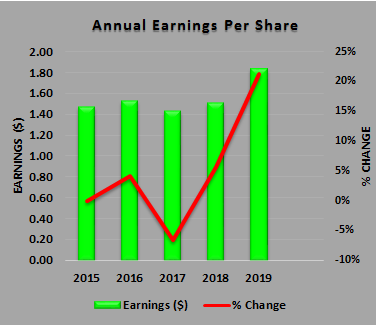 (Data Source: E*Trade, Table & Chart: Author)
Annual Revenue
Thus far for 2016, reported revenues are $693M and Q4 estimates are $347M bringing the total up to $1B. Not too bad for a young company with estimated room to grow in years 2018-2019.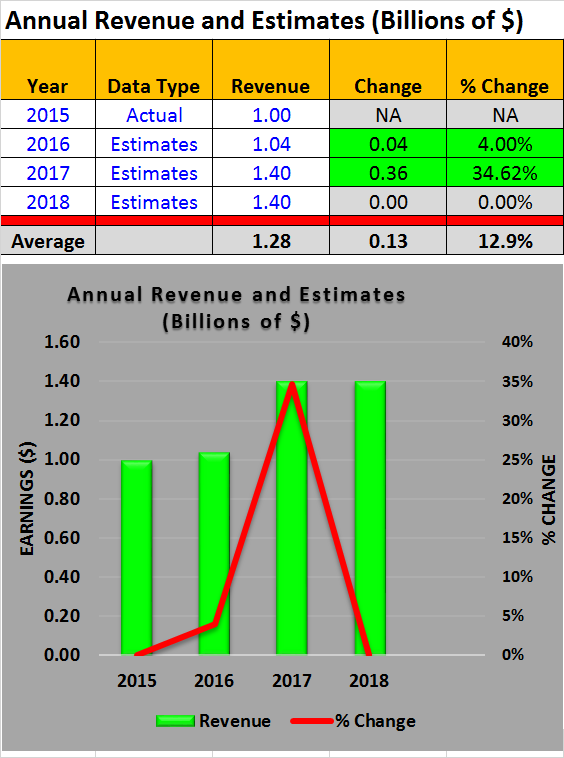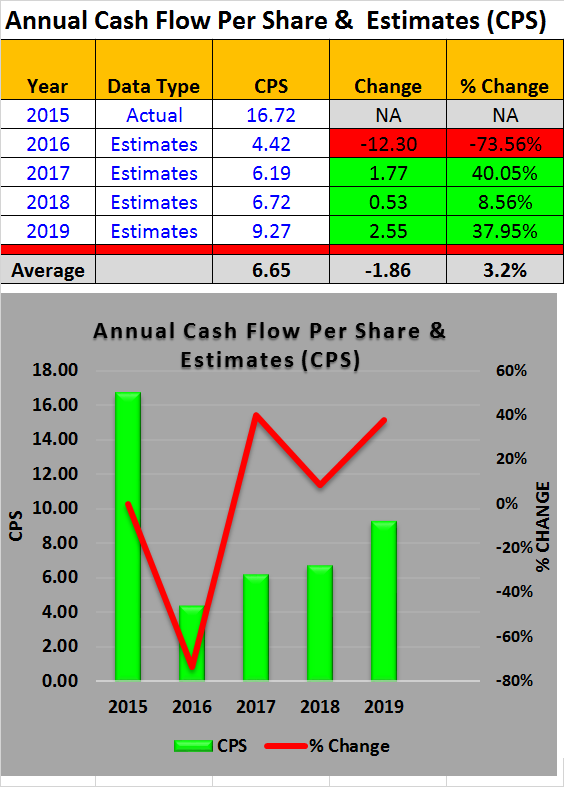 (Data Source: E*Trade, Table & Chart: Authors Work)
Dividend History
The Board of Directors recently declared a distribution of $0.3450 per share, representing a 2.81% increase from the third quarter distribution. This is the tenth distribution announced by the Partnership since its IPO on 4Aug2014. The distribution will be payable on 22Feb2017, to shareholders of record on 7Feb2017.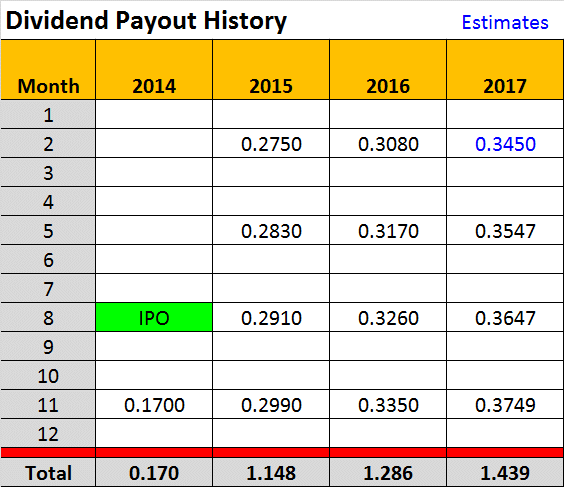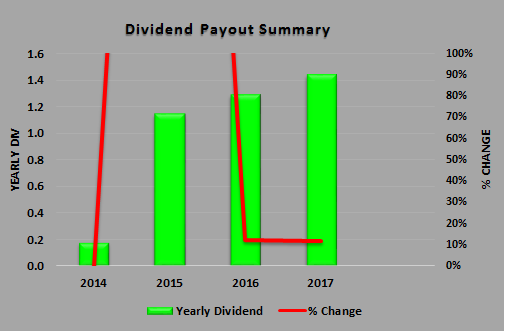 (Data Source: NASDAQ, Table & Chart: Author)
Dividend Growth Rate
The average dividend percent increase from 27May2015 to present is 2.86%. This is in line with the recent increase of 2.81%. Moving forward, it is reasonable to assume that the 2017 dividend growth rate per quarter will be in this range. The Dividend Payout Ratio = 82.9%, which is a little high but still in the safe range. For a young growth & value company such as WLKP, I do not think this is much of a red flag.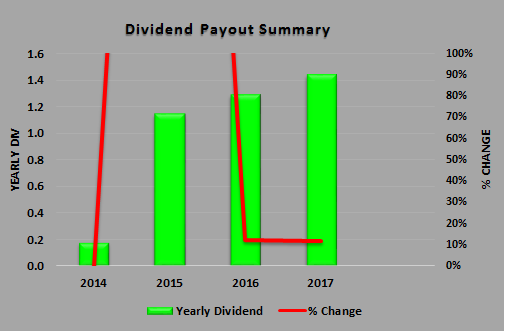 (Data Source: NASDAQ, Tables & Chart: Authors Work)
Debt
There is no corporate bond data listed on the Morningstar website. The company Balance Sheet debt is shown in the table & chart below. WLKP has a very low Debt/Asset Ratio of 0.39.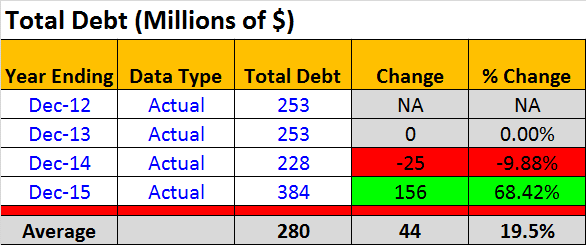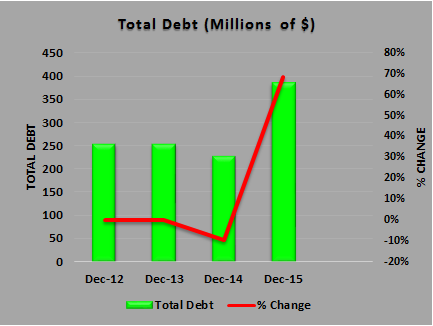 (Data Source: E*Trade, Table & Chart: Authors Work)
The material sector has been doing very well. Select Sector Spider ETF XLB is up 40.38% over the last 12 months versus 21.2% for the S&P 500. This Index is primarily composed of companies involved in such industries as chemicals, construction materials, containers and packaging, metals and mining, and paper and forest products. Among its largest components are Monsanto (NYSE:MON), E.I. DuPont de Nemours & Co. (DD), and Dow Chemical Co. (DOW).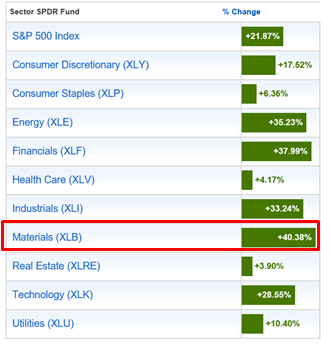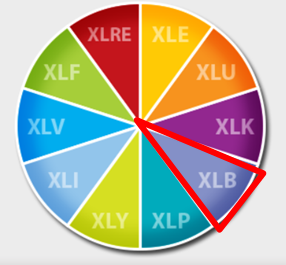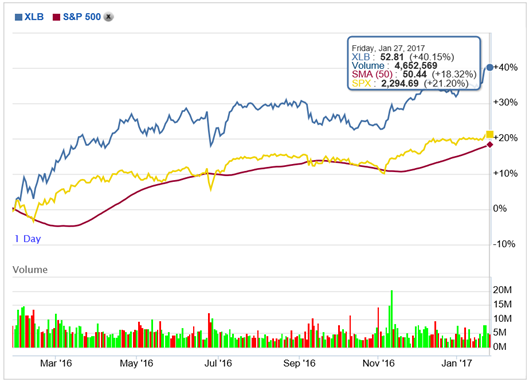 (Source: Select Sector Spider ETFs)
Conclusions
Business
WLKP acquires and develops ethylene production facilities. The material sector outperformed the S&P 500 over the last year.
The Trump Admin has vowed to freeze harmful regulations on small-caps and even scale back on existing regulations by promising to cut two old regulations for every one new regulation. This business friendly environment should help small-caps like WLKP.
Valuation Analysis
WLKP has strong fundamentals and looks like a great growth & value investment. It has a low PE, high dividend yield, and steady dividend growth since its Aug2014 IPO.
Technical Analysis
The yearly chart shows a "Cup With Handle" pattern with a pivot point that is within 4% of its current price indicating a good entry point.
Disclosure: I am/we are long WLKP.
I wrote this article myself, and it expresses my own opinions. I am not receiving compensation for it (other than from Seeking Alpha). I have no business relationship with any company whose stock is mentioned in this article.
Additional disclosure: I am a retired mechanical engineer, not a CFA. The information and data presented in this article were obtained from company documents and/or sources that are reliable, but have not been independently verified. Therefore, the author cannot guarantee their accuracy. Always do your own research or contact a qualified investment advisor to supplement any investment decision. I am not responsible for investment decisions you make. Thanks for reading my article and happy investing!
Editor's Note: This article covers one or more stocks trading at less than $1 per share and/or with less than a $100 million market cap. Please be aware of the risks associated with these stocks.