Two weeks ago, in response to an article focused on potential IPOs in 2017, one of the comments addressed the investment potential of a publicly listed venture capital company, also known as a business development company (BDC), with a particular focus on technology. Following on from the reader's comment, this article takes a brief look at investing in technology BDCs and reviews two companies that could be of interest: GSV Capital (NASDAQ:GSVC) and Firsthand Technology Value Fund (NASDAQ:SVVC).
Benefits and Risks of Companies that IPO'd between '11 and '15. Source: Crunchbase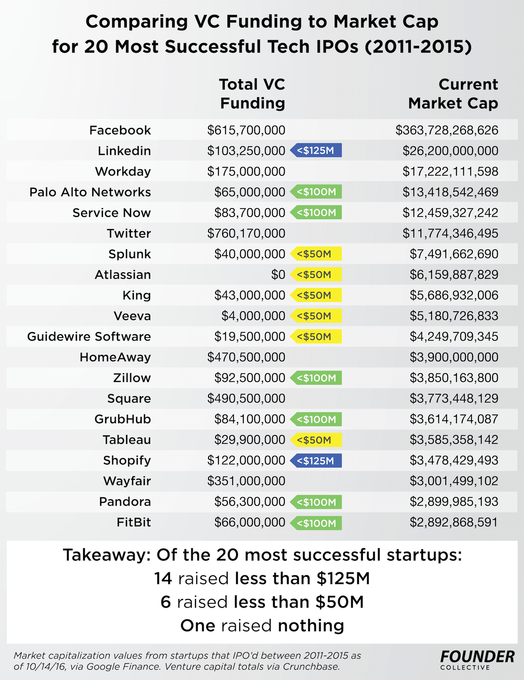 Investing in a BDC is definitely a risk, as you are effectively trusting their judgment in picking the early winners and losers in the race to develop new products and technologies. Such a hands-off approach might not suit your investment strategy, though some small exposure added to your investment mix, unless you wish to invest in VC directly, could bring lucrative returns if these companies back the right horses.
Startup IPO VC Capital & Market Cap. Source: Crunchbase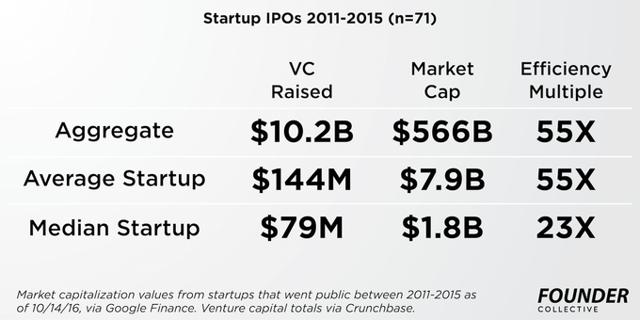 The benefits of investing in a VC fund are clear; if you lack the means or expertise to engage in a direct VC investment, betting on the buyer gives you exposure to potentially excellent returns. Early VC investors, according to various analysts including James Jago of Invent, tend to see returns of approximately 160 times their initial investment. Contrastingly, investors in technology IPOs more often than not lose out. Furthermore, since many technology companies have exited the VC market through M&A rather than an IPO, for example rumours that a part of Palantir will be taken over rather than floated, there are substantial gains to be made that simply cannot be earned from publicly traded technology investments.
Enterprise vs Consumer Exits. Source: Techcrunch

The reasons people invest in technology IPOs varies. For some it is the buzz, the excitement, the risk and the potential returns from picking the right winner. Sure, they say, I lost out on Twitter (NYSE:TWTR), but see what I made on Facebook (NASDAQ:FB)! For others, having done their research, they genuinely back their buy. Then there's the host of share purchases made by small investors thinking that, "this time, I'll get in on the ground floor." Now, although it is true that IPOs can net you significant returns (again
Facebook is a prime example), those returns are dwarfed by those made by successful VC investments. So too, however, is the risk. This is as true of investing in VC Funds as it is of VC itself. So, while there are potentially significant gains to be made, taking a position in a company like GSV Capital should be something you choose to undertake with your eyes open. Still, with aggregate VC deals surpassing $100bn in 2016 and 2017 potentially seen as the year which sees a return in the market's appetite for technology IPOs, having exposure to technology related VC investments is definitely compelling.
The Two Companies:
GSV Capital:

GSV Capital, with a market capitalisation of $116.896m, has posted a 11.81% decline in its share price over the past year, however the year-to-date figure has begun to turn around, with GSV up 4.77% already in 2017. The contrasts with a very low dividend yield of 0.76% as the company formed in 2010 has quite clearly not had a stellar year. The company broadly invests around six technology sectors: Social Media, Mobile Computing and Apps, Cloud Computing, Software as a Service, Green Technology, and Education Technology.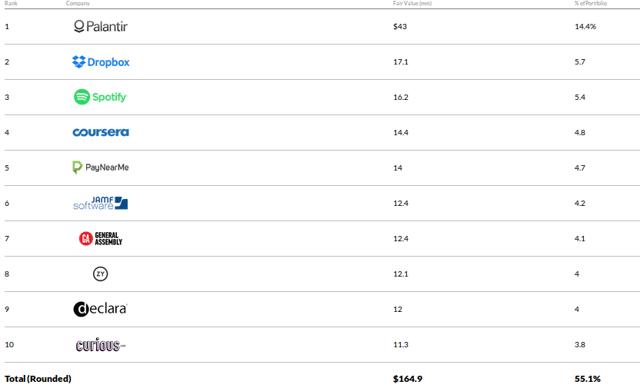 If you're considering a technology VC investment, there is one simple reason to consider GSV: it's assets - not least Palantir, the big-data giant set for a mammoth 2017 IPO. If you do your research and take a look at the companies GSV has invested in, you might find yourself minded to buy.

Firsthand Technology Value Fund:

Firsthand Technology Value Fund has had a positive year, with its shares up 16.6% since the start of 2016 and +1.2% in 2017. This small-cap venture fund, with a market capitalisation of $57.885m, also has some interesting exposure to a range of pre-IPO technology stocks worth investing in. Further to its current portfolio, it has a track record of solid tech VC investments, including Facebook, Twitter and Yelp. Last year, Firsthand saw the successful floating of its VC investment Nutanix, a successful IT infrastructure company. As a result, Firsthand saw a strong return on its initial investment and continues to hold common stock in Nutanix, which remains valued at 50% more than its initial launch price.
With a net asset value of $20.04 per share and total assets of approximately $150m, Firsthand has exposure to a wide range of technology investments, including highly regarded big-data firm Cloudera, and significant exposure to the IoT (Internet of Things) market which is expected to grow significantly in 2017. Firsthand, like GSV is a small-cap investment, however research into the companies it currently supports might just peak your interests.

Disclosure: I/we have no positions in any stocks mentioned, and no plans to initiate any positions within the next 72 hours.
I wrote this article myself, and it expresses my own opinions. I am not receiving compensation for it (other than from Seeking Alpha). I have no business relationship with any company whose stock is mentioned in this article.
Additional disclosure: CFDs, spread-betting and FX can result in losses exceeding your initial deposit. They are not suitable for everyone, so please ensure you understand the risks. Seek independent financial advice if necessary. Nothing in this article should be considered a personal recommendation. It does not account for your personal circumstances or appetite for risk.