Frontier Communications (NYSE:FTR) seems to be failing in taking full advantage of Verizon's (NYSE:VZ) wireline business. The stock price has tanked since the completion of the transaction and the consistent weakness in fundamentals is not an encouraging sign for the future as well. One of the key reasons to acquire these assets was the prospect of cost savings from synergies. The rationale behind this was that a larger organization will be able to control its costs better and economies of scale will result in better margins.
This has been achieved to some extent. Since the integration of these assets in April last year, Frontier Communications has been able to save on operating costs. However, gross margin has decreased by about 250 basis points. If we look at the last two quarters, then the operating margin has certainly improved compared to the first quarter of the year. However, the last two quarters of 2015 are showing an even stronger operating margin. The table below shows the trend in the last five quarters.

Calculations done by author. Data sourced from SEC filings
First quarter of 2016 shows a steep decline in operating margin. All the remaining quarters show that the operating margin has been in double digits. By normal standards, this one quarter will be treated as an anomaly, and if we compare the current operating margin with the last two quarters of the last year, then it has in fact deteriorated. However, let's treat it as a positive trend from the first quarter of 2016 and assume that the company is slowly getting its cost synergies. You will see in the following table that how full year margins have also been declining.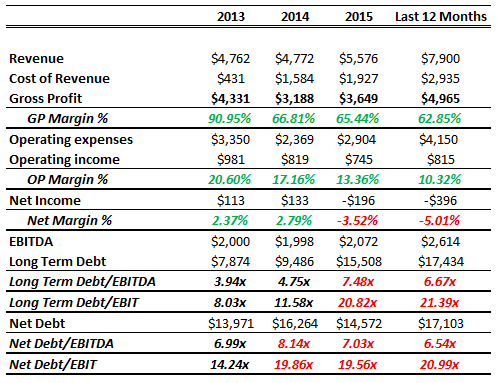 Source: Same as the above table
Gross margin is showing a declining trend, which is a cause for concern. Lower gross margin is translating into lower Operating margin. Full year operating margin has come down substantially. Keep in mind that the last twelve-month operating margin only includes three quarters from 2016 and one quarter from 2015. The last column is for comparison purposes. Since we do not have the fourth quarter 2016 results, we have to make do with the data available to us. Full year operating margin for 2016 might go up if the company reports strong progress on cost savings.
Falling operating income is also weakening the credit metrics of the company. Long-term debt-to-EBITDA or total leverage has now entered dangerous territory. This is a level where the speculative grade credit rating is usually assigned. In Frontier's case, it already had Ba3 rating from Moody's, which is non-investment grade speculative. However, it was further downgraded in November last year to B1, which is a highly speculative grade rating. Frontier's long-term debt has almost doubled in the last two years. Since the company was already carrying a speculative grade rating, the debt issued in the last year has been at a high cost. Frontier's average interest rate is around 8.6%. At the moment, the company is paying more than $1.5 billion in annual interest expense. Its interest coverage ratio is just 0.54x and EBITDA coverage is 1.73x. Again, the credit metrics do not paint a pretty picture for the company.
Frontier Communications is losing customers at a rapid pace. One of the key benefits of the Verizon deal was that the company was getting access to a large number of customers. The consistent loss of subscribers is reducing the larger base, which was going to grow EBITDA and cash flows for Frontier. If the spillage continues, I am afraid the benefits of the deal will evaporate and the fundamentals will continue to deteriorate. The company has already slipped into highly speculative grade credit rating. Any more weakness and there will be more trouble.
One of the main pulls for investors is that Frontier offers a high dividend yield. The price movement in the last year has made it even more attractive. The company wants to maintain its dividend and the management was eager to stress that the Verizon deal will ensure dividend growth. However, since the assumption of new debt has resulted in doubling the interest expense and the fundamentals are becoming weaker, it is possible that dividends might come under threat if the erosion of subscriber base is not stopped. 2015 and 2016 dividend payments have come closer to consuming free cash flows completely. This ratio is becoming dangerous.
In the last two years, the company has also been paying preferred dividends, so the strain on cash flows has increased considerably in the last two years. These preferred shares have a mandatory conversion option which will be executed on June 29, 2018. As a result of this, 328-385million new shares will be issued. This will cause a further increase of $150-175 million in common dividends. Total dilution will be between 22-25%, depending on the rate of conversion. Taking all these factors into account and looking at the strength of fundamentals, it becomes difficult to recommend Frontier as a long-term investment. It might prove to be a good speculative pick if the company finds a way to stop its subscriber loss. However, if the subscriber base continues to decline then the problems will deepen for Frontier Communications. Weak fundamentals, high leverage and declining subscriber base make it a risky investment.
Disclosure: I/we have no positions in any stocks mentioned, and no plans to initiate any positions within the next 72 hours.
I wrote this article myself, and it expresses my own opinions. I am not receiving compensation for it (other than from Seeking Alpha). I have no business relationship with any company whose stock is mentioned in this article.