Investment Thesis
Investors are overly pessimist when it comes to TripAdvisor (NASDAQ:TRIP). And while the market is mostly right regarding TRIP's slowdown in revenue, it is already more than factored in at the current share price.
In the past 5 years, TRIP has been growing its revenues at a huge clip. It has also successfully positioned itself as an online travel leader and is actively working on diversifying its revenue stream. In time, the market will remember this and close the discount from intrinsic value that I conservatively estimate to be at least 20%, if not significantly more.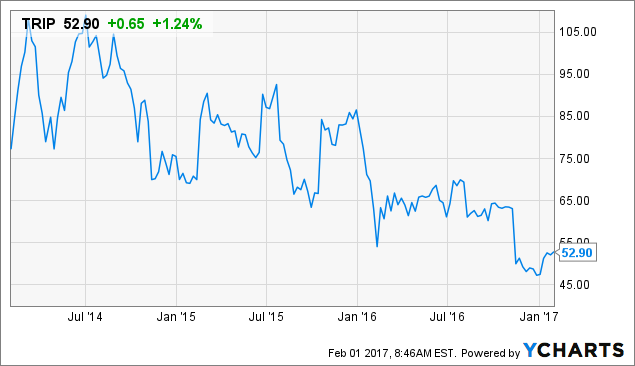 Business Overview
TRIP owns and operates a portfolio of leading online travel brands. It helps people plan and book trips online and has more than 430m reviews across its websites and roughly 390m monthly unique users. TRIP also enables users to compare real-time pricing so that they can book hotels, vacation rentals, flights, and attractions.
Although revenue is down -6% YoY, as of last quarter (2016 Q3), it has in fact improved very slightly sequentially and is up 1%. However, I feel investors are putting too much weight on the company's temporary slowdown and missing another interesting aspect of growth opportunity that the company is working on.
Non-Hotel Revenue
As you can see in the table below, not only has TRIP managed to diversify from its hotel-only revenue, but this other revenue stream is actually growing very fast.

Source: 2016 Q3 Investor Presentation
TRIP includes attractions, restaurants and vacation rentals under this non-hotel segment. This segment makes up a punchy 24% of total revenue. Having a more diversified revenue stream offers management additional levers to pull that will result in a smoother EPS line and cause the stock to trade at a higher multiple. Because, if there is one thing that investors look for in a growing company, it is a smooth bottom line which the market usually rewards with a higher multiple.
Furthermore, it is not only a diversification play, but TRIP believes that this non-hotel segment could, in time, reach $1B in revenue. This is an opportunity that is currently being disregarded by the market.
Financials
The table below shows that the company is growing quite fast, at over 25% CAGR over the past 5 years. Obviously, it is unrealistic for it to continue at this growth rate, but to make it a good investment at the current market price, TRIP does not need to grow at even half of this rate.

Source: morningstar.com; author's calculations
A good quality business has free cash flow ("FCF") margins above 5%, and TRIP has normalized FCF% of 25%, which is absolutely fantastic, especially when we consider it is still in a tough cyclical industry. This is echoed in TRIP having a normalized ROE of 21%, which for a practically unlevered company, is super. Furthermore, the high FCF% proves that, in spite of the illusion that this type of business has low barriers to entry, competition has yet to become a serious concern.
Short Sellers
As far as large caps go, TRIP is quite heavily shorted (~11%). In the event that my thesis plays out even half as well as I describe here, the short sellers will be forced to cover their positions at higher prices, offering another boost to the share price.
Relative Valuation
In order to confirm that investors are not overpaying by investing in TRIP, I looked to a relative valuation and a DCF valuation. First, from the relative perspective, then a DCF valuation.

Source: Morningstar.com
From the relative valuation perspective. My favorite metric is the P/S ratio. I like it because it is quite a clean metric. I like to compare what investors have been willing to pay for a stock over the past five years and what they are willing to pay for it now. In the past five years, investors were happy to pay 9.2x P/S. Currently, investors are only asked to pay only 5.3x P/S. This discrepancy represents a 20% upside.
DCF Valuation
I confirmed the margin of safety when I performed a back-of-the-envelope DCF analysis with a normalized $260M of FCF, with 10% growth over the next five years. (Although the company has grown at a CAGR of 25% over the past 5 years, no one can realistically expect these rates to persist, but at less than half that over the next 5 years, I suspect this is very much achievable).
I then discounted this FCF back at 10%. I used 10% because the company is still a young enterprise and has a significant amount of uncertainty facing its future prospects, including the possibility of its competitors eating away at its margins. This brings the DCF to roughly $9.1B market cap or at 15%-20% upside to the current share price.
Competition
TRIP does trade cheaply for a highly followed growth company. And when I compare TRIP to one of its peers, Expedia (NASDAQ:EXPE), it reinforces that TRIP is trading at a discount.

On a P/S ratio basis, EXPE is very close to fair value when compared to its 5-year average. This shows that there is investor appetite for travel companies.
Conclusion
As far as highly followed large caps go, TRIP is quite satisfactorily priced with a margin of safety of at least 20%. Obviously, the whole analysis is reliant on TRIP being able to defend its margins against competitors and it achieving the small amount of growth being built into my target price. Additionally, while the travel industry is notoriously cyclical, investors should not forget that TRIP has done a fantastic job of growing its revenue while keeping its balance sheet virtually debt-free.
Investors seeking a different opportunity could do well to consider this company selling cheaply.
Thank you so much for reading my article. If you have enjoyed reading this article, please click "Follow" to get more articles of mine in real time.
Disclosure: I/we have no positions in any stocks mentioned, but may initiate a long position in TRIP over the next 72 hours.
I wrote this article myself, and it expresses my own opinions. I am not receiving compensation for it (other than from Seeking Alpha). I have no business relationship with any company whose stock is mentioned in this article.