Thermal coal, which is used to generate electricity in power stations, is a key source of profit for many companies including Glencore (OTCPK:GLCNF) (OTCPK:GLNCY), the world's biggest supplier to the export market, Anglo American (OTCQX:AAUKF) (OTCPK:AAUKY), BHP Billiton (NYSE:BHP) (NYSE:BBL), and Rio Tinto (NYSE:RIO).
The commodity more than doubled to $100 a ton during 2016 after policymakers in China unexpectedly cut the number of working days of its domestic coal to 276 or fewer a year from 330 days before, as it seeks to restructure the industry. The move forced Chinese power plants and traders to source more material from overseas. Beijing's directive turned on its head a widely held view in the market that Chinese imports of thermal coal would gradually diminish from the 140 million tons imported the year before.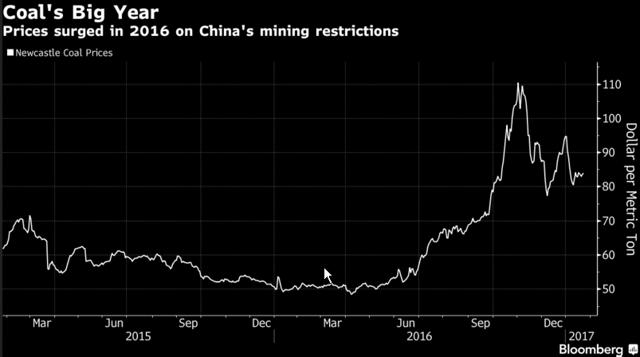 Source: Bloomberg
A little over two months ago Glencore locked in a price of almost $95 a ton for the latest contracts, which cover the 12-month period starting from October 2016, while in a recent presentation Glencore said its production costs in Australia were about $37 a ton.
Rio Tinto has now agreed to sell major Australian coal mining assets to a smaller player, Yancoal Australia Ltd (OTC:YACAF) (OTC:YACRF), for $2.45 billion under a deal which will see Yancoal take ownership of Rio's Coal & Allied Industries (C&A), which includes a 67.6 % stake in the Hunter Valley Operations (HVO) mining complex in New South Wales (NSW) as well as Rio's interests in the nearby Mt Thorley Warkworth mine. The deal can be viewed as a major statement of commitment to the Australian coal sector from Yancoal's ultimate parent, Chinese state-owned Yankuang Group.
Yanzhou Coal Mining (NYSE:YZC), which holds 78% of Yancoal Australia (ASX:YAL), sees 2016 net income rising 140% on higher coal prices. Yanzhou is 56% owned by non-listed Yankuang Group, which in turn is controlled by China's State-owned Assets Supervision and Administration Commission of Shandong Province. The other substantial shareholder of Yancoal is commodity trader Noble Group (OTCPK:NOBGF) (OTCPK:NOBGY), which holds a 13,2% stake in Yancoal.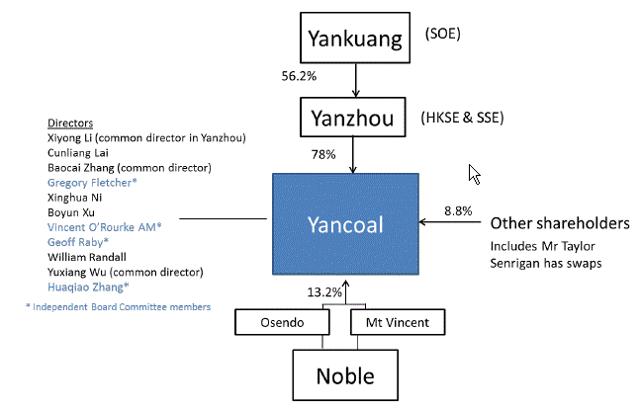 Source: Yancoal
Yancoal will pay Rio $1.95 billion upfront, and make $100 million installments in each of the subsequent five years. Yancoal can lower the purchase price by $100 million to $US2.35 billion, but only if it pays the full amount during this month, before February 24, 2017. Yancoal is currently in discussions with Mitsubishi (OTCPK:MSBHY) (OTCPK:MSBHF) over the possible acquisition of the 32.4% stake the Japanese firm owns in HVO, but Mitsubishi is yet to decide whether it will exercise its right to sell.
In recent years Rio has blended the thermal coal from its HVO mine and sold it as a consistent product called Hunter Blend, with Hunter Blend selling at a premium to the benchmark thermal coal price. Yancoal has said it plans to blend coal from its own mines with that from the Rio mines.
Rio Tinto will continue to earn royalties from the sale of $2 per ton for ten years as long as the thermal coal price is over $75 per ton, and Yancoal has also agreed to use Rio's shipping subsidiary to ship certain coal cargoes.
Rio has typically exported its HVO coal through Port Waratah near Newcastle. The agreement includes Rio's 36.5% in Port Waratah Coal Services (PWCS), the owner of two terminals at the port of Newcastle, and Australia's main conduit for thermal coal. The amount Yancoal will be permitted to ship will double following conclusion of the deal. Yancoal will pick up an annual allocation of as much as 12 million tons from the deal, on top of its current 12 million tons, The company also has a 14.6 million ton allocation at Newcastle Coal Infrastructure Group, in which it holds a 27% stake.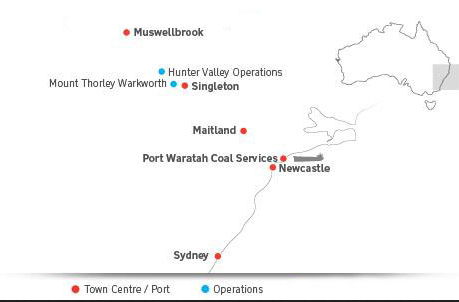 Source: Coal & Allied
Yancoal has not reported an annual profit since 2012 after its boom time acquisitions of Felix Resources in 2009, Syntech Resources and Wesfarmers Premier Coal mine in 2011 and Gloucester Coal through a merger in 2012. This transformative acquisition agreement will significantly improve the quality of Yancoal's overall asset portfolio, and more than double the production it achieved in 2016.
The HVO mine shares a rail loop with Glencore's Liddell mine while Mt Thorley Warkworth shares a railway with Glencore's Wambo and Bulga mines, and this deal between Rio and Yancoal will have been a major blow to Glencore's ambitions to create a unified coal force in the Hunter Valley. Next to ultimate winner Yancoal, there has been talk of up to six interested parties. Besides already mentioned Glencore, former Xstrata CEO Mick Davis' X2 Resources, Chinese Shenhua Group (OTCPK:CUAEF), BHP spin-off South32 (OTCPK:SOUHY) and miner New Hope (OTCPK:NHPEF) were reportedly also in the running.
Rio shareholders will vote on the proposal during Q2. The deal is also subject to approval from Australian, Chinese and Korean regulators, Yancoal shareholders, and the NSW Government. Rio has traditionally sold HVO thermal coal to Japanese and Korean power utilities, and in that sense the deal will give China a larger influence over Japan and Korea's energy production.
For the moment there is little basis to assume that this deal will not win ultimate approval, as negotiations have been playing out for several months prior to this announcement. A deal like this, of this size and importance to Australia, would not have been announced without Rio Tinto and Yancoal having already received a comforting level of response from the powers that be in Australia.
Yancoal does have the option to terminate the deal in the event it cannot get the required funding, unlikely given its state-backed shareholder, or if the market value of the C&A assets declines by $250 million before finalization of the deal. In such case Yancoal would face a $23.5 million break fee. However, one can be assured that Yancoal's management with direct assistance from its parent will do whatever it takes to get this deal done, given its importance in securing valuable resources for the long term.
Yancoal is expected to fund the acquisition via a rights issue and share placement. Majority owner Yanzhou Coal has already confirmed that it intends to subscribe for around $1 billion, and Yancoal is in discussions with professional underwriters and third party investors to underwrite the balance of the capital raise. The number of outstanding shares currently stands at 1.007m, with shares trading around 0.3 P/B, at a market cap of approximately $500 million.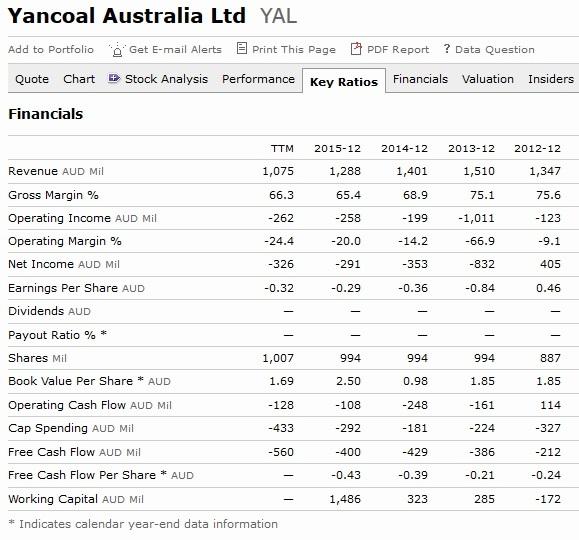 Source: Morningstar
The Coal & Allied assets to be acquired are long life, have plenty of reserves, and Yancoal will greatly benefit from the increased port capacity that comes with the deal. In Australia, logistics are very important, especially the port terminals. You must have your own stakes or facilities to ensure shipments are smooth and won't be disrupted. Insufficient access to infrastructure makes shipments more expensive.
All in all this transaction is perhaps the definitive game changer Yancoal Australia was desperate for in order to achieve the scale it ultimately needs to effectively compete in a global landscape. It's clearly an important step in establishing the company as a large coal producer, with thermal coal forecasted to remain the dominant fuel in global electricity generation over the next decade amid rising demand from China, India and Japan, the result of an ever growing world population.
Yancoal's primary listing ASX:YAL is currently trading near multi-year highs, and should move progressively higher following expected completion of the C&A deal around Q3 2017. A transaction which will materially improve Yancoal's balance sheet and cash flow profile in 2018 and beyond, transforming Yancoal into Australia's largest, pure-play coal producer with an expected pro-forma ROM coal production of 71 million tons per annum.

Source: Bloomberg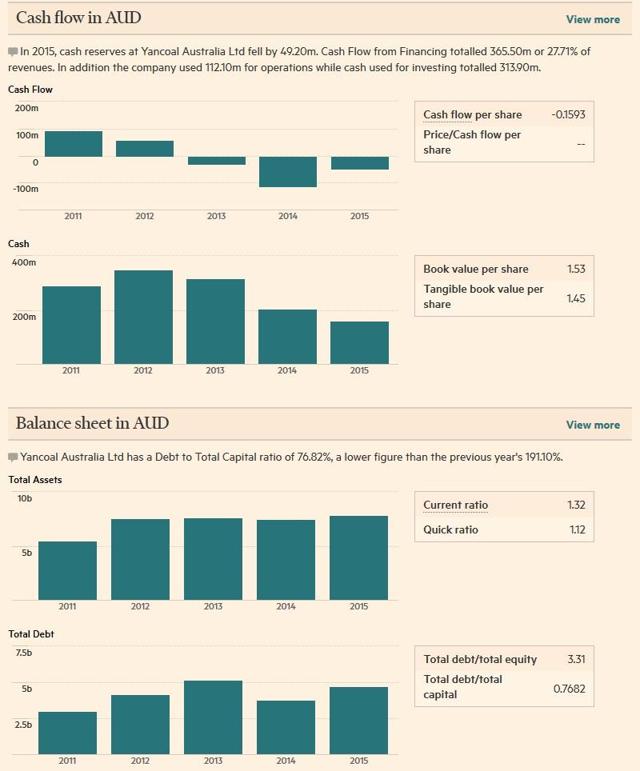 Source: FT
Once the dust settles, the transaction comes to fruition, and the market has processed all the specifics surrounding the financing and Yancoal's overall debt obligations, it will be a meaningful exercise to look at the improved balance sheet and cash flow projections in order to properly value the underlying shares based on the new share count.
Supporting Documents
Disclosure: I am/we are long BHP.
I wrote this article myself, and it expresses my own opinions. I am not receiving compensation for it (other than from Seeking Alpha). I have no business relationship with any company whose stock is mentioned in this article.
Additional disclosure: Long ASX:YAL, Long SGX:N21, Long LSE:GLEN
Editor's Note: This article covers one or more stocks trading at less than $1 per share and/or with less than a $100 million market cap. Please be aware of the risks associated with these stocks.