Goldquest Mining (OTCPK:GDQMF) was one of the surprises of the year back in 2012 when the company drilled a discovery hole on its Romero property in the Dominican Republic. It released a first drill hole in May 2012 of 231 meters at 2.41g/t Au and 0.44% Cu, which pushed the stock from 7 cents to $1. After this, Goldquest released a second hole of 258 meters at 4.5g/t in July 2012 and the stock doubled to $2. Despite a closely followed 90% crash to 8 cents, the stock still stands at 28 cents today, with a market cap of $62m with significant share dilution since 2012.
Santo Domingo is a relatively safe jurisdiction in the Caribbean.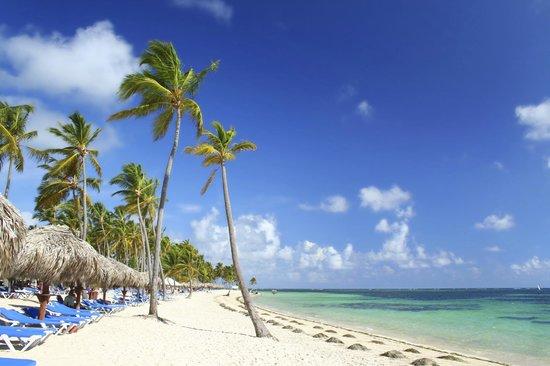 Santo Domingo is not considered a premium location as is reflected by the fact that it is in the third quartile of the Fraser Institute's Investment Attractiveness Index. I think in the case of Goldquest, the risk is overblown as the management team already built a mine on the island (more below) and other major and junior miners operate without major issues. As Goldquest CEO Julio Espaillat explains in this interview, the Dominican Republic is a friendly location and well suited towards mining and exploration. He points to Falconbridge successfully mining nickel since 1971, and the improved power production and road infrastructure.
In this article, we will review the Romero project, look at the management's track record, check if Santo Domingo is a viable jurisdiction for mining before moving to the share structure and balance sheet analysis and the conclusion that will include a buy recommendation.
The Romero Project
The Romero project PFS outlined a 2m gold oz at 2g/t with a 28% IRR and $595/oz all-in sustaining cost (AISC) while permitting is in progress. This PFS was released in November 2016 and shows a robust underground project with an eight-year mine life. The project is gold/copper with a small silver credit.
Gold equivalent "AuEq" ounces were calculated as follows: Cu $2.50/lb, Ag $20/oz and Gold at $1,300 oz. What is important to underline is that beyond the 1.1m oz in reserves, there is 2.5m oz in resources all at a relatively high grade of 4g/t.
Goldquest has a market cap of $60m with around $6m in cash (November 2016), which is deemed by the management as being sufficient for exploration of the promising Tireo formation and the Feasibility Study expected in Q2 2017. We will not delve into the Tireo formation here, but it is a promising copper-gold region in Santo Domingo where Goldquest already found minerals and that will be explored with the 10,000m diamond drilling in 2017.
The company has a market cap of around $66m. Price went in January 2017 while the major stock price drivers are the prices of gold and copper.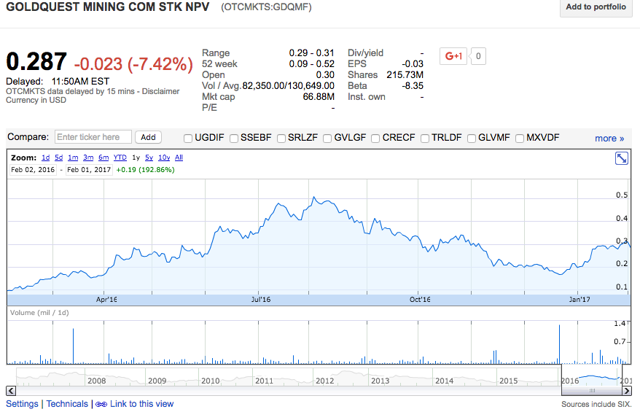 The project will consist of an underground mine with no shaft required and with minimal surface disturbance. There will be a single copper concentrate facility producing around 90k tonnes of concentrate per year that will be shipped to international smelters, most likely in Germany. Other design features that minimize the environmental impact include no use of cyanide, 100% of the waste rock returned back underground as backfill (which eliminates the potential for acid rock drainage), and tailings stored in a dry stack tailings system with a low water-use process where no tailing ponds or dam structures will be required. This furthermore includes a capture system for run-off water to supply the mine, meaning that there will be no water intake from the nearby San Juan River, further minimizing risks.
The Romero Project is in a hilly region of central Dominican Republic (January 2017 Corporate Presentation)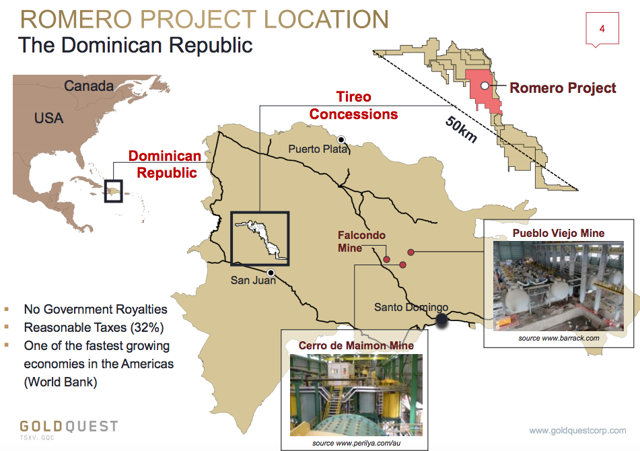 Ventilation fans will be located underground to reduce noise, and there will be no relocation of the nearby Hondo Valle village while power will be directly provided from the domestic power grid. Hence the mine and related facilities will have a minimal environmental impact, speeding up the environmental permits.
The $595/oz AuEq AISC is a very good number compared to similar projects, and the fact that the project is 74% gold, 24% copper and 2% silver means that it has some kind of embedded hedge in case gold price would tank. I would like to point the readers' attention to the fact that copper did not follow the gold plunge this fall and increased 30% from the bottom in 2016.
Five-year copper price (Kitcometals.com)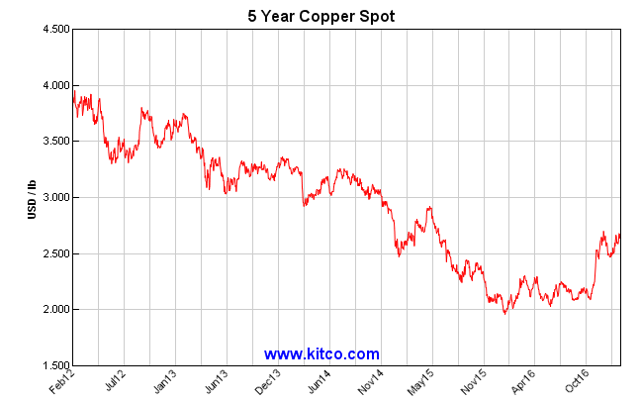 Copper is hovering around 2.65 per lb, and I am moderately positive for 2017 as the lower prices of the last years have tapered exploration while secular bullish elements as urbanisation and electrification will continue to create demand for copper globally. MetalMiner forecasts a 20% upside in 2017.
The Romero project scores a manageable $159m CAPEX while the actual market cap is 35% of the NPV5 of the project ($203m) i.e. deeply undervalued even compared to other junior gold miners. As we said, the Romero project is 100% owned while only Maverix Metals (OTC:MACIF) owns a 1.25% NSR on the property.
The news flow in 2017 will include a Feasibility Study in Q2, and there is a 40-hole (10,000m) drill program underway testing 20 new targets in the Tireo formation with good potential.
Maverix Metals has a 1.25% NSR and looks an optimist in its presentation (Maverix December 2016 Presentation)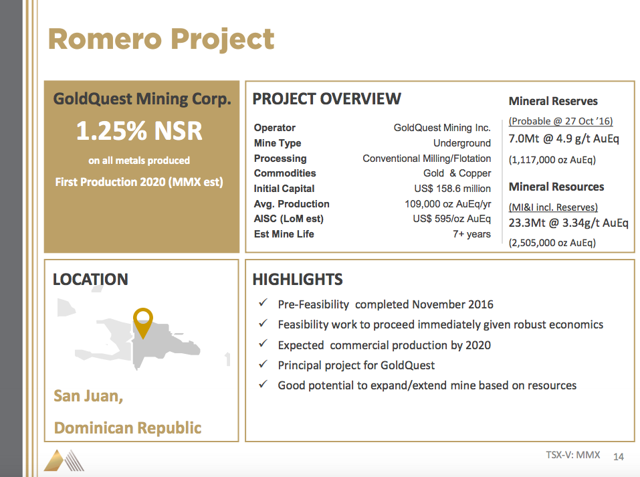 The Management Team
Bill Fisher and Julio Espaillat were instrumental in the development of GlobeStar's Cerro de Maimon copper/gold mine in 2008 in the Dominican Republic. Fisher was involved in the acquisition of the Cerro de Maimon project while he was chairman of Aurelian Resources. The project was acquired for $350,000 in 2001 and sold for $186,000,000 in 2008 (partially because the value of Aurelian Resources' shares went up from $0.15 to $40.0 in two years). A November 2016 interview about the PFS study with Fisher can be seen here on YouTube.
The rest of the management team is comprised of capable individuals who already operated in the country and/or are connected to Fisher. Between the directors, we find Swiss bankers like Florian Siegfried and Patrick Michaels with experience in mining finance. Frank Balint is another director, with past experience with Inmet and Wolfden Resources, both sold with huge gains for shareholders. No red flags here.
Santo Domingo As A Viable Jurisdiction
While some are concerned by the project being located in the Santo Domingo, it is a reasonable place to build a mine. The country's Fraser Institute score is somewhat underwhelming, but not too low to be uncomfortable (for a review of Fraser's Investment Attractiveness Index 2015, click here).
Barrick (NYSE:ABX) and Goldcorp (NYSE:GG) have operated the 1m gold oz per year Pueblo Viejo mine in a 60/40% JV located approximately 100 kilometers northwest of the capital city of Santo Domingo since 2012. Barrick's share of gold production in 2016 was forecasted to be around 690,000 oz, with an AISC of $520-540 per oz.
Pueblo Viejo is one of the major global projects for Barrick and Goldcorp (Company Website)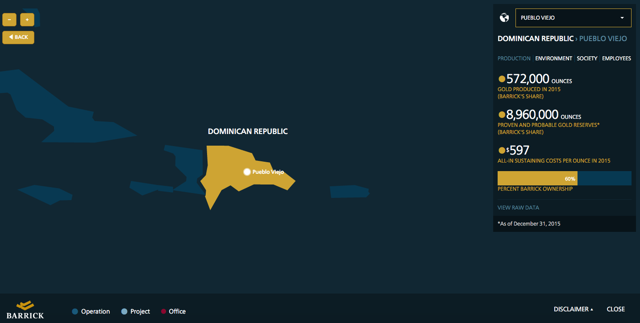 Share Structure And Balance Sheet
The share structure is relatively clean considering that this is a junior exploration miner.
Share structure as of June 2016: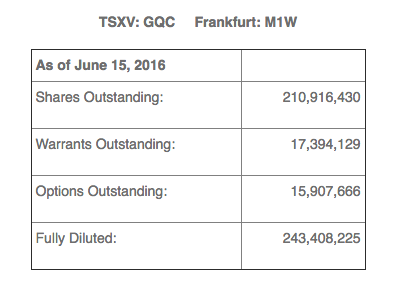 There are around 215m shares outstanding and around 30m warrants and options that could be exercised, representing a potential dilution of 15%. Stock options were also granted in August, of which the exercise price is 50% higher than the share price today. All in all, share structure, while not stellar, is in line with peers in the junior mining sector.
The company has around $6m in cash in the bank, which is sufficient for 2017's exploration program and the final feasibility study (FS) - expected at the end of Q2 2017 - but more money will be needed for the project financing. Start-up CAPEX is expected to be around $158m, which is three times the actual CAPEX, thus the company will have to fund the project mainly with debt or other sources if the share value has to be preserved. Financing decisions will come at the end of 2017, and we will know more after the FS.
For readers who are considering an investment in Goldquest, I recommend prudence as these kind of small caps are very volatile; so never buy when the market is up and use limit orders. I also caution the readers about the bid-ask spread risk as this can be at times 1-3% of the share price. Goldquest could be an interesting opportunity, but it is clearly a risky proposition, and aside operation and execution risks, there is huge downside risk as the price of the stock ultimately depends on the price of gold and copper, which cannot be influenced by management. Below you can find the management's proposed timeline for 2016-2017. Mine permit application should be granted at the end of Q1 2017 while environmental studies are already ongoing.
Management has sufficient cash on hand for exploration and the FS; it will need financing for construction and further exploration of the Tireo Belt however.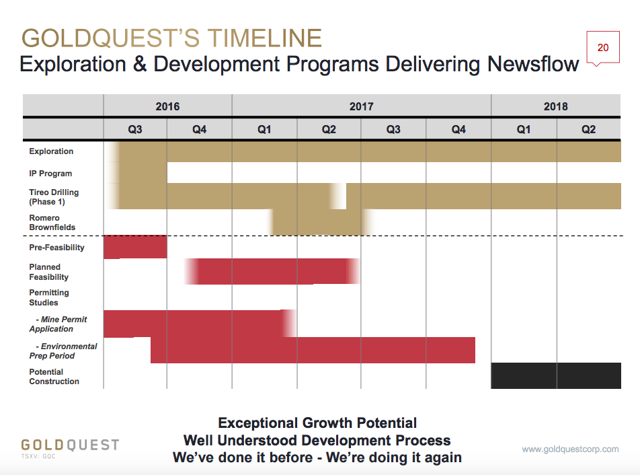 Conclusion
Goldquest Mining is a buy at these levels as it has an accomplished management that already built mines in the Dominican Republic, a country that has an acceptable risk profile. Santo Domingo is a reasonable jurisdiction with no government royalties and low taxation while local infrastructure is improving. The Romero project is now four years in the making and looks pretty solid with (after tax) an NPV5 of $203m, an IRR of 28% and a payback of 2.5 years. All this at $595/oz AuEq AISC.
However, even when gold and copper would stay flat, Goldquest would still be a cash machine when the project is developed (assuming it will be built on budget and not later than 2020). I am also discounting the possible exploration potential of the Tireo formation here, which in reality looks very promising. For all these reasons, I recommend a buy at or below the current share price of $0.29.
Disclosure: I/we have no positions in any stocks mentioned, but may initiate a long position in GDQMF over the next 72 hours.
I wrote this article myself, and it expresses my own opinions. I am not receiving compensation for it (other than from Seeking Alpha). I have no business relationship with any company whose stock is mentioned in this article.
Editor's Note: This article covers one or more stocks trading at less than $1 per share and/or with less than a $100 million market cap. Please be aware of the risks associated with these stocks.