The EIA reported a storage draw of -87 Bcf, bringing the total storage number to 2.711 Tcf. This compares to the -169 Bcf draw last year and the -166 Bcf draw for the five-year average.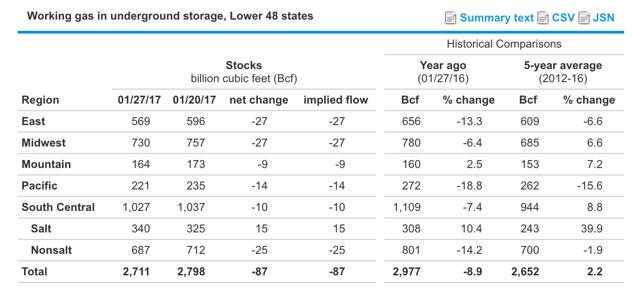 (Source: EIA)
Going into this report, a Reuters survey of 20 traders and analysts pegged the average at -88 Bcf, with a range between -70 Bcf and -115 Bcf. We expected -88 Bcf, and were in line with consensus. There were no surprises in this week's natural gas storage report.

(Source: HFI Research Natural Gas Storage Forecast Track Record)
On a relative basis, the 1/27 week was one of most bearish heating demand weeks this winter.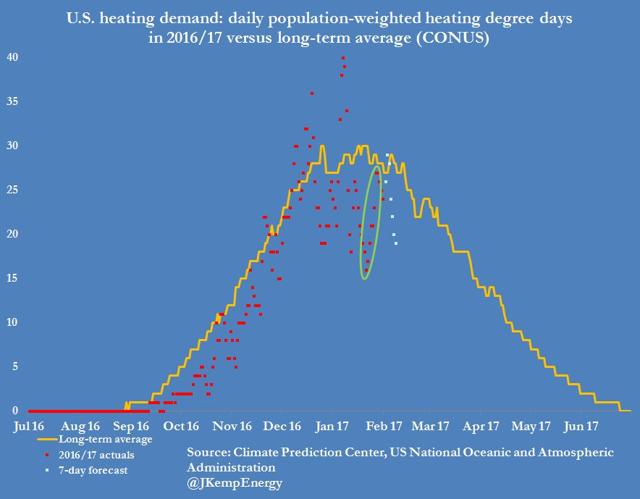 (Source: John Kemp)
HDDs were significantly lower, and the bearish relative draw could have been worse without the tight underlying supply and demand.
Market participants were expecting the exact draw figure as we had, so there weren't any surprises on the storage report. However, our conversations with traders led to an overly bearish sentiment going into the report, and here's what we said in our morning update to premium subscribers today:

(Source: Natural Gas Update 2/2)
Understanding sentiment and perception is another important element in assessing the natural gas (NYSEARCA:UNG) market. Traders saw the lack of a cold blast risk in the coming weeks as an opportunity to get bearish, and we saw this certainty as a potential for a reversal. Combining that with short-term oversold conditions, NG was ripe for a slightly rebound.
We will be giving our estimate for next week's storage report tomorrow, so be sure to read that. If you would like to receive our natural gas storage updates four weeks out, you can sign up here.
Disclosure: I/we have no positions in any stocks mentioned, and no plans to initiate any positions within the next 72 hours.
I wrote this article myself, and it expresses my own opinions. I am not receiving compensation for it (other than from Seeking Alpha). I have no business relationship with any company whose stock is mentioned in this article.