Verizon Communications (NYSE: VZ) is one of the best dividend stocks for income investors. Having declined 8.7 percent in the last couple of weeks, the stock provides dividend chasers another opportunity to scoop up shares at a price below $48. In this article, I will make a case for both, buying the stock at the current level, and for waiting for levels closer to $45.
Verizon has been facing the bear-hammer primarily for a couple of reasons now:
The company's full-year 2017 EPS and revenue guidance was below the consensus estimates.
Verizon is a dividend investor's dream. With a track record of consistently increasing dividends since 2006, Verizon has a reputation of rewarding the shareholders handsomely.
Regarding making an investment in Verizon with a perspective of receiving a stable dividend income, an investor has to look no further than the historical dividend yield chart below, which spans the period from 1995-to-date.
VZ's current dividend yield of 4.77 percent is higher than the historical average dividend yield of 4.35 percent.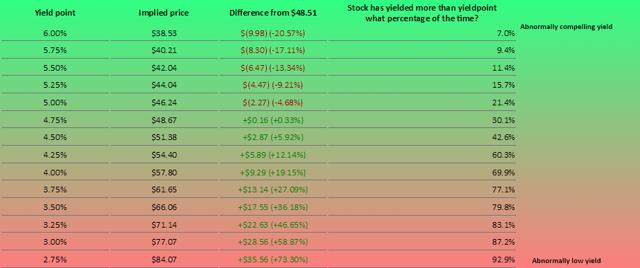 Source: YieldChart.com
In the last 21 years, the stock has provided a yield this large only 30 percent of the time. This means that the stock is currently offering a good yield to lock in at the current stock price of $47.96.
From the 5-year technical price chart presented below, it can be seen that Verizon is oversold at the current level. The 14-day RSI value is 25.7151, while the 14-day MFI value is 20.7135. For the Relative Strength Index, a reading of 30 or below represents oversold conditions while a reading of 20 or below does the same for Money Flow Index.
If history is to be taken as a guide, Verizon will soon stage a rebound.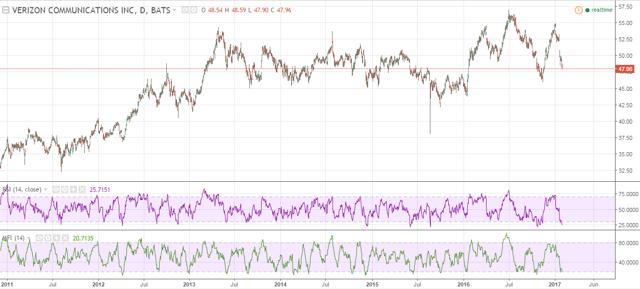 Source: TradingView
With a tempting dividend yield of 4.77 percent and shares in oversold territory, it makes sense for a long-term dividend investor to purchase the shares below $48.
The stock breached the very important 30-day, 50-day, and 200-day SMAs of $52.1197, $51.6160, and $51.7876, respectively, on the Q4 earnings announcement. The market was so disappointed with Q4 results that the stock registered a "runaway gap" on huge volume. See the daily VZ price chart below.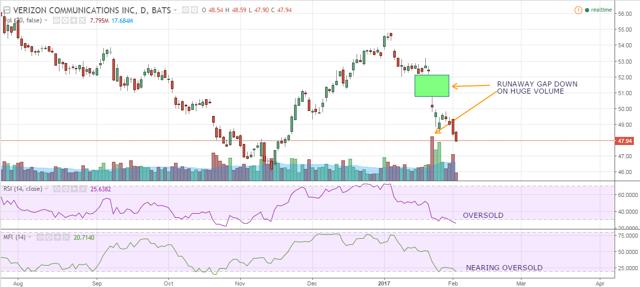 Source: TradingView
For non-technical investors, here is some helpful information from StockCharts.com.
"Runaway gaps are also called measuring gaps, and are best described as gaps caused by increased interest in the stock. For runaway gaps to the upside, it usually represents traders who did not get in during the initial move of the uptrend and, while waiting for a reduction in price, decided it was not going to happen. Increased buying interest happens all of a sudden, and the price moves above the previous day's close. This type of runaway gap represents an almost panic state in traders. Also, a good uptrend can have runaway gaps caused by significant news events that cause new interest in the stock."

"Runaway gaps can also happen in downtrends. This usually represents increased liquidation of that stock by traders and buyers who are standing on the sidelines. These can become very serious as those who are holding onto the stock will eventually panic and sell - but sell to whom? The price has to continue to drop and gap down to find buyers. Not a good situation."
The theory is that the measuring gap will occur in the middle of, or half way through, the move."
An investor can use this theory to mark an entry point into VZ. The daily VZ price chart tells us that the stock traded close to $54.80 and declined to $52 before gapping down. This is a decline of $2.80.
Taking the high of the gap-down day, i.e. $50.79 and subtracting $2.80 (assuming it is in the middle of the move), we get a price target of $48.
But, can Verizon offer us even more value?
The company's quarterly revenue hit a high in early 2016, while its book value is off by more than 50 percent compared to 10 years ago. The earnings per share has been choppy for the last several years along with the operating margin. The price-to-sales ratio is at 1.55, which is above the 5-year average of 1.3.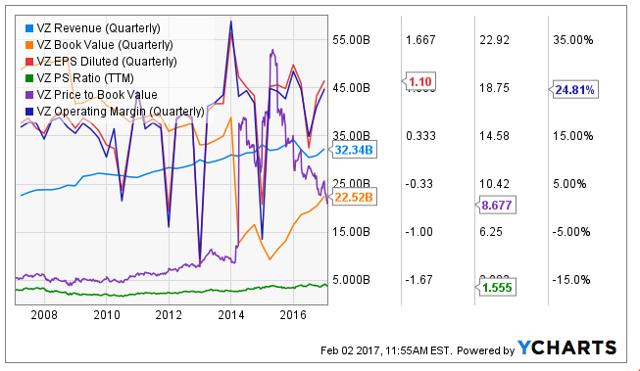 These are clearly the fundamentals that an investor can hope for. Therefore, it makes sense for investors to wait for cheaper valuations like $45. The zone of $44-$46 has been duly respected by the market in the last three years. Such a price would also push the dividend yield north of 5 percent, which has been achieved only 21.4 percent of the time during the past 21 years.
From a forward-looking point of view, the company's 2017 revenue and EPS guidance aren't too impressive either. Jefferies analyst Mike McCormack said,
"Guidance calls for 2017 revenue to be consistent with that of 2016 on an organic basis. Removing $1.3 billion from Frontier (deal) in 2016 implies around 1% organic growth. EPS trends are expected to be similar to revenue, a level likely to be disappointing to investors who were expecting mid-single-digit growth."
Analysts were expecting a growth of 6.1 percent in EPS. Adding to the pain is a slew of downgrades and lower target prices for the stock. While FBR cut the stock to Market Perform and set a target price of $52, RBC cited fundamental challenges behind cutting the stock to Sector Perform with a price target of $51.
Conclusion
In this article, I have made two cases for Verizon: One for buying the stock at $48 and the other for waiting to buy until it hit $45. Even though the current valuations are tempting, I would recommend that investors only create small positions.
Apart from the management's meager guidance for 2017, the other thing that investors should keep in mind is the broader market's valuations. The S&P 500 is perched near the all-time highs with a P/E (forward) of 17.08. This P/E ratio is above both the 5 and (15.1) and 10-year average.
So, what will you do? Wait for $45 (5% yield) or pounce on the opportunity now?
Note: I cover several stocks in different sectors as well as S&P 500, crude oil, gold and silver, U.S. dollar, etc. So, if you liked this update, and would like to read more of such informative articles, please consider hitting the "Follow" button above. Thank you for reading!
Disclosure: I/we have no positions in any stocks mentioned, and no plans to initiate any positions within the next 72 hours.
I wrote this article myself, and it expresses my own opinions. I am not receiving compensation for it (other than from Seeking Alpha). I have no business relationship with any company whose stock is mentioned in this article.