Please note an earlier version of this article incorrectly stated the size of SciClone's stake in Soligenix. The 10 for 1 consolidation has now been reflected in this article. Thank you to criggsb for catching this.
SciClone Pharmaceuticals (NASDAQ:SCLN) is a revenue-generating pharmaceutical company with a portfolio of HBV/HCV, oncology, anti-infection and cardiovascular drug candidates. Its primary product is ZADAXIN, which serves as a treatment of HBV, HCV, and certain cancers. It is also being developed as an immune system enhancer. SciClone developed and markets ZADAXIN on its own, introducing it to China in 1996. For its smaller suite of oncology products, SciClone has partnered with larger pharmaceutical companies, namely Baxter (NYSE:BAX) and Pfizer (NYSE:PFE):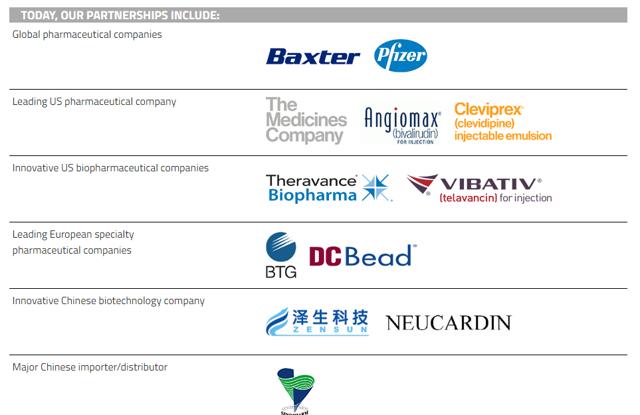 SciClone is also developing a portfolio of oncology, cardiovascular and anti-infective drugs at various stages of development in partnership with several other smaller pharma and biotech companies:

Source: Company Website
SciClone has launched a clinical trial to expand the application of ZADAXIN to address sepsis. Sepsis is a disease where the body's response to an infection makes the infection worse, instead of better. In these cases, the human body creates a massive immune response to the original infection, potentially leading to organ failure or injury. Sepsis currently affects approximately 4m people in China, with a very high mortality rate of >20%, making it a strong potential market for ZADAXIN if it can help to reduce these effects. Phase 3 trials are expected to begin in 2018, with data available by 2019.
Management has indicated that Angiomax and Loramyc are the next most likely products to get to market. The company has already filed an NDA for Angiomax and is hoping to have it approved late in 2017 or early in 2018. For Loramyc, it intends to file an NDA in early 2017 with anticipated approval in late 2018. There is nothing imminent from either product but it will continue to build its base of products to eventually diversify away from ZADAXIN.
SciClone is very optimistic about two other products in its pipeline: PT-112 and SGX942. PT-112 is a chemical entity containing platinum, a key element in the delivery of cancer treatments. Platinum can often be very toxic in the process, resulting in some treatments being worse than the disease. PT-112 has been designed to help mitigate this toxicity while delivering the benefit its patients needed. SciClone has the Chinese and Vietnamese territory rights, with options for South Korea and Taiwan from the developer, Phosplatin Therapeutics. PT-112 is in Phase 1 of development but has shown some promising signs.
SGX942 is a drug focused on the treatment of oral mucositis, a potentially painful side effect of cancer treatment. SciClone has a regional marketing deal for the drug and made a $3m investment in the developing company, Soligenix (NASDAQ:SNGX), for just over 3.5m shares. SciClone also will pay a cost-plus royalty. This market is potentially north of $500m+ for Europe and the US per Soligenix's corporate presentation; it is not hard to see that it could be similar in China, based on relative population sizes.
SciClone's business model is to target the Asian region, as it allows it to go through the least strenuous pathway (Class I) to FDA approval. SciClone is also viewed favorably by the Chinese regulatory authorities as they intend to manufacture their products locally. Both PT-112 and SGX942 are still in the early to mid-stage of development with PT-112 at Phase 1 and SGX942 in the late stages of Phase 2. Combined with the rest of its portfolio, SciClone has a lot of potential shots on goal to expand its commercial pipeline beyond ZADAXIN. Many of these products will fall into the "promotion services" business model, which are higher margin as they are leveraging SciClone's Chinese presence.
Current Valuation
SciClone's current market capitalization sits at $518.2m. The company has built up a substantial cash balance of $130.1m as at September 30, 2016, making up over 25% of its value. Its 0.35m shares of Soligenix (after a 10 for 1 stock consolidation) is now worth $0.9m at the current market price. Factoring these out of the market cap gives an enterprise value of $387.2m. With a TTM EBITDA run-rate of $39.4m, SciClone is trading at an EV/EBITDA ratio of just 9.8x. A decent comparison for SciClone is Enanta Pharmaceuticals (NASDAQ:ENTA), which has a similar product portfolio (one large producing cancer-related product and several development-stage candidates, although in the NASH area). It currently trades at 12.3x EV/EBITDA, well north of SciClone's valuation. As recently as July 2016, SciClone traded over 17x EV/EBITDA, so the current valuation is definitely discounted to a comparative company as well as its own recent past.
SciClone's YTD Q3 revenues are up slightly from last year, driven by an increase in its promotion services revenues (fees for market products on behalf of Baxter International), as its product revenues (driven over 90% by ZADAXIN) were flat year over year. Product revenues make up over 96% of its revenues, so this continues to be the driver. ZADAXIN volumes have been increasing with a greater marketing presence but there has been a general pricing pressure on drugs in China. The company negotiates tenders with each province, with a general trend to reductions. The weakening Yuan is also proving to be a headwind as well. Management feels these effect can be managed through cost sharing with its distributor Sinopharm (OTCPK:SHTDY) as well as through increasing volumes, which jumped by 12% YOY. Management did up its guidance for non-GAAP earnings of $0.78 to $0.82 in fiscal 2016 (from $0.70 to $0.74) despite these headwinds.
SciClone is a revenue and profit-generating biotech with a substantial cash balance to fund future endeavors or to be utilized as a catalyst in another way. So the question is why its shares currently are being discounted.
The Overhangs
One potential overhang was a $12.8m settlement with the SEC in February 2016. This stemmed from some of its sales practices (gifts, etc.) violating the Foreign Corrupt Practices Act (FCPA) between 2007 and 2012. Over and above the financial settlement, the company installed some best practices for governance to avoid having this continue in the future. I believe this period of suspect activity is in its past. It also may be a cynical view of things but the SEC fine seems to be money well spent if we look at the business SciClone has established in China.
After the resolution of the SEC investigation, SciClone launched a strategic review process in February 2016 to enhance shareholder value, bringing in advisor Lazard to assist in the process. This sent its share price up to over $14 in the months following this announcement. Unfortunately, for shareholders, this process didn't end up producing anything of value and was suspended in July 2016. SciClone's shares sold off rapidly back to pre-SEC settlement levels. Investors have not forgotten this.
The current political environment has also been a drag to the company as well. President Donald Trump has been very antagonistic towards China, and has talked a very protectionist trade agenda. With 92% of its sales coming from China, combined with a strategy geared around expanding its presence there, SciClone would have some risk in the event of a trade war between the US and China. I tend to think this would be somewhat mitigated since SciClone has substantial operations in China. There could also be potential blowback if any protectionist measures prevent lifesaving medicine and drugs being available.
The other side to the Trump equation is that he is intending to reduce the US corporate tax rate, and potentially offering an amnesty on repatriating funds held outside the company (Apple (NASDAQ:AAPL) is the most high-profile example of holding cash outside the US). Of SciClone's $130.1m in cash, $124.2m is held in China, making it difficult for SciClone to deploy its cash reserves. If the hold on this cash could be loosened, it could serve as a catalyst rather than just a buffer.
Finally, in December 2016, SciClone was removed from the Nasdaq Biotechnology index. This likely caused a built in sell program by ETFs that mirror this index, serving as a ceiling to the share price over the last several months.
Despite these overhangs, SciClone has had some decent financial performance over the last year, which alone may be enough to warrant an investment at the current share price. I think that there is also a decent chance that the takeover option is still in play, which could give it further upside.
The Case for a Takeover
It already tried it once
As noted above, SciClone went through a very public strategic review, which ended up driving its share price up to over $14. This would likely have led management to try to get a price in and around $18 to $20 as a premium to this value. It did indicate it got offers around the price at the time, but this likely wasn't palatable at the time.
A premium to the current share price of a similar markup would take it back to the $14-15 range. This would seem to be in line with the valuation during the strategic review, though the recent announcements on the Sepsis extension, and PT-112 and SGX942 license agreements should give SciClone some further support for a higher price.
It has an offer in hand.
On November 14, 2016, SciClone announced it had an unsolicited offer to buy the company for $11.18/share in cash by GL Capital & Management and ABG Management who hold 9.3% and 1.3% of SciClone's shares, respectively. Management did not immediately reject it and has taken it to the Board, but there has not been any disclosure either way.
The Board and Senior Management may be looking for an exit
At the risk of being accused of ageism, it is worth looking at the current composition of the Board of Directors:

Source: 2016 DEF14A
All but one could be classified as a senior, with the chairman at age 79 and CEO at 67. As at April 2016, in the DEF14A, management held 7.63% of the company; not overwhelming but not that small either. Being able to cash out at this stage of their lives may be a way to maximize shareholder value for all shareholders.
The Takeaway
As a standalone business, ignoring its pipeline, SciClone appears to be undervalued compared to its recent operating history as well as compared to a similarly operated company, Enanta. Its pipeline is decent with several potential revenue generators coming online either through development or licensing, starting in 2018. Its large cash balance also serves as a good margin of safety for investors, as well as a potential catalyst if it can be repatriated, either for acquisitions itself, a return of capital or further product development.
Even with the failed strategic review, management may consider accepting a lower takeout price, especially given the very turbulent US political environment for biotech and pharma, in general. This may not be good news for longer-term shareholders but at this price point, we have a pretty good risk reward scenario. The cash on hand and its ZADAXIN business provide good downside protection, while the takeover potential, cash utilization and pipeline give us some catalysts to the upside.
Technically, because of the political environment, I am going to have a sharper stop than usual: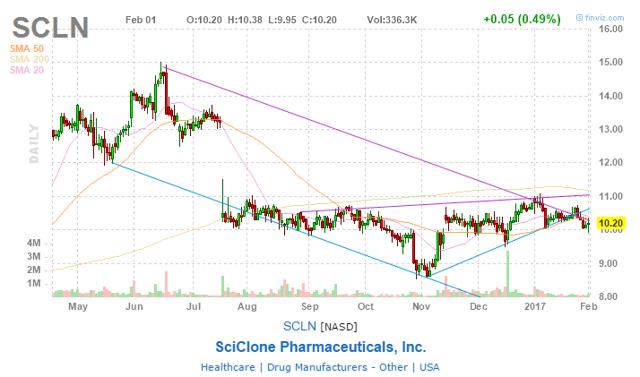 Source: finviz.com
I am going to set a stop at $9, right at its November low, just 12% below our current levels. The macro environment is so volatile for the sector that it nothing is off the table right now. The stock has consolidated nicely at this level. Excluding the takeover scenario, if we value SciClone at Enanta's multiple, we get a potential share price of:
| | |
| --- | --- |
| EBITDA | $39.4m |
| Enanta multiple | 12.2 |
| Enterprise Value | $480.68m |
| Cash & Soligenix investment | $139.00m |
| Market Value | $619.68m |
| Per Share | $12.13 |
| Upside | 19% |
Source: Author Assumption, Company data
This gives no value to its pipeline or any takeover premium (which was implicitly over $14 as recently as July 2016). At current pricing, I believe the risk-reward setup is quite favorable for SciClone.
If you see something in this article that you agree with or, even better, disagree with, please take the time to comment below. This makes all of us better investors. If you like what I'm doing, you can follow me by hitting the "Follow" button at the top of this article. Plus, you can follow me in real time by selecting that option.
It might give you somewhat of a head start whenever I write an article, what actions I am taking and why. I spend most of my time analyzing small-cap companies, but occasionally venture out into other areas as well (such as short positions). Thank you for reading!
Disclosure: I am/we are long SCLN.
I wrote this article myself, and it expresses my own opinions. I am not receiving compensation for it (other than from Seeking Alpha). I have no business relationship with any company whose stock is mentioned in this article.
Editor's Note: This article covers one or more stocks trading at less than $1 per share and/or with less than a $100 million market cap. Please be aware of the risks associated with these stocks.