Early on Thursday, Nokia (NYSE:NOK) reported mixed 4Q16 results. Non-IFRS revenues of €6.7 billion (about $7.2 billion) in the quarter compared unfavorably to a consensus of $7.35 billion, and represented an unpleasant drop of 13% YOY on a comparable basis that was worse than last quarter's 7% YOY decrease. Non-IFRS EPS of €0.12 (about $0.13) beat expectations of $0.08 due to reduced opex and a favorable tax rate. The stock is trading up about +6% mid-day - suggesting that, to the Street, no news can be perceived as good news, as a very challenging 2016 comes to an end.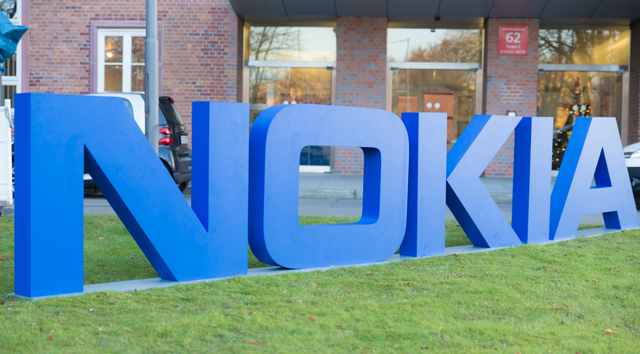 Credit: mobilemodels.net
If I were to summarize the story behind this quarter's results, I would break it down into three components: (1) Nokia's Networks business (about 90% of revenues) has yet to fully turn the corner, and continues to test the downcycle bottom, (2) cost management, as I have argued in previous articles, has been instrumental to ensuring that the company produces satisfactory bottom-line results, and (3) Nokia's Technologies division will probably continue to provide diversification to the company's core business, but results can be lumpy from a quarter-to-quarter perspective.
Let's take a quick look at Nokia's business segment performance.
Nokia Networks: Numbers not yet suggesting a turnaround
The core business continued to produce sour results this past quarter. Networks' revenues of $6.07 billion trailed 4Q15 results by an unpleasant 14% on a comparable basis (i.e. including the results of Alcatel Lucent). For context, last quarter's YOY sharp drop in Networks' revenues had been "only" 12%. Not unlike last quarter's numbers, weakness came from both sub-segments. The larger ultra-broadband networks business was down 15%, while IP and applications dipped 12%.
Management justified the unimpressive performance on "challenging market conditions in Q4 2016 and the difficult comparison against the strong performance by Alcatel-Lucent in Q4 2015." See graph below, compiled from a couple of Nokia's earnings presentations.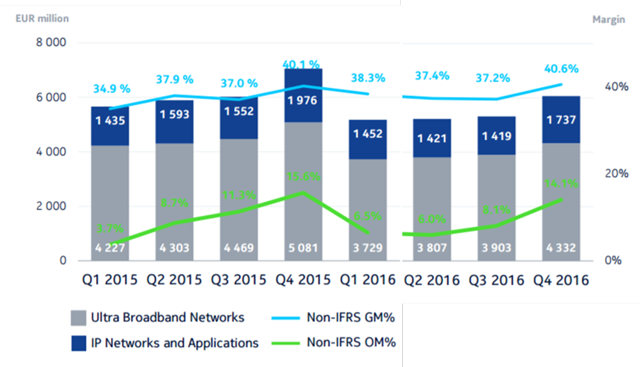 Source: Compilation by DM Martins Research, using charts from Nokia's earnings presentations
The main takeaway: Nokia's Networks division is not out of the dog house yet. Management has expressed optimism about the business in the long run, but never concealed the fact that sustainable upside is unlikely to happen before the 2018-2020 time frame - pointing to a U-shaped, not a V-shaped recovery ahead. CEO Rajeev Suri has been saying for a few months, and re-emphasized today, that 2017 should be a year of re-stabilization.
Lastly, one very encouraging trend seems to be emerging. Notice above how op margins in the quarter reached 14.1%, a decrease from 4Q15 levels that could, on the surface, point to deteriorating profitability. That margin, however, is a full 600 bps better than 3Q16, compared to a lower 430-bps QoQ increase in 4Q15. It doesn't look like the sequential improvement was driven by gross margin upside, suggesting that Nokia has been doing a good job at keeping operating expenses within Networks under check - a very good sign.
Nokia Technologies: Not the hero this time
Last quarter, Nokia's Technologies division claimed the spotlight and secured a decent quarter that Networks alone could not have put together. The Samsung (OTC:SSNLF) licensing agreement was largely responsible for pushing €0.04 in EPS towards consensus estimates back then.
In 4Q16, however, the Technologies segment took a back seat.
The $309 million in revenues came in significantly below last year's $413 million, mostly driven by a $200 million settled arbitration that benefitted 4Q15. Absent this one-time item, Technologies grew YOY by about 45%, as the company introduced new revenue streams in 2016 - e.g. Withings (digital health) and the OZO VR camera (digital media).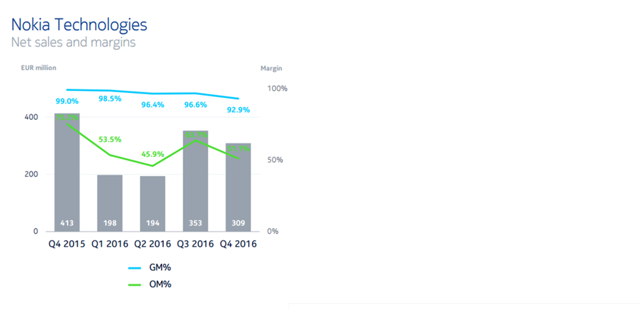 Source: Nokia's earnings presentation
Technologies' profitability dropped precipitously YOY: op margins of 51.1% in 4Q16 vs. 75.2% in 4Q15. The apparent bad news is not much more than a reflection of the mix shift towards the lower-margin digital health and digital media businesses. I expect the dip in margins to persist in the future, but also to be offset by increasing net sales as the new product lines ramp up.
I am also setting my expectations a bit lower for Nokia Technologies early in 2017, as the patent licensing issues with Apple (NASDAQ:AAPL) remain unresolved. Because the Networks business has yet to show indisputable signs of strength, I believe that Nokia may sit for a bit at the bottom of the downcyle in the immediate term. I could be positively surprised, however, if there is (1) a quick and favorable resolution of the Apple patent case, and/or (2) faster-than-expected ramp up of the digital health, OZO and mobile phone licensing businesses.
Is Nokia a buy?
I continue to hold NOK at this moment while I wait for signs of an improving network business that has yet to come. I believe the stock has been unduly punished by the unwinding of Ericsson's (NASDAQ:ERIC) business late last year, and continue to believe that NOK is worth about $5.25/share - even before the recovery of the company's core division finally picks up. In fact, I believe the stock's +6% reaction today is illustrative of investors looking past the immediate challenges and starting to position for a potentially better 2017-2018.
Given Nokia's strong cash-generating abilities, satisfactory execution of the $1.2 billion cost savings program so far, enticing dividend yield of 3.5%, and upside potential (that has yet to be capitalized), I think an investment in NOK, even after today's spike in share prices, is still a bet more likely to produce upside than downside.
Disclosure: I am/we are long NOK.
I wrote this article myself, and it expresses my own opinions. I am not receiving compensation for it (other than from Seeking Alpha). I have no business relationship with any company whose stock is mentioned in this article.