I am bullish on pipeline companies in the US and Canada. The reason for my bullishness is that US rig counts were up 18 during the week ended 1/27/2017 just after a 35 unit jump the week before. The overall rig count has increased 308 units since the drilling rebound began after 5/27/2017. Canada added 185 rigs in the previous 3 weeks combined. These increasing rig counts will create demand for the delivery of oil and gas via pipelines.
There are 2 funds that invest specifically in pipeline MLPs, they are First Trust Energy Infrastructure Fund (NYSE:FIF) and Infracap MLP ETF (NYSEARCA:AMZA). Investors can purchase these funds in IRAs and/or 401Ks where companies refuse direct investments in MLPs like Fidelity and Interactive Brokers. They also offer investors who refuse to deal with K-1s an alternative method to invest in MLPs since these funds send out 1099s.
First Trust Energy Infrastructure Fund , a closed end fund that seeks to obtain a high level of return, emphasizing current distributions to shareholders. Based upon the closing price of $19.02 on 1/31/2017, FIF offers a yield of 6.95% distributed as a $0.11 dividend monthly.
The top 10 investments of FIF are listed below: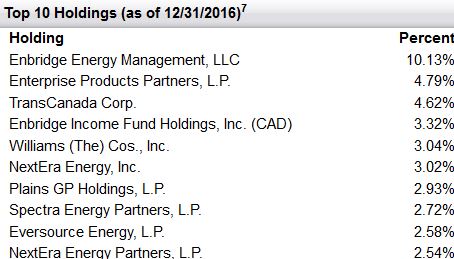 Source: First Trust Web Site
FIF does not exclusively invest in MLPs, it also invests in other energy delivery companies. The breakdown of these investments is shown below: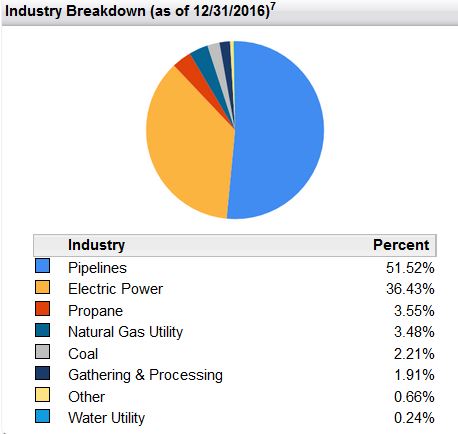 Source: First Trust Web Site
As of 1/31/2017 FIF was selling at a 5% discount since the NAV was $20.04 with the market price at $19.02. It currently uses 26.15% leverage and is permitted to exercise up to 33.3% leverage. It also can write or sell call options of up to 35% of the managed assets of the fund to generate additional income. Annual expenses of the fund including leverage costs run just shy of 2% on net assets. In terms of managed assets, management takes 1% and another .4% for other expenses so expenses total 1.4% on the greater amount of managed assets. The market price and dividend history of the past 5 years is shown below: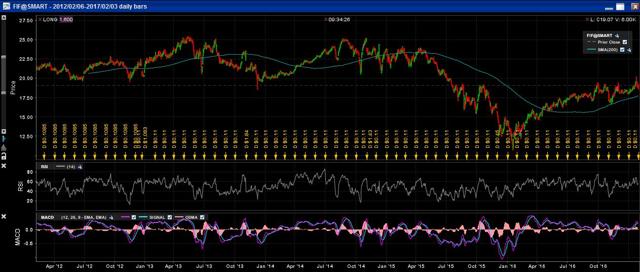 Source: Interactive Brokers
Infracap MLP ETF is an actively managed ETF that largely invests in US oil and gas pipeline MLPs. As of 1/31/2017 both the NAV and closing price was $10.99. AMZA's yield is over 18% and pays a managed distribution of $0.52 quarterly. The top 10 investments are shown below: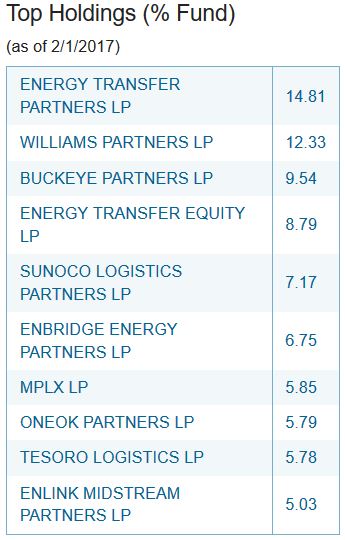 Source: Infracap Web Site
AMZA's gross expenses run at 1.11%. This ETF started at the height of MLP market just before the collapse of oil prices and took it on the chin when this occurred. While I don't see a situation where the fund gets back to its original offering price of $25.00 per share at inception, it is in a position to prosper with the rebound of drilling in North America. The chart showing market prices since inception is displayed below: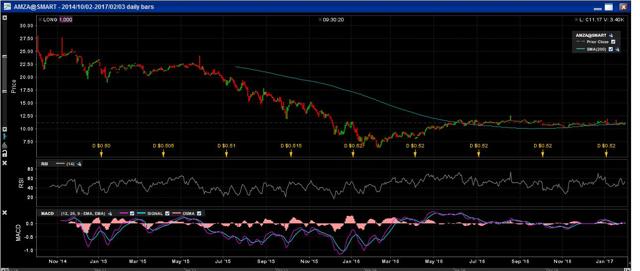 Source: Interactive Brokers
AMZA is permitted to use derivatives such as futures, options and swaps. It may also short issues and exercise leverage. A check of AMZA's holdings showed that over 18% were puts, calls and shorts. Since most of its dividends are shown as return of capital, the majority of the dividend is coming from this activity. This activity can generate income, but it also can increase the risk of loss. One must be willing to assume the risks associated with these activities to invest in this fund.
Conclusion:
Increasing drilling activity in the US and Canada should increase the need for infrastructure to process and transport this oil and gas production. This resurging energy production should bode well for the MLPs involved in this midstream business. FIF has about 50% of its assets invested in these MLPs and should do well over the next several years. AMZA has 100% of its assets invested in these MLPs and should be able to fund its dividend over the next 2 or 3 years. FIF is the more conservative pick between these 2 funds since it has greater diversification into other energy infrastructure. AMZA is a pure play on MLPs and is a riskier play with the possibility of greater returns.
Disclosure: I am/we are long FIF, AMZA.
I wrote this article myself, and it expresses my own opinions. I am not receiving compensation for it (other than from Seeking Alpha). I have no business relationship with any company whose stock is mentioned in this article.