We've owned Verizon (NYSE:VZ), or more accurately Verizon Wireless as we actually started out owning Vodafone (NASDAQ:VOD) for many years under the assumption that its best--class network, along with its place in an oligopolistic sector, made it an attractive investment. However, we are reconsidering our original investment thesis and are strongly considering selling.
Right now, Verizon is suffering from two inter-related problems. The wireless industry is in the midst of a price war and Verizon lacks a future growth strategy.
Wireless Price War
Over the past few years, a resurgent T-Mobile has aggressively cut prices at the expense of profitability. This combined with Sprint's new found financial health, thanks to investments by SoftBank (OTCPK:SFTBY), has transformed what was previously a more profitable duopoly between AT&T (NYSE:T) and Verizon into a less profitable four-way oligopoly.
Looking at Verizon's financial statements, we can see how this increased competition has taken a toll. The ARPA for retail postpaid accounts (the most profitable type of account) has fallen from a high of $159.86 in FY2014.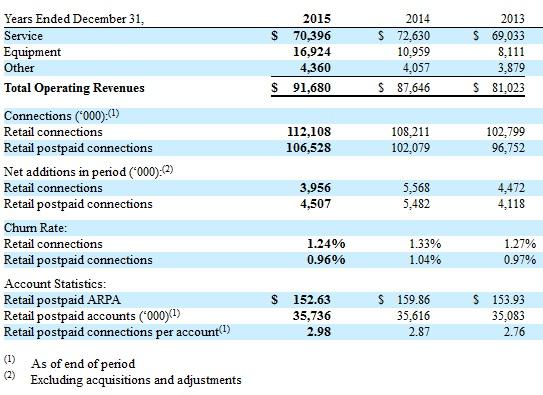 The trend has worsened over the last few quarters.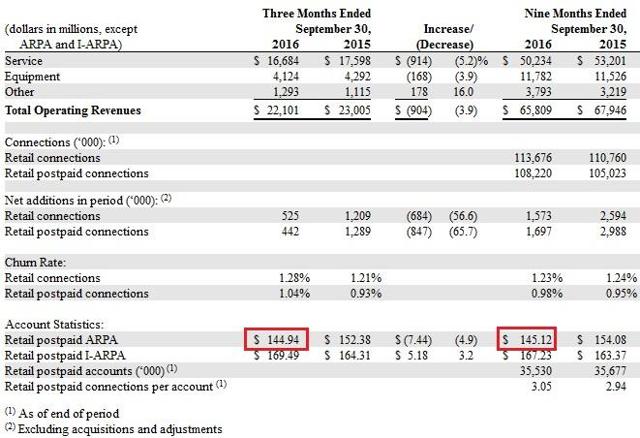 ARPA for retail post paid subscribers has now fallen to $144.94. There also other areas of concern such as the falling growth rate for retail connection additions and increasing churn.
With Verizon's wireless business under pressure and no end in sight for the near term, the question for the company is where will growth come from in the future?
Where's the Growth?
AT&T made two bold moves to drive future growth. It bought DirecTV and also reached an agreement to purchase Time Warner (NYSE:TWX). These deals give the company a way to distribute video and its own content arm. It transforms AT&T into a strong competitor against Comcast (NASDAQ:CMCSA). Whatever the future of communications and media looks like, AT&T is going to be well positioned to compete now that is essentially completely vertically integrated.
Verizon's strategy, on the other hand, looks to be a puzzling failure. The company has pursued no transformative acquisitions, instead preferring smaller bolt-on type purchases. Additionally, its own in-house efforts at creating complimentary business lines have been disappointing.
By all accounts, Verizon's video offering, Go90, has been a flop. The company recently announced it was laying off 155 staff and the service was going to be completely rebuilt by a new team. Keep in mind this is all happening less than 18 months after the service was launched.
Verizon's most recent deal has been an agreement to buy the core operating business of Yahoo Inc. (YHOO). As with Verizon's AOL acquisition, this is another head-scratcher in which we fail to see how Yahoo's business will add material value for Verizon shareholders.
The table below shows the operating results of Yahoo's core business over the past three fiscal years. We've added back the goodwill impairments that Yahoo has taken so we can get a better picture of the underlying performance.

As you can see, core Yahoo has gone from generating $653M in operating income to -$287M. Buying a money-losing business does not seem to be a transaction with a high probability of materially improving Verizon's growth. Yes, some of Yahoo's expense increases have been due to CEO Marissa Mayer's "investment binge", so it's likely that Verizon can easily trim some fat to get the business operating back in the black.
In summary, we just don't see how Verizon's current strategy is going to lead to material growth in the future. The wireless business is under competitive pressure which is unlikely to abate any time soon. The transformation of key competitor AT&T into a completely vertically integrated media and communications company also presents a substantial threat. Verizon needs to come up with a new strategy for growth to make the stock worth continuing to hold. Buying a half dead Yahoo is not the answer.
Disclosure: I am/we are long VZ, TWX.
I wrote this article myself, and it expresses my own opinions. I am not receiving compensation for it (other than from Seeking Alpha). I have no business relationship with any company whose stock is mentioned in this article.
Additional disclosure: We still hold Verizon (VZ) in our dividend portfolio but are strongly considering selling.